Finally Friday again and finally another Sir Apfelot newsreel! Since the Apple and Tech News were canceled in the last two weeks due to Easter and other incidents, there is now a collective post with everything that I have noticed in the meantime and remembered. Do you have any interesting news from the world of technology, Apple, Internet and Co.? Then please leave a comment with appropriate (reputable) sources;) But first, have fun with my findings from calendar weeks 13, 14 and 15 in 2018.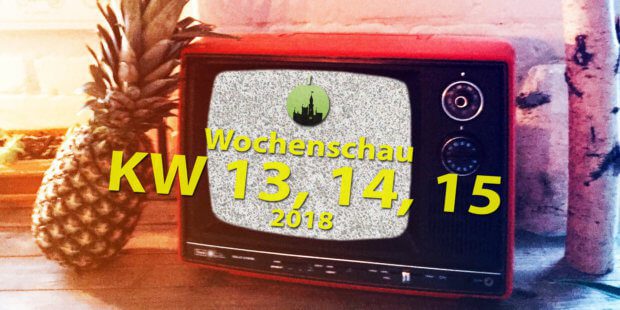 Making of the Apple HomePod advertising
I already met you a few weeks ago at this point showed the "Welcome Home" commercial from Apple, which presented the HomePod as the ideal product for music lovers. The advertising is very effective, but not in the sense of CGI, but with actually moving sets and in-camera effects, which is a bit Virtual Insanity from Jamiroquai reminds ... How much effort the four-minute Apple commercial meant in advance can be seen in this making of:
Apple's own CPUs in the Mac from 2020?
Nor do Apple Mac, iMac, and MacBook computers have Intel chips to function properly. According to unspecified insiders, the technology giant is said to be out Cupertino but are working flat out to change that. Own CPUs should tend to ensure independence from Intel or similar manufacturers from 2020 or just a few years later. have details this Mac & i article as well as this 9to5Mac post for you.
Third-party displays cause problems with the iPhone 8 under iOS 11.3
Like among other things Computer Base reports, iPhone 8 smartphones from Apple become unusable as soon as a third-party display is installed during a repair. The article says, among other things:
Apple should use its own microchip, which is linked to the built-in display. As soon as the microchip and display are not coordinated with each other again after a replacement, the blocked displays should occur since iOS 11.3 [...] It is still unclear whether this is a behavior intended by Apple or just a bug in iOS 11.3.
The new Apple iPad 9.7 ″ 2018 supports the Apple Pencil
As in the Contribution to the new iPad 2018 shown, the new standard version of the Apple tablet now also supports the Apple Pencil, which was previously reserved for the corresponding Pro models. The tablet with 9,7 inch display comes with iOS 11, has an A10 Fusion chip (64-bit) with M10 coprocessor and other good technical data. You can find details in the linked post.
Impressive examples of Apple ARKit applications
Augmented Reality (AR) ensures on mobile devices that an image of an "augmented reality" is shown on the display with the help of the camera and the appropriate software. For this purpose, the camera image is supplemented with digital content in order to perform a wide variety of tasks. In addition to games, entertainment, construction aids and similar things, the ARKit on the iPhone can also help with shopping or orientation in the city, as the following videos show (the necessity / usefulness can of course be argued):
Vulnerability in iOS QR code software
As in iMore reports, the QR code reader of the iOS camera app on the Apple iPhone / iPad can lead you to harmful websites. The weak point lies in the shortening of URLs to ask whether you actually want to visit the relevant page. For example, if the malicious website contains the name of a well-known website that has been rated as harmless, but its entire length is designed to lead you to a completely different page, then this is the case. iMore refers to a bug report from Infosec.
Firefox and Facebook: data protection container and images extension
How Engadget reports that the Firefox web browser now has its own "Facebook mode", called the Facebook Container. The extension has to be installed manually by the user and is intended to stop data collection through social networks. To explain the plugin it says:
When you visit Facebook, the website is then displayed in a blue tab. As soon as you click on an external link within Facebook, it will be opened and loaded in a new tab that is not marked in blue. All activities that take place in the network itself [...] are displayed in the blue tab. This data is still stored by Facebook. However, Facebook should no longer be able to track which external links are clicked.
Another extension for web browsers is called "Textile". Textile ensures that the cryptically named folders that you get when you download your personal data (and especially the pictures you published) from Facebook are properly named again. The software ensures that the folders are given the names that they have on Facebook as galleries or albums in your profile. A detailed description offers iFun. The software gives up https://fb.textile.photos.
Dashcam: Officially no evidence, but wanted by many
A dashcam is a camera that is attached to the "dashboard", i.e. the dashboard of the car or like a navigation system on the windshield, and films the traffic in front of the car. In some countries (e.g. Russia) these cameras are already being used extensively - primarily for providing evidence in disputes and for insurance purposes. As reported by iFun, but many people in Germany are in favor of using dashcams and their recordings as evidence, namely 74%. The article also lists a representative case that went before the Federal Court of Justice. In a corresponding press release you can read how the decision turned out: For data protection reasons negative for the dashcam user.
Since April 1st: Streaming without geoblocking possible in the EU
According to an EU regulation, paid streaming services for films, series, documentaries and the like must make their offers for paying customers beyond the national borders of the confederation. This means that you can also watch Netflix, use Sky Go or watch iTunes films while traveling, on vacation or other stays abroad. The task of geoblockers in the EU for public media libraries, such as iPhone tickers, is not mandatory (unfortunately not without the populist hint that as a German one still finances the channels) berichtet.
DJI Skyport adapter for multifunctional drones
How to, among other things read at Golem can, some DJI drones should be more modular and thus more flexible. Among other things, the thermal image sensor Zenmuse XT2 should be able to be used. But other sensors or a device for transporting loads should also be possible. Another possible application is the coupling of the drone with a Geiger counter, which can help in unmanned exploration of radioactively contaminated areas.
Gay dating app Grindr shares HIV status with users
Grindr is a dating app for homosexuals in which users can voluntarily state their HIV status (which would basically also make sense with all other dating offers). What seems to be well meant has turned out to be according to Futurezone exposed as a business model. Because the creators of the app have shared the sensitive information of their users with external companies and advertising companies. This transfer was justified with the optimization of the offer. You can read details in the linked article.
Tiangong 1 entered over the sea
You have probably heard of Tiangong 1, the Chinese space station, to which there has been no radio contact since March 2016. As predicted, this has now entered the earth's atmosphere and partially burned up. The not burned up and pulverized parts went down in the sea. People were, too according to this Zeit article, not in danger and probably nobody was injured in the decline.
Documentation: Elon Musk wants to warn against Google Deepmind
Elon Musk is the driving force behind Tesla and SpaceX. But as much as the ambitious businessman and technology freak is committed to modern solutions, he is also critical of some developments; for example artificial intelligence (AI). That is why he has also taken money in hand so that the documentation "Do You Trust This Computer?" Can be viewed for free on the Internet, like Futurezone berichtet. The main statement about AI, especially about Google's Deepmind, is conveyed in the article - namely that it could result in a new, global dictator who, among other things, could trigger World War III. Here is the trailer for the documentary (website: http://doyoutrustthiscomputer.org):
If you feel like not only facing the real development, but also want to look at the topic (more or less) fictionally, then I recommend the film "Matrix" and the book "Equality Land" - both are good things to do for the weekend ;)
After graduating from high school, Johannes completed an apprenticeship as a business assistant specializing in foreign languages. But then he decided to research and write, which resulted in his independence. For several years he has been working for Sir Apfelot, among others. His articles include product introductions, news, manuals, video games, consoles, and more. He follows Apple keynotes live via stream.