Summer is still well underway, but what is just around the corner Apple September Event 2018 already announces autumn. If we zoom in from the season over the months and weeks to today's Friday, then we know one thing for sure: it's time for the Sir Apfelot newsreel again. Today I present you the Apple and tech news that caught my eye in week 33. From the Amazon Echo as a spy tool and security gaps in macOS High Sierra to Google's location tracking and electronic waste to roaming at sea and a school boy from Melbourne.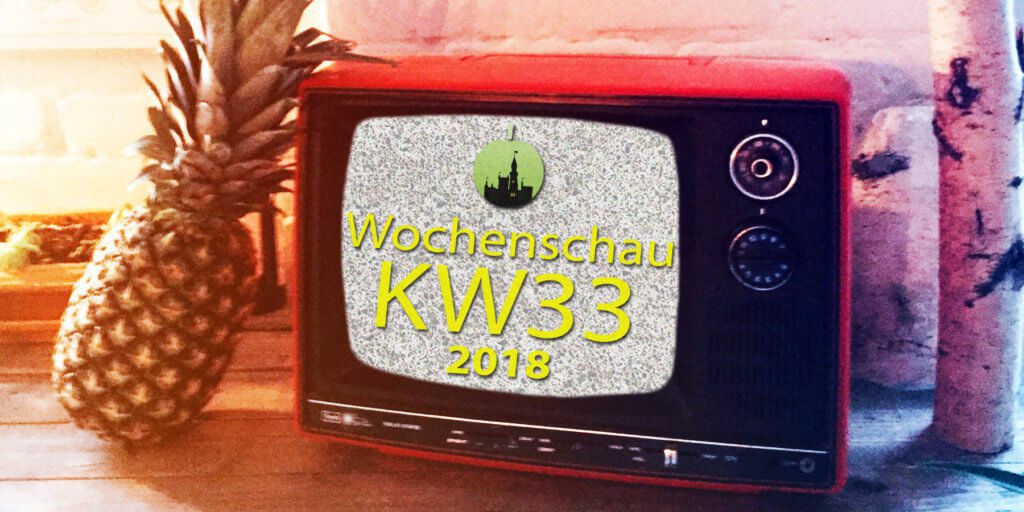 Chinese hackers are turning Amazon Echo into a spying tool
Like futurezone in one Post reports that Chinese "computer specialists" are said to have succeeded in turning Amazon's Alexa into a remote-controlled spy. Individual security gaps were combined over several months, so that in the end it was possible to eavesdrop on the users of Amazon Echo and Alexa. The article also explains that you need a specially modified echo as a first step for the hack. You can read all details in the linked text or in its English source by Wired.
Spotify lets free users skip the ads
As a test for some users, Spotify rolled out the option of skipping advertising in the free version of the music streaming app. That reports among other things app dangers in one Articles. In addition to the clearly positive benefits for users, it also raises the question of whether they will always use the ad-skip function. Because if you have the music playing in the background and are not sitting directly on the iPhone or Mac, you will not always go to the device to skip advertising.
Google also tracks the location when the service is deactivated
Several sources have reported in the last few days that Google registers and records their location on mobile devices even when the location service is actually switched off in the system. For example the online marketing magazine shows however, how you can really switch off the tracking - that has to be done via the Google account; in addition to the device settings. To this you go up https://myaccount.google.com/activitycontrols and flips the switch for "web and app activities". In the following window click / tap on "Pause":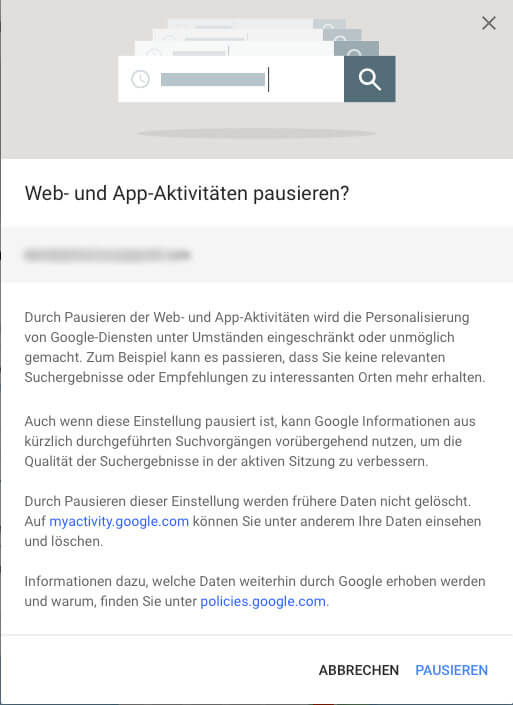 Consumer advice center: roaming at sea as a cost trap
The iPhone ticker headlined with the secondary headline "5.000 euros for 200MB" at this point about roaming charges at sea. With reference to the consumer advice center Schleswig-Holstein, it is shown that Telefónica customers in particular (o2 network and providers Blau, WinSIM, Smartmobil, etc.) can be surprised by very high costs. If you read the article, take a look at the comments - there are tips on what to look out for in the collective bargaining agreement.
My tip on the subject, if you want to be safe on your next cruise: Activate the airplane mode on the iPhone (you can turn on Bluetooth if you want to use AirPods; or WiFi to use the on-board network). Even with the Apple Watch 3 LTE you should activate the airplane mode, because if she has no contact with the iPhone, she starts using mobile data via the eSIM.
Even more electronic items are now classified as "electronic waste"
On the subject of recycling and electronic waste, the star has the corresponding legal update (in force since August 15) illuminated. According to the contribution, clothing and shoes with electronic elements are now also considered electronic waste. So if you have LED light kickers, you shouldn't throw them into the old clothes dispenser or garbage can after use, but rather put them back into the recycling cycle. According to ElektroG, furniture with permanently installed electronic and electrical elements is now also considered electronic waste with regard to its disposal.
Melbourne schoolboy hacking Apple servers
A little got me the story at MacRumors reminiscent of the novel "Devilish Genius" by Catherine Jinks: A 16-year-old from Melbourne has pleaded guilty to having hacked Apple's servers several times in order to download a total of 90 GB of backup data and access keys. Apple said about the incident, however, that at no point was user data in danger. The teen's attorney said his client was an Apple fan and wanted to work for the company, so the attack was perhaps just a well-intentioned hint of a vulnerability and a demonstration of their own skills.
Security gaps in macOS High Sierra due to "artificial clicks"
Speaking of security breaches: Former NSA employee and digital security researcher Patrick Wardle (oversight, MaMi examination) has found ways and means to bypass security mechanisms in macOS High Sierra by forcing "artificial clicks" on buttons for user-assigned permissions and consents. In macOS Mojave these options should no longer be available. There are reports on this at 9to5Mac and Wired. Wardle wants to demonstrate the attack possibilities found for malware and hackers on Sunday at the DefCon in Las Vegas.
Future for iPhone (X Plus) - the Apple Pencil
Right now that suits us Apple September Keynote 2018 before. A new Mac mini, a new MacBook Air, and other product updates are expected at the show. Among other things, of course, new iPhone models such as (rumored) the iPhone XS, iPhone SE2, iPhone X Plus and / or iPhone 9. The new Plus model could be the first Apple smartphone to support the Apple Pencil. Perhaps not as a "stylus" that Steve Jobs hated, but as a drawing and writing instrument - like on the iPad Pro. MacRumors have reported this here and 9to5Mac here .
Apple patent: Speech recognition should now also recognize individual users
If you ask a voice-controlled Apple device or Siri on a supported iPhone or Mac to read out the received messages or to use other services linked to the user account, the Apple ID is used for the assignment. In the future, however, the voice could be used to assign the voice request, so that the individual solution for the corresponding user account is always found when used by several people. That at least suggests current Apple patent out, among other things with 9to5Mac Subject is.
However, it is not explicitly about Siri, the iPhone, iPad or MacBook - but more generally about the technology of voice-controlled services that act individually on the basis of voice recognition. The technology could theoretically also be intended for Apple's cars. A fun fact about the patent: it has the longest list of reference patent documents an Apple patent has ever had. Patents from 1925 onwards are linked, from 1976 onwards at least one (but usually many more) from each year; the youngest from 2017.
Apple is taking group FaceTime from iOS and macOS betas
At the WWDC 2018 keynote was proudly demonstratedthat FaceTime from iOS 12 and macOS 10.14 can be used for group calls with up to 32 participants. In the meantime, the feature has been removed from the betas and the publication of group video telephony with the Apple service has been postponed. But it should come in 2018 - so it writes, among other things, MacRumors at this point.
The iMac turns 20 - Happy Birthday!
"It looks like it's from another planet. A good planet. A planet with better designers", Said Steve Jobs at the presentation of the first iMac on May 6, 1998. And not only the appearance, but also the user experience and the performance should stand out from the ugly boxes that were then called PCs. "iMac is next year's computer for $ 1,299, not last year's computer for $ 999"Said Jobs in this context. The iMac G3 was launched on August 15, 1998, which is why it is celebrating its 20th anniversary this week. Among others at MacRumors you can find an interesting article with the illustration of all models in profile and other cool reflections on the Apple computer.
And here is the appropriate time testimony as a video:
A little tip for the weekend
: Today starts "Disenchantment", the new series by Matt Groening, on Netflix. The setting according to "Now" (Simpsons) and "Future" (Futurama) describes a fantastic medieval world, ie "In the past";)
After graduating from high school, Johannes completed an apprenticeship as a business assistant specializing in foreign languages. But then he decided to research and write, which resulted in his independence. For several years he has been working for Sir Apfelot, among others. His articles include product introductions, news, manuals, video games, consoles, and more. He follows Apple keynotes live via stream.