It's Friday again and so it's time for the Sir Apfelot newsreel. This time it's about the Apple and tech news that caught my eye in calendar week 45 of 2018. Among other things, the following topics are included today: Christmas on Amazon, Facebook Messenger with delete function, sales and performance of the iPhone XR, reviews of the iPad Pro 2018, Mac Mini and MacBook Air as well as watchOS 5.1.1. And of course the hit report of the week: Apple Pay is finally arriving in Germany. If you also have exciting reports ready, please leave them there as a comment;)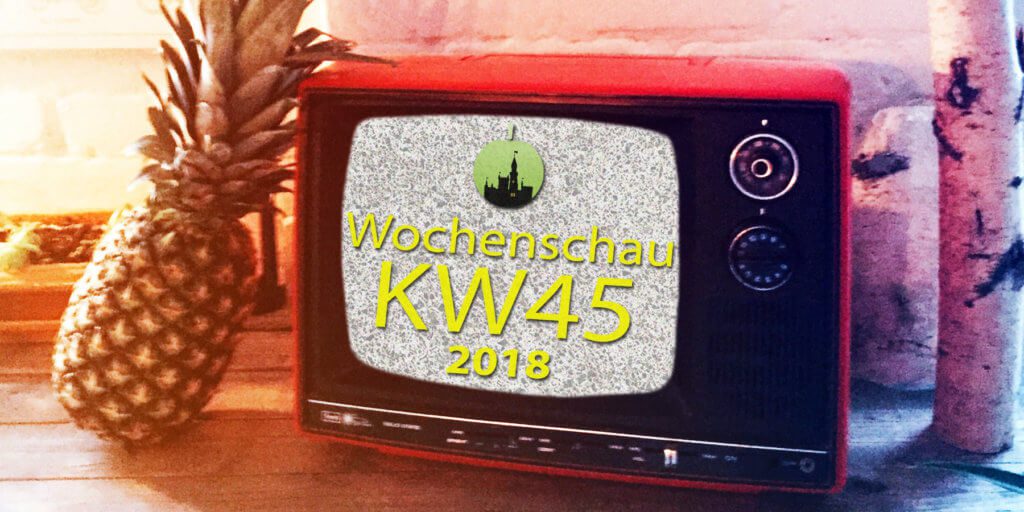 Amazon heralds the Christmas season - too early?
It's not even really cold outside, and Advent is still a few weeks away. Also stand next to that Singles' Day also "Black Friday" and "Cyber ​​Monday" are ahead. Nevertheless, some companies are already ringing in this year's festival quite extensively. As the largest western mail order company, Amazon is of course one of them. Not only did I recently receive a package that had a Christmas adhesive tape as a closure instead of the regular Prime parcel tape - no, there is also a lot of advertising being done differently, like this video shows:
Facebook Messenger for iOS: delete messages up to 10 minutes after sending them
Like Futurezone berichtet, you can delete your own messages from the history in Facebook Messenger for iOS on the iPhone and iPad in the future - similar to WhatsApp. This is possible up to 10 minutes after sending. So if you posted something in the wrong chat or sent the wrong picture, you can reverse the faux pas in a timely manner. According to the information on version 191.0 in the Apple App Store However, the feature is currently only "in planning". So you have to be a little careful what you send to whom: D
MacBook Air and Mac Mini - that's what the first reviews say
Following the annual SeptemberKeynote, where the new iPhone models are traditionally presented, followed again in October 2018 with a bunch of other devices. Among them were at Special event in New York also the new one MacBook Air and the new one Mac Mini. In a extensive press review has captured app dangers review votes on both devices.
After reading the statements from Engadget, TechCrunch, The Verge, Wired and AppleInsider, the conclusion to the MacBook Air is for me: the device is well between the MacBook and MacBook Pro, has enough performance and is too expensive as an "entry-level model". After reading the quoted passages from AppleInsider and Sixcolors on the Mac Mini, I have the following conclusion: the device is expensive but powerful and can cover many areas and niches, from server tasks to high-end tasks.
The first reviews of the iPad Pro 2018
At the above-mentioned Apple Special Event in New York in October 2018, the Apple company from Cupertino also has two new iPad Pro models (and matching the second Apple Pencil) presented: the 12,9 ″ iPad Pro 2018 and as a smaller version that 11 ″ iPad Pro 2018. There are also initial test reports and reviews for these two devices, such as app dangers at this point reported. BILD, Spiegel Online, The Verge, CNET and Wired are cited in the abstract. In addition, reference is made to test reports from TechRadar, Mashable and the Wall Street Journal.
The conclusion in a nutshell: the iPad Pro is currently the best tablet and can replace the computer or notebook for some users. Despite USB-C, there is still no comprehensive plug-and-play solution for peripherals and storage media under iOS. Some devices have to be addressed with the appropriate app. More general solutions like a file and device manager would be better.
iPhone XR not as popular as hoped
In a report by MacRumors here is quoted, it is said that Apple classifies the demand for the iPhone XR as "disappointing". This goes hand in hand with the fact that Apple is said to have informed the Taiwanese manufacturers Foxconn and Pegatron that additional productions of the device and its parts should be paused for the time being. A "source familiar with the situation" is quoted in the article as follows: "For the Foxconn side, it first prepared nearly 60 assembly lines for Apple's XR model, but recently uses only around 45 production lines as its top customer said it does not need to manufacture that many by now."
iPhone XR with almost the same performance as iPhone Xs
And again XR: Like 9to5Mac here reports, the latest iPhone, which came onto the market after the iPhone Xs and iPhone Xs Max, shows quite similar benchmark values. In terms of the Xs models, it is 13% faster than the iPhone X for single-core tasks and 10% faster for multi-core tasks compared to the same device. The graphics processor (GPU) is 40% faster. Besides other values, it also has a better value than the iPhone Xs / Xs Max. This may be due to the fact that the iPhone XR has to produce fewer pixels. In the linked post there is further data and suitable graphics.
AirPods 2 - are they coming before Christmas?
As is well known, the "new Bluetooth device" that Apple presented in October meant the new Apple Pencil. Now several pages are reporting again from another device registered by Apple as a Bluetooth device. The new AirPods are probably meant by this. If they hit the market as quickly as the first generation in 2016, we can expect the AirPods 2 before Christmas.
Reports and many other speculations provide, among others, MacRumors (here ) and 9to5Mac (here ). The model numbers listed are A2031 and A2032, the wireless standard is Bluetooth 5. A new feature is to be the measurement of the heart rate, which is why the AirPods could now also become a health gadget. The two earplugs would form the perfect sports trio with the Apple Watch: D
watchOS 5.1.1 fixes critical bugs
The latest update of the Apple Watch operating system is supposed to fix a "critical software error", berichtet App threats. The message states that the watchOS update to version 5.1 could result in the smart watch no longer starting properly and becoming unusable. Therefore, the update was withdrawn by Apple and replaced by the watchOS 5.1.1 version after a fix. This includes bug fixes and new functions.
Apple Pay in Germany - these partners are participating
Not only heise has one in its "Mac & i" area German message brought out on the subject, with MacRumors also one international reporting delivered: Apple Pay has arrived in Germany. Here are the lists with the corresponding partners who will be there at the start (no date known):
Kreditkarten
Visa
Credit cards
Maestro
American Express
Note: Credit cards can only be added to Apple Pay if the relevant bank (see below) is also a partner of the service. A savings bank credit card, for example, cannot be added to the start.
Couches
Deutsche Bank
Hypo Vereinsbank
Hanseatic Bank
Fidor
Comdirect
O2 banking
Banking & payment apps
N26
bunq
boon
vimpay
Edenred
Markets / shops / chains
Aldi
Lidl
Net
Real
Kaufland
H&M
S Oliver
Aral
Shell
MediaMarkt
Saturn

McDonalds

Burger King

Sanitary Fair
Apps and online shops
Berlin transport company
Airlines like Ryanair
Flixbus
Zalando
Foodora
What do you think about the topics listed? Please leave a comment :)
After graduating from high school, Johannes completed an apprenticeship as a business assistant specializing in foreign languages. But then he decided to research and write, which resulted in his independence. For several years he has been working for Sir Apfelot, among others. His articles include product introductions, news, manuals, video games, consoles, and more. He follows Apple keynotes live via stream.