The second Advent 2018 is approaching and with it the second prize in the competition, which is available to subscribers of the Sir Apfelot newsletter is carried out. But first we come to the weekly round-up, in which I show you Apple and tech news that I have particularly noticed in the past few days. This time it is about messages from calendar week 49 in 2018 with the following topics: Bose Frames, Facebook's spy app, Epic Games, Apple HomePod, WhatsApp, AirPods 2 and a few more topics.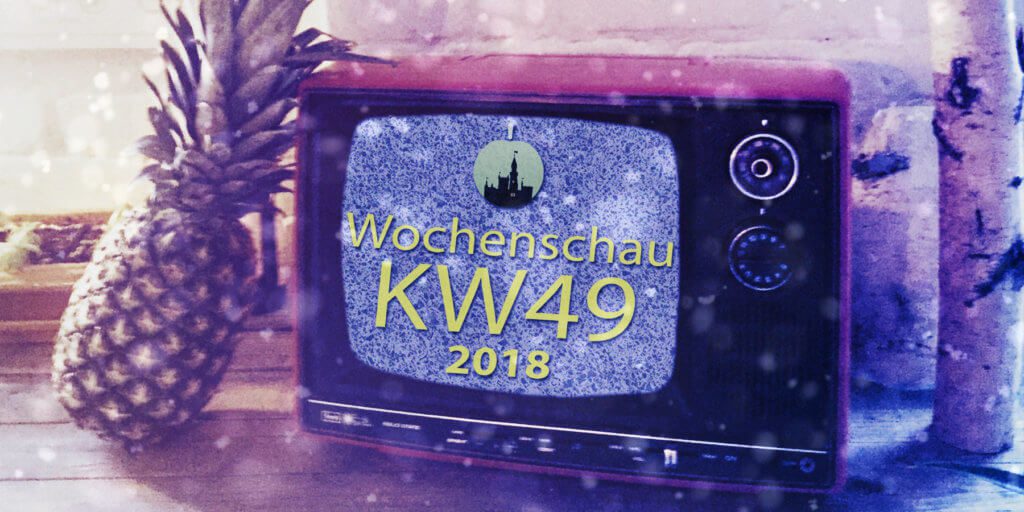 Bose sunglasses with sound and AR functions
Under the name "Bose Frames", the sound expert Bose has introduced new sunglasses that can do more than just protect the eyes from bright sunlight. Like app dangers berichtet, Bluetooth speakers are built into the glasses, which direct the sound to the ears in such a way that the wearer can hear music, film sound or game noises, but the people around you do not notice it. In addition, the Bose frames are made for the use of augmented reality from the sound sector. Of course there are also details on the official product page. The Bose frames are expected to hit the market in early 2019 in the USA and later in other countries.
Like 9to5Mac in one Post shows, the UK Parliament has published internal emails from the company Facebook, from which interesting findings can be read. Among other things, you can find details about the free iOS VPN that Facebook temporarily offered for Apple devices. It is less a security tool than a spy program that records details of calls and SMS behavior of users. As further quoted in the article, there were or are also changes in the Facebook terms and conditions for Android users, which can allow such monitoring. There is more information, among other things at Bloomberg. You can see the emails yourself here .
"Epic Games" platform wants to take on the App Store, Steam and Co.
Epic Games is best known for the battle royale game "Fortnite". The free game for consoles, computers, iPhone and some Android smartphones offers numerous in-app purchases, which is why it can be continuously developed and marketed. However, Epic now seems to have plans beyond their own game development, such as 9to5Mac here reported. With the new platform - at least for games - an alternative to the Mac App Store and Steam from Valve should be created. The company is in contact with game developers simply because of its Unreal Engine, which has been used in many games since 1998.
27 of the 30 largest online shops carry out credit checks
Among other things, Amazon carries out a Schufa check when its customers shop, especially if the products are ordered on account. That writes, among other things, Futurezone at this point. By clicking on "Checkout" it is decided in a split second whether someone can order on account, have to pay in advance or not even complete their order. On the one hand, this can of course be understood, since there is a high risk of fraud, especially with orders that are only to be paid for after receipt of the goods. On the other hand, customers and their creditworthiness are checked again and again, which means the transmission of a lot of personal data.
WhatsApp will be available to fewer users from 2019/2020
From the end of 2018 / beginning of 2019 WhatsApp will discontinue support for the Nokia S40. Devices with iOS and Android will also be affected in the further course. But don't worry - current versions are of course still supported. In addition to the Nokia S40 as a device, devices with Android 2.3.7 will no longer be supported from 2020. WhatsApp will still be available on the iPad, but not as a separate app like Futurezone here reported. In addition, from 2020 at least iOS 7 will be required on iOS devices in order to be able to use WhatsApp.
Apple shows how the HomePod learns to block out ambient noise
Machine learning is used - along with other exciting technologies - in Apple's HomePod smart speaker. One advantage of the self-learning machine: it can hear Siri commands and other voice commands even when there is a lot of background noise or conversations in a room. How this is done, Apple has now shown how you here with 9to5Mac and here can be read at MacRumors. The three main elements for recognizing voice commands in the event of background noise are: echo cancellation to prevent interference from your own loudspeakers, reverberation removal to prevent sound fragments when the user is further away and noise reduction, which filters the noise from devices, the street, etc. I also found a German message about this: Here at app risks.
Apple AirPods 2 have to be more innovative to stand out from the competition
With their wireless design, touch and voice assistance functions, the Apple AirPods no longer offer a new principle. Also here in the blog there have already been one or the other test of wireless Bluetooth headphones that offer similar features. Like 9to5Mac berichtet, now Google and Amazon want to stir up the market with their own AirPod alternatives. For Apple, this means that the new generation of wireless earplugs has to go one better. Health and / or fitness functions will then probably also be implemented. The pulse measurement or would be conceivable, among other things. Similar explanations are also available as a comment at MacRumors.
Apple Music on the Amazon Echo - what does that mean?
Apple Music will soon also be available on Amazon Echo devices using voice commands. This means that the Apple HomePod loses its exclusivity as a loudspeaker with this option. Furthermore, you can at 9to5Mac read, Apple could offer additional subscription and streaming services on third-party hardware in the future; last but not least, the upcoming streaming service for films and series. That would make the company more money, as subscriptions and their content are made available to a much larger user base. At the same time Apple HomePod, Apple TV and Co. would have to assert themselves as premium products against other manufacturers and brands.
What do you think of the topics shown? Feel free to leave a comment! :)
After graduating from high school, Johannes completed an apprenticeship as a business assistant specializing in foreign languages. But then he decided to research and write, which resulted in his independence. For several years he has been working for Sir Apfelot, among others. His articles include product introductions, news, manuals, video games, consoles, and more. He follows Apple keynotes live via stream.