Christmas is over and the new year 2019 is just around the corner. This also means, among other things, that it is time for the last Sir Apfelot newsreel in 2018. And in this I present you the Apple and tech news that caught my eye in calendar week 52. In addition to other topics, the following will be represented at the end of the year: Fake setup app for Amazon's Alexa service, Amazon's Christmas business with new records and Apple's purchases and publications this year. In addition, in the first paragraph after the newsreel banner you will find a note for gamers who want to give themselves again between the years (or who want to use the Steam voucher efficiently).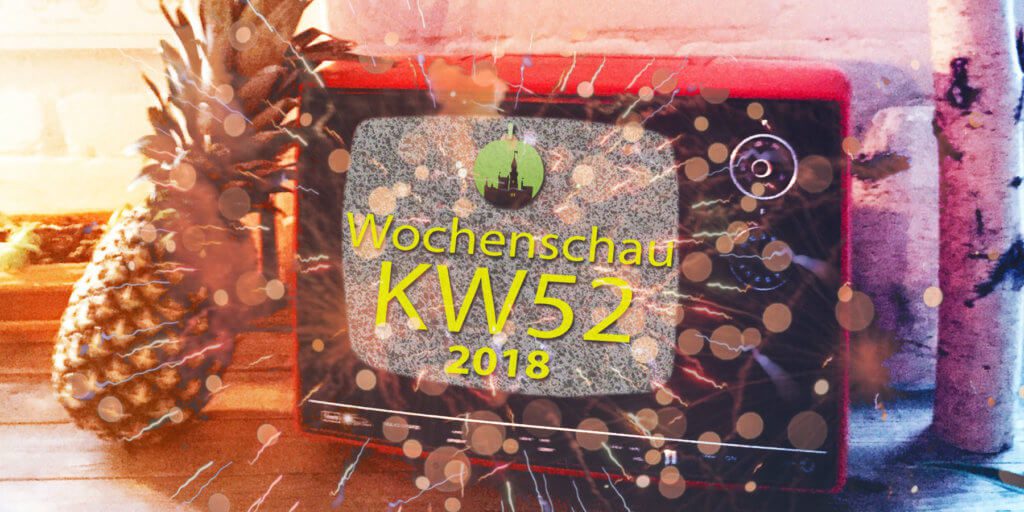 Time out from work, news and stress
I would like to dedicate the first paragraph of this last Sir Apfelot newsreel of the year to leisure and relaxation. If you don't chase any news between the years and don't want to deal with tech innovations, productivity and other stressful things, then take a look at Steam and Epic Games. At least for all gaming friends among you who just want to play around between Christmas and New Year, there are wonderful offers there. From games from this year to current titles from well-known series to classics, for example, Steam offers numerous discounts, so that individual games cost less than 5 euros. Some triple A games are available for as little as 20 euros. Epic Games is currently offering "Subnautica" for free!
Christmas business on Amazon - a new record
How, among other things, app dangers berichtet, Amazon counted more items ordered in the 2018 Christmas season than ever before in the corresponding period. In addition to gifts from a wide variety of areas and manufacturers, a comparatively large number of Amazon products are said to have gone over the virtual counter. From the Echo and Echo Dot to the Fire TV Stick with 4K and voice remote control, the in-house items have paid off in Advent. This fact listed in the post linked above is also interesting: "Before Christmas, parcels were sent to customers in 134 countries from the twelve German logistics centers"
Fake app for Alexa setup removed from app store
As a 9to5Mac at this point reported about a setup app for Amazon's Alexa service that turned out to be fake, it was already number 60 among the top apps in the Apple App Store. The fraudsters who wanted to phish data from Amazon users with the app were able to use the Christmas shopping season and some of the many Echo products that were given away for their own purposes. The app has now been removed from the store. Nevertheless, I wanted to draw attention to this case, because in the euphoria of the Christmas party and the anticipation of the use of new digital helpers, you can sometimes forget to pay attention to the seriousness of the associated services. So always stay vigilant! ;)
Got an Apple product for Christmas? This is how you use it!
Apple offers numerous tutorial and explanatory videos on its YouTube channels with which you can learn to use various devices and services properly. The most recent videos revolve around the iPhone - and admittedly, they are less instructions than hints. Here you will find the five short videos, thanks to which you can get to know the various functions of the iPhone:
Apple Year In Review 1 - These companies were (officially) bought this year
Apple has not only grown to develop and successfully market proprietary systems for all kinds of digital tasks, but also to buy up smaller companies. Be it the elimination of potential competition or the implementation of their competence in their own programs - Apple also swallowed some companies in 2018. With regards to Shazam, I already have in the last newsreel demonstrated the benefits of Apple shopping for users. 9to5Mac lists which other companies were also acquired from Cupertino this year in this post on. However, the list (as follows) may be incomplete as not every purchase is made public:
Buddybuild
Silicon Valley Data Science
Texture
Akonia Holographics
Shazam
Spectral
Dialogue
Asaii
Silk Labs
Platoon
Apple Year In Review 2 - These products were introduced in 2018
Actually, I wanted to have published my own article on the subject a long time ago. But since you have to treat yourself to a break in Advent and Christmas, of course, much more professional editorial teams have come before me. Among other things, the English-language website of MacRumors (here ) and the German-language website of Appgefahren (here ). The annual review of Apple products released in 2018 brings up the following list:
February: Apple HomePod
March: 6th gen iPad
July: MacBook Pro with performance update
September: iPhone Xs, iPhone Xs Max, iPhone XR, Apple Watch 4 (two new sizes)
October: iPad Pro in two versions (11-inch and 12,9-inch), Mac mini, MacBook Air
Upcoming products: Made in India?
It would not be the first Apple products to be made in India, but the news is interesting: the next low and high-end smartphones with the i at the beginning could mainly be assembled there. With reference to a Reuters message reports among other things MacRumorsthat Foxconn wants to start producing, among other things, the Apple smartphones of the iPhone X series in India in 2019. The company already has experience in this direction: Foxconn also has smartphones from the Chinese manufacturer Xiaomi manufactured in India. With the future Foxconn expansion with iPhone production and other new tasks, India can look back on up to 25.000 new jobs.
Happy New Year!
With this in mind: Have a good New Year 2019! The Sir Apfelot Wochenschau then comes back with a summary of important Apple and tech news from calendar week 1. See you! :)
PS: Fireworks are indicated in the picture above, but maybe you want to do without bangers, rockets and firecrackers this year. Not only is this good for pets and wild animals, it also saves rubbish and money.
After graduating from high school, Johannes completed an apprenticeship as a business assistant specializing in foreign languages. But then he decided to research and write, which resulted in his independence. For several years he has been working for Sir Apfelot, among others. His articles include product introductions, news, manuals, video games, consoles, and more. He follows Apple keynotes live via stream.