Today, February 2, 2018, there is again a Sir Apfelot newsreel, in which I present you the messages and news from the Apple and tech scene that caught my eye in calendar week 5. There is a small innovation: the Cyberport Cyberdeals, which I used to deal with on Thursdays in an individual article, are now mentioned in a small paragraph here. In addition, there are reports today about Apple, the corresponding new hardware, a new store in German-speaking countries, self-driving cars from GM, a lawsuit against 1 & 1 and much more. If you still have exciting reports ready, please share them with a (reputable) source in the comments;)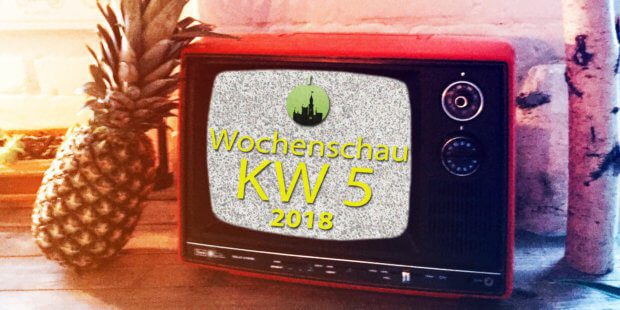 Cyberdeals: Cyberport technology offers until 7.2.2018
At this week's Cyberport Cyberdeals with different technology offers you can buy an Apple MacBook Pro 15,4 "(2017) with i7 processor (2,9 GHz), 16GB RAM and 512GB hard drive for less. Instead of the RRP of EUR 3.299, "only" EUR 2.799 is required. Otherwise, as always, there are numerous Windows notebooks cheaper and also a daylight lamp, a Samsung Smart TV with 65 inches (163 cm), a Lenovo IdeaCenter PC, a NAS system, a Logitech mouse, the Sony Xperia X for only 199 EUR and an external 8TB hard drive with USB 3.0. You can find more information about deals and discounts at Cyberport as well as the link to the promotions page here: Cyberport Cyberdeals overview.
New Apple Store in Vienna, Kärntner Strasse 11
But now we come to Apple and the new store in Vienna. As already reported two weeks ago, at least the store already existed as a placeholder in Apple's official store overview. Now there is more information, namely about the official opening this month. Like Apple auf dieser seite announces, the "grand opening" will take place on Saturday, February 24, 2018, from 9:30 am. The time also marks the regular opening hours on Saturdays. The shop is closed on Sundays and on weekdays from 10:00 a.m. to 20:00 p.m. You can find more information and contact details on the linked page;)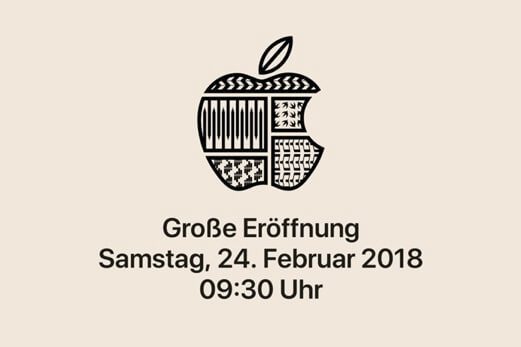 First benchmark data from the iMac Pro with an 18-core processor
Various sources report benchmark results relating to the work machine called the Apple iMac Pro. This is the first Mac that can be bought with up to 18 cores in the CPU. Most of the reports refer to Measurements using "Geekbench" and highlight the high scores of the measurement. If you want to compare the more than 5.000 points for the single-core test and the 40.000 points in the multi-core test, then take a look in this overview past. The 2012 MacBook Pro on which I am currently writing this article has z. B. 3.472 points for single-core and 11.327 points for multi-core. I also selected a comprehensive video on the subject including tests with 4K or 8K video editing and comparative values ​​of individual models (8 core, 10 core and 18 core):
The new Apple devices in 2018
The year hasn't really started yet, that Apple WWDC in June as well as the eagerly awaited September keynote are still in the distant future and yet there are already first reports or "leaks" about the upcoming Apple devices:
Among other things, MacRumors berichtet with reference to KGI Securities from an iPhone X Plus with 4GB RAM and a 6,1-inch iPhone with LCD display as a cheap version of the iPhone X (including TrueDepth, Face ID, 3D sensing and full screen display without home button )
In a report on Apple's own processor chips that could put Intel and Qualcomm under pressure, Bloomberg reports here about new MacBook models in 2018 as well as Mac or iMac models with T1 or T2 chips
A new iPad or even several new iPads are expected towards the end of the year (as late 2018 models); with them the new A12X processor for mobile devices could be introduced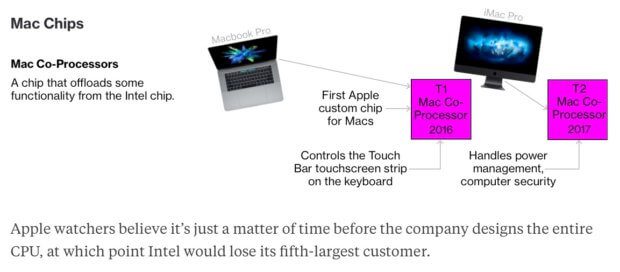 iOS features will be moved; Performance and reliability have priority
In the last few weeks and months there have been reports and reports about the batteries in the iPhone, their aging, the adjustment in iOS, which restricts the device's performance, and so on. With the actual feature, which made the rounds as the "iPhone brake", Apple fell into disrepute and there was talk of forced new purchases, forced battery swaps and planned obsolescence. Like Ina Fried from AXIOS now describesSo the discussions and problems in Cupertino now converge in the decision to work more on these topics and to postpone some other features of iOS. These functions are to be postponed to 2019:
New design for the home screen
Better user interfaces for use in the car
Innovations for core apps like Mail
Photo capture and editing updates
Update for sharing experiences and events
In contrast, efforts in the areas of augmented reality (logically, Apple does not want to lose its lead), digital health applications and child safety have remained in the program for this year. Whether customers and fans of the brand are willing to buy the upcoming devices because of increased security and more stable performance and not because of newly designed features, playful innovations and community functions, that remains to be seen.
One problem solved: Apple and Immersion agree
Immersion is a company based in California, USA, which specializes in haptic feedback systems. With over 2.600 granted or pending patents and around 3 billion devices in use with the respective technology, immersion can be described as a big player in the industry. The company has sued Apple with regard to various technologies such as Force Touch in the Apple Watch, 3D Touch in the iPhone, trackpads in MacBooks and the like, because technologies were probably adopted without obtained usage rights. In an official and very brief one Company press release a "Global Settlement", ie an all-encompassing agreement with Apple, is now described. However, details are secret.
Autopilot: who is to blame in the event of an accident?
Like among other things Engadget reports, there is currently a precedent in the USA dealing with self-driving cars and the accidents that have occurred with them. In detail, it is about a motorcyclist who was knocked over while overtaking by a Chevy Bolt that was changing lanes. In addition to the question of whether the motorcyclist may have acted negligently, the procedure could also clarify precisely for the first time whether the driver or the manufacturer of the car was to blame for an accident when using an autopilot. If the latter applies, General Motors must pay for the damage. As expected, GM defends itself against any allegations.
Strava fitness heatmaps reveal military secrets
Fitness apps with so-called heat maps show you where in a city or region there are popular routes for jogging, cycling and other sports. So you can do sports where others are often too - or you look for routes that are not so frequented and where you have your peace. One of those apps that work through GPS tracking is Strava. A description of the Strava app I have here for you. Currently there are, however a controversy to published data of the app, especially on the movement profiles of soldiers and their patrol routes. to Reuters reports, for example, that the Pentagon is dealing with this and is examining how to deal with heat maps that indicate bases around the world (Syria, Afghanistan, Niger, etc.). Here is a video from the New York Times on the subject:
My opinion on the subject: Of course, such apps should not publish sensitive data and the developers should ensure that no individual persons can be de-anonymized. However, the New York Times video shows a completely different problem: the soldiers use them
App
including profile photos, which show them as soldiers within the individual stations, completely unconsidered. So maybe app developers shouldn't be restricted, but soldiers should be briefed on digital footprints. Sure, smartphones help keep in touch with family at home, but do you really need a fitness app when you're deployed to a military station that does physical activity anyway? I do not think so.
Lawsuit against 1 & 1 for LTE misleading
Something completely different: If it says LTE speed, then LTE technology (or something comparable) must also be included, one would think. Such as ifun reported, this is not so in the case of 1 & 1 with some tariffs. Wherever LTE speeds are advertised, there are only 21,6 Mbit / s in it, according to the small print. So you apparently book 4G and only get 3G. Therefore, the consumer advice center Schleswig-Holstein has also brought a lawsuit against 1 & 1 for misleading. You can find details on this in the ifun article. Explanations of the cell phone generations and the transmission rates of 2G, 3G, 4G LTE and 5G I have here for you.
Finally, something good: YouTube TV now on Apple TV
The YouTube TV app for tvOS on Apple TV has been available since yesterday, at least for US users in certain regions (see FAQ on the provider's website). YouTube TV brings various US channels such as ABC, CBS, FOX, NBC, BBC America, CNBC, National Geographic, Sundance TV and the like to TV via the Internet for $ 35 / month via the Internet, even without a corresponding cable connection. Until now, iDevice users had to use AirPlay to stream programs from the iPhone or iPad if they wanted to use the offer on the television. With the new app for tvOS on Apple TV, access to the subscription, which can be canceled flexibly, is now more convenient. YouTube TV can also be used natively with Roku, Android TV, Xbox One and some Samsung and LG devices.
After graduating from high school, Johannes completed an apprenticeship as a business assistant specializing in foreign languages. But then he decided to research and write, which resulted in his independence. For several years he has been working for Sir Apfelot, among others. His articles include product introductions, news, manuals, video games, consoles, and more. He follows Apple keynotes live via stream.