It's Friday, so it's time for them Sir Apfelot newsreel, this time from the reports of the working days within calendar week 51 2017. Including sources, you will find news and news from the fields of Apple, Mac, iPhone and technology in general. If you still have interesting reports that you thought were worth mentioning this week, please leave a corresponding comment; gladly with indication of a (reputable) source.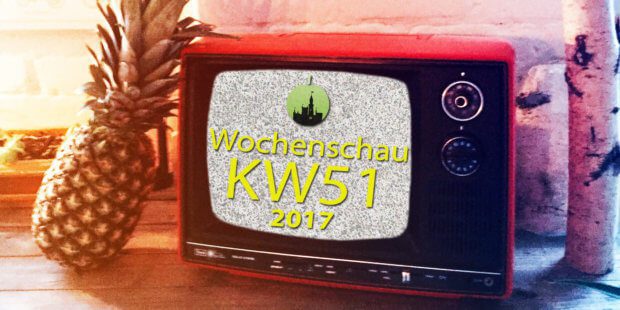 Apple project "Marzipan": iOS apps from 2018 also on the Mac?
According to one written by Mark Gurman Message by Bloomberg Technology, Apple aims to make iOS apps usable for the Apple Mac, iMac and MacBook in 2018. Whether that with the Mac App Store has to do, which compared to the iOS App Store gets much less attention from users, developers and from Apple itself, that is still pending. In any case, the "Marzipan" project should mean that developers should / can program their apps so that the user interface can be used both by touchscreen on iPhone, iPad and iPod Touch and by mouse, keyboard and trackpad under macOS.
Apple iMac Pro: "Startup Security Utility" against manipulation
The so-called Startup Security Utility is a function in the Mac operating system macOS that was previously only available on the Apple iMac Pro (more about the device here ). Its purpose is to ensure that the professional iMac can only be started from the drive provided for it. This is to prevent the computer from being started externally via an external boot or with a modified operating system. According to Apple, the individual settings of the protective function can be configured or switched off so that external booting or modified OS versions can still work. Details can be found at Apple Support.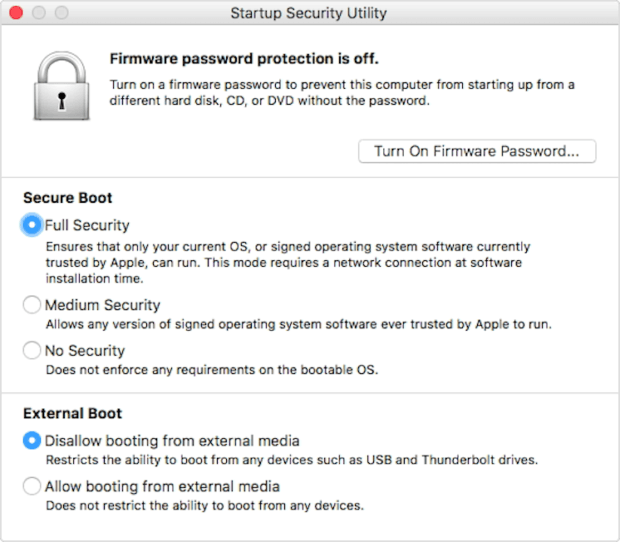 Apple confirms allegations about the performance slowdown in weak iPhone batteries
Let's move from the Apple Mac to the Apple iPhone - the smartphone from Cupertino has repeatedly caused a stir in the last few days, weeks and months. More news about the current X model can be found below; this is about the weakening batteries of the iPhone 6 and iPhone 6s for the time being. Because this recognizes the iOS 10.2.1 operating system and accordingly reduces the performance of the built-in chips. The result is a slower smartphone, but a longer battery life, so you don't have to charge it as often. iPhone-Ticker.de has a comprehensive article and a statement from Apple on the subject collected here.
More blog posts from the newsreel:
iPhone X Face ID: Chinese colleagues and children unlock smartphones
In many large and small media reports, a story was once again highlighted that was supposed to show that the Face ID on the iPhone X is not as error-free and unmistakable as Apple likes to show it. Two Chinese women are the prime example. Because the colleague of the iPhone X owner could easily unlock that device. How to get in German sources (here ) as well as in the South China Morning Post can read, the user was reimbursed the price of the iPhone X; she then bought a new model. But this could also be unlocked by both women. This resulted in a further reimbursement of costs.
Another case has shown that the 10-year-old son of an iPhone X owner can also unlock the device via Face ID - if only they look alike enough. Here is the video of the two:
Rainbrow: Game for iOS 11 is controlled by eyebrows
Let's stay briefly with the connection between the smartphone front camera and the face. Because the new iOS game "Rainbrow" (combination of "Rainbow" and "Brow" for rainbow and brow) is controlled by the facial expressions of the player. A surprised face with raised eyebrows makes the smiley jump up on the rainbow palette. A grim face with knitted brows makes him descend. An expressionless face stops the round game protagonist. The aim is to collect stars while paying attention to obstacles. Not playable when using Botox;) And whoever plays it (regularly) will reveal himself in a few years / decades through drastic forehead wrinkles: D
[appbox app store id1312458558]
Bridge Constructor Portal: Build bridges and use portals
Another game app: Anyone who knows the "Portal" game and all other fans of crazy games will surely love (learn) this app. The game "Bridge Constructor Portal" is about building bridges that will bring test vehicles from A to B. It is also necessary to use portals and plan the paths in such a way that neither acid baths, machine guns or colliding vehicles interfere with the course of the game. The physics puzzle with an official portal license is available in the Apple App Store for iPhone and iPad and costs 5,49 EUR.
[appbox app store id1311353234]
Inkwork: Artistic photo effects from the brushstroke makers
If you prefer to take photos with your iPhone or iPad, then you might like the photo effects app "Inkwork". It comes from the developers who go by the name Organa code and who have already hidden a treasure for photo enthusiasts in the Apple App Store with the popular "Brushstroke" app. Right now (December 22nd, 2017) I can't access the Inkwork app page to create a graphic that could show you the 90 ink effects. The iTunes page only provides an error message. However, I can at least lead you to Brushstroke (there is a link in the overview of the Code Organa apps to Inkwork):
[appbox app store id824421012]
If you still want to see more information and pictures from the Inkwork app, you can go to AppAdvice or also with the German source App threats well read;)
Telekom StreamOn in court according to BNetzA statement
After the apps, a controversial topic: With its streaming facility called "StreamOn", Deutsche Telekom has caused displeasure among users as well as among experts, and not least among the Federal Network Agency. Because the Federal Network Agency (BNetzA), along with many others, has criticized the fact that, for example, video content is compressed down to 480p or DVD quality and that the offer is only valid in Germany. The Telekom should allow all qualities and indeed in the entire EU. The network operator is stubborn and wants to fight for its customers. The comments under the Telekom blog post show resentment just like that Report from iPhone-Ticker.de (including display of DVD quality on the iPhone X).
But why does Telekom supposedly want to "fight" for its customers? Because the StreamOn offer with the various partners such as Spotify and Co. is offered free of charge to domestic users. In the event that the BNetzA gets away with their demands, the Telekom now wants to have money for it. Either from the customers, which is most likely, or from the streaming providers. If Spotify were to quit StreamOn, for example, the users would certainly exert pressure because they do not understand why they suddenly found Spotify's data on their data consumption again. Actually a clever tactic from Telekom - why should they also offer something "free"? Wouldn't be understandable from an entrepreneurial point of view. But it should be communicated a little more openly.
Netgear Arlo Pro 2: New security camera with battery
The wireless and battery-powered surveillance cameras from Netgear from the Arlo Pro range are now available in a new generation. The Arlo Pro 2 cameras (with or without base station) now offer recording in Full HD 1080p, the faster start of video recording and compatibility with Amazon Alexa, so that recordings can be displayed on the Echo Show or on Smart TV with FireTV. The cameras are not only suitable for indoor use, but also for outdoor use - there is even a solar panel for long-term operation. In addition, the cameras of the Netgear Arlo Pro 2 series offer night vision, motion detection and a 130 ° viewing angle.

Netgear Arlo 2 base with two cameras
The base station for video surveillance with the Netgear Arlo Pro 2 surveillance system. Two cameras with Full HD and a 130 ° viewing angle each. Individual setting of activity zones in which movements are to be recognized and other features.
Netgear Arlo Pro 2 camera
Battery-powered, waterproof surveillance camera with full HD recording and 130 degree viewing angle. Wireless and suitable for 24/7 video recording when operated on the mains.
You can also monitor your home while you are on the go thanks to the cameras. Because the videos are stored online on Netgear's servers (for different lengths of time, depending on the subscription). You can also use the Arlo app for the iPhone and iPad to access your apartment, your garden or wherever the cameras are located. You can find the app here:
[appbox app store id925911312]
And these are the individual subscription models:
7 days of video storage with 1 GB cloud storage for up to 5 cameras - 0 EUR / year
30 days of video storage with 10 GB cloud storage for up to 10 cameras - 89 EUR / year
60 days of video storage with 100 GB cloud storage for up to 15 cameras - 139 EUR / year
Christmas will be in two days
In addition to all the Apple stuff and the many technology news, here is a message for all of you spontaneous: On Sunday it is Christmas Eve and many people also have gifts! So you should think about gifts soon;) Or think about what you want to use the Amazon voucher for. You can find ideas in this post. In addition, you can also quickly for the Sir Apfelot Newsletter register and use a Xiaomi Mi Win a vacuum cleaner robot! Ho ho ho!
After graduating from high school, Johannes completed an apprenticeship as a business assistant specializing in foreign languages. But then he decided to research and write, which resulted in his independence. For several years he has been working for Sir Apfelot, among others. His articles include product introductions, news, manuals, video games, consoles, and more. He follows Apple keynotes live via stream.
The page contains affiliate links / images: Amazon.de