Christmas time is really cool. You get gifts delivered without being asked, which you can also use! A package arrived yesterday, but I was only able to open it because I was away for the weekend. In the small box was a cell phone beanbag and a letter from mobildiscounter.dewho wish my smartphone a Merry Christmas and would like to give it a nice place to put its feet up. This is not a joke ... really was that in the letter. :-)
I tried the little green (how do they know which color I like ???) bag and put my Kindle Fire in it. What can I say: It gave a satisfied "Ahhhh" and put its feet up! No wonder, because according to the cover letter, the mobile phone beanbags are even lovingly handcrafted - you just have to feel comfortable. Once the tablet or smartphone has made itself comfortable in the beanbag, the incline of the display is perfect when you are sitting at the table and want to read something or watch a film. And it can be used flexibly: It is not too small even for my large iPad 3. I tried it out because at first I thought it would be a bit big for the beanbag, but I was wrong.
The only point of criticism I still have about the beanbag: The underside would be perfect if it had a little anti-slip coating. If that were still the case, the mobile phone sofa could also be placed on inclined surfaces. But at some point I came up with a trick that I can use to apply an ABS coating to virtually any underside: I put a few thin strips of hot glue over it and let it dry. When it has gotten cold, the surface has a nice grip and does not slip away.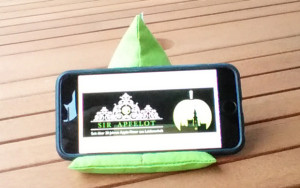 Incidentally, the photos were taken with the iPhone 6, which is why the Kindle Fire "sits" on the sofa. So that you can believe that my iPhone will also find it comfortable in it, I took a photo of the iPhone with the front camera of the Kindle - the quality of the photo forgives me. The Kindle Fire isn't that optimized for taking photos. ;-)
Then thanks again to the team at mobildiscounter.de and have a nice Christmas time to everyone!
-

Jens has been running the blog since 2012. He appears as Sir Apfelot for his readers and helps them with problems of a technical nature. In his free time he drives electric unicycles, takes photos (preferably with his iPhone, of course), climbs around in the Hessian mountains or hikes with the family. His articles deal with Apple products, news from the world of drones or solutions for current bugs.