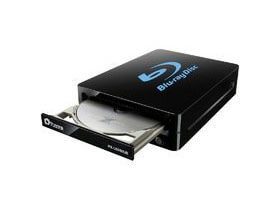 Unfortunately, Apple decided not to include support for the Blu-Ray format in its Mac. This means that users who still want to burn Blu-Ray discs are dependent on using external Blu-Ray burners. The compatibility of many external burners with the Mac under OS X is definitely given, so that you can work with almost every available [Blu-Ray drive-> blu-ray] on the Mac. If you want to buy a burner, you just have to decide whether you want a mobile device or one that reads and writes quickly and weighs a bit more.
---
Update: Unfortunately, the Plextor burner described here does not seem to be commercially available anymore. For this reason, I would currently recommend this mac-compatible model from LG, which even supports USB3 and achieves 14 times the burn speed: LG BE14NU40 Super Multi Blue external BluRay burner (14x speed, USB 3.0)
---
Not a lightweight but a test winner: the Plextor Blu-Ray burner
Today I got the PX-LB950UE burner from Plextor select. Although it weighs more than 1.000 grams, it weighs significantly more than its "mobile" colleagues, who weigh around 300 grams, but it can score with good rates in the read/write speed. In addition, it was also chosen as the test winner, as I read in MacLife 02/2013. So if you don't intend to carry the burner around every day, the Plextor is certainly a good choice. A small drop of bitterness is perhaps the price, which at around EUR 180 is at the upper end of the range. The tests in MacLife have definitely given the Plextor burner top marks in terms of speed and burning quality. The BR burner is connected to the Mac via [USB 3->usb-3] or via the [eSATA connection->esata].
It should also be noted that firmware updates can only be imported into the Bluray burners via Windows. Unfortunately, the manufacturers do not offer any software that runs under OS X. But if you are running VMware or Parallels anyway, you probably don't see this as a problem.
A burning program is required for writing to blank Blu-Ray discs and blank DVDs with the Plextor. There are two possible candidates running on OS X:
Roxio TOAST 11 Titanium
The TOAST program from Roxio has been known on the Mac for a long time and is very easy to use. It supports many formats and can burn audio CDs as well as Blu-Rays or DVDs.
Jens has been running the blog since 2012. He appears as Sir Apfelot for his readers and helps them with problems of a technical nature. In his free time he drives electric unicycles, takes photos (preferably with his iPhone, of course), climbs around in the Hessian mountains or hikes with the family. His articles deal with Apple products, news from the world of drones or solutions for current bugs.
The page contains affiliate links / images: Amazon.de