As with the launch, there are wireless headphones Soundcore Life Q30 von Anker is currently back with a 25% discount. The over-ear headphones with different modes for active noise suppression (ANC) cost now and only until November 18, 2020 with the voucher code below € 59,99 instead of € 79,99. The deal is definitely worth it, as you can read in my extensive review from last month. My conclusion was: "In my opinion, there is nothing comparable on the market at this price"What I can only repeat with the current discount offer;)
TL; DR: Order cheaper here with code SCLIFEQ30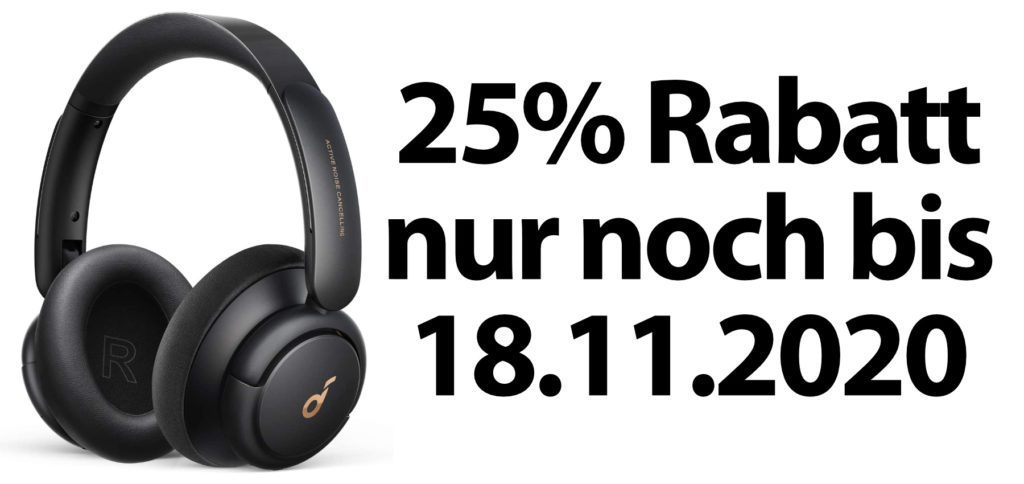 Soundcore Life Q30 - Bluetooth headphones with ANC for only 59,99 euros
Of course, there are other wireless headphones on the market that are even cheaper. The Soundcore Life Q79,99, which actually costs 30 euros, are already extremely good in this price range and definitely recommended. There are various modes for active noise cancellation, such as: B. "Transport" for the plane or train, "Outdoor" to hide road traffic, and "Indoor" for the office environment or the like. You can find more details about the headphones in mine Soundcore Life Q30 review as well as of course on the Amazon product page. To save 25% on the payment process, simply use the voucher code SCLIFEQ30.
Above all rated good and very good on Amazon
In addition to my extensive test report, you can of course also refer to the customer reviews on the Amazon page linked above. There, 30% of the Soundcore Life Q71 over-ear headphones from the manufacturer Anker received 5-star ratings. A further 12% are attributable to ratings with 4 out of 5 stars (as of November 16.11.2020, 5). One of the XNUMX ratings already has a meaningful heading: "Remarkable price breaker with very good customization for the most important thing: the sound"- the following, extensive evaluation, which could also be a test report on a blog, is full of praise. So you can't go wrong with buying the headphones (now cheap for two more days);)
Jens has been running the blog since 2012. He appears as Sir Apfelot for his readers and helps them with problems of a technical nature. In his free time he drives electric unicycles, takes photos (preferably with his iPhone, of course), climbs around in the Hessian mountains or hikes with the family. His articles deal with Apple products, news from the world of drones or solutions for current bugs.
The page contains affiliate links / images: Amazon.de