I have already introduced you to the Muse meditation headbands in a few blog posts. By measuring brain waves, pulse and other factors, as well as coupling with an app that sends individual background sounds to the headphones, learning meditation becomes child's play. A current action in the official Muse online shop only runs until tomorrow and brings you up to € 100 discount - for example on the "Muse S Bundle" and the "Muse 2 Bundle". In addition to the respective headband, both include a 1-year subscription for the app.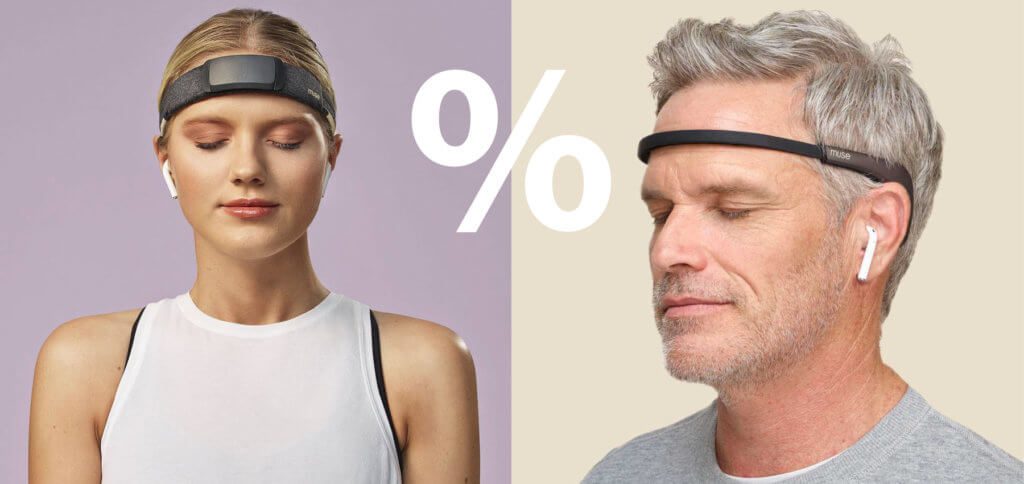 Learn different muse models to meditate
A comprehensive article in which I explain how the Muse headbands work, the app and the interaction of the two elements, can be found with this link. In the article I mainly deal with the first meditation headband or headband and the further developed second version. The latest model, the Muse S., has the advantage that the sensors are attached to a flexible headband. Unlike the more glasses-like predecessor models, this can now be better adapted to the individual head circumference. It is also a better way for people who wear glasses to learn to meditate without having to take off their glasses or use contact lenses.
Discount campaign in the Muse online shop
As already mentioned above, you will be granted a discount of € 2 for the promotion on the headband app bundle with Muse S or Muse 100, which is only valid until tomorrow. But even without a bundle you can save, because in the official online shop You also get the Muse 2 as a single device for 30 € less, the Muse 2 Case 10 € cheaper and the 1-year subscription of the app for single purchase 51 € cheaper. There are also group offers: if you buy a 10-pack of the Muse 2 model, you save € 360. If you buy a 6-pack of the Muse S model, you can save € 341. Just have a look around, you are sure to find the right offer for your meditation lessons;)
Jens has been running the blog since 2012. He appears as Sir Apfelot for his readers and helps them with problems of a technical nature. In his free time he drives electric unicycles, takes photos (preferably with his iPhone, of course), climbs around in the Hessian mountains or hikes with the family. His articles deal with Apple products, news from the world of drones or solutions for current bugs.