MacPaw, the software studio behind CleanMyMac and Setapp, has released a new app. With the spybuster Mac App you can see from macOS 10.15 which apps, services and websites communicate with servers in Russia and / or Belarus. It is also displayed which apps are in "Russian ownership", i.e. belong to a Russian company. It doesn't even need to run the program in question, it simply queries a database compiled by MacPaw itself. A SpyBuster tool is also the dynamic analysis ("Dynamic Analysis"), which shows the data traffic of individual offers and the server locations used for this purpose.
Abbreviation: Download new app for free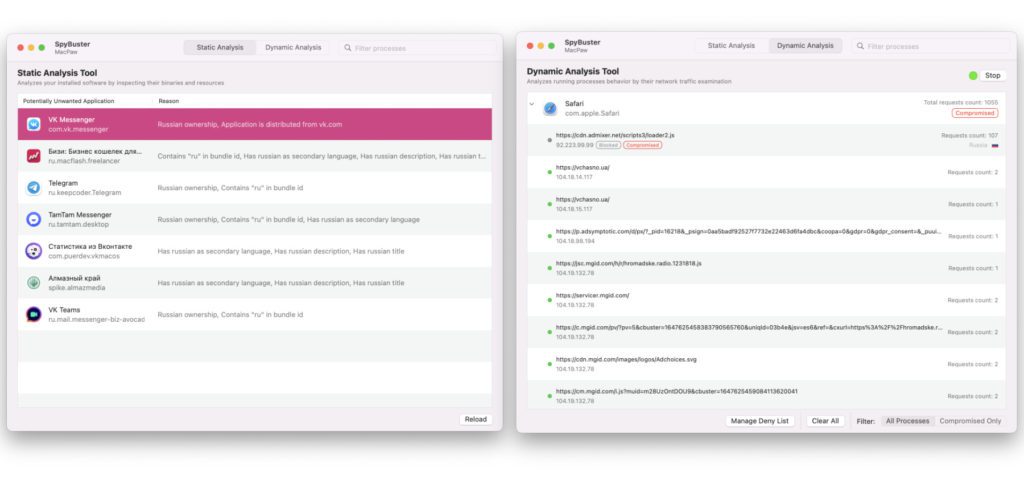 How SpyBuster is supposed to help users
MacPaw's SpyBuster aims to provide more online security. If the app is installed on the Apple Mac, iMac, MacBook or other Apple computer, then you can see which apps, services and websites communicate with servers in Russia and Belarus. Anyone who operates a website or otherwise provides data on the Internet can use the software to see whether their own offers are running on a server in the countries mentioned. You can find more information about the app, how it was created and how it is used in the official blog post by MacPaw. There you will find the information that the download and use are free, as well as the information that the data will only be processed locally.
Check out Setapp!
Speaking of MacPaw, here's a reminder about the extremely helpful app subscription Setapp. This brings you over 9,99 ad-free full versions of the app to the Mac for just EUR 230 per month. Of course, you don't have to install them all at the same time. After booking, you can choose exactly the programs that suit you and the tasks to be processed on your Mac. There is software from a wide variety of areas: lifestyle, productivity, Mac hacks, developer tools, task management, writing & blogging, education, creativity and more. CleanMyMac X is there as well as VPN, news, graphics, video, text, multimedia and other solutions. Browse all apps you can with this link.
After graduating from high school, Johannes completed an apprenticeship as a business assistant specializing in foreign languages. But then he decided to research and write, which resulted in his independence. For several years he has been working for Sir Apfelot, among others. His articles include product introductions, news, manuals, video games, consoles, and more. He follows Apple keynotes live via stream.