The software Stellar data recovery for Apple Mac is a helpful tool for recovering deleted data from hard drive, USB stick and SD card. Unlike the Data recovery from broken Mac, in which the Fusion Drive is intact, this app can also rescue data from the hard drive network if one of the storage media is broken. This works under macOS Mojave, High Sierra and older systems as well as with the data systems up to the current APFS. A "File Signature" repair is used, which can restore deleted Mac files even on formatted mass storage devices.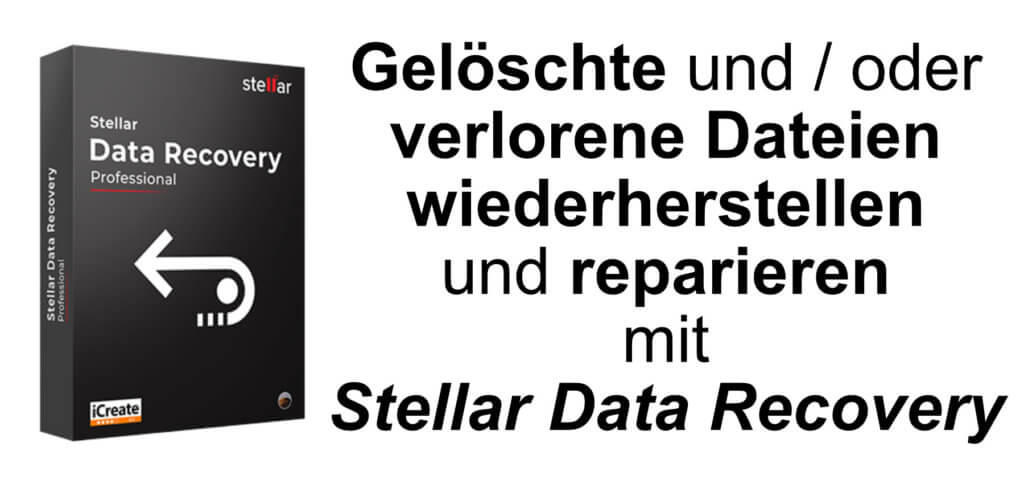 Easily restore files on Mac and PC
It only takes a few clicks to restore files accidentally deleted from the Recycle Bin or otherwise lost data with Stellar Data Recovery. You don't have to be a technology professional to find your way around the user interface. Basically, three simple steps are enough for data recovery:
Select file types (documents, emails, videos, audio, photos or everything)
Select hard disk, USB stick, SD card or similar
Click on "Scan" and get results
If the desired success is not achieved after this, a "deep scan" can be activated before the third step - ie a deeper, more detailed search for residual data to restore. In addition to Stellar Data Recovery for the Mac, the software is also available for Windows PCs; you can find both on the Website of the provider.
Recover files from encrypted hard drives
Data recovery with free software or apps as a trial version becomes critical if the hard drive is encrypted. And not every paid program can retrieve deleted files from encrypted storage. Stellar Data Recovery can do what - as mentioned at the beginning - is practical on the Mac, especially with regard to Fusion Drive systems. As for the price, it depends on the version you want. There is Stellar Data Recovery Professional for € 79,99 (offers data recovery), Stellar Data Recovery Premium for € 99,99 (also offers and data repair of photos and videos) and Stellar Data Recovery Technician for € 199 (also offers RAID recovery and virtual RAIDs).
As you can see in the following comparison of the three different software versions, the cheapest version is quite sufficient for every average consumer. I would recommend the premium version to any photographer, video artist or other user who works a lot with photos and videos on hard drives, memory Cards and Co. has to do. With its RAID support, the technician version as the third variant is more for the IT officers in the company. But see for yourself:
| | | | |
| --- | --- | --- | --- |
| | Stellar Data Recovery Professional | Stellar Data Recovery Premium | Stellar Data Recovery Technician |
| Recovers permanently deleted files | ✔︎ | ✔︎ | ✔︎ |
| Recovers data from formatted drives | ✔︎ | ✔︎ | ✔︎ |
| Recover lost partitions | ✔︎ | ✔︎ | ✔︎ |
| Retrieve deleted emails | ✔︎ | ✔︎ | ✔︎ |
| Creating drive images | ✔︎ | ✔︎ | ✔︎ |
| Recover data from CD / DVD | ✔︎ | ✔︎ | ✔︎ |
| Read out SMART hard disk status | ✔︎ | ✔︎ | ✔︎ |
| Clone HDD or SSD (create backup) | ✔︎ | ✔︎ | ✔︎ |
| Repair video files | ✘ | ✔︎ | ✔︎ |
| Repair photo files | ✘ | ✔︎ | ✔︎ |
| RAID 0, 5 and 6 data recovery | ✘ | ✘ | ✔︎ |
| Creation of virtual RAID systems | ✘ | ✘ | ✔︎ |
Brief video introduction to Stellar Data Recovery
In this Video The software, which had just been updated with its new user interface, was presented on YouTube a year ago. At that time it was still called "Stellar Phoenix Mac Data Recovery"; But it also offers the features shown under the now shorter name:
Free download for a test scan
On Provider website you don't have to buy the full version right away - if you currently need a Mac app to restore deleted files. There is a free download that gives you the option to run a scan. So you can find out for free whether the program can even find your deleted data. If this test scan from Stellar Data Recovery runs successfully, you can buy the full version and restore the data found and previously believed to be lost. So if you accidentally deleted the recycle bin too quickly or formatted an SD card too early, you can find out whether and what can be saved without making a bad purchase;)
After graduating from high school, Johannes completed an apprenticeship as a business assistant specializing in foreign languages. But then he decided to research and write, which resulted in his independence. For several years he has been working for Sir Apfelot, among others. His articles include product introductions, news, manuals, video games, consoles, and more. He follows Apple keynotes live via stream.