The Stiftung Warentest has numerous smartphones and cell phones again tested, including the iPhone 7 and the iPhone 7 Plus. In first place, however, is the Samsung Galaxy S7. It almost shared the space with the Apple iPhone 7 Plus (32 GB) if it hadn't had a weaker battery. In addition, there is the price, which is the Samsung Galaxy S7 is significantly lower. But what do tests like this say about usability? Are objective system tests the measure of all things?
Stiftung Warentest: A total of 21 smartphone models rated "Good"
From the grade 1,9 to the grade 2,5, 21 models were found to be good. According to the Stiftung Warentest, the cheapest device costs 240 euros (Samsung Galaxy A3 2016); the most expensive was the iPhone 7 Plus with 32 GB of memory - at around 1.100 euros. At the top of the list is the Samsung Galaxy S7 for 585 euros with a grade of 1,9.
Test results of the Samsung Galaxy S7
Telephone: good
Internet and PC: very good
Camera: good
GPS and navigation: good
Music player: good
Handling: good
Stability: very good
Battery: good
Test results of the Apple iPhone 7 Plus
Telephone: good
Internet and PC: very good
Camera: good
GPS and navigation: good
Music player: good
Handling: very good
Stability: good
Battery: sufficient (with a note that this will lead to devaluation)
It is astonishing that the iPhone 7 (without "Plus") landed in 8th place. In the overview it becomes clear that there were deductions in handling compared to its big brother. The small model should basically sit better in the hand than the 5,5 inch phablet.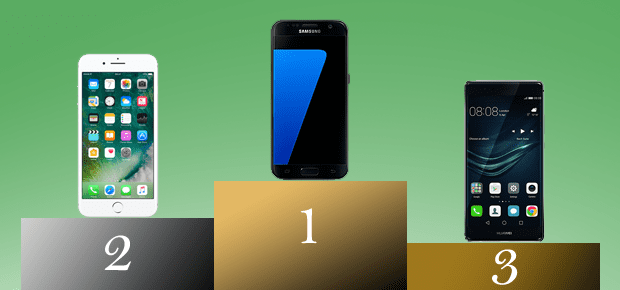 Stiftung Warentest as a source for purchasing decisions?
The Stiftung Warentest has its permanent place as an informing authority. However, in my opinion, prospective buyers who want to buy a smartphone should not follow these tests first. The main areas of application for the device should be in the foreground. For example, memory and camera quality are paramount for many users - which also leads to that iPhone 7 Plus finds its way into Sir Apfelot's house.
If you know your own needs, you can start looking for suitable devices. Of course, if you don't have a favorite yet, the question of Android or iOS has to be clarified. Beginners (as well as everyone else) should of course opt for iOS right away;) In addition to the innovative platform and user-friendliness, Apple's security and update-friendliness also play a role here.
Compare smartphones online for free
Granted, the data and test results listed above are from a chargeable PDF from Stiftung Warentest. If you more extensive information to all possible devices - and that free - then I recommend you take a look at inside-handy.de. If you look at the data sheets there (detailed down to the smallest detail), you will find a button "Compare mobile phones". With this you can compare the displayed model with others. There are also extensive tests on Apple, Android and other devices.
After graduating from high school, Johannes completed an apprenticeship as a business assistant specializing in foreign languages. But then he decided to research and write, which resulted in his independence. For several years he has been working for Sir Apfelot, among others. His articles include product introductions, news, manuals, video games, consoles, and more. He follows Apple keynotes live via stream.