With the right Amazon discount codes, you can still buy two EasyAcc Powerbanks for less until July 30, 2020. In addition to an external battery with 26.000 mAh for only € 18,39, there is also one with 20.000 mAh for just € 13,19. Which discount codes you need and on which product pages you can find the two great bargains, I have summarized that for you in this little message. But, as always, the following applies: information without guarantee; Changes are possible.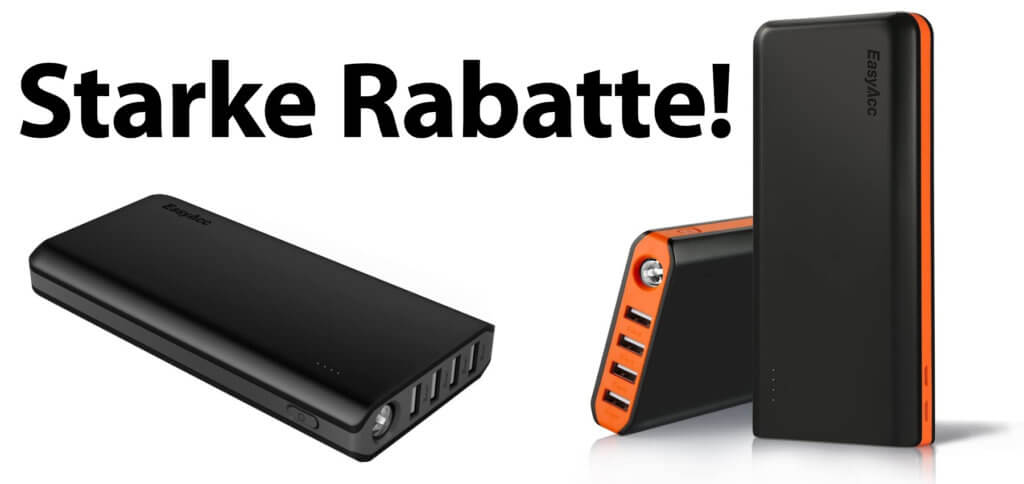 Power bank with 26.000 mAh, 4 x USB-A and flashlight
The first offer is the power bank on this product page. It offers four USB-A ports for connecting a wide variety of devices. In addition to the iPhone and iPad mini, it can also be used to charge Android devices, cameras, action cams and so on. Due to the high nominal capacity of 26.000, the external battery is ideal for longer trips. In addition, a flashlight is integrated, which z. B. makes it ideal for camping. Instead of the regular € 45,99, the power bank with the discount code costs 3AM38YSC only € 18,39. A great deal - and it's valid until July 30th!
Power bank with 20.000 mAh, 4 x USB-A and flashlight
The power bank on this Amazon page looks very similar, but has a lower nominal capacity. It brings 20.000 mAh; but that's still enough to charge most smartphones multiple times. With 4 USB-A outputs, even several devices can be attached to the external battery at the same time. And here, too, a flashlight is built in - in addition to camping, this is useful if you have to use the power bank in the event of a power failure or in the car that has broken down at night. Instead of the regular € 32,99, it costs with the discount code 68GFTRF7 only € 13,19. This bargain can also be used until July 30th.
Jens has been running the blog since 2012. He appears as Sir Apfelot for his readers and helps them with problems of a technical nature. In his free time he drives electric unicycles, takes photos (preferably with his iPhone, of course), climbs around in the Hessian mountains or hikes with the family. His articles deal with Apple products, news from the world of drones or solutions for current bugs.
The page contains affiliate links / images: Amazon.de