If you still have an older Apple MacBook (Pro), an older iMac, a Mac mini or even an iBook with a SuperDrive for CDs, DVDs and CD-ROMs, then you might be thinking of expanding the drive and against something more practical to replace. For example, the internal SuperDrive can be exchanged for an SSD hard drive in order not only to equip the computer with more memory, but also to make it faster. One reader recommended an adapter kit with tools and a case for the removed drive - great thing!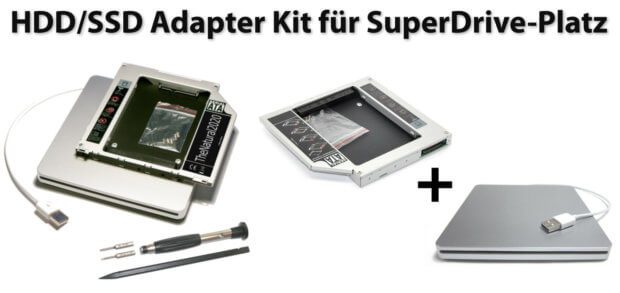 HDD / SSD adapter kit: replace SuperDrive with hard disk
In the said set for expanding the SuperDrive and replacing it with an SSD hard drive (or an HDD, if you still have a suitable one lying around), there is a frame for the same, a housing for the removed drive with USB 2.0 connection for further use as well as suitable tools included. On the Amazon product page you can choose different models, depending on which Apple MacBook (Pro) or Apple iMac you have:
MacBook Pro 2006 to Early 2008 (13 "and 15")
MacBook Pro 2006 to Early 2008 (17 ")
iMac 2006 to Early 2008 (17 ″ 20 ″ 24 ") / Mac Mini 2006 to 2007
MacBook Pro 2008 to 2012 (13 ", 15" and 17 ")
iMac 2009 to 2011 (20 ", 21.5", 24 "and 27")
Buy SuperDrive for memory exchange kit
The conversion kit for removing and replacing the hardware in the MacBook Pro, iMac or Mac mini is not expensive at all. So you save a lot compared to buying a new one. In addition, a hard drive built into the housing is better suited than an external FP or SSD in the external housing especially if you want to travel with your Apple notebook.
Replacement kit for Apple drives
The HDD / SSD adapter kit ensures that you can build a housing for a hard drive instead of the SuperDrive in the Apple MacBook Pro, Apple Mac Mini or Apple iMac. You can choose the right model on the product page.
Technical data
Depending on the model, the module, in which you can insert a 2,5 ″ SATA hard disk (HDD) or SSD, replaces the 9,5 mm PATA / IDE combo / SuperDrive, the 12,7 mm PATA / IDE combo / SuperDrive or the 12,7 mm Combo / SuperDrive with SATA interface. And it also comes with the right tool for screwing on / unscrewing the old components and installing the new hardware. You can tell that the providers of the set really thought about it. Because you can also choose whether or not to order a housing for the removed CD and DVD drive.
Recommended reading: MacBook memory expansion without modification thanks to the SD card
Also not entirely unimportant: The housing for the expanded SuperDrive "only" has a USB 2.0 connection. That sounds slow, which it basically is, but that original external drive from Apple only has a second generation USB port. If you are looking for a faster drive that can also handle Blu-Ray or burn Blu-Rays, then I recommend this model: Description in this post.
Hard drives are not included in the set
It is also important to note that the matching HDD or SSD hard drive is not included in the set. So you have to buy this hardware at the same time. My recommendations in this regard are always that Samsung EVO SSD or Samsung PRO SSDswhich are also installed by Apple service partners such as Gravis.
Brief information about the difference between the PRO and the cheaper EVO models from Samsung:
PRO models use MLC memory modules, while EVO models use TLC modules
The PRO SSDs thus offer higher data security
the PRO models support the RAPID mode, which is around 1,8 times faster than normal SSDs
Here are the links to the most frequently used models with 512 GB or 500 GB:
205,01 EUR
Samsung 850 PRO MZ-7KE512BW with 512 GB
SSD 6,3 cm (2,5 in); Operating voltage: 5 V ± 5%
Interface: SATA 6 Gb / s, backwards compatible with SATA 3 Gb / s and SATA 1,5 Gb / s; Samsung 3-core MEX controller
Dimensions: 100 x 69,85 X 6,8 mm
No products found.
Video: Conversion ensures more performance
I found a very professional video on the subject, including swapping out the disk drive for a memory expansion device on a 2009 MacBook. With further adjustments, such as more RAM and the like, the machine could even be leveled up to macOS High Sierra and did well in tests. Check it out:
After graduating from high school, Johannes completed an apprenticeship as a business assistant specializing in foreign languages. But then he decided to research and write, which resulted in his independence. For several years he has been working for Sir Apfelot, among others. His articles include product introductions, news, manuals, video games, consoles, and more. He follows Apple keynotes live via stream.
The page contains affiliate links / images: Amazon.de