From SwitchBot there is not only Switch and curtain robots as well as room air sensors, but also other accessories for the smart home. The SwitchBot surveillance camera with 1080p resolution, WLAN connection, motion detection, night vision and all-round view is one of them. It can even work with door or motion sensors via the SwitchBot Mini Hub to start recording when intruders are detected but not yet in view. It is also possible to use voice control, use an intercom function and receive push notifications when movements are detected. In addition to monitoring, there is also a privacy mode when you are at home.
Abbreviation: Buy camera with discount coupon on Amazon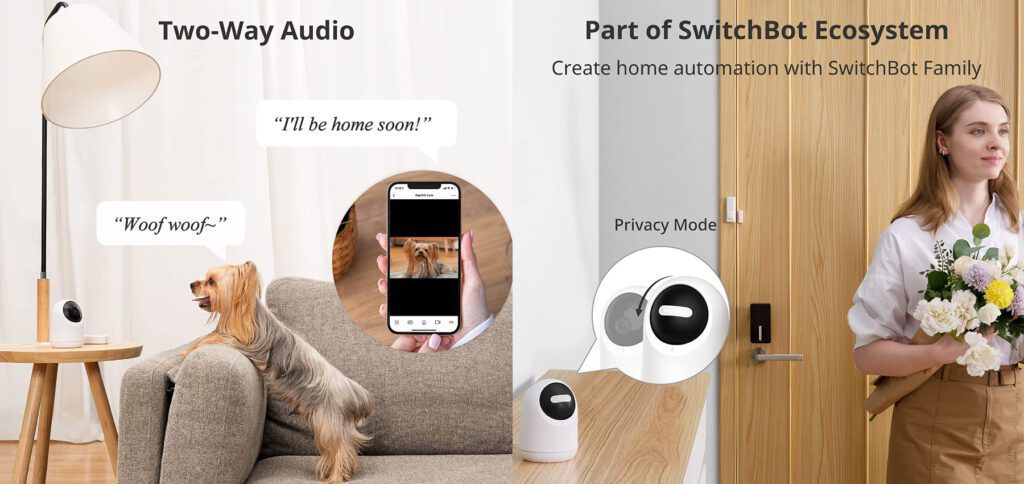 SwitchBot security camera with privacy mode
When using surveillance cameras in the home, one obstacle is often the feeling that you are being watched to a certain extent in normal everyday life. Even if the recorded videos and other data are only processed locally and have nothing to do with cloud storage. Current models, including the SwitchBot surveillance camera, offer a privacy mode to overcome this obstacle. For this, the camera is turned into the housing so that no recording is possible. This can even be triggered automatically when the user comes home. The apartment is only monitored when you are absent.
10,01 EUR
Key dates and features of the SwitchBot security camera
The handy surveillance camera is 10,7 cm high and has a diameter of 7,8 cm. The weight is 195g. In addition to the device, the scope of delivery also includes a USB-A toMicro-USB-Cable (2 meters) and a power pack for the power connection included. Screws and a screwing aid are also included so that the camera can be permanently installed, attached to walls or the ceiling. The reset pin helps reset the microSDmemory card (not included) to remove. It can microSDXC cards up to 128GB Capacity used to store videos locally.
15,54 EUR
The camera offers a Full HD resolution and the f/2.0 lens should help to let in the necessary amount of light for the optimal sharpness of the image. The two built-in motors ensure that a 360° all-round view can be realized horizontally and a field of view of a total of 115° vertically. You can even set specific waypoints that are automatically scanned by the camera to keep a constant eye on the home. For communication with others, with the child, with the pet or even with a burglar, there is the possibility not only to receive audio, but also to output it. The smartphone serves as a microphone from afar.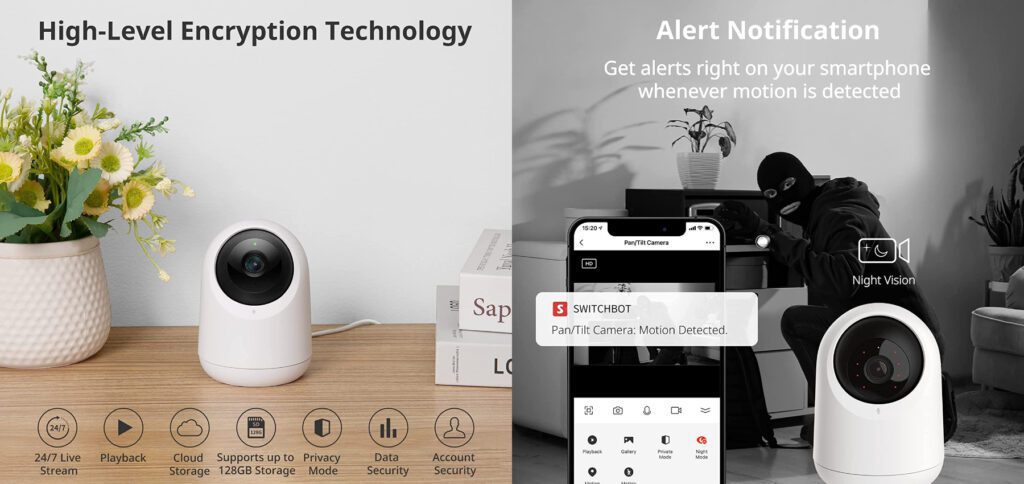 For looking into the dark, the SwitchBot indoor camera comes with eight infrared LEDs, which help to monitor the apartment at night. Whether as a baby camera, to take a look at the pet or to record the faces of burglars - many possible applications can be implemented with the camera. When on vacation, you can use the SwitchBot surveillance camera to keep an eye on the plants to let the neighbors know when they need to be watered. Compatible language assistants are the Google Assistant and Amazon Alexa. The SwitchBot app can be used from iOS 11 and Android 5. The download is available in App Store or Play Store.
After graduating from high school, Johannes completed an apprenticeship as a business assistant specializing in foreign languages. But then he decided to research and write, which resulted in his independence. For several years he has been working for Sir Apfelot, among others. His articles include product introductions, news, manuals, video games, consoles, and more. He follows Apple keynotes live via stream.
The page contains affiliate links / images: Amazon.de