TaoTronics Bluetooth headphones are popular with users from different fields. Not only in-ear and sports headphones for wireless music on the go, but also TaoTronics over-ear headphones are in demand. Through various technologies, the individual TaoTronics Bluetooth headphones also offer the suppression of ambient noise, so-called noise canceling. I have put together a summary of the best TaoTronics headphones (Taotronics Bluetooth headphones 4.1 and newer technologies) in this little guide. If you have any comments, experiences or criticism about the manufacturer and headphones, please leave a comment on the topic.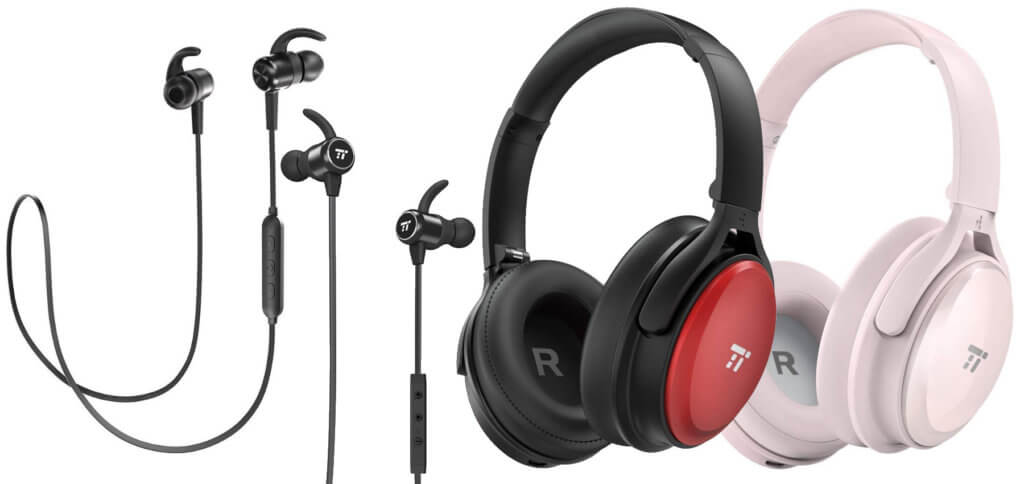 Prime example: TaoTronics Bluetooth headphones 4.1 (TT-BH 026)
The TaoTronics Bluetooth headphones 4.1 with the model number TT-BH 026 are listed as an "Amazon's Choice" product, cost only 19,89 euros and have a total of 701 customer reviews. Of these, 62%, i.e. almost two thirds, have 5 stars. Furthermore, 16% of customer ratings are 4-star reviews. The battery charging time is 2 hours with a battery life of 8 hours. The housing is waterproof to IPX6, and the in-ear headphones with Bluetooth 4.1 weigh only 15 grams. Thanks to the microphone, they can be used as a headset on the Apple iPhone and Android devices. You can find all details, technical data and more on the Amazon product page.
The best TaoTronics in-ear headphones for sports and everyday life
In-ear headphones are not only used by music lovers who want to have some peace on the way to work, university or school, but also by active people when jogging, in the fitness center and so on. Most in-ear headphones from TaoTronics are not only suitable as sports headphones because they do not slip and come with at least three different sized sets of earphone membranes and brackets for the auricle. In addition, they also have water resistance. Because they are waterproof to a certain degree and also easy to clean, the sweat that comes with them cannot harm them during sports, running and jogging, acrobatics and strength exercises.
If you are still looking for the right Bluetooth headset with which you can enjoy audio in the best, mobile quality via radio and through a light in-ear construction, then take a look at the following bestseller list from Amazon. Here you will find TaoTronics Bluetooth headphones, which were bought more often than average and were then rated as good and very good. Incidentally, the list updates automatically, so that you can find the best TaoTronics Bluetooth headphones and headset solutions here not only towards Christmas 2018, but also in 2019 and the following years;)
#
Preview
Product
Rating
Price
1
Bluetooth headphones in ear, hybrid active noise canceling, touch control, single/dual mode...

9,99 EUR

Buy it at Amazon
2
Soundcore by Anker Life P2 mini bluetooth headphones, in ear headphones with 10mm audio driver, ...

39,99 EUR

Buy it at Amazon
3
Bluetooth Headphones - [Intense Bass] In Ear Headphones Bluetooth, GreenRadio™ Stereo...

27,99 EUR

Buy it at Amazon
4
Bluetooth headphones Sport In Ear, headphones wireless with bracket, wireless headphones IPX8...

19,94 EUR

19,44 EUR

Buy it at Amazon
5
Monster 137089-00 iSport Achieve Bluetooth Wireless In-Ear Headphones Black

16,99 EUR

9,29 EUR

Buy it at Amazon
The best over-ear headphones from TaoTronics
TaoTronics over-ear headphones with Bluetooth 4.1, 4.2 or higher can also be found in the manufacturer's offer. The headphones with headband for the head and pads for the ears or the surrounding area on the side of the head are comfortable, do not stick directly in the ears and usually still offer active noise canceling, i.e. noise suppression for the best audio quality and undisturbed enjoyment of Music, audio book or phone call. Depending on the model, the TaoTronics over-ear headphones also have a microphone - for making calls, for Siri, Google Assistant, Alexa and the like.
I would also like to present you the best over-ear headphones from TaoTronics in an automatically updated list. You can use these not only around the publication period in 2018 to buy the headphones that are currently often purchased and rated as good / very good. You can also get inspiration from the list for the last-minute gift for Christmas as well as in 2019 and the following years. Simply click on one of the headphones presented in it and go to the Amazon product page to find technical data, customer reviews, questions and answers and all other information:
#
Preview
Product
Rating
Price
1
DOQAUS Bluetooth headphones Over Ear, [Up to 52 hours] Wireless headphones with 3 EQ modes, HiFi ...

50,99 EUR

39,99 EUR

Buy it at Amazon
2
Philips headphones Bluetooth with microphone/wireless, noise isolation, 29 hours playtime,...

59,99 EUR

Buy it at Amazon
3
kwmobile 2X ear pads compatible with TaoTronics BH060 - ear pads headphones - synthetic leather ...

9,99 EUR

Buy it at Amazon
4
Soundcore by Anker Life Q30 Bluetooth headphones, Hybrid Active noise isolation, Individual ...

79,59 EUR

Buy it at Amazon
5
Tribit Bluetooth Headphones Over-Ear, wireless headphones with Bluetooth 5.2, HiFi sound with...

35,99 EUR

32,99 EUR

Buy it at Amazon
Are there no TaoTronics on-ear headphones?
If you neither want to benefit from good sound quality at a reasonable price in the field of over-ear headphones, nor do you want to use in-ears, you will not find what you are looking for at TaoTronics. You have to choose between TaoTronics Bluetooth headphones, which either sit over the ear and close with a cushion, or headphones from the manufacturer that you insert into the ear canal in order to get treble, bass and mids played directly from the respective driver. The simple earphones, which you hang loosely in front of your ear canal, are a thing of the past here as well as with many other providers. For Apple friends, maybe only the EarPods or AirPods from Apple are interesting in this area;)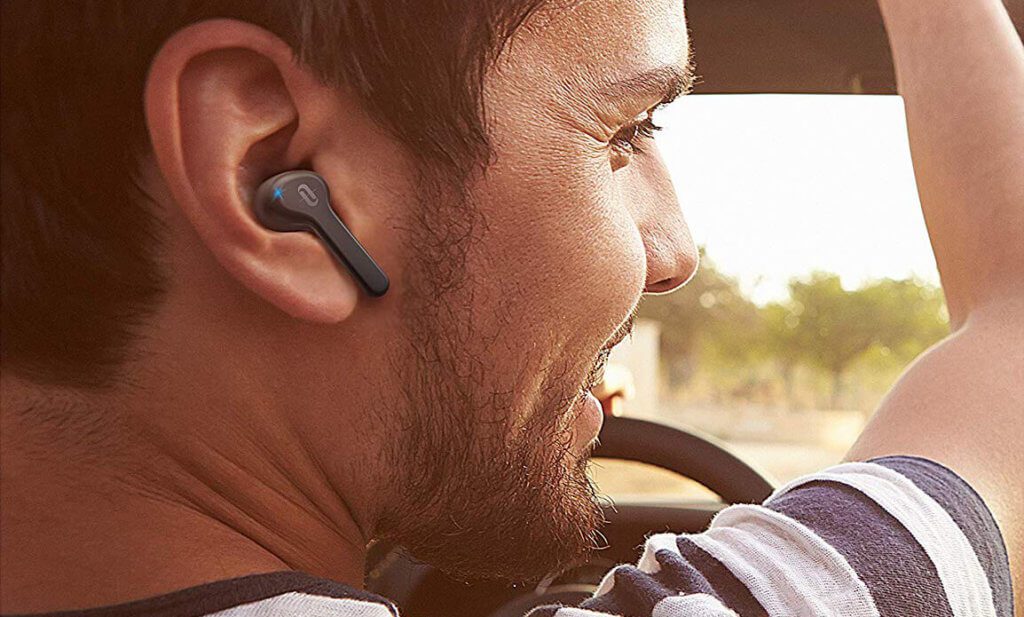 TaoTronics AirPods alternative: TT-BH 053
In the meantime TaoTronics has even thrown a direct competitor product to the AirPods on the market. With a price of around 40 euros and a similar form factor, the TaoTronics True Wireless In-Ear Headphones TT-BH 053 might be something for the people who don't want to afford the AirPods 2. The TT-BH 053 also have touch controls like the AirPods, but of course you can't respond to "Hey, Siri!" like the Apple counterpart does. For the low price, however, they are always worth a look.
What is aptX
With some Bluetooth headphones you will stumble upon the name "aptX". This is an audio codec designed to reduce the bit rate of stereo transmissions. This means that good-sounding audio material is transmitted, but only comparatively small amounts of data are required for this. This also makes it possible to transmit high-definition stereo sound via Bluetooth (aptX HD) and / or achieve lower latency (aptX Low Latency). The latter is especially important when using TaoTronics Bluetooth headphones 4.1 and other models as a headset, so that calls can be made without a long delay. Further information, including the aptX Adaptive Codec, is available from the corresponding Wiki page.
TaoTronics in the test
Here in the blog you will find numerous Apple posts, tips on apps and other software as well as peripherals for computers, smartphones, tablets and smartwatches Cupertino also other great reports and articles. For example you come with this link to the test report regarding the TaoTronics Bluetooth 4.1 in-ear headphones with the model number TT-BH 07. But the products are also mentioned in other articles - along with test and experience reports. When it comes to the question of suitable headphones and headset solutions for current iPhones and other smartphones without a jack connection, TaoTronics cannot be ignored. Here is the post: Click .
After graduating from high school, Johannes completed an apprenticeship as a business assistant specializing in foreign languages. But then he decided to research and write, which resulted in his independence. For several years he has been working for Sir Apfelot, among others. His articles include product introductions, news, manuals, video games, consoles, and more. He follows Apple keynotes live via stream.
The page contains affiliate links / images: Amazon.de