The TaoTronics LED desk lamp with the model number TT-DL 13 not only has a modern design and a USB connection for charging iPhone and Co, but also a touchpad operation and various light colors and brightness levels. Here I would like to explain the LED lamp from TaoTronics to you in detail and show you a few alternatives from common brands.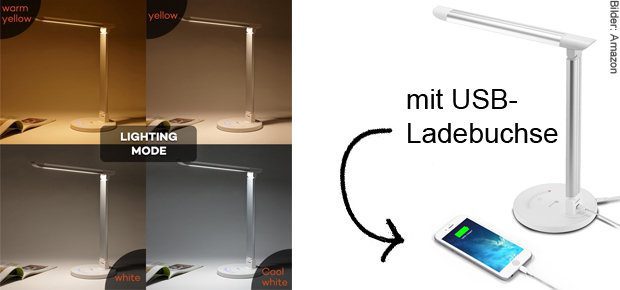 TaoTronics LED desk lamp TT-DL 13 with (almost) perfect ratings
The TaoTronics TT-DL 13 desk lamp with LED light strips is nice to look at in both white and black versions. The two joints of the lamp make it flexible to use. TaoTronics has not stopped with modern design, but also coupled it with very good functionality. The brightness and the light color can be adjusted using the touchpad. In addition, the TaoTronics LED desk lamp TT-DL 13 has a USB connection for charging smartphones, tablets, power banks and the like. The lamp has 621 reviews on Amazon, of which 531 have 5 stars and 72 have 4 stars (as of February 1, 2017)
No products found.
Small criticism from a right-hander
If you want to lead the lamp cable to the rear, then it must be to the right of you. As a right-handed person, I would have the problem that the hand shadow falls on paper / the keyboard / etc. when writing or drawing. If you place the TaoTronics lamp on your left, the cable can still be led away to the side or back, but it is more noticeable. A small flaw in modern design ...
AUKEY alternatives to the desk lamp from TaoTronics
The AUKEY LT-ST 16 desk lamp with LED field comes with three joints, also flicker-free light, four light colors and the option of charging a USB device such as the iPhone via a corresponding connection. The control panel of the black desk lamp is also very modern. And the cable can be led away individually;)
No products found.
The AUKEY LT-T11 desk lamp is also from AUKEY, but with a simpler design, a flexible arm and fewer light levels or light colors. Of course, there is also a USB connection for the iPhone or another device / external battery. The flexible desk lamp with dimmable light also costs much less than the aforementioned models.
No products found.
Currently heavily discounted Anker desk lamps on Amazon
Currently (February 2017) there are several offers and discount campaigns from Anker on Amazon. For example, you can get the Anker Lumos Premium with 8W LED light, various brightness levels, USB charging socket and an intuitive control panel for just under 44 euros instead of 100 euros. Just take a look at the offer. The Anker Lumos A1 with 5W for the desk, bedside table and so on is also cheaper; with a full 65% discount. The product page of the Anker desk lamp in black or white you can find here.
Your opinion and LED lamps
What kind of desk lamp do you use? Do you have one of the models shown by TaoTronics, AUKEY or anchors? Feel free to leave your thoughts and experiences on the topic as a comment :)
After graduating from high school, Johannes completed an apprenticeship as a business assistant specializing in foreign languages. But then he decided to research and write, which resulted in his independence. For several years he has been working for Sir Apfelot, among others. His articles include product introductions, news, manuals, video games, consoles, and more. He follows Apple keynotes live via stream.
The page contains affiliate links / images: Amazon.de