The TaoTronics True Wireless in-ear headphones with the model number TT-BH 053 have been on the market for almost three months. Most of the TaoTronics Users rated the AirPods alternative, which costs just 40,99 euros, as very good or good. When the battery is fully charged, up to five hours of audio playback is possible via the 5.0mm loudspeaker via Bluetooth 6. Thanks to the charging case, you can get another 36 hours without a mains connection. I have compiled further details, technical data and a comparison of the TaoTronics True Wireless in-ear headphones with the Apple AirPods 2 below.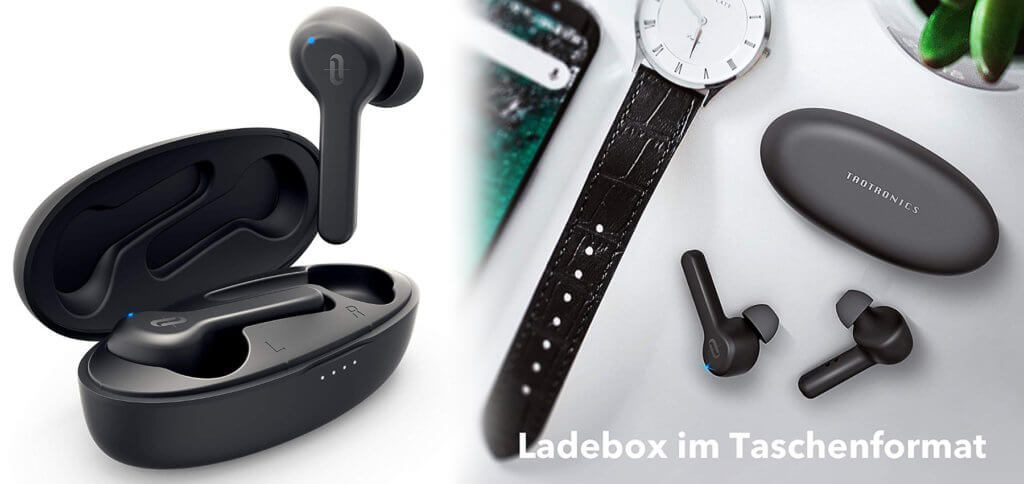 TaoTronics True Wireless In-Ear Headphones TT-BH 053
The shape of this earphone model is based on the design of wireless earphones established by Apple. While other models look rather bulky without the extension protruding from the ear, these headphones look rather slim and elegant. By isolating them from noise, they should be ideal not only for music but also for phone calls. Here are the most important technical data from the TaoTronics TT-BH 053 data sheet, so that you have an overview:
Manufacturer / Brand: TaoTronics
Model: TT-BH 053
Device type: Wireless in-ear headphones
Driver: 6 mm loudspeaker
Radio connection: Bluetooth 5.0 (10 m range)
Playback time: up to 5 hours
Charging case ensures: with 650 mAh for up to an additional 36 hours
Operation: Smart Touch (tapping the headphones)
Functionality: Playback of audio from a Bluetooth source, control playback, answer and end calls, etc.
Microphone: built into the left headphone for telephony and voice assistance
Single use: so far only left earphone; via update possibly soon the right one (without microphone)
Good as well: AUKEY EP-T1 true wireless headphones put to the test
TaoTronics TT-BH053 in comparison with the Apple AirPods 2
In the following I have summarized a few criteria that can be placed on such headphones. These are applied in the table to the earphones presented here as well as to the Apple AirPods 2. This gives the following overview:
| | | |
| --- | --- | --- |
| | TaoTronics TT-BH 053 | Apple AirPods 2 |
| Completely wireless | ja | ja |
| Connection via bluetooth | ja | ja |
| Playback duration | up to 5 h | up to 5 h (up to 3 h for phone calls) |
| In-ear with noise isolation | yes, including attachments of different sizes | no, EarPods-like headphones |
| charging Case | 650 mAh for another 36 h | 398 mAh ( ) for a further 24 hours |
| Wireless charging | no | yes, with Qi charging case (more expensive) |
| Single use | yes, so far only left earplug | yes, both earplugs |
| Microphone (s) | only in the left headphone | in both headphones |
| Amazon Reviews (as of May 21, 2019) | 4,3 / 5 stars | 4,1 / 5 stars |
| Price | 40,99 EUR | 178,00 EUR (or. 225,98 EUR with wireless charging case) |
Helpful customer questions and answers
In addition to the customer reviews on the Amazon product page (see above links), you can now find around 30 customer questions and answers about the TaoTronics in-ear headphones, which can be used as a cheap AirPods 2 alternative. Here I have summarized a few for you, in case you have an impulse to buy, but are not sure yet;)
Do the headphones have an IP rating?
Yes, namely IPX4, i.e. protection against splashing water on all sides, sweat and light rain. (Other answers even say IPX5)
Can the volume of the audio output on the headphones be adjusted?
Yes, by tapping. The individual operating options are listed in the operating instructions.
Can you do sports with the TaoTronics headphones?
Yes, the TaoTronics True Wireless in-ear headphones TT-BH053 are suitable as sports headphones.
Can you activate Siri, the Google Assistant, Alexa, etc. by voice command?
Yes, voice assistants can be activated using the microphone built into the left headphone.
Is there Active Noise Canceling (ANC), i.e. compensation for outside noise?
No, there is noise isolation as with all other in-ear earbuds, but no active noise cancellation.
Does the charging cable have micro-USB or USB-C?
The charging cable has a micro USB connection.
The right headphone cannot be paired, what can I do?
Include it via the left headphone; a single connection is not (yet) possible with him.
Conclusion to the TaoTronics cordless headphones
Despite some restrictions - such as the better features of the left headphone compared to the right one - the TaoTronics True Wireless in-ear headphones TT-BH 053 can be classified as a usable Apple AirPods 2 alternative; especially with regard to the expected price-performance ratio and the very good ratings on Amazon on average. If you are looking for more information, experiences and a test report on the AirPods 2 to get a comprehensive picture of it, then I recommend you this post. If you yourself have experience with one or the other headphone model compared here, please leave a comment!
After graduating from high school, Johannes completed an apprenticeship as a business assistant specializing in foreign languages. But then he decided to research and write, which resulted in his independence. For several years he has been working for Sir Apfelot, among others. His articles include product introductions, news, manuals, video games, consoles, and more. He follows Apple keynotes live via stream.