The Tele-Kompass of VATM eV, which is also called TeleKompass, is a study that examines, among other things, broadband, fiber-optic and coaxial expansion in Germany. Most recently, the VATM (Association of Providers of Telecommunications and Value Added Services) issued corresponding reports in October 2018, which show where there is a need for action in 2019. In it, among other things, incentives are given as to how the networks in Germany can be made afloat for the gigabit society. Because the nationwide gigabit supply is indeed a declared goal in this country, but especially in rural areas you do not notice it.
Have a look yourself: Download VATM publications here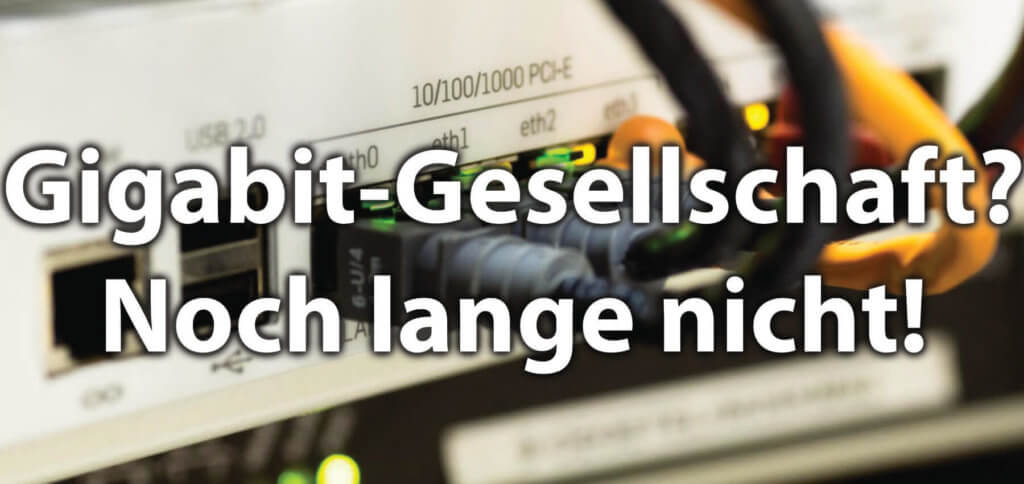 Who is behind the VATM e. V.?
The association of providers of telecommunications and value-added services e. V. based in Berlin brings together several well-known members who all have an interest in providing users with their services or products across the board. Over 100 companies are part of the federal government - in addition to 1 & 1 (including Drillisch and Versatel), Vodafone, Telefónica, Tele2, envia TEL, Ericsson, mobilcom debitel, Huawei, United Internet. Schufa, ZTE and other well-known names are also rather unknown among them. You can find an overview of members - along with a lot of other interesting information - on the VATM website linked above.
What does the Tele-Compass / TeleKompass say?
With the Tele-Kompass and TeleKompass as well as the other studies, overviews and statements published on October 17, 2018, some interesting information about the network expansion in Germany has been published. For example, one can see from the documents that more than 40% of the population can only use connections with a maximum download rate of less than 50 Mbit / s. That doesn't even have anything to do with "gigabit", but can almost be called "basic service" - and in large parts of the country this is apparently failing.
At the presentation of the Tele-Kompass study and the VATM TeleKompass of the IW Consult business institute, Deutsche Telekom was criticized accordingly. Because the above-mentioned incorrect supply does not correspond to the vectoring promise of the network monopoly. Telekom wanted to offer VDSL with 2018 Mbit / s or more - up to 50 Mbit / s - also and especially in rural areas by the end of 100. The goal was achieved with nieces in view of the less than 60% supply. In addition, VATM President Martin Witt emphasized at the said presentation that there was no conclusive concept for the gigabit target of the federal government. Around a third of households in Germany still have to be developed.
Forecast: network expansion not completed by 2025
As you can see in the Press release on the event and publication can read, said the VATM President Martin Witt "We finally have a clear goal: nationwide gigabit networks by 2025". However, the delighted "finally" was followed by a "but" that made you think:
The crucial question, however, is how we can achieve this ambitious goal. A full year after the election there is still no conclusive concept from the federal government. We will only achieve our goals through a forward-looking strategy that promotes the self-economic expansion of all expanding companies and enables a broadband policy that is as unbureaucratic as possible in uneconomic areas.
Whether all of this can be realized is questionable. Therefore, one should not necessarily rely on the target for the year 2025. An independent economic expansion and unbureaucratic support in Germany is simply too good to be true.
Overview: FRITZ! Box routers that are compatible with 35b supervectoring
Recommendations for action by the VATM Tele-Kompass
In the linked press release (at the bottom) you will find an overview of the papers that were also published in October. Among other things, a recommendation for action by the VATM is included, which explains the transformation from copper-based technologies to modern fiber optic infrastructures in ten steps. Another paper sets out the "VATM key points for the future funding regime and self-economic expansion". There is also a third publication called "How vouchers help with the switch to FTTB / H" - this should explain how the demand for the new ones Technologies and their expansion can be strengthened. You can download all documents using the link above.
After graduating from high school, Johannes completed an apprenticeship as a business assistant specializing in foreign languages. But then he decided to research and write, which resulted in his independence. For several years he has been working for Sir Apfelot, among others. His articles include product introductions, news, manuals, video games, consoles, and more. He follows Apple keynotes live via stream.