If the iPhone doesn't start properly, the boot process is in a loop, or the screen stays black, a repair restart can help. Most of the time it works Hard reset by key combination. This will restart iOS and all saved data will be preserved. If that doesn't work or if the problem occurs again, external help is available in the form of ReiBoot. The Tenorshare app is installed on the Mac, the iPhone is connected by cable and then restarted via the software. In addition to the iPhone, iPad, iPod Touch and Apple TV are also supported. About Tenorshare ReiBoot can be found in this post.
Fix 150+ iPhone errors with ReiBoot
Tenorshare advertises the app with the fact that "150+ system problems" can be fixed with it. Does the iPhone get stuck on the Apple logo when starting, is it in a restart loop, does the touchscreen not respond or Face ID simply does not work? These and many other problems can be fixed with ReiBoot.
In addition to device errors, you can also choose between screen problems, iOS problems, driver errors, update errors and more. A special point are iPhone errors, because iPhone error numbers such as 4013/4014, 4005, 3194, 1009, 9, 29, 75 and so on can be fixed here. According to the website of Tenorshare ReiBoot the whole thing already works with iOS 15.
iPhone software repair without data loss
If you have booked or bought the full version (see below), you have access to the various repair options for the Apple iPhone system. Hardware problems are of course not solved, since the software is not able to repair damaged components or the like. If you select the "Standard Repair" option, 800 MB of free space on the smartphone and a cable connection to the Mac are required.
Tenorshare ReiBoot installs the latest iOS version compatible with the iPhone and removes incorrect content. However, the user data, photos, videos, contacts, favorites and the like are retained. Even if you are already in recovery mode and the iPhone hangs, this procedure helps via the Mac app. The whole thing is recommended as a first, lossless step if the Apple smartphone acts incorrectly.
Reinstall iPhone with the latest iOS version
The option "Deep Repair" is also available for selection. However, this should only be selected if the procedure described above has no effect. Because although no free storage space is required for solving serious problems on the Apple iPhone, this is only due to the fact that the device is completely reinstalled. That means the memory will be cleaned up and files will be lost.
If possible, you should make a backup beforehand. Otherwise you can only count on the fact that at least the data stored in the iCloud (pictures, videos, contacts, passwords, etc.) can be played back on the iPhone after using ReiBoot. Both for "Standard Repair" and for "Deep Repair", tips are displayed that you should pay attention to - charged battery, power supply when using a laptop, Internet connection, etc.
Reset device: Inconspicuous option from ReiBoot
In addition to the large buttons and buttons of the app, you can also find the link "Reset device" at the bottom. This leads to a further overview with two options. These are "Reset to factory settings" and "Reset general". The former means that all data will be deleted and iOS will be reinstalled in its basic function. An internet connection is required for this, as the latest compatible system is loaded.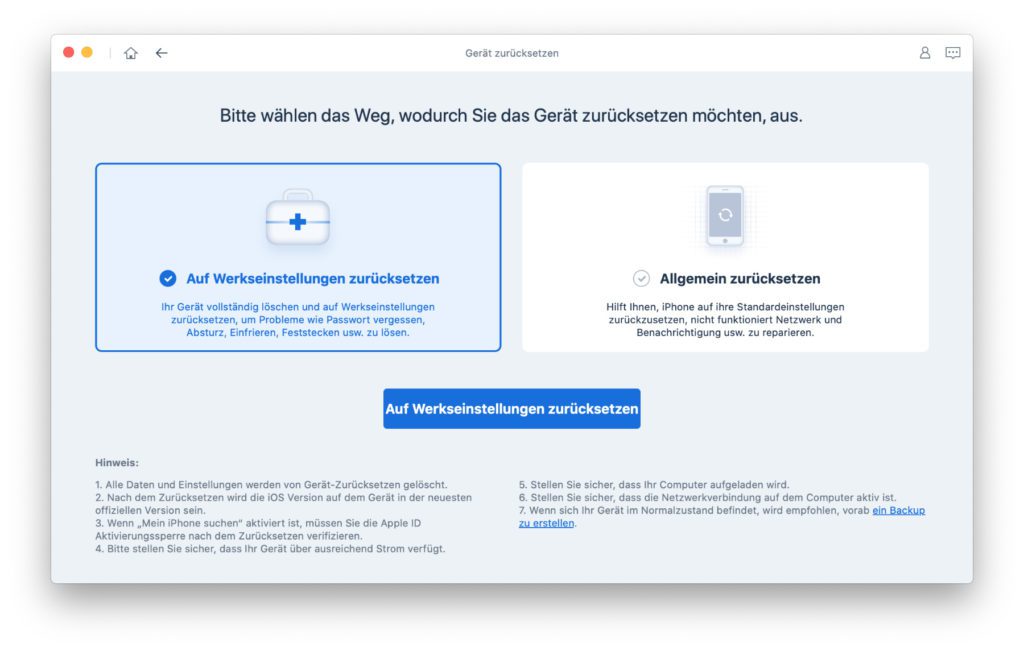 With "general reset" no data is lost and iOS does not have to be reinstalled from scratch. Only the default settings are restored, so that although no files are lost, individual adjustments can be lost. In order to be able to use the ReiBoot function, the connected device must be unlocked.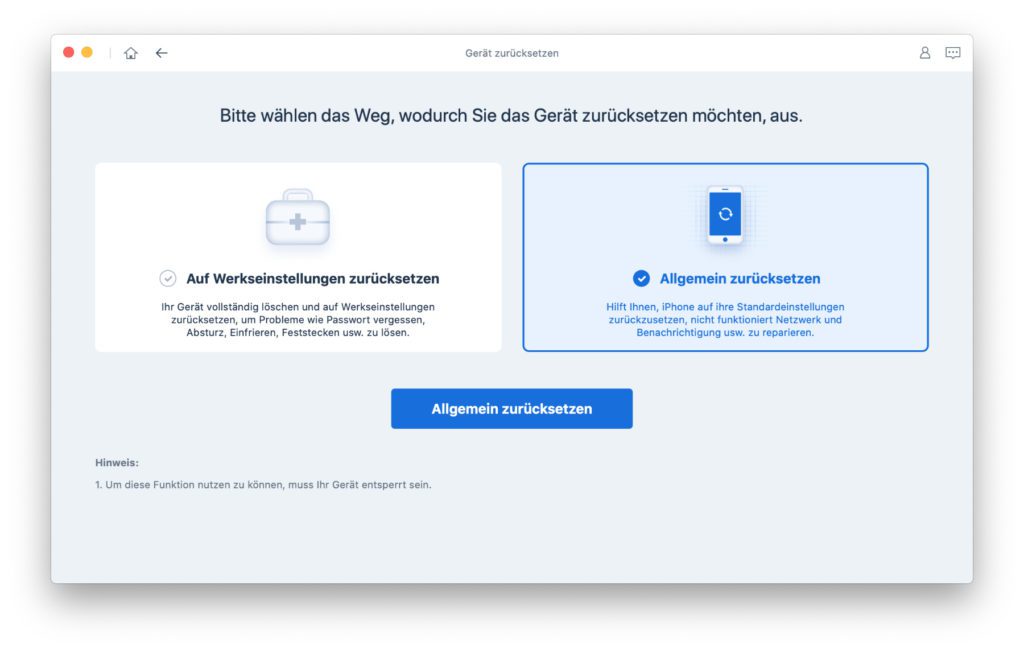 Few features in the free version
You can download and start ReiBoot for free, but that doesn't bring you all of the functions described above. Only calling up the recovery mode on the iPhone can be implemented in the free version of ReiBoot. You can recognize this by the "Free" lettering on the corresponding button. Transparency notice: I have received a license from Tenorshare for this post.
To register the full version, you enter a license code that you receive after booking a subscription or purchasing a single license. Then there is not only the option to put the iPhone into recovery mode, but also the option to get it out of there. The repair options described above are also available via the "Start" button. Before that, there is only an overview of the errors that can be corrected.
Professional guide: IOS 15 beta issues and solutions
If you want to use all the functions of Tenorshare ReiBoot, then you cannot avoid a license. However, there are three different pricing models, each of which relates to a computer (Mac for iPhone, iPad and Co. or PC for Android devices) and five mobile devices. The tiered pricing for the Pro version of ReiBoot is as follows:
Mac
Monthly subscription license: € 45,99
Annual subscription license: € 59,99
Lifetime single license: € 69,99
PC
Monthly subscription license: € 35,99
Annual subscription license: € 39,99
Lifetime single license: € 59,99
I couldn't really test ReiBoot because I'm using a very well-functioning iPhone 12 Pro, which luckily has not caused any problems so far. According to the reviews on the Tenorshare website, the app should serve its purpose. In addition, the user interface is easy to understand and helpful tips are given for each solution.
The whole thing could be translated a bit better and also a bit cheaper - but if over 150 errors can be fixed on different devices, then there is certainly a lot of work that needs to be paid for. Have you ever used the program? Feel free to leave a comment with your experiences :)
-

After graduating from high school, Johannes completed an apprenticeship as a business assistant specializing in foreign languages. But then he decided to research and write, which resulted in his independence. For several years he has been working for Sir Apfelot, among others. His articles include product introductions, news, manuals, video games, consoles, and more. He follows Apple keynotes live via stream.