Cold paws in winter are not nice. And even if I'm not a big fan of Christmas markets, there are often enough walks or work around the house that make my fingers cold. To remedy this condition, I looked around last year for a couple of USB hand warmers, which I found in the Report on battery pocket warmer with USB connection Had presented.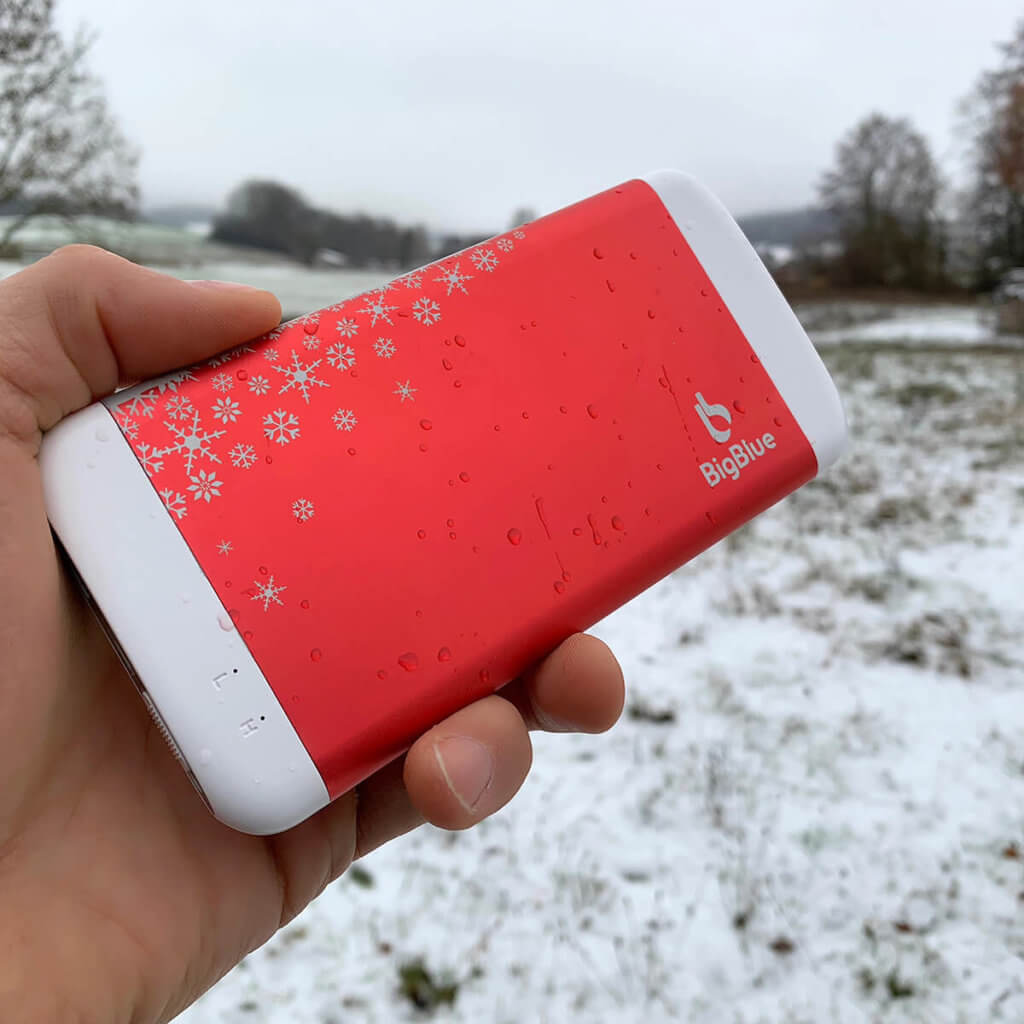 My personal test winner: The BigBlue pocket warmer
I tested a few models last year and ended up with the "BigBlue hand warmer' stuck as it offers some practical advantages that other USB pocket warmers don't have:
lots of capacity: 6000 mAh
Can also be used as a power bank and flashlight
Practical, flat shape: you can hold the palms of your hands on it and it doesn't look thick in your pocket either
Heating function in two stages: High and Low (indicated by red LEDs)
it gets warm very quickly
Heating function via slide switch: does not accidentally activate in the pocket
Battery level indicator with 4 blue LEDs
The flashlight is activated with a long press on a button on a corner - it doesn't happen quickly and unplanned
Some of the pocket warmers I've used only get up to "lukewarm" at most and then didn't have enough battery to give off heat for over an hour. Others didn't have a USB output to charge the iPhone, and still others had such an impractical power switch that you kept activating it unplanned in your jacket pocket or backpack.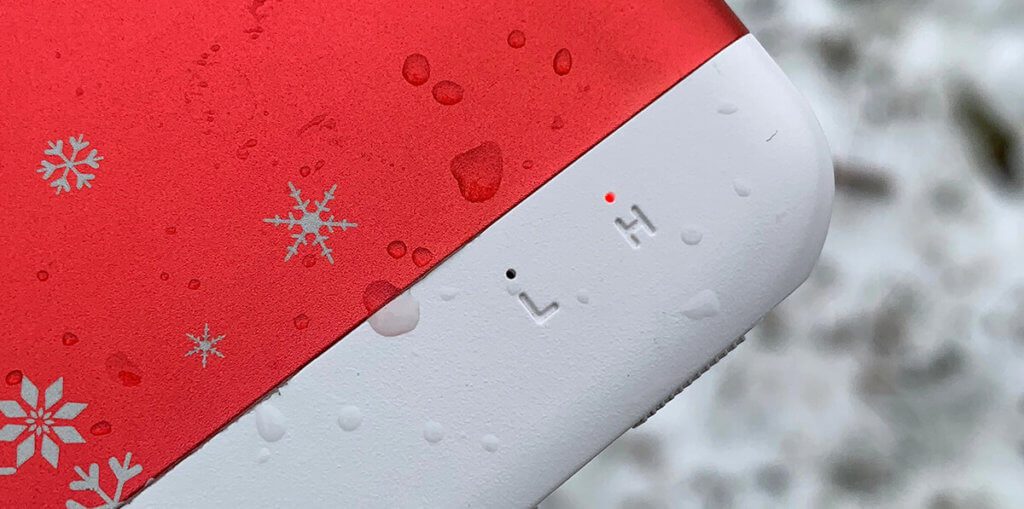 Heating with the stages "high" and "low"
With a capacity of 6000 mAh, the BigBlue has enough power to charge the iPhone and keep your hands warm for a few hours. In the low level (in which it delivers up to around 40 ° C) it lasts a good 4 hours - an information from the manufacturer that I can confirm.
The "high" level is significantly warmer and still provides heat of around 2 °C for 50 hours. You can still hold it in your hand without pain, but it is sometimes too warm for me. If I use it at this level, I switch it back to "low" every now and then.
Last year I used a hand warmer from CSL (oval design), among other things. However, this had the disadvantage that it only got warm on one side (probably because the electronics or the battery were installed on the other side). This is not the case with the BigBlue. This becomes evenly warm on both flat sides and invites you to warm up the whole palm or even both palms at the same time.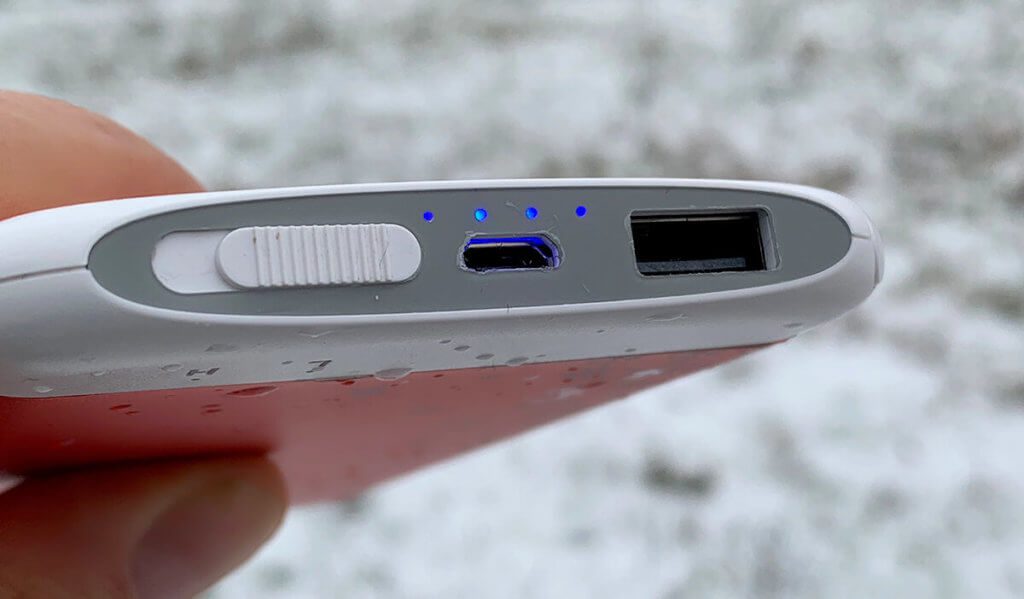 Power bank function - good average
That the electric USB hand warmer also serves as a power bank is very important to me personally. On the other hand, the speed at which the iPhone is charged is rather unimportant to me. I once measured the power with which the BigBlue charges my iPhone X and came to about 5,6 watts. That's not quite as much as my favorite power bank (Zendure A2) manages, but loose enough to charge while using GPS, such as on a hike. From my point of view, there is nothing to complain about in this regard.
BigBlue: friend of hands and iPhones
What you should consider: A hand warmer in the jacket pocket is of course not only good for the fingers, but also for the iPhone or smartphone, because they also have to deal with low temperatures and are happy when they are in the pocket with the hand warmer be kept at a comfortable temperature.
When the temperatures were below zero, the iPhone models (iPhone 6 and 7) often turned off when taking photos or using GPS because the battery was no longer able to provide enough power. This problem can also be recognized in advance by the fact that the battery level drops massively within a few seconds. If the iPhone is "at the right temperature", the chance of such failures and problems decreases greatly.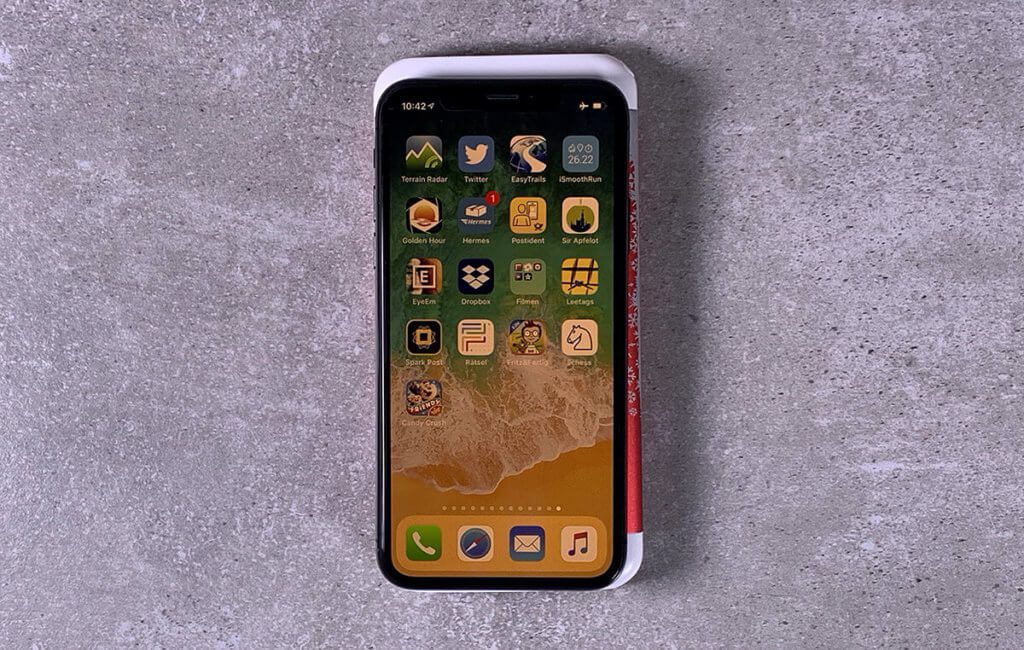 Flat design in iPhone XS size
What I personally find very nice about the BigBlue pocket warmer (and what I have not seen in any other model either): It is flat like a smartphone (about 1 cm thick) and has a size that is roughly between an iPhone XS and the XS MAX lies. All corners and edges are strongly rounded. This design ensures that it can be carried comfortably in your pocket. On the other hand, you can fold it flat with the iPhone in your jacket pocket, as they can be "stacked" wonderfully. Especially if you use it in between to charge the iPhone, this ensures less clutter and wasted space in the bag.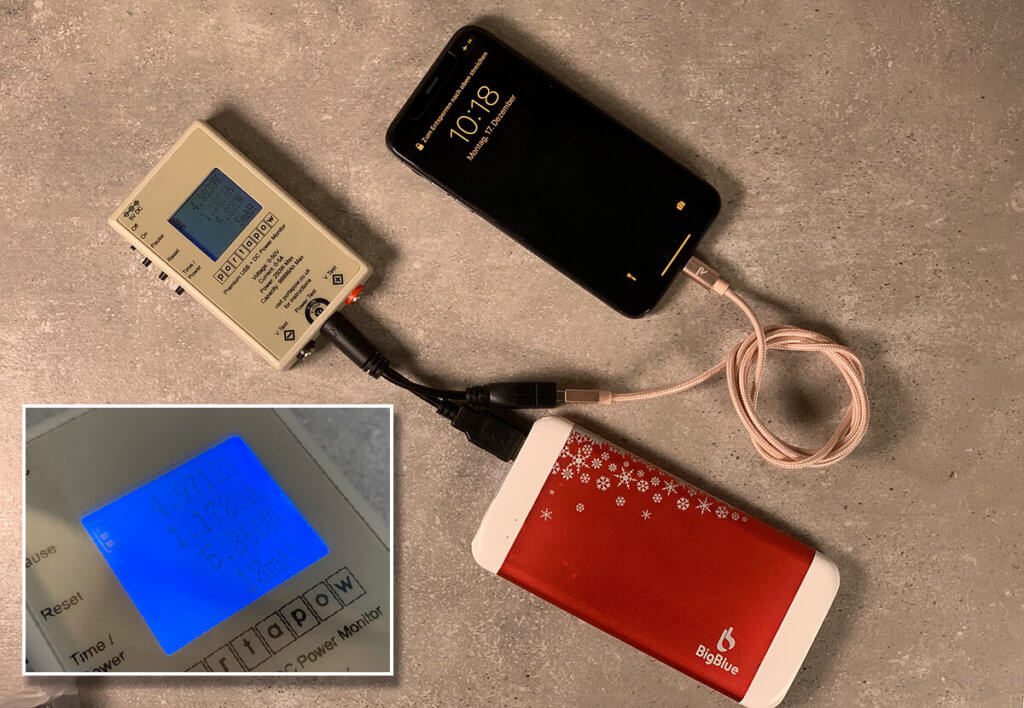 Flashlight function - nice additional feature
Actually, every smartphone already has a built-in flashlight function. Nevertheless, I find it very helpful that the BigBlue pocket warmer comes with three LED lights that can be activated by pressing the button on the corner of the device for a longer period of time.
Pressing the button works significantly faster and more reliably, especially when wearing gloves, than if you first activate the screen on the iPhone and then click on the appropriate lamp symbol.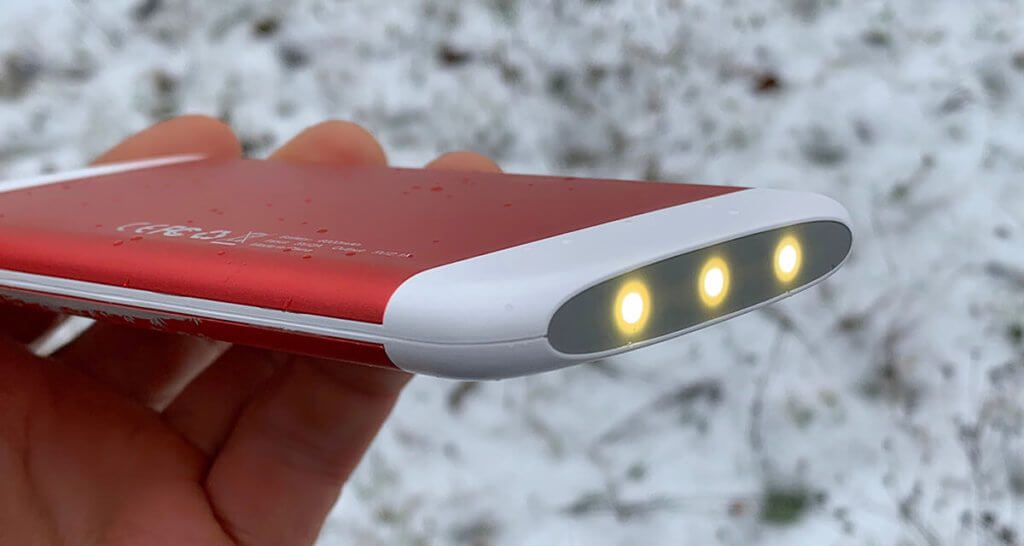 Recommendation: two pieces and an angled charging cable
Now that I've been using this hand warmer power bank for the second winter, I can give you two tips that seem logical to me in retrospect:
A pocket warmer for every hand
Anyone who is often outside and struggles with cold hands should get a copy for every jacket pocket or hand. So you can warm up both hands at the same time and don't always have to move the electric hand warmer from one pocket to the other. And by the way, you are the most popular man or woman on site at every winter outdoor event, if you can even lend one of the USB pocket warmers. So in retrospect you should perhaps order three of them straight away. ;-)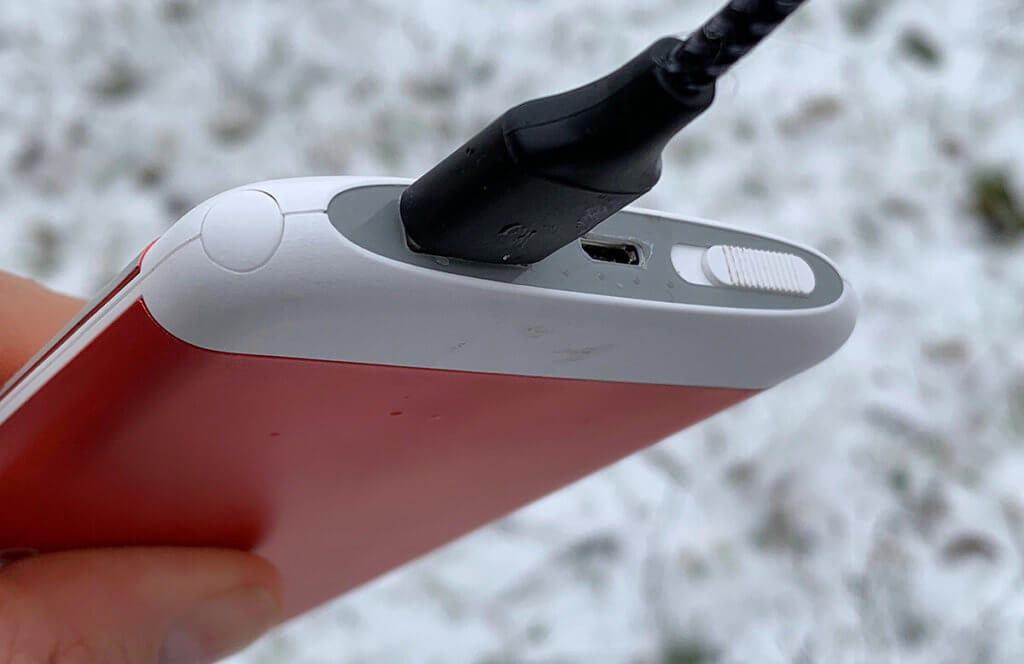 Angled charging cable for the smartphone
A normal charging cable is not ideal for charging the iPhone, as it protrudes far from both the power bank and the iPhone and thus exerts strong leverage on the Lightning or USB sockets. But it is also not very healthy for the cable, as it is repeatedly kinked at the plugs. Sooner or later this leads to a cable break.
Much more practical are here angled Lightning charging cablethat stick out less. At first glance, you might think that short cables are a good idea here to prevent the mess of cables in your jacket pocket. In practice, however, it's not that great because you always have to dig out the iPhone AND the pocket warmer when you want to get on the smartphone. This is much more relaxed with a long cable, as the pocket warmer can stay in the pocket.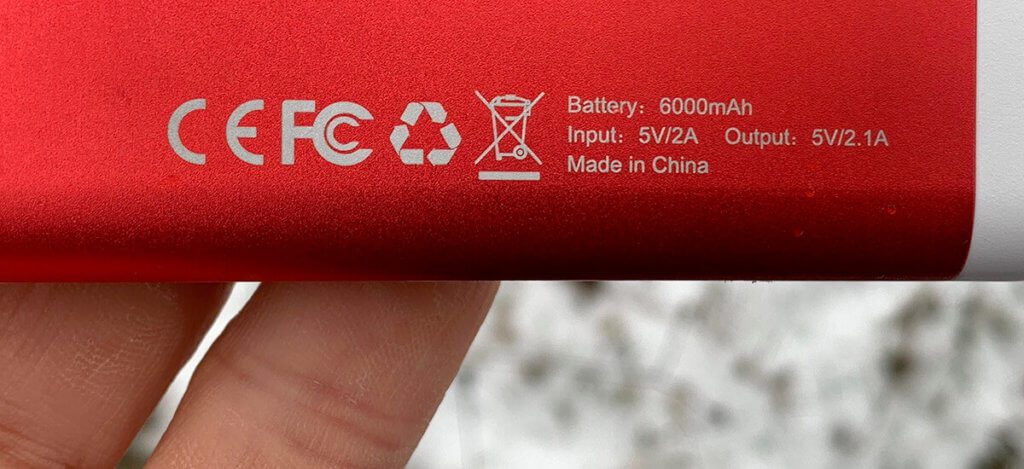 New model with 10.000 mAh
Since this year there is also one larger BigBlue model with 10.000 mAh. That should provide long enough heat even for larger activities. I still have the 6000 mAh version, which was always sufficient for me. The larger 10000 mAh pocket warmers are also quite heavy and take up more space in the jacket pocket. For this reason, I would probably prefer to stick with my solution with two "small" hand warmers.
BigBlue USB pocket warmer with 10.000 mAh
Two temperature levels and heat up quickly - High: 40 ° C ~ 60 ° C, Low: 35 ° C ~ 45 ° C. With excellent ...
High Capacity - The largest capacity on the market. With 10000 mAh, the pocket warmer can offer longer warmth, ...
Multifunction - Not only as a hand warmer, can also be used as a 10000 mAh power bank (can charge the Iphone 7 three times) and a ...
Conclusion: Cold fingers don't have to be anymore
I wish these USB hand warmers had existed before. In my time, these heat pads came on the market that have these metal plates that you have to bend. Everyone was happy, but somehow they didn't give off warmth for very long and therefore quickly disappeared into the drawer.
The electric pocket warmers that can be recharged via USB, on the other hand, are a real delight. You are with me on every winter hike and the fear of cold fingers and an empty iPhone is dispelled for the time being.
I can do that BigBlue hand warmer "highly" recommend. The solid construction and the fact that it has survived a number of uses with me show me that I can't be that wrong.
Jens has been running the blog since 2012. He appears as Sir Apfelot for his readers and helps them with problems of a technical nature. In his free time he drives electric unicycles, takes photos (preferably with his iPhone, of course), climbs around in the Hessian mountains or hikes with the family. His articles deal with Apple products, news from the world of drones or solutions for current bugs.
The page contains affiliate links / images: Amazon.de