The last power bank that excited me so much that I gave it a blog article was this one Zendura A8, of which I tried the Quick Charge variant at the time. I now have them Zendure A8 PD, the USB Power Delivery and is therefore a good partner for people with iPhone, iPad and MacBook.
Price comparison Zendure A8PD vs. Charmast 20.800 mAh
The Charmast 20.800 mAh power bank is super cheap compared to the Zendure - albeit less robust. But honestly: When do I drive my car over a power bank? A plastic case usually works, too, and if you only pay 30 euros instead of 120 euros for the Zendure, then I think that's a very good compromise.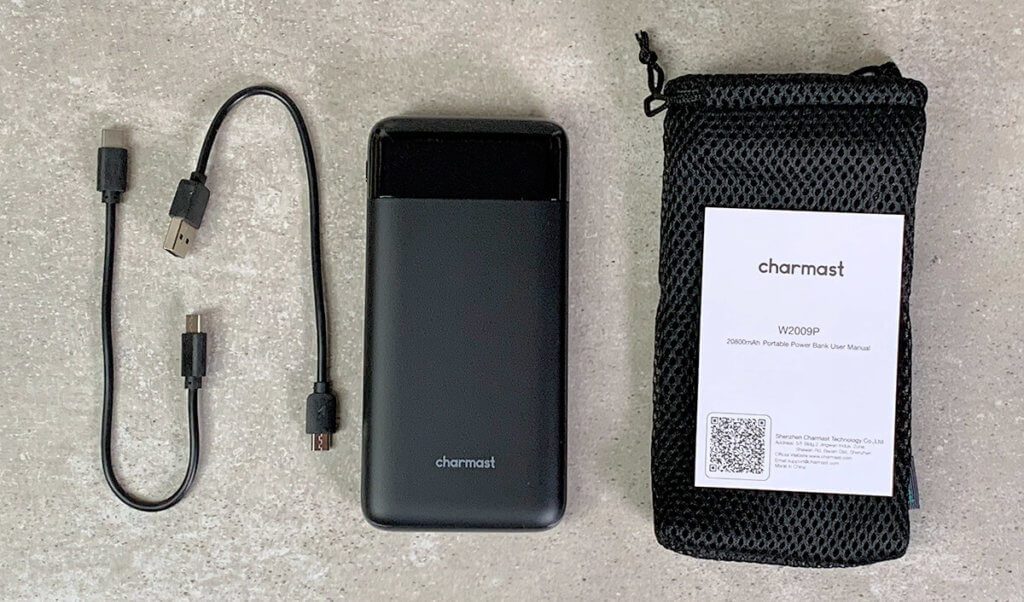 Transparency notice
In this case, the power bank was not given to me by the manufacturer, but I bought it regularly. In any case, I have neutral reporting.
Technical details of the Charmast PD&QC 20800 mAh
The Charmast power bank impressed me with various technical details, which I will discuss in more detail below. In short, there is - as always - a list with bullet points to get a quick overview.
Model: Charmast W2009P
Capacity: 20.800 mAh
Performance: 76,96 Wh
Weight: 367 g
Dimensions: 153 x 75 x 21,5 mm
Entrance:

Lightning: 5C - 1,5A
Micro-USB: 5V/2A, 9V/2A
Type-C (PD): 5V/2A, 9V/2A

Output:

USB 1/2 (QC 3.0): 5-6V / 3A, 6-9V / 2A, 9-12V / 1,5A
Type-C (PC / QC 3.0): 5-6V / 3A, 6-9V / 2A, 9-12V / 2A

Charging time of the power bank:

approx. 7h via USB PD
approx. 11h via 5V / 2A charging adapter
approx. 16 h via 5V / 1,5 A charging adapter

Load-through (charging power bank and connected device at the same time): no
Charge status display: digital from 0 - 100%
Display of the charging voltage for input or output with 5V, 9V or 12V
Suitable for consumers with low power consumption (AirPods, Apple Watch (with charging adapter), wireless headphones and the like)
The 20.800 mAh is quite good, but those who tend to want to charge iPads and MacBooks should perhaps the larger model from Charmast to buy:
0,85 EUR
This slim model has the designation Charmast W2002P and has 26.800 mAh, all connections, like the smaller model, also support USB PD, but it does not have the digital display, instead it shows the charge status with four LEDs.
Optics and workmanship
As I have already written, the Charmast 20.800 mAh Powerbank is perhaps not the model that you would take on an expedition where it is only about robustness and less about money. But it is still processed neatly and can withstand rough treatment.
The display is covered with a smooth, dark plastic and is therefore perhaps a little more prone to scratches than the rest of the power bank, but there is a solution here too, because Charmast supplies a mesh bag with the power bank. This protects the power bank from unpleasant encounters with a bunch of keys or other scratchy things when it is transported in the backpack.
I think the power bank also looks quite classy. In any case, you can't tell the low price. In terms of optics, you can give it a good grade.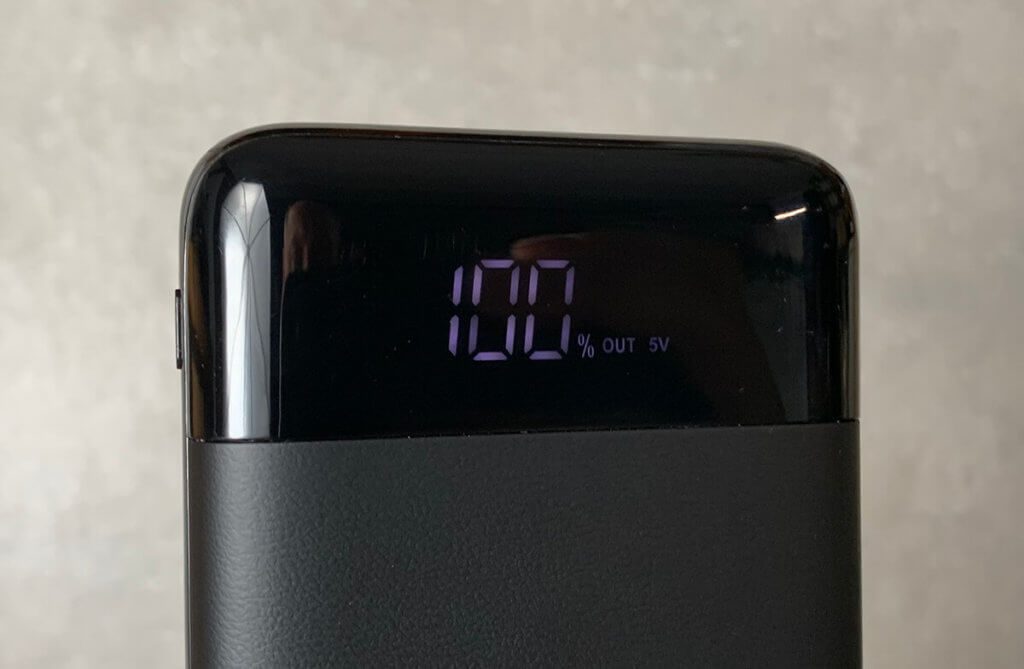 Digital charge and status display
A really great feature is the digital display of the charge status. Instead of the usual four or five LEDs, which roughly inform you about the fill level of the power bank in other models, you will find a digital display that shows the status from 0 to 100 percent.
Even better than this exact charge indicator, however, is something else that the additional battery shows: the voltage with which it is currently being charged or with which it is charging a connected device. This is particularly helpful if you charge via the Type-C port with USB Power Delivery and want to see whether it actually works with 5 or 9 volts instead of the usual 12 volts.
So I can quickly see whether my iPhone XS or my iPads are actually being charged quickly or only "slowly" with 5 volts.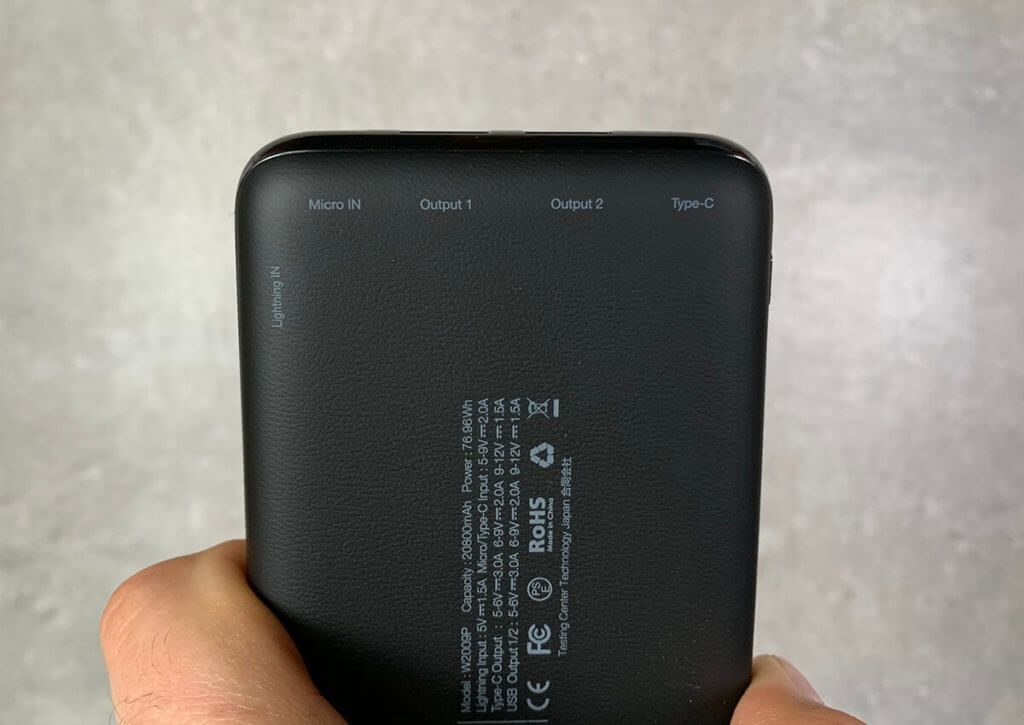 Commendable variety of connections
The next point to point out about this power bank is the amount of different charging ports it offers:
2x USB A
USB Type C (with Quick Charge and Power Delivery)
lightning
micro USB
AND: The manufacturer has also thought about this and made sure that the power bank can be charged via USB-C as well as via micro-USB and Lightning. This makes the power bank extremely versatile for Apple users, because I usually have a Lightning cable lying around somewhere.
No load-through
One point that could perhaps be categorized as negative is the lack of the load-through function. This means that you cannot charge a device to the power bank if it is being charged itself. In practice, the outputs are switched off immediately by the electronics as soon as the power bank is charged.
Personally, this feature is not important to me, because I only needed to charge a device and the power bank at the same time on vacation in recent years, because the power supply unit I took with me didn't have enough outputs for the many mobile devices.
In everyday use, load-through is therefore much less important to me than a USB Type-C and Lightning port, which I actually use a lot.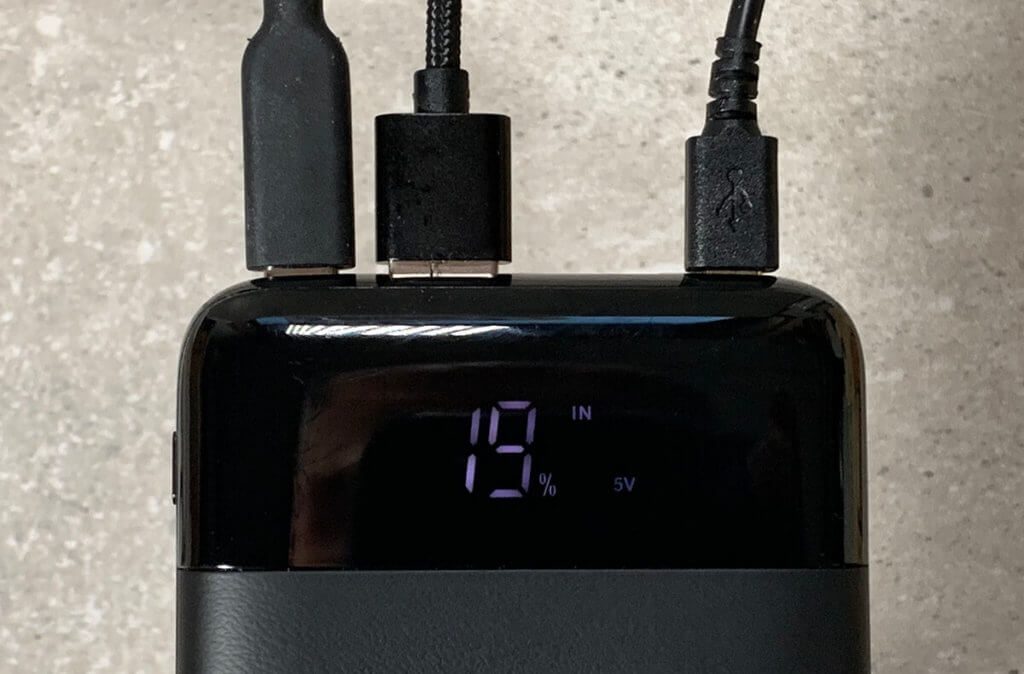 Charging devices with low power consumption
One point I really want to criticize about a lot of power banks is the inability to charge devices that draw only a small amount of power when charging. The electronics of the power banks assume that when the wattage is low, there is no consumer connected to the power bank and switch off the output.
With many power banks it is practically impossible to charge your AirPods or other true wireless headphones. The Charmast Powerbank, on the other hand, has special electronics that also recognize and charge such devices. I tried this with the AirPods which only charge at around 1,5W and it worked.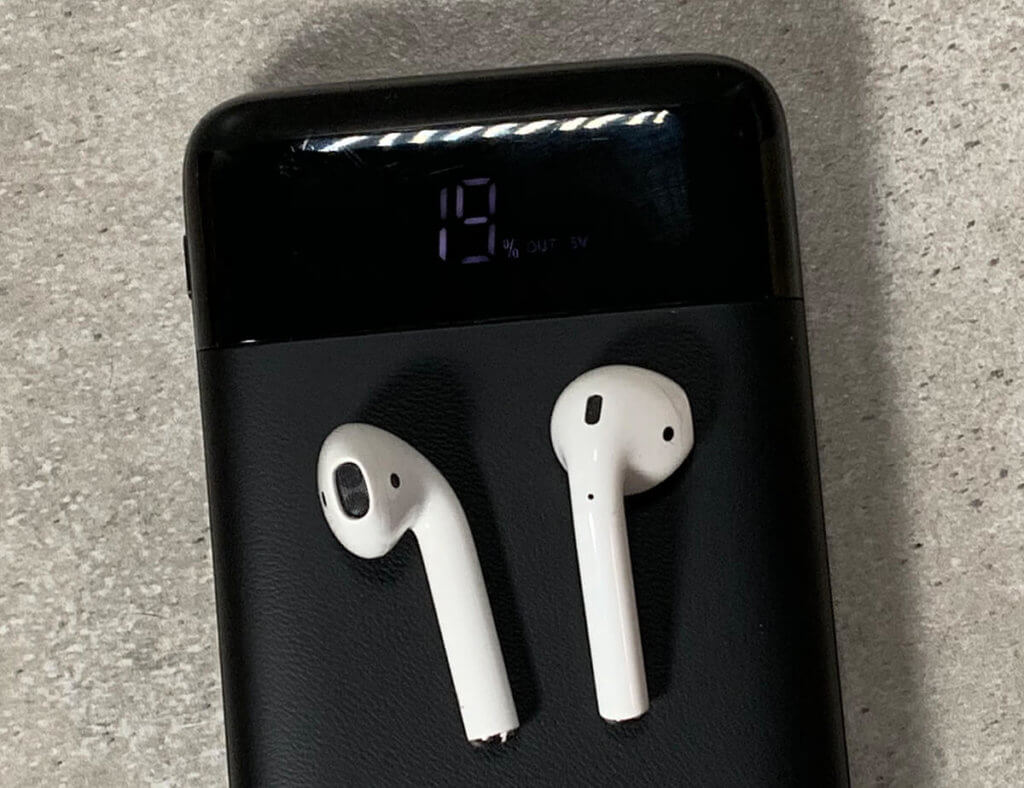 Practice test: my measurement results
The first thing that interested me was what the best and fastest way to charge the power bank yourself. To do this, I once supplied it with power via all three different ports and measured how much power it consumed.
The numbers are rounded and do not necessarily correspond with the photos, as the values ​​are constantly changing to a small extent and an exact specification is therefore difficult.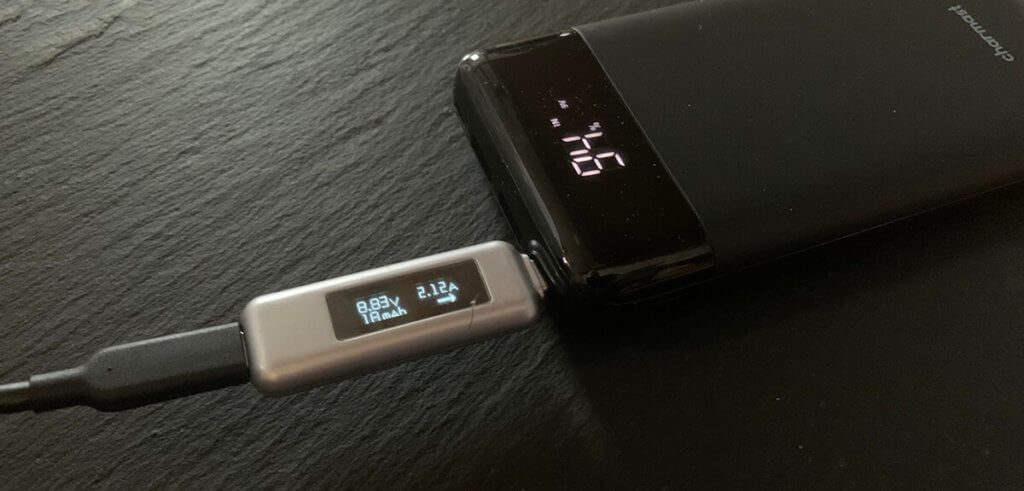 Charging the power bank
What is exciting here is which port can be used to charge the power bank best or fastest. Here are the corresponding measurement results:
Lightning: 4,9 V / 1,6 A = 7,8 W.
Micro-USB: 5 V / 1,9 A = 9,5 W.
USB Type-C: 8,9 V / 2,1 A = 18,7 W.
You can clearly see that the USB-C port with Power Delivery is the best choice to get power into the Charmast battery as quickly as possible. So far, that's not surprising. The second best result came from the micro-USB port, which surprised me a bit. I would have thought that Lightning was a better choice here.
Charging iPhone, iPad, and MacBook (Pro)
The next devices I have planned are my two iPads, the iPhone XS, as well as my MacBook and MacBook Pro. I made sure that the devices had a battery level well below 80% so that the maximum charging current was queried. I then observed this for some time and noted the approximate mean value as a measured value.
In order to be able to estimate how often you can charge the corresponding device with the power bank, I let the charging process run for 30 minutes and noted the battery levels of the devices and the power bank and calculated from this how often you (theoretically) the device from 0 to 100 Percent can fill.
However, these values ​​are only approximate values ​​in practice, as batteries do not consume the same amount of current over the entire charging time. Still, it might help to see if the power bank could be used to charge a MacBook or iPad Pro.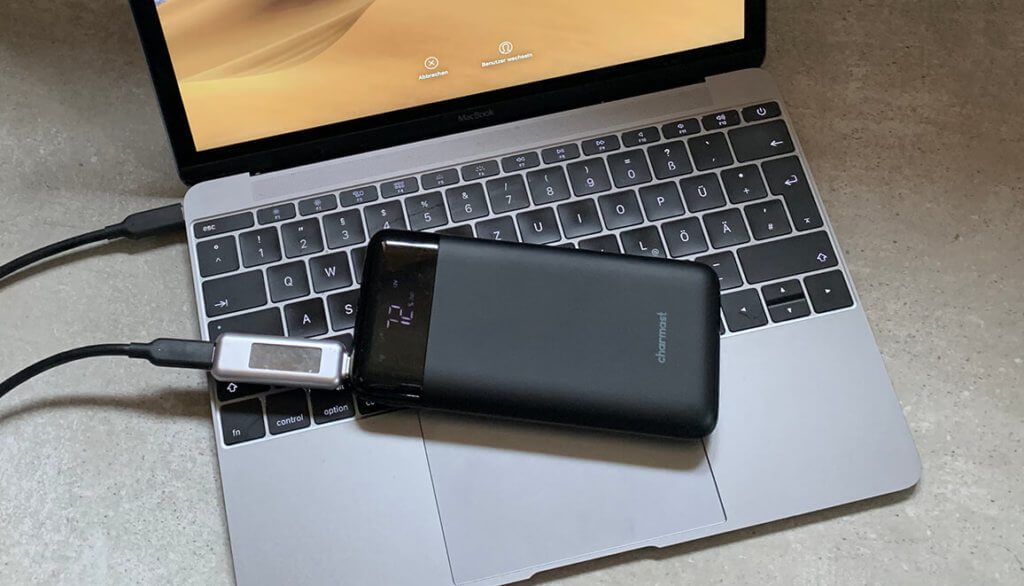 In the series of measurements I was able to determine the following results:
MacBook (12 inch)
With 30 minutes charging time via USB C PD:
MacBook: + 25%,
Charmast battery: -13%
The power bank can charge the device as often as: 1,9x
MacBook Pro (15 inch)
With 30 minutes charging time via USB C PD:
MacBook Pro: + -10%,
Charmast battery: -12%
The device can be charged so often through the power bank: not at all, because the MacBook Pro loses battery in sleep mode. The battery only supplies 12 volts via USB C and therefore cannot offer the performance you need to power a large MacBook Pro.
iPad Pro 2017 (10,5 inch)
With 30 minutes charging time via USB C PD:
iPad Pro: + 20%,
Charmast battery: -10%
The power bank can charge the device as often as: 2,0x
iPad 2019 (7th gen, 10,2 inches)
With 30 minutes charging time via USB C PD:
iPad: + 13%,
Charmast battery: -9%
The power bank can charge the device as often as: 1,4x
iPhone XS
With 30 minutes charging time via USB C PD:
iPhone: + 22%,
Charmast battery: -4%
The power bank can charge the device as often as: 5,5x
Efficiency of the Charmast Powerbank
I don't want to work scientifically here, which is why, in order to measure the efficiency, I just looked how much electrical energy I need to get the power bank from 0 to 100% and how much can I then take.
When charging and discharging, I did this with a USB C multimeter (the model from Satechi) measured. The Charge via USB C PD lasted approx. 10 h and a good 94,5 Wh (18,6 Ah at 5 V) flowed in the Charmast battery.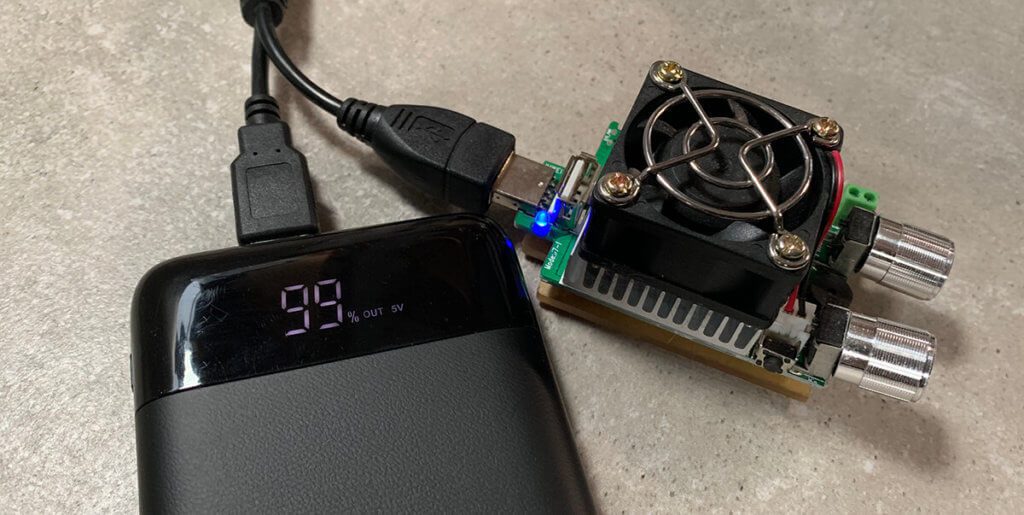 The discharge I measured with a USB load resistor and a USB A multimeter. Despite a discharge current of 1,5 amps, it still took 9:36 hours to fully discharge. These Li-Ion power banks surprise me again and again with their energy density. Overall, I was able to Discharge 72,1 Wh (14,1 Ah at 5 V) . refer
If you calculate the ratio between the charge invested and the charge withdrawn, you get one Efficiency of approx. 76%. In the Zendura A8 I was at a good 84%, which is much better, but usually power banks are more in the range of 75 to 80% efficiency. From this point of view, the Charmast Powerbank is not out of the ordinary.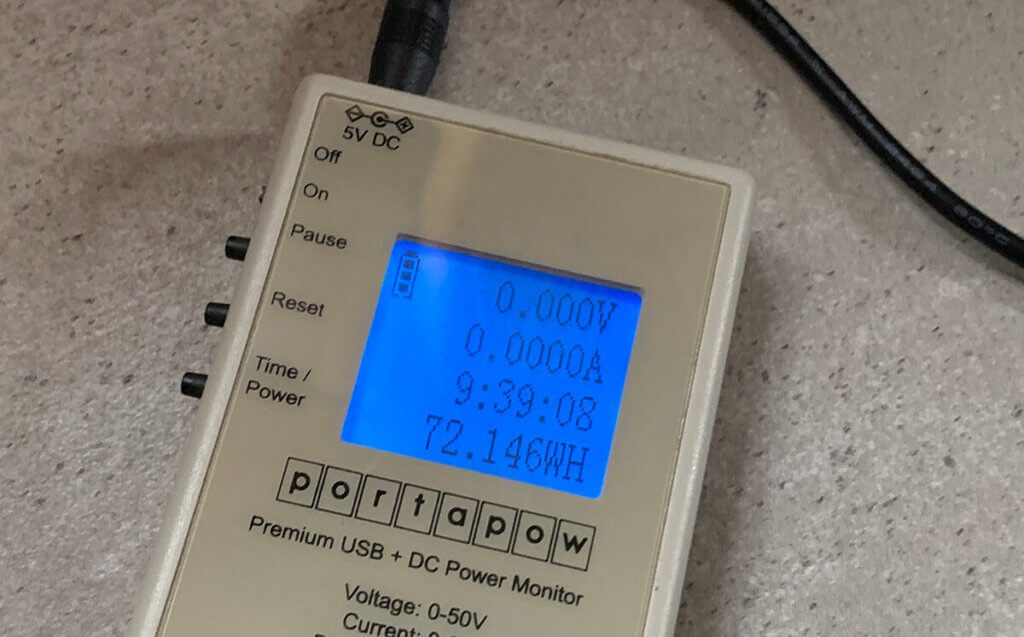 Noted during the test: Apple iPad 2019 (7th Gen) does not have USB PD
There was also a surprise during the test of the power bank, but on the part of an Apple device: my brand new iPad from 2019 obviously does not have the option of being able to be charged quickly via USB PD. This works fine on my 2017 iPad Pro.
When measuring with the USB C multimeter, the iPad Pro jumped to 15 volts charging voltage on all my USB-C power supplies after a few seconds, while the iPad Gen. 7 stubbornly remained at 5 volts.
I would have thought that devices without USB Power Delivery would slowly be a thing of the past, but Apple is planning to do it differently.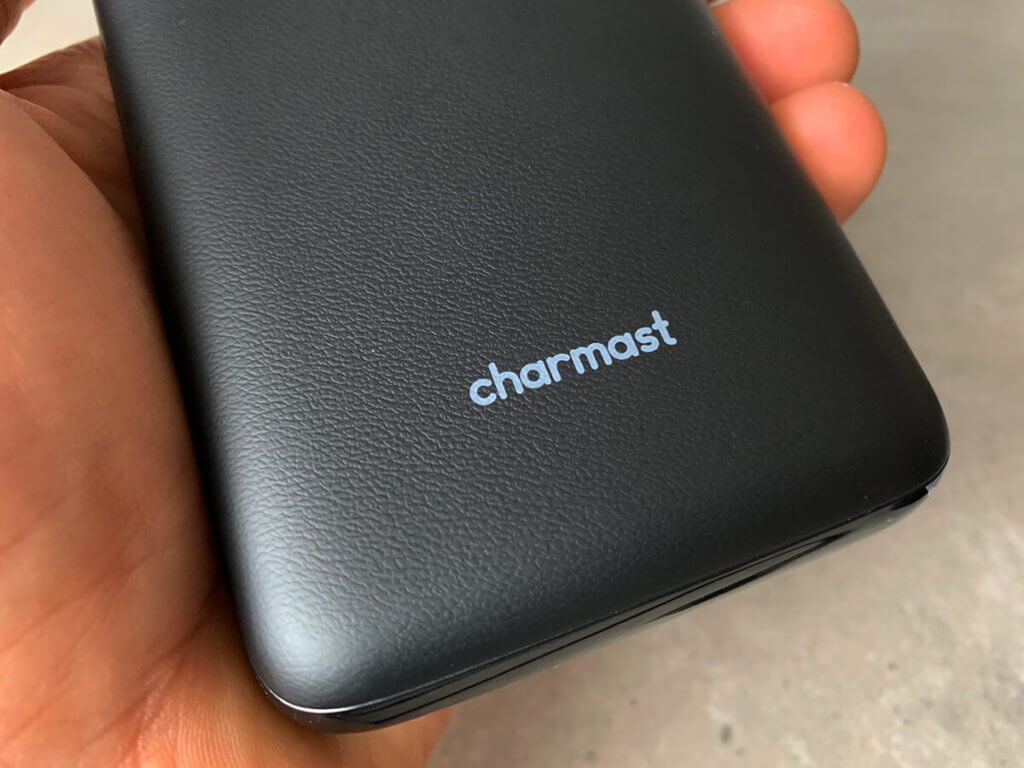 My conclusion on the Charmast W2009P Powerbank
At a price of just under 30 euros, you get an extremely versatile power bank that you can also use to power your MacBook in an emergency.
Due to the capacity and the limitation of the voltage with USB PD to only 12 volts, it is not suitable for supplying a large Apple laptop, such as a MacBook Pro, with power.
For iPad, iPhone and other devices such as the AirPods, however, the Charmast W2009P is a very good and affordable partner.
You can use the power bank here via Amazon purchase or find them via this product box:
If you need the operating instructions for the power bank, you can find it here. Unfortunately, I don't have a good resolution, but hopefully most of it can be read.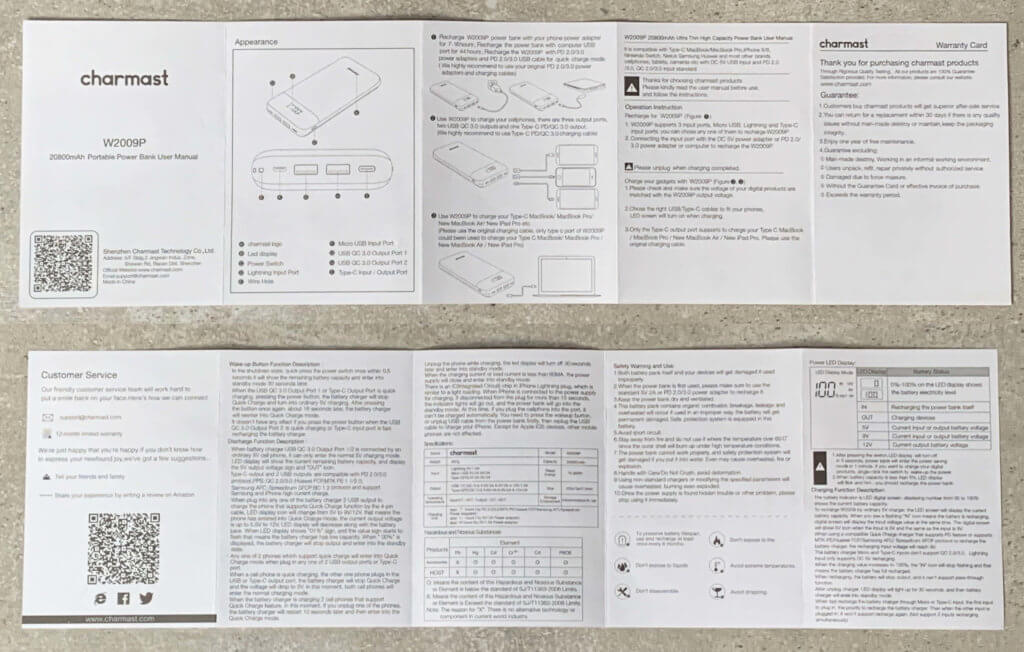 Jens has been running the blog since 2012. He appears as Sir Apfelot for his readers and helps them with problems of a technical nature. In his free time he drives electric unicycles, takes photos (preferably with his iPhone, of course), climbs around in the Hessian mountains or hikes with the family. His articles deal with Apple products, news from the world of drones or solutions for current bugs.
The page contains affiliate links / images: Amazon.de