Last year I was able to Ear Fun Air test it for you - a true wireless headphone, which I still like very much. With the new Earfun Free 2 EarFun now offers a successor to its Free 1, which has already received quite good reviews, but I was never able to try this model out myself. So I was curious to see how I liked the EarFun Free 2. But let's see how they did in my test ...
Note: The EarFun Free 2 were made available to me free of charge for the test report, but you can rest assured that I will give my own opinion on the best here.
EarFun offers a discount on Amazon until June 17.6.2021th, XNUMX
At the moment, you can still save a little when you buy the EarFun Free 2. It works like this:
Check "Redeem discount voucher"
At the checkout, enter the code "EARFUNNN" under "Voucher"
that would save you a total of over 10 euros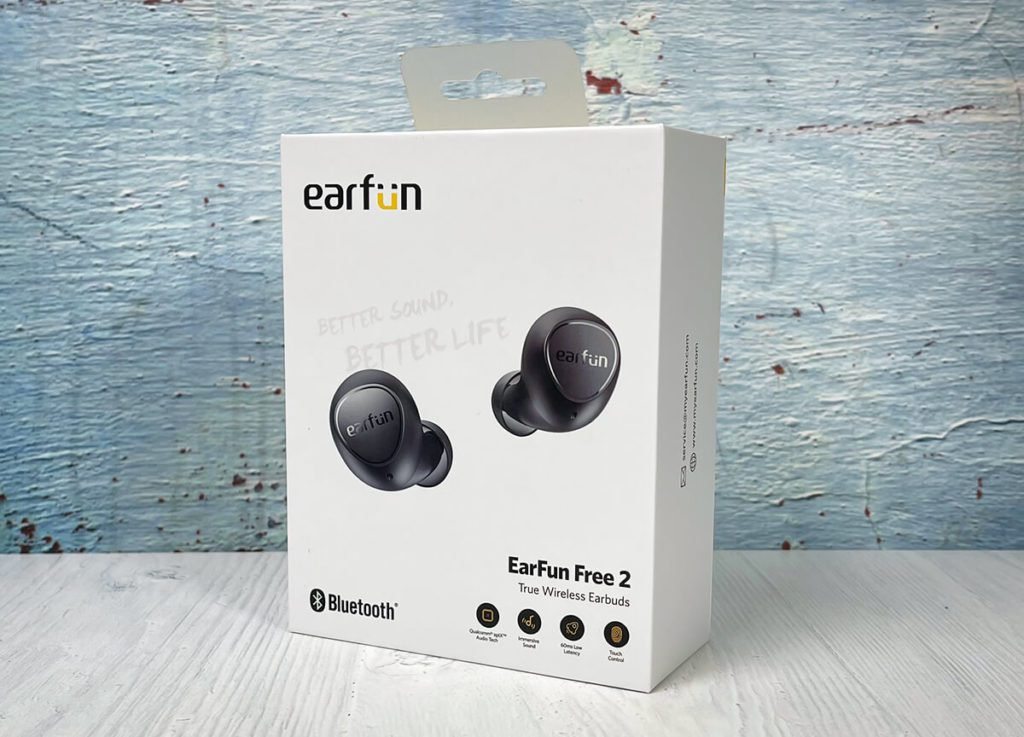 Technical data of the EarFun Free 2
As always, there are a few dry details about the headphones - just to make the rest of the report a lot more entertaining. 😀
Brand: EarFun
Model: Free 2 / TW101
Type: True Wireless Headphones
Design: In-Ear (closed)
Operation: via touch areas
IP class: IPX7 (protected against sweat and splash water)
Bluetooth specifications

Bluetooth: 5.2
Bluetooth codes: aptX, AAC, SBC
Bluetooth profiles: A2DP, AVRCP, HSP, HFP
Bluetooth transmission power: <5 dBm
Maximum operating range: 15 m
Chipset: Qualcomm QCC3040

Battery and charging data

Running time: 7h (with charging case approx. 30 h)
Capacity charging case: 400 mAh
Earphone capacity: 50 mAh
Charging the case: USB C or Qi charging (approx. 2h charging time)
Fast charging of the earphones: 10 min charging = 2 h running time

Weight of charging case and earbuds: 48 g
Dimensions of the charging case: 6,5 x 4 x 3 cm
Latency (normal mode): 200 ms
Latency in low latency mode: 60 ms
Noise cancellation: cVc 8.0 noise canceling
Microphones: 4
Audio driver: 4 mm
TrueWireless Mirroring: Individual earphones can be used
Scope of delivery: charging case, EarBuds, charging cable (USB C), silicone earplugs in three sizes
Price: approx. 45 euros (The Amazon); with a discount of approx. 35 euros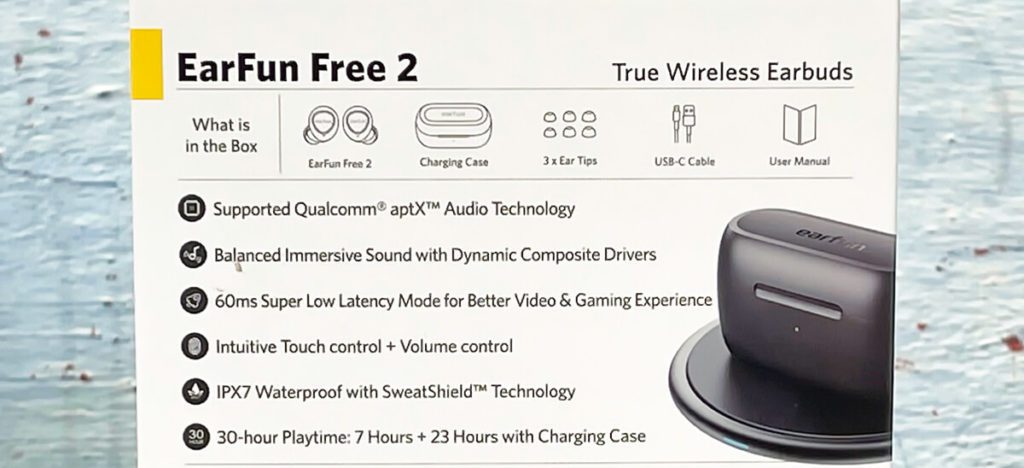 Look and workmanship of the EarFun Free 2
I have to admit that I don't really like the knobbly shape of the earphones. Each time I think about how around they belong in my ear and where is left and where is right. With the typical AirPods design, inserting works without thinking and that's what makes a product suitable for everyday use for me.
Nevertheless, with a little practice you can get used to the shape. And maybe it's just a matter of taste and my personal preference which play a role here.
In terms of optics, the EarFun Free 2 have definitely been implemented in a pleasantly restrained and elegant manner. I don't like it when you have blinking LED blocks in your ears and attract the attention of all passers-by.
In terms of workmanship, there is nothing to complain about with the headphones. No detail looks rickety or wobbly. In contrast to the AirPods Pro case, the case can be placed upright and it is still not uncomfortable in your pocket. If you compare it in terms of size with the case of the AirPods Pro, it is a bit more voluminous, which is hardly noticeable in handling.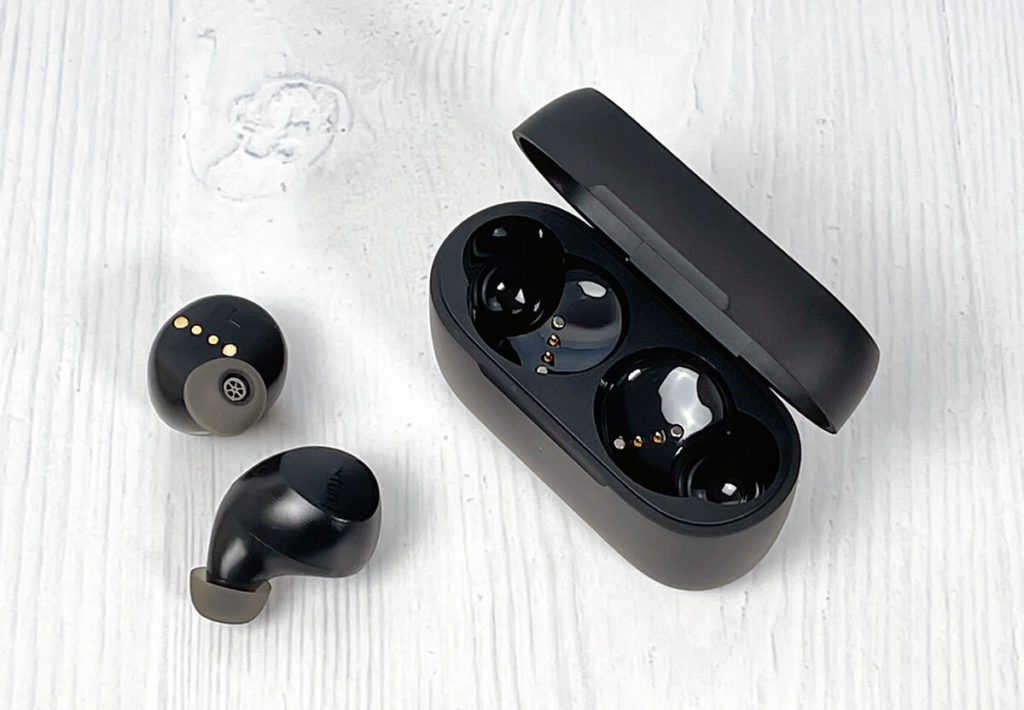 Problem: earphones can hardly be removed
It's a shame that the EarFun Free 2 lacks such a detail, but the fact is that removing the earphones from the case is a test of patience. The rounded shape makes it difficult to grip the ends of the earbuds and so they fall back into the charging case several times and you have to try again.
At first I thought I was particularly clumsy or had extra-thick fingers, but the problem with removing the earphones is criticized in almost every review.
Operation of the EarFun headphones by touch
As with almost all current true wireless headphone models, the EarFun Free 2 is operated via touch-sensitive areas on the earphones.
The possibilities of the commands are quite extensive and range from 1x, 2x and 3x short tapping to holding down for a longer time - left or right. In a nutshell, the following control functions are possible:
1x tap on the right: louder
1x tap left: quieter
Tap right / left twice: pause / play or accept a call
Tap 3 times on the right: next song
Tap 3 times left: previous song
hold down (2s) right: start voice assistant (Siri); Reject the call
hold down (2s) left: Low Latency mode on / off; Reject the call
You can also read the complete instruction manual in German here on google drive .
So far so good. Unfortunately, the reliability of the touch controls is not that great. When I tried triple tapping ten times, the EarFun Free 2 only executed the correct command eight times. In two cases he interpreted it as a double tap and started or stopped the music.
It gets a little worse if you are still active with wet fingers. Here I would rate the success rate roughly at 50 percent, which is simply too little for everyday suitability.
Only recently showed me that it can work reliably Soundcore Life P3which interpreted all commands correctly even with wet fingers.
With the EarFun Free 2, on the other hand, I would like to have the reliable buttons back that older headphones had. A click while typing also has the advantage that you have direct feedback as to whether the headphones have picked up the typist.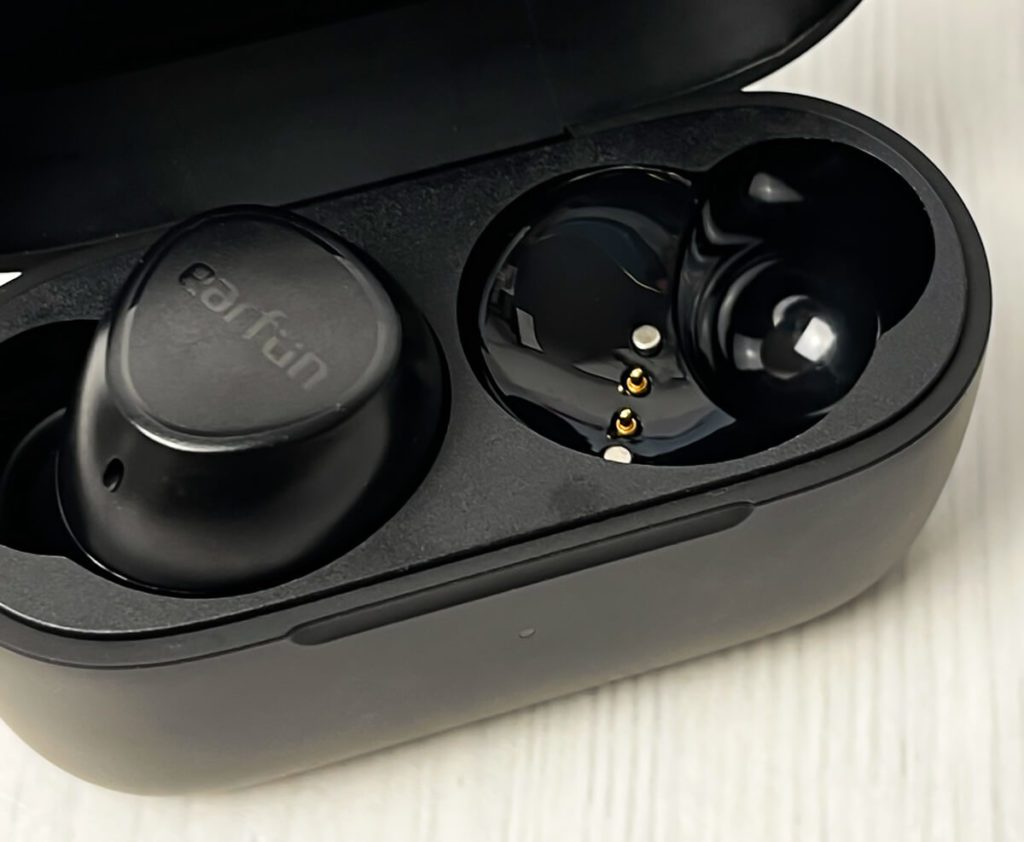 Confusing: Touch commands are different from other EarFun models
I was also a bit irritated by the key assignment, because with the EarFun Air, EarFun also used a different command set. For example, tapping and holding was responsible for the volume and tapping the left three times called Siri.
It's not tragic that this change was made, but I don't understand why an existing operating concept is thrown overboard.
Low Latency Mode: EarFun Free 2 compared to AirPods and AirPods Pro
High latency with headphones is something that is particularly annoying when playing games or watching movies, as the delay between picture and sound is very irritating. The higher the latency, the higher the offset between the shot in the movie and the bang in the headphones.
The EarFun Free 2 have a special "Low Latency Mode" for gamers and film enthusiasts, which reduces the latency to 60 milliseconds. As a rule, this is accompanied by a deterioration in the connection, so you should only select this mode if you have the audio device (for example the iPhone) with you.
In order to get an impression of how "good" the 60 ms of the EarFun Free 2 are, I researched the latency of the AirPods ( ). Here is the result:
EarFun Free 2: 60 ms (low latency mode)
AirPods 1: approx. 270 ms
AirPods 2: approx. 180 ms
AirPods Pro: approx. 140 ms
iPad Pro 2018 (internal speakers): approx. 70 ms
You can see that EarFun did a pretty good job here. I think that the latency of 60 ms should no longer be noticeable when gaming or watching a movie, especially since the iPad Pro itself already has a higher delay between image and audio - and I've never noticed that before.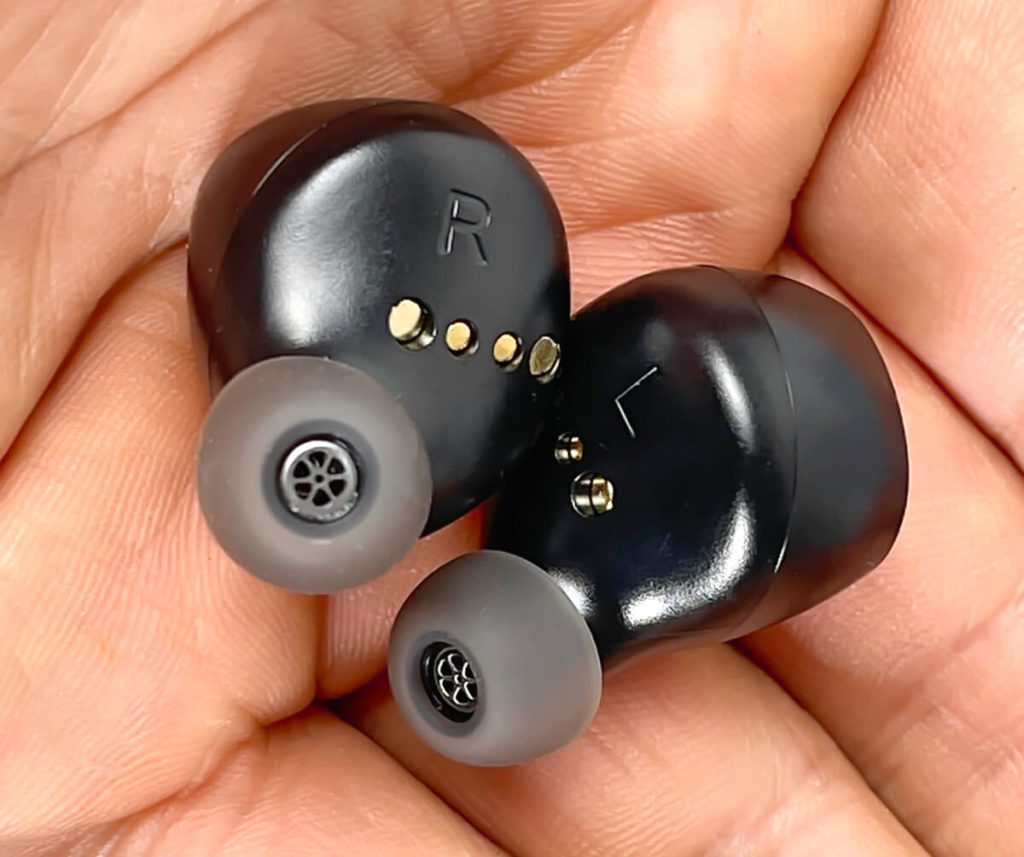 The most important thing: the sound of the EarFun Free 2
Once you have thrown the headphones in your ears (I'm still a fan of over-ear headphones and the clip-on AirPods, which are not in the ear canal), you are quite surprised by the decent sound they offer.
In some tests you can read that they would be missing the bass foundation, but I cannot confirm that. When they sit properly in the ear, they sound really round. The mid-tones and highs are not overly represented either, but blend in well with the sound.
Compared to the AirPods Pro, I would find it difficult to pass a blind test. They sound very similar to me.
The noise suppression - on the level of the AirPods Pro
The active noise cancellation that the EarFun Free 2 have can't be that bad, because when I was listening to music with the headphones, my wife spoke to me several times and I didn't even notice it because she wasn't in my field of vision. I simply haven't heard from her.
In a direct comparison with the AirPods Pro, the ANC of the EarFun Free 2 seems roughly equivalent to me. It is only topped by the noise suppression of the Bose QC35, which are over-ear headphones and therefore do not allow a fair comparison.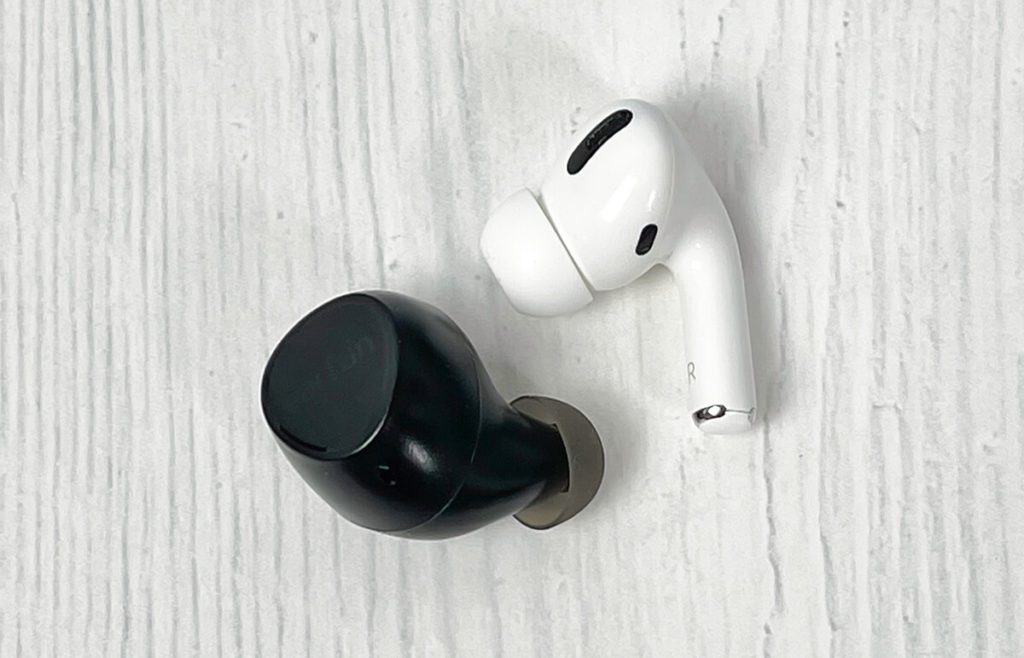 No app for the EarFun Free 2
There are a few features that you get from the competition that I miss a little with the EarFun Free 2. With the Soundcore Life P3, for example, which I have just tried out, all of these options are controlled with the Soundcore app. Since EarFun does not offer an app, you have to do without these things:
there is no equalizer that can be used to adjust the sound of the EarFun Free 2
you cannot change the assignment of the control commands
there are no firmware updates (in the forum it was written that there were, but I couldn't find any on the EarFun page)
noise cancellation cannot be deactivated
there is no transparency mode
Low latency and ANC - good DJ headphones?
Most of the DJs I've ever seen wore thick over-the-ear headphones - wired of course. I can imagine that the latency of the Bluetooth headphones was undesirably high up to now and that these small in-ear headphones were out of the question as DJ headphones. By lowering the latency to 60 ms and the built-in noise suppression - so I thought - these little headphones should now also be suitable for DJs.
An acquaintance who works in this field (see "DJ Munich"And"Rent a DJ"), but brought me back to earth. The over-ear headphones simply offer even more advantages that DJs appreciate:
You can take it off quickly and hang it around your neck.
Putting it on is much less fiddly than putting the in-ear earphones in your ear.
The shielding of the over-ear headphones is still unbeatable.
Zero latency is still better than 60 ms latency.
The sound of the over-ears is significantly better in a noisy environment than that of the small in-ears.
My conclusion on the EarFun Free 2
It is difficult for me to make a clear judgment here. On the one hand, the sound (especially when you consider the price) is quite convincing. At the same time, however, the earphones have so many compromises in other areas that I cannot actually give a buy recommendation. The competing products from Soundcore sound at least as good and yet - for a small surcharge - they have tooth-rich features that you won't find in the EarFun Free 2.
They could be interesting for gamers or film fans due to the low latency mode. But even here, Soundcore offers true wireless in-ear headphones with the Life P3, which also offer a low latency mode.
I would like EarFun to offer an app for their headphones at some point, because then some negative points would be eliminated.
Disadvantages
At the moment, the following things are preventing me from recommending a purchase:
Removing the earphones from the case is very fiddly
no equalizer
no transparency mode
no firmware updates
somewhat unreliable touch controls
IPX7 protection class, but operation with wet fingers becomes even more unreliable
Benefits
However, I would also like to mention the pluses again:
very good price
very good sound (for the price segment)
good noise suppression on AirPods Pro level
Volume can be controlled on the earphone
Headset function
Earbuds can be used individually (mono)
IPX7 protection class
If you want to take a look at the EarFun Free 2 times, you will find it here at Amazon or via this product box:
6,00 EUR
Jens has been running the blog since 2012. He appears as Sir Apfelot for his readers and helps them with problems of a technical nature. In his free time he drives electric unicycles, takes photos (preferably with his iPhone, of course), climbs around in the Hessian mountains or hikes with the family. His articles deal with Apple products, news from the world of drones or solutions for current bugs.
The page contains affiliate links / images: Amazon.de