The manufacturer Ecovacs gave me the X1 Omni (Link to the test report) already convinced. After I wrote to the marketing department about how well their robot vacuum was doing in our household with dog hair, cords and other issues, they got a surprising reply.
They said it would be nice, but they even have a robot vacuum that is made specifically for pet hair because it has different rollers that are less likely to catch hair.
In short: They also sent me this model for a test and the auto-emptying dock, which you have to buy again separately, came with it so that I can take a close look at it too.
The main focus of the report is on the T9 AIVI, but of course I also say something about the auto drain dock.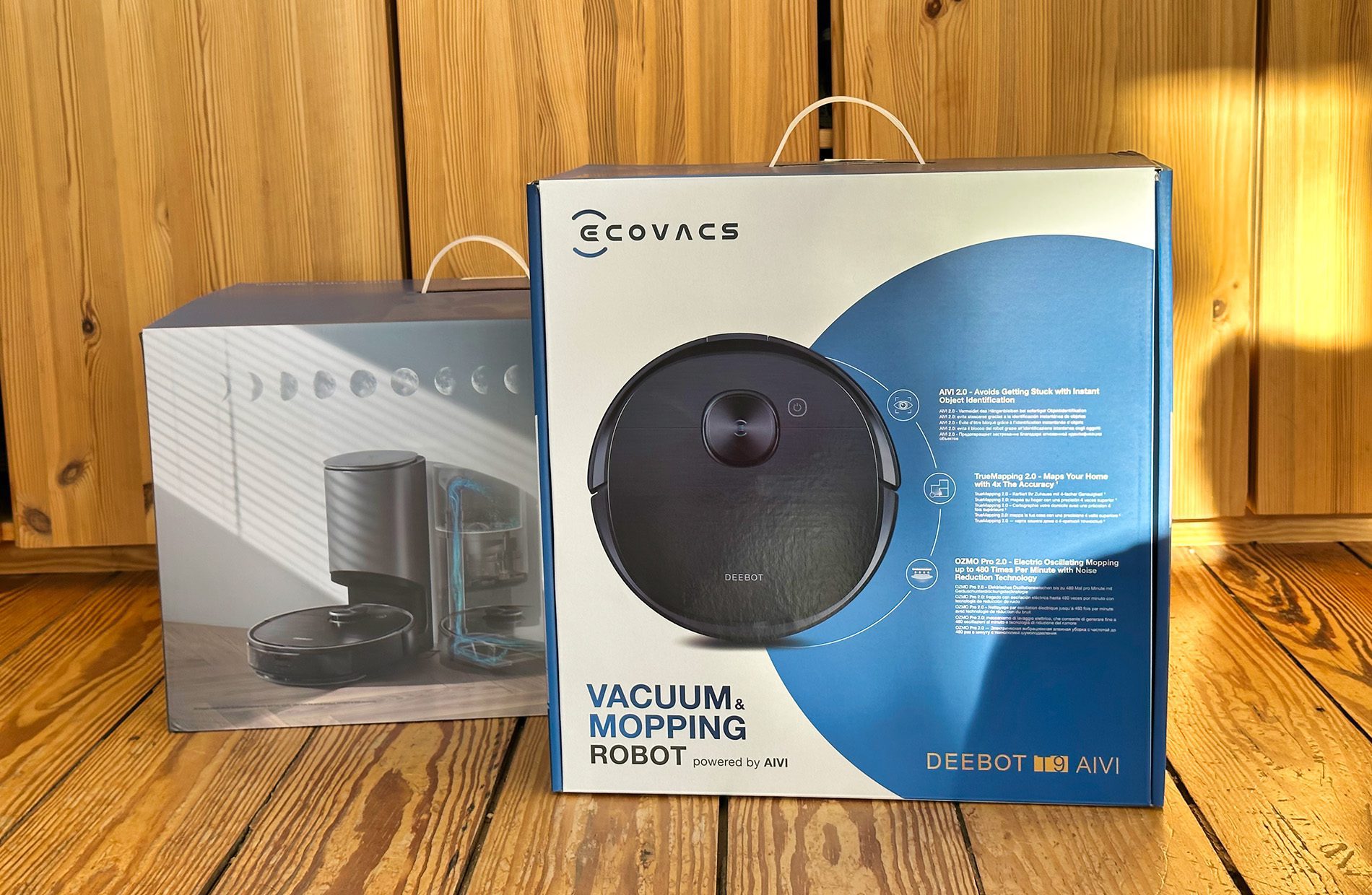 Transparency notice
Ecovacs provided me with the vacuum cleaner and dock free of charge. I'll write a review in return, but I'm under no obligation to coordinate the review with Ecovacs. The people there won't see the report until it's online.
And if you've read my old test reports, you know that I like to give criticism. I feel obliged to you and therefore write what I think.
Specifications of the Ecovacs Deebot T9 AIVI
Although I am now convinced that the technical data hardly say anything about whether you will be happy with a device or not, but for the sake of completeness I will mention the data of the T9 AIVI here anyway.
Manufacturer: Ecovacs
Model: Deebot T9 AIVI
Type: Mopping and vacuum cleaning robot
Navigation: Laser (LIDAR), True Mapping 2.0, AIVI 2.0
Carpet detection: yes
Floor types: parquet, wooden floorboards, tiles, carpet etc.
Obstacle detection: yes, avoids things on the ground
Main Brushes: AeroForce tangle-free multi-surface rubber brushes
Side brushes: 2
Wiping technique: electrically oscillating wiping with reusable wipes
Water amount: adjustable
Smart Home: Compatible with Amazon Echo and Google Home
HomeKit compatible: no
Continuation of cleaning: yes
Fine dust filter: yes
Weight: 3900 grams
Power consumption: 50 watts when charging
Standby power consumption:
Suction power: 3000 Pa
Dimensions: 35,3 35,3 x x 9,4 cm
Battery: 5.200 mAh (Li-Ion)
Dirt container: 300 ml
Water tank: 180 ml
Volume: 47 dB to 67 dB (low and maximum setting)
Battery life: up to 2,5 hours
2-way communication via built-in camera, microphone and speaker via the app
Suitable for pet households: yes
Price: approx. 440 euros (robot vacuum only)
Price: approx. 540 euros (incl. auto emptying station)
References: The Amazon, idealo
Current offer: Vacuum robot + Dock on Amazon
40,00 EUR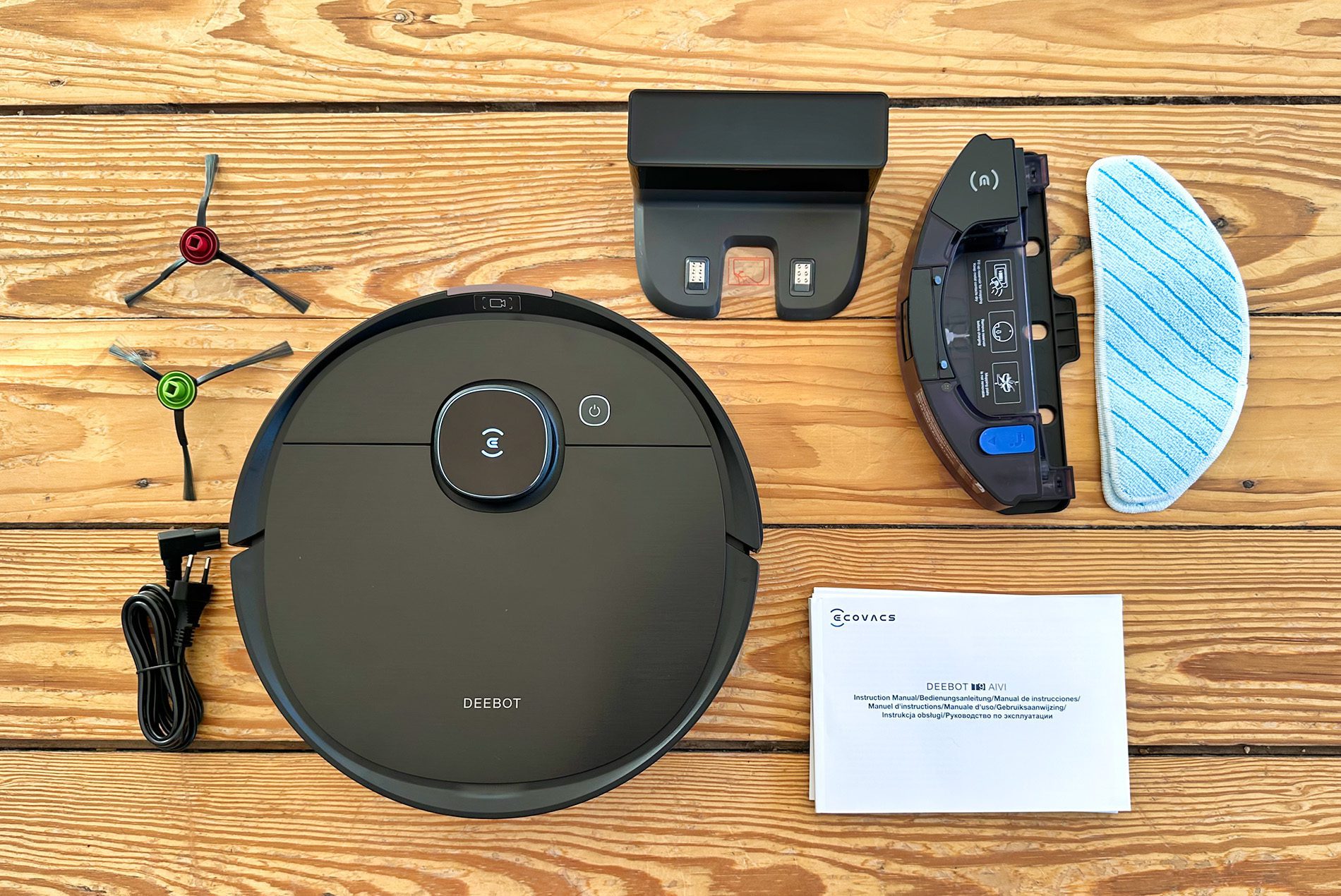 Optics and workmanship
As usual from Ecovacs, the Deebot T9 AIVI is simple but elegant in design. The robot has the typical round shape and the small "tower" with the lidar sensor (laser range finder) at the top. There is another camera on the front, which is used for the 3D recognition of objects and for the creation of the 3D floor plan.
If you don't want to use the front camera, you can deactivate this optional recognition feature in the app. And in case you don't trust that the camera is really offline, you can attach a supplied black plastic plate in front of the camera so that it can't see anything either.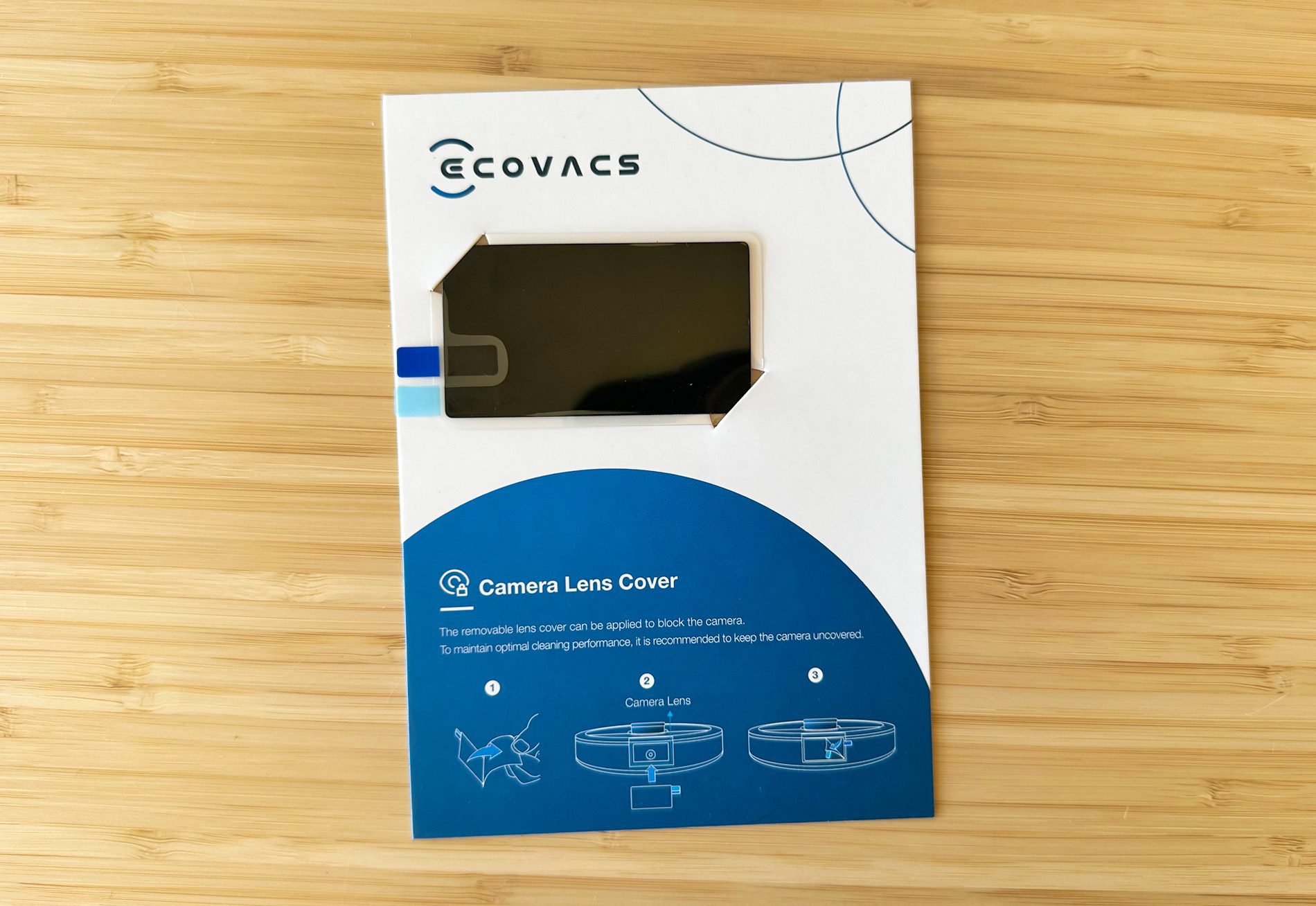 The processing of the vacuum cleaner and the emptying station is very good. Everything feels sturdy and well built. In any case, you don't have to worry about breaking anything or breaking anything if you handle the devices too roughly.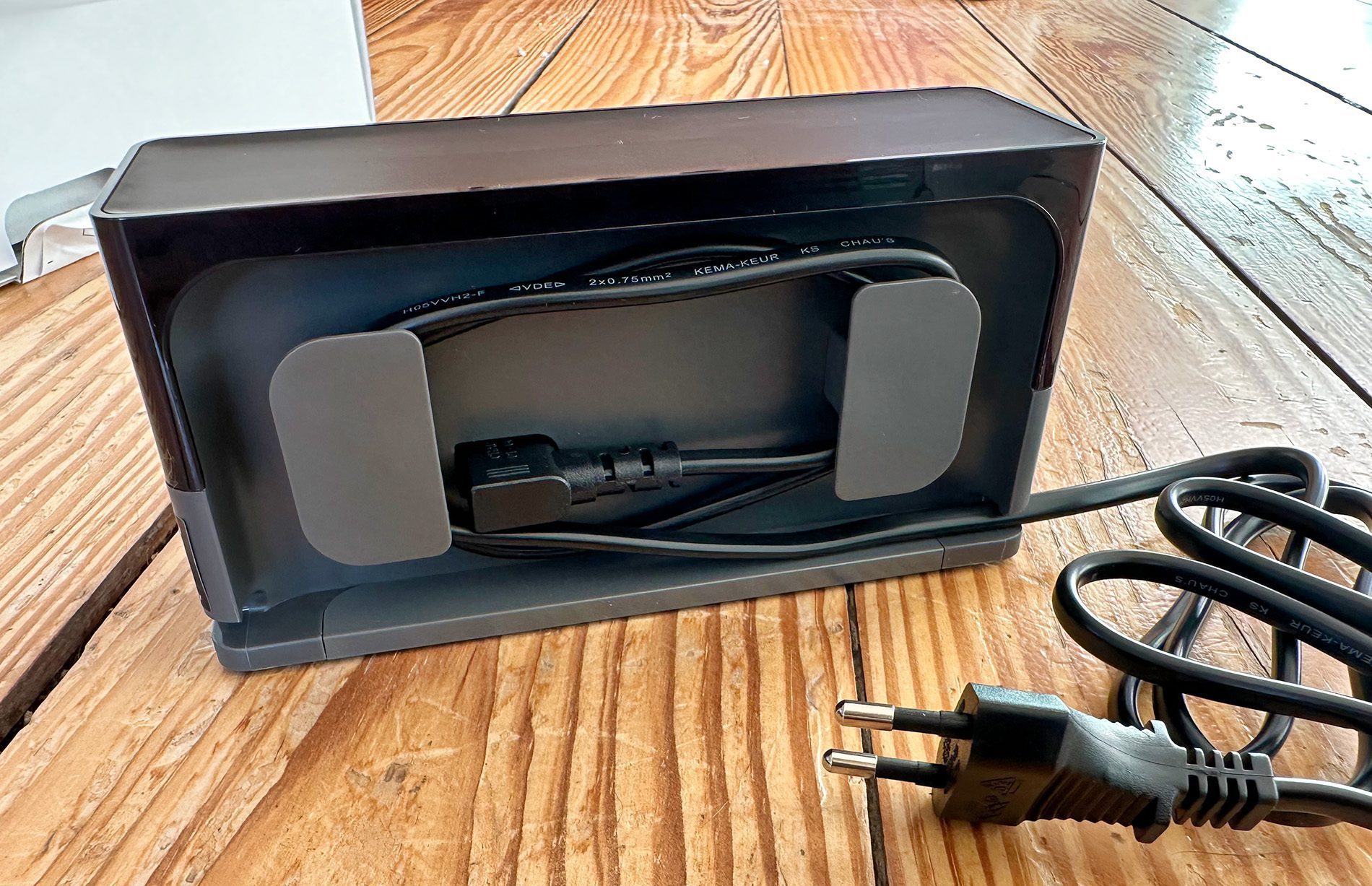 Commissioning and app installation
Before you start your first cleaning trip, you have to remove a few foils and transport locks from the vacuum cleaning robot, attach the side brushes and install the app.
All of this is done pretty quickly. Since I already had the Ecovacs app on my iPhone anyway, all I had to do was scan the QR code in the T9 AIVI and confirm the WiFi. The vacuum robot was already available.
A firmware update was also pending, which I still carried out.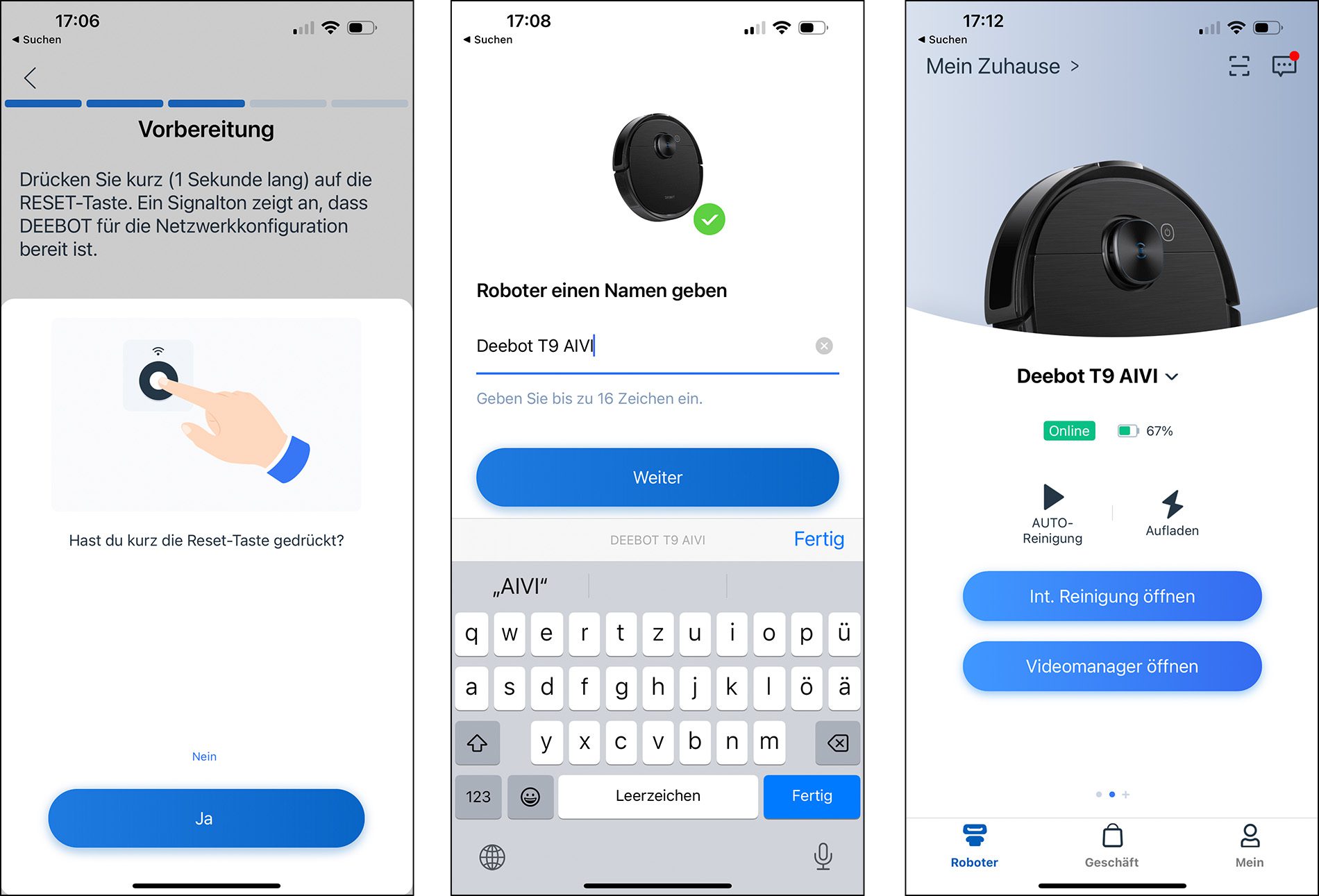 "Conversion" for the auto drain station
If you also bought the emptying dock, this package also includes a small tool and a new dirt container. The reason for this is that you have to loosen two covers in the vacuum cleaner and the new dust container has two small flaps through which the dirt is sucked out.
Here I had a question mark on my forehead for the first time, because of course I didn't read any instructions and I was wondering what the small "key" that came with the dock is for.
You have to insert this into the covers under the dust container, turn it slightly and then pull it tight. It then sounds like something has broken off, but that's all right, because now you have the necessary cut-outs in the bottom of the vacuum cleaner, through which the dirt in the dock is sucked away.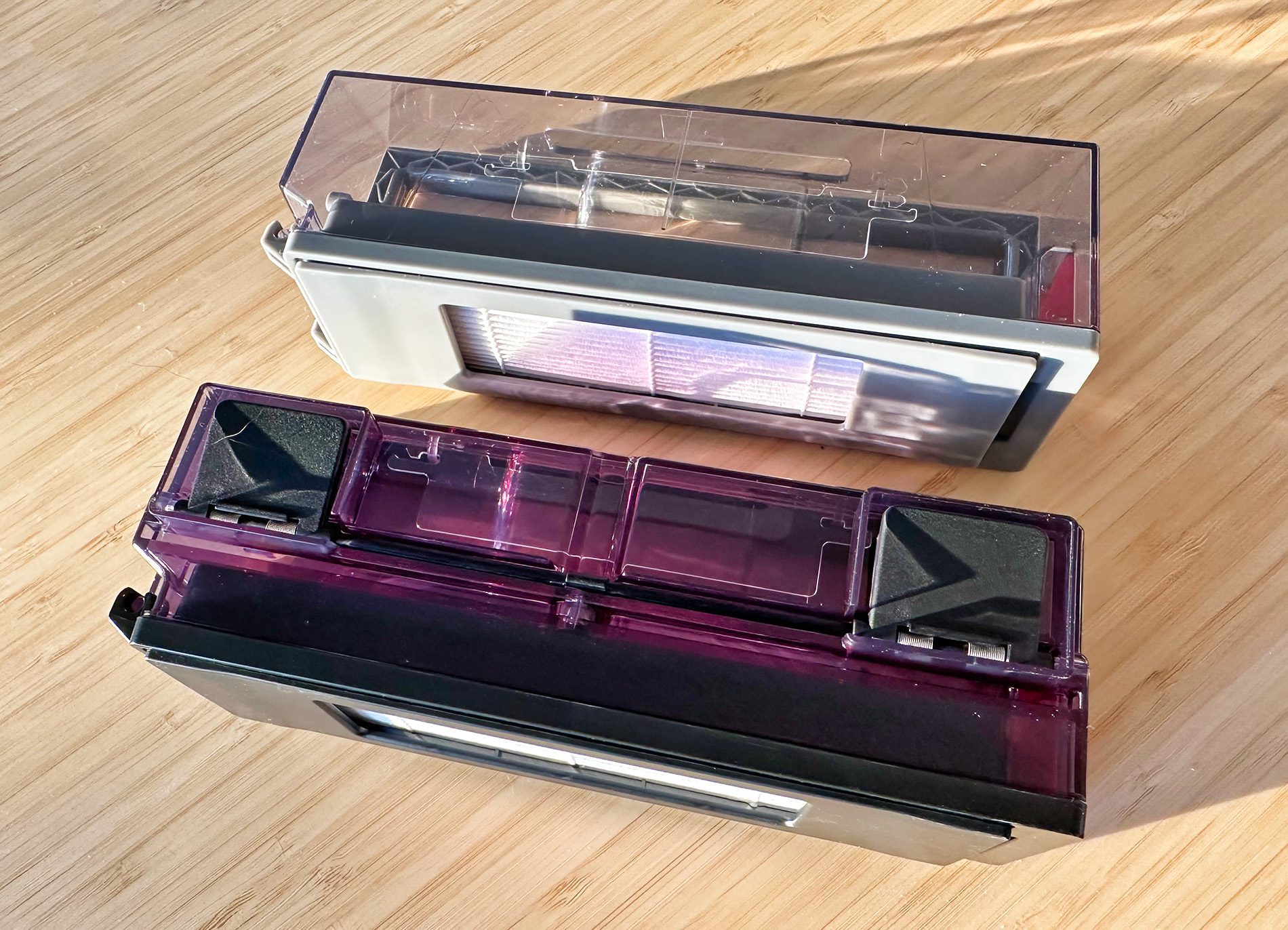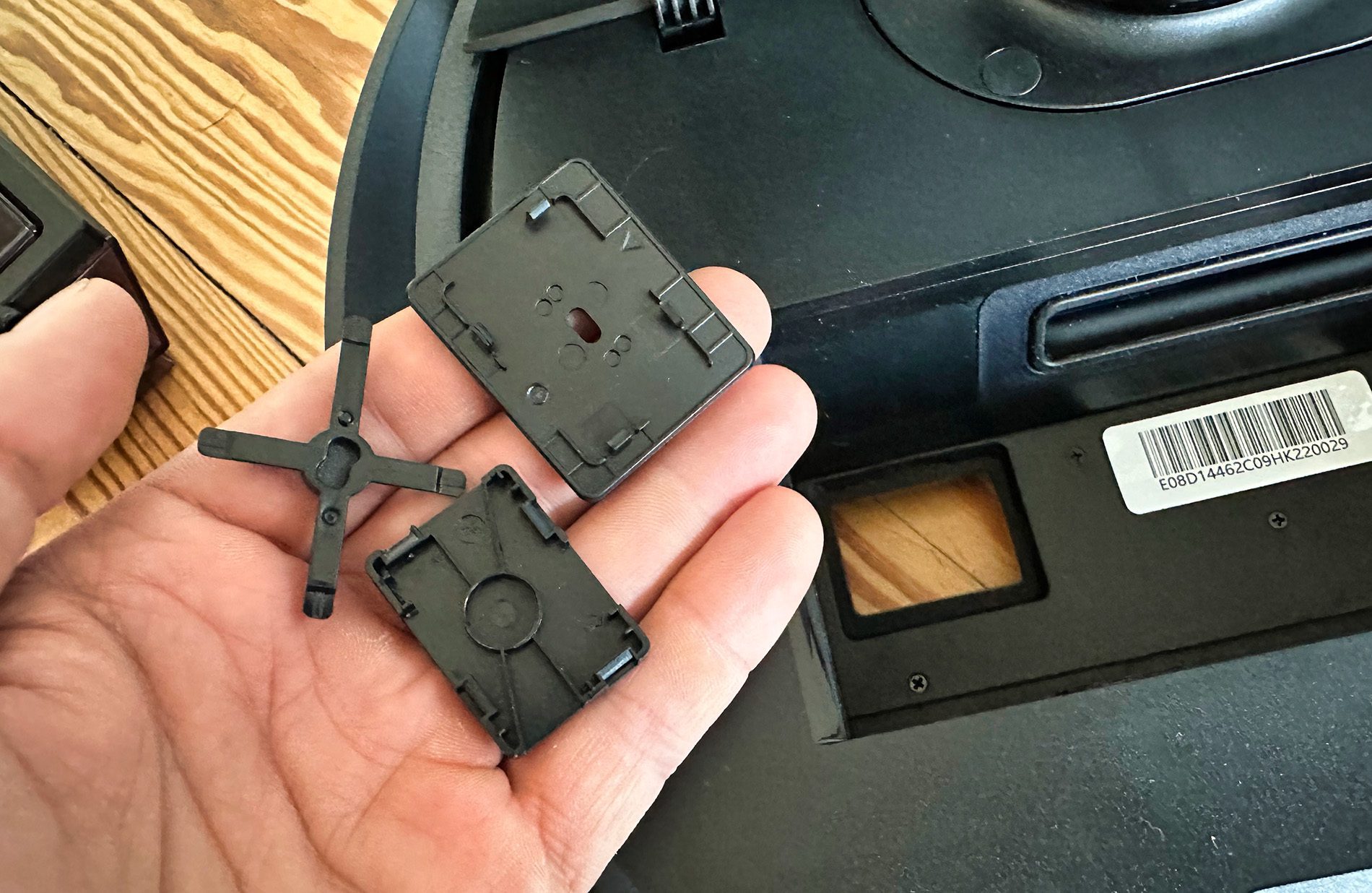 AeroForce brushes - perfect for pet hair
The Deebot T9 AIVI differs from other vacuum cleaning robots mainly by the brushes that are installed. Here you can otherwise find brushes that have a mixture of bristles and rubber lips.
The T9 AIVI's AeroForce brushes are rubber rollers with a profile. The advantages of these brushes are these:
they operate tangle-free and won't eat cords or get clogged with pet hair
The profile of the brushes really scrubs the floor and can also loosen stubborn dirt (without water!)
The suction result of the X1 Omni - another model that I tested - was already very good with our many dog ​​hairs and better than some other vacuum cleaning robots.
The result of the Deebot T9 AIVI is at least as good, if not better, thanks to the special brushes.
I can imagine that the rubber brushes are simply better at picking up animal hair because they "stick" to the rubber surface.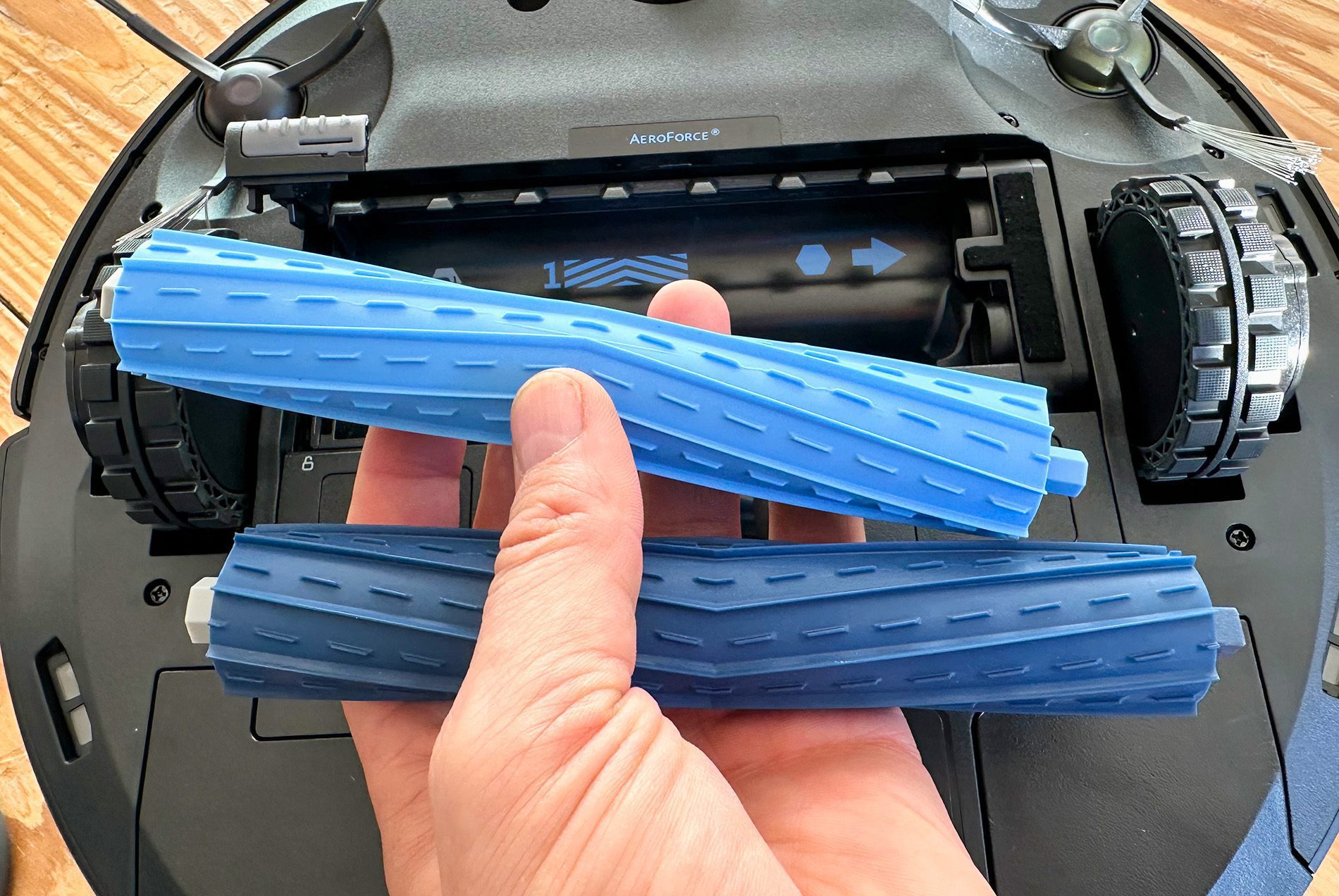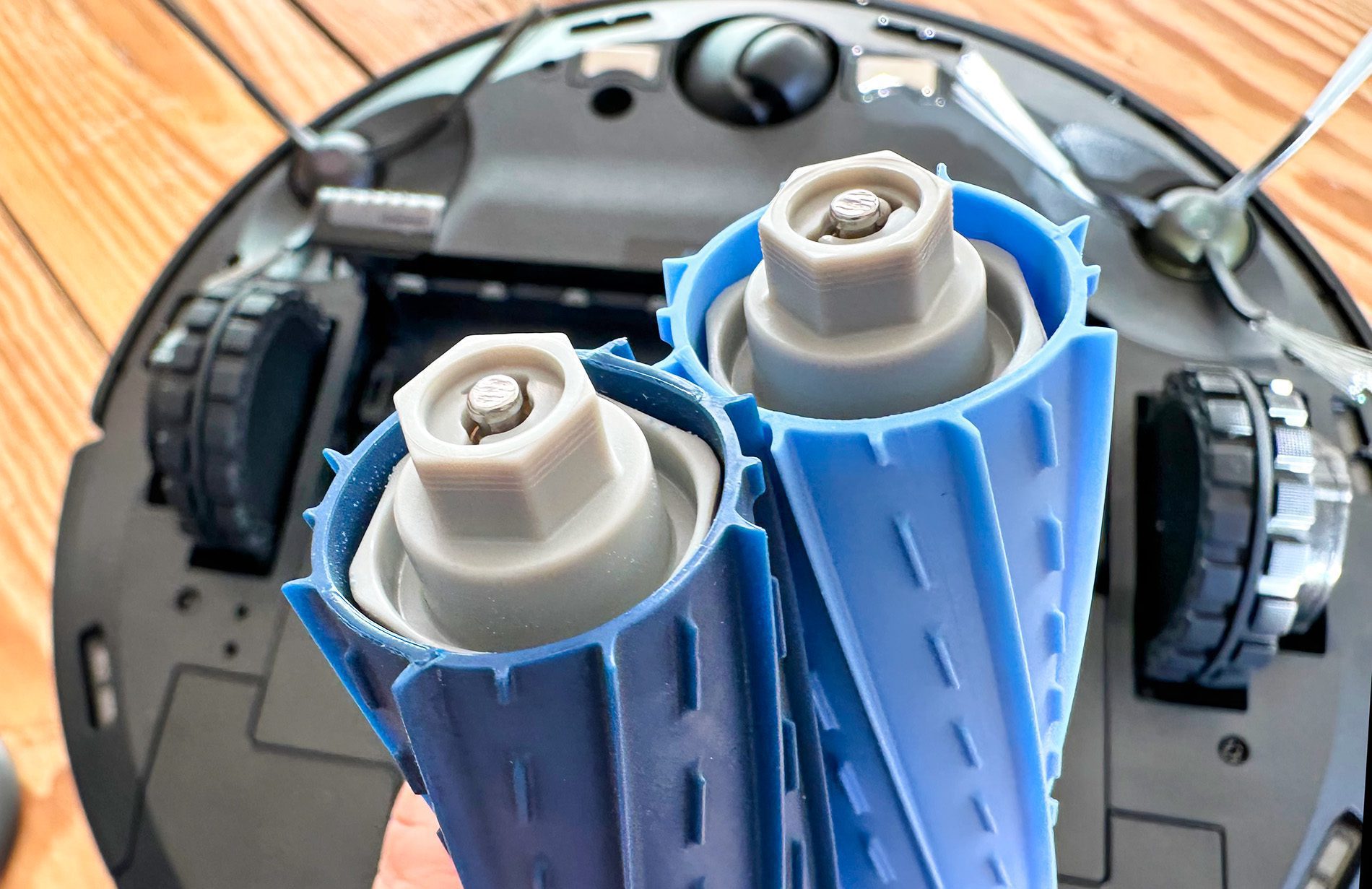 Wipe function passable, but not great
The Ecovacs T9 AIVI does have a wiping function, but it is basically a wet wipe that is moved through the room in an "electrically oscillating" manner under the vacuum cleaning robot.
I assume that it works with slight vibrations and thus offers a little more mopping power than the cheap mopping robots that just pull the cloth behind them.
To be honest, it has to be said that even vibrating the cloth doesn't make the T9 AIVI wipe as well as the X1 Omni, which has two rotating mopping pads that also exert a certain amount of pressure on the floor with a spring.
In our case, that's fine since we only have a few rooms that can be swiped. In our household, the suction power is more important and the Ecovacs T9 AIVI definitely scores here.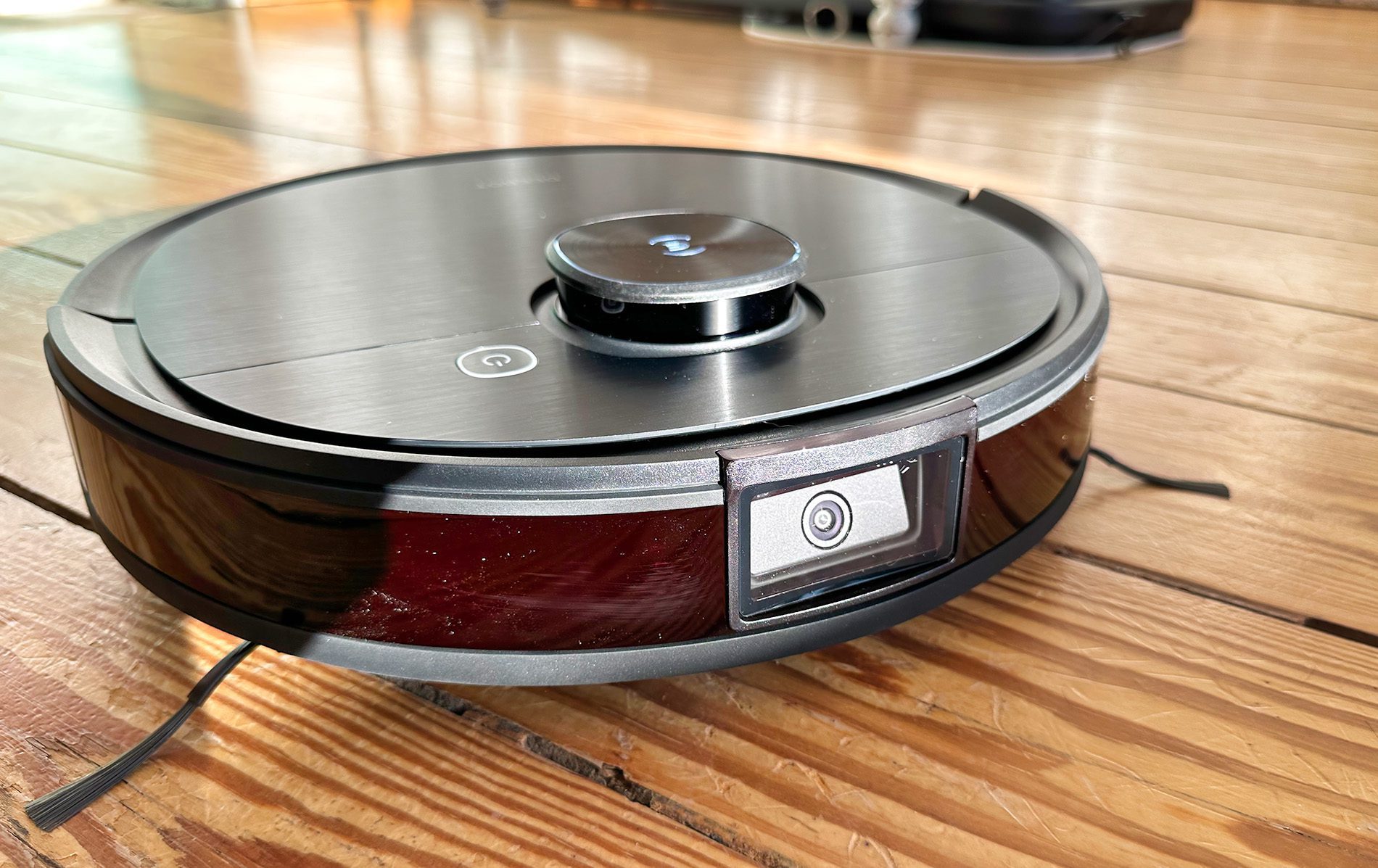 Noise development when vacuuming
First of all, I have to say here: The Ecovacs vacuum cleaning robots are the quietest that I have ever used. When I started my X1 Omni for the first time, I thought it was just going around the apartment. In fact, he was already cleaning.
The noise that the Ecovacs T9 AIVI makes when vacuuming is a bit louder, as it actually sounds like a vacuum cleaner in standard mode - only much quieter.
But while I can work in the office and make calls on the X1 Omni in standard mode without any problems while it makes its rounds, the T9 AIVI is a bit louder and actually "disturbing" a bit.
But you can set it to "quiet mode" and then you have a very quiet device with the T9 AIVI. It actually sounds like it's just driving around, but not sucking.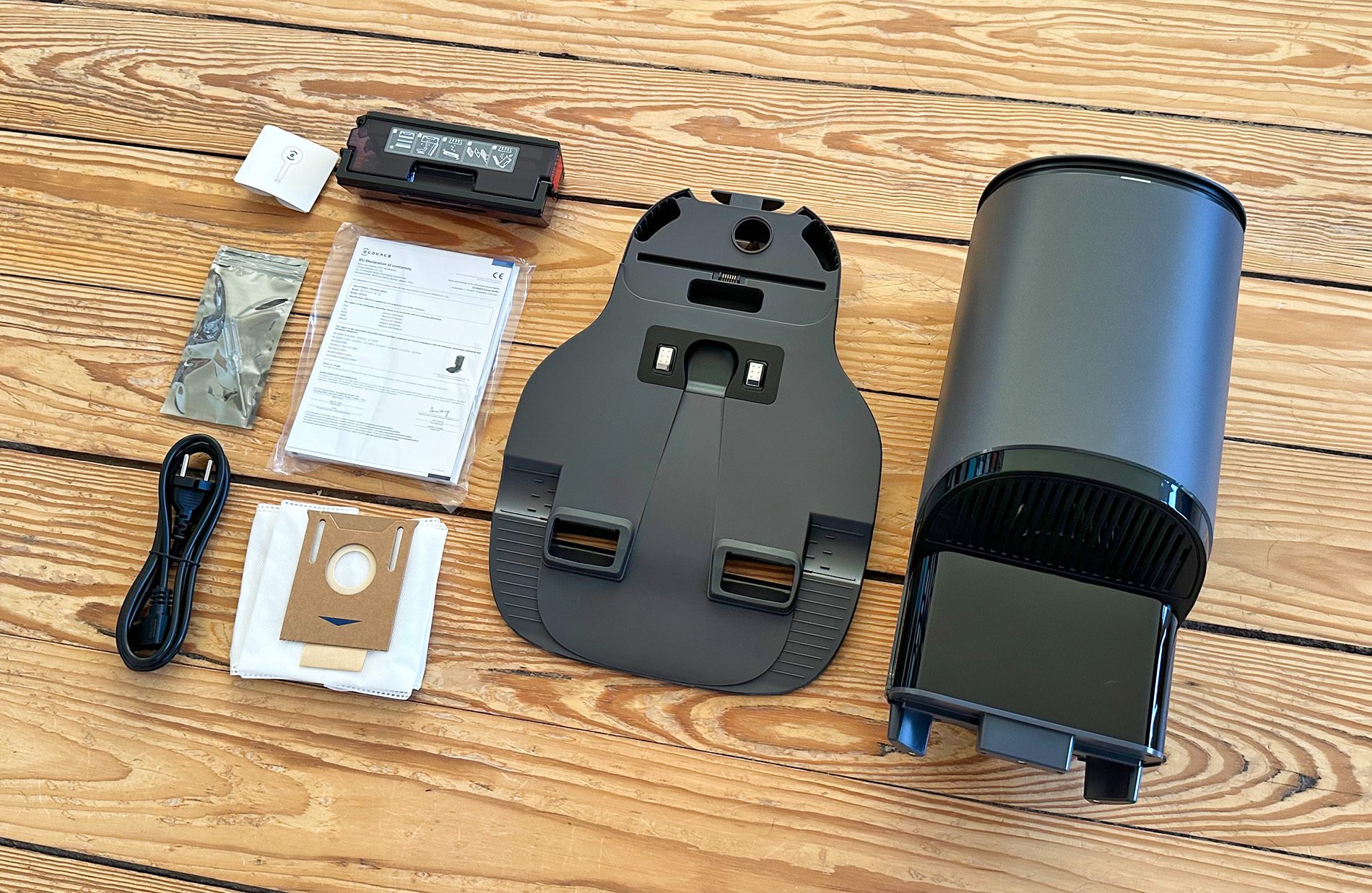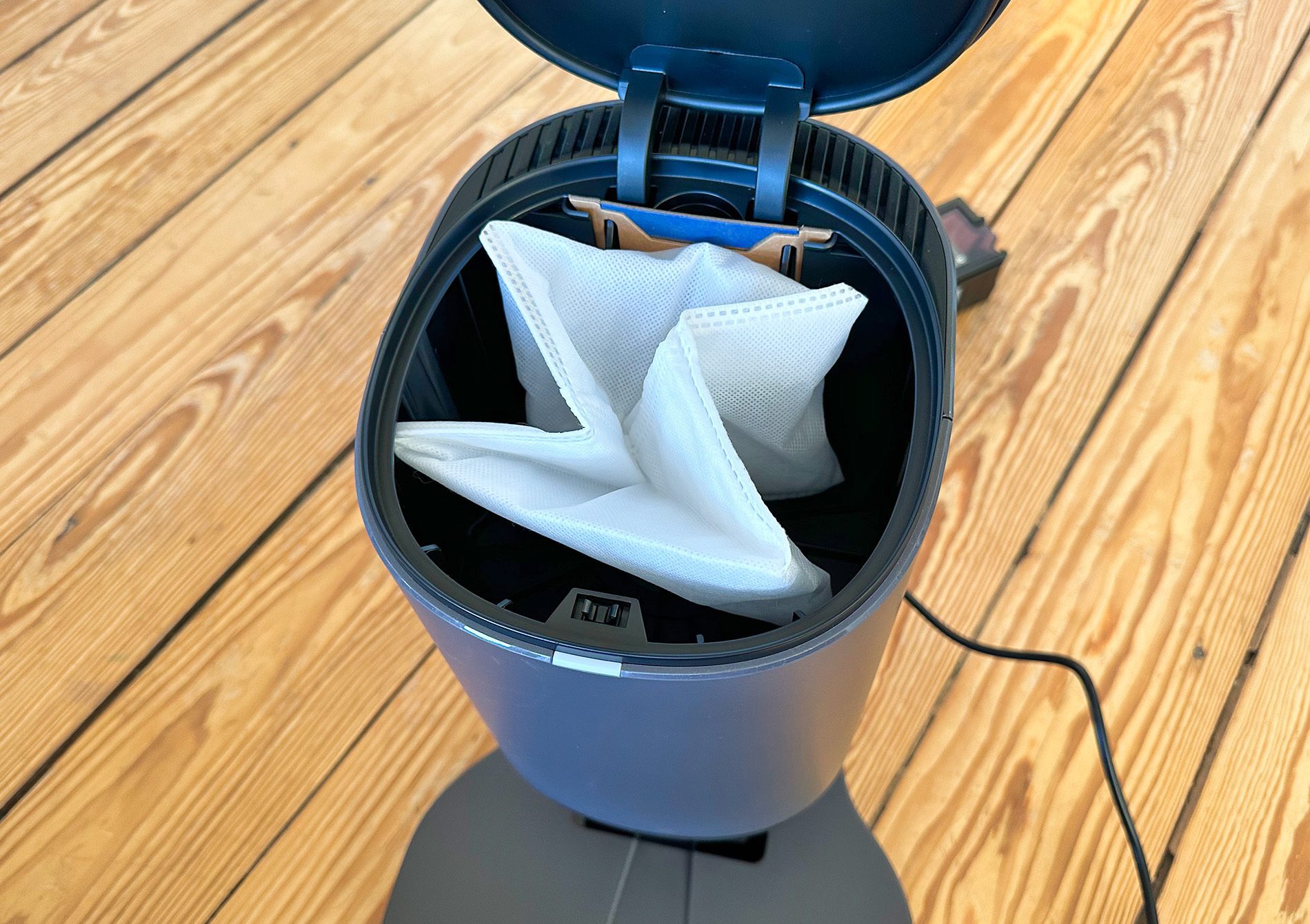 Ecovacs App - easy to use, but many functions
If you just want to start the vacuum cleaner robot, clean an area or add a new device with the Ecovacs app, then this is done with a few (sometimes one) clicks.
Nevertheless, there are settings pages through which you can set up a cleaning plan, edit the suction strength, the amount of wiping water or similar.
I find the app very pleasantly designed and you can even invite other users so that other people in the household can also operate the devices that have been set up.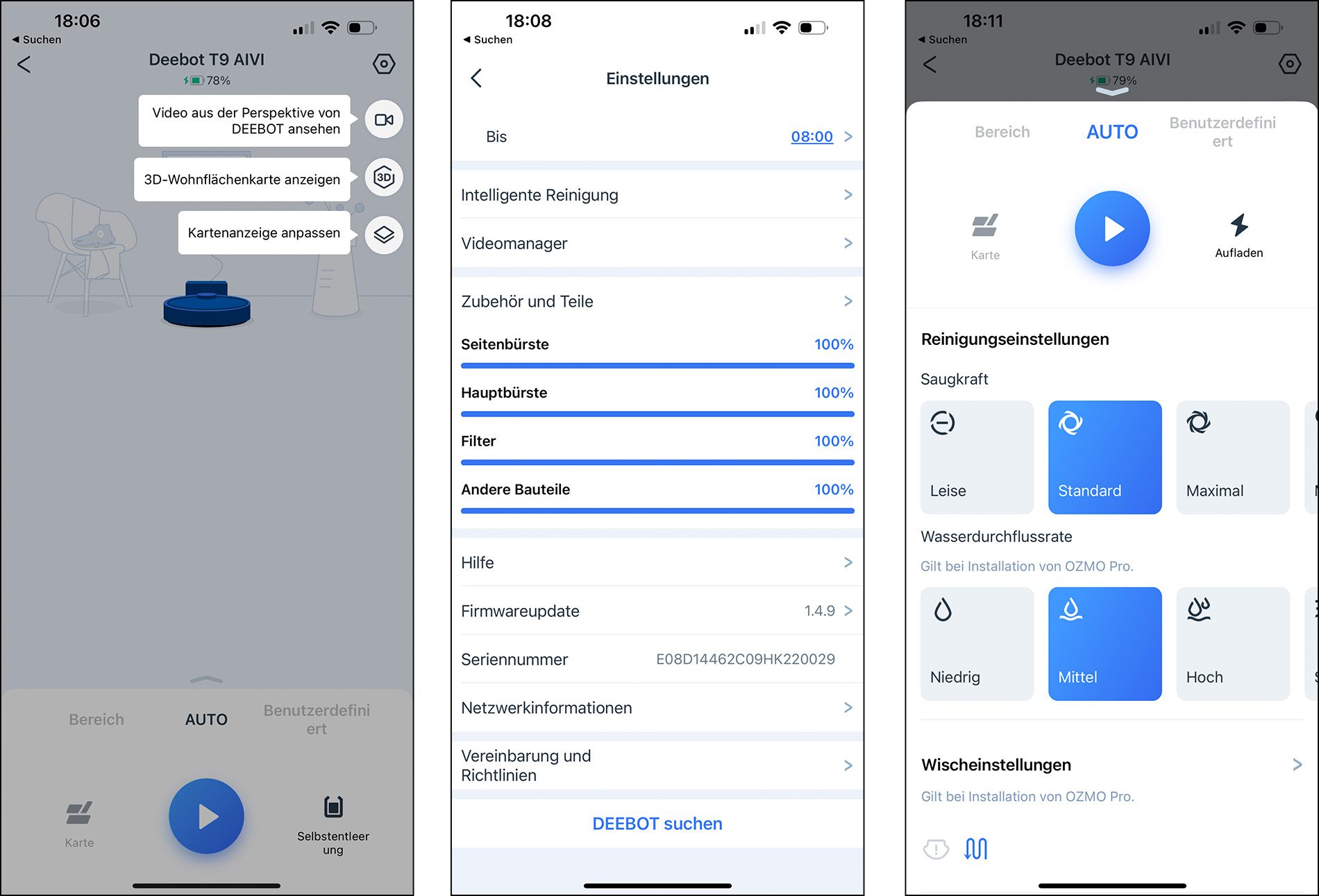 What I miss about the Ecovacs T9 AIVI...
The T9 AIVI is currently programmed in such a way that after it has been completely cleaned, it drives to the dock and has its dirt container emptied there.
In practice, however, this is impractical because we have a fairly large area and a lot of dog hair. After a room, the box is sometimes full of hair and further vacuuming is basically ineffective and only blocks the way to the container.
The X1 Omni has a feature here that can be said to drive to the dock automatically after 10, 15 or 25 minutes to empty the bin. The T9 AIVI does not have this option. After I asked the manufacturer, I was told that only the X1 Omni has this function. So there are no plans to retrofit them in the cheaper T9 AIVI - too bad, too bad, too bad...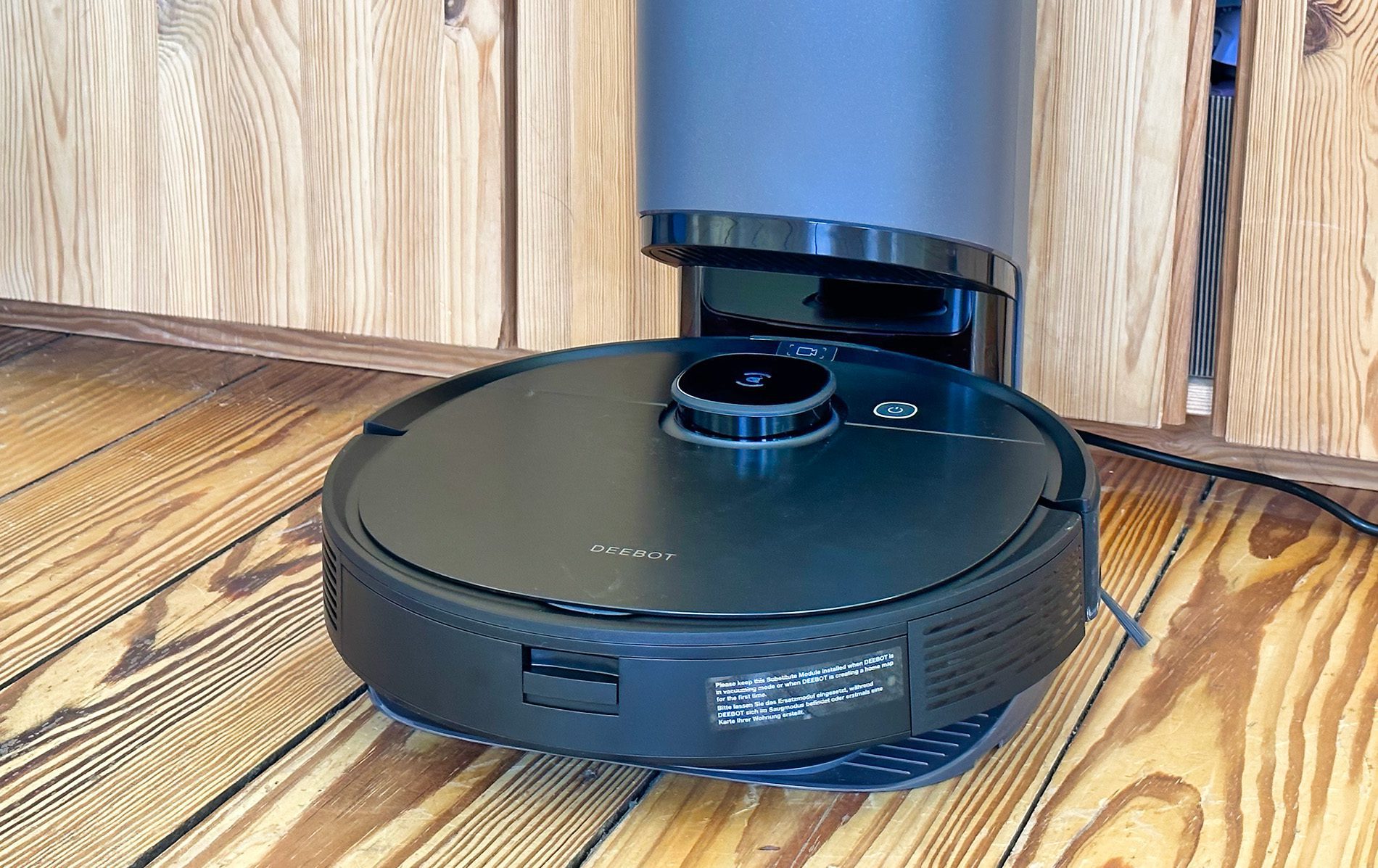 It would certainly be easy to retrofit this with a firmware update. Instead, feel free to omit something like 2-way communication. I rarely want to talk through the app to someone who's jumping around in front of the vacuum cleaner.
I find it funny that this feature is so essential, but no manufacturer indicates in its technical data how to configure automatic drainage. There is definitely a need to catch up here for all brands.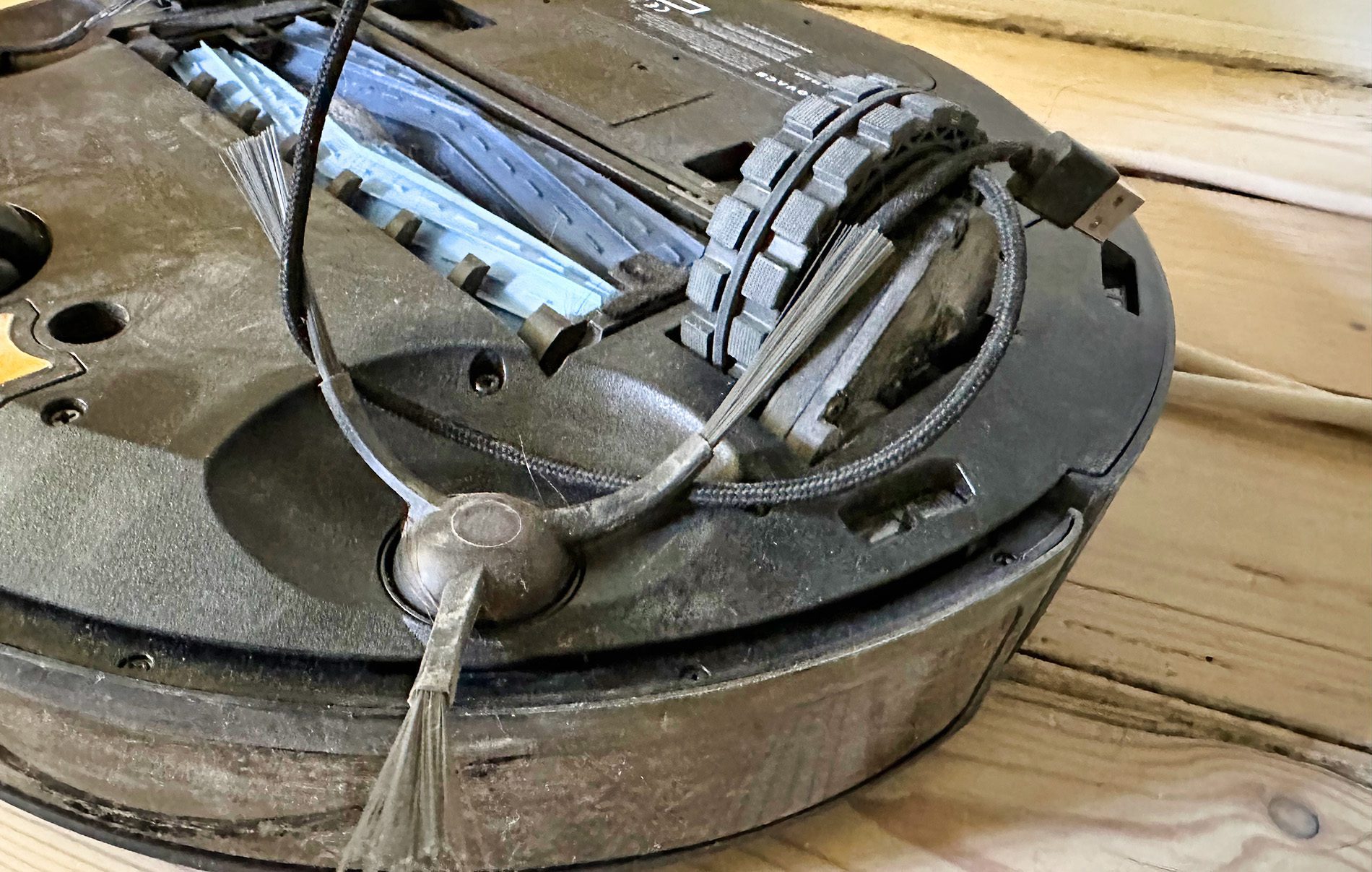 My conclusion on the Ecovacs Deebot T9 AIVI
recommendation, right? That is the question. Basically, the Deebot T9 AIVI is a good vacuum cleaner. Just the fact that the X1 Omni is better in terms of volume and emptying function makes me pause a bit.
However, the T9 AIVI is also significantly cheaper, because the X1 Omni is a fully automatic wiping AND vacuum cleaning robot, which also independently cleans its wiping pads in between and dries them with warm air at the end. An unfair comparison in terms of price and functionality.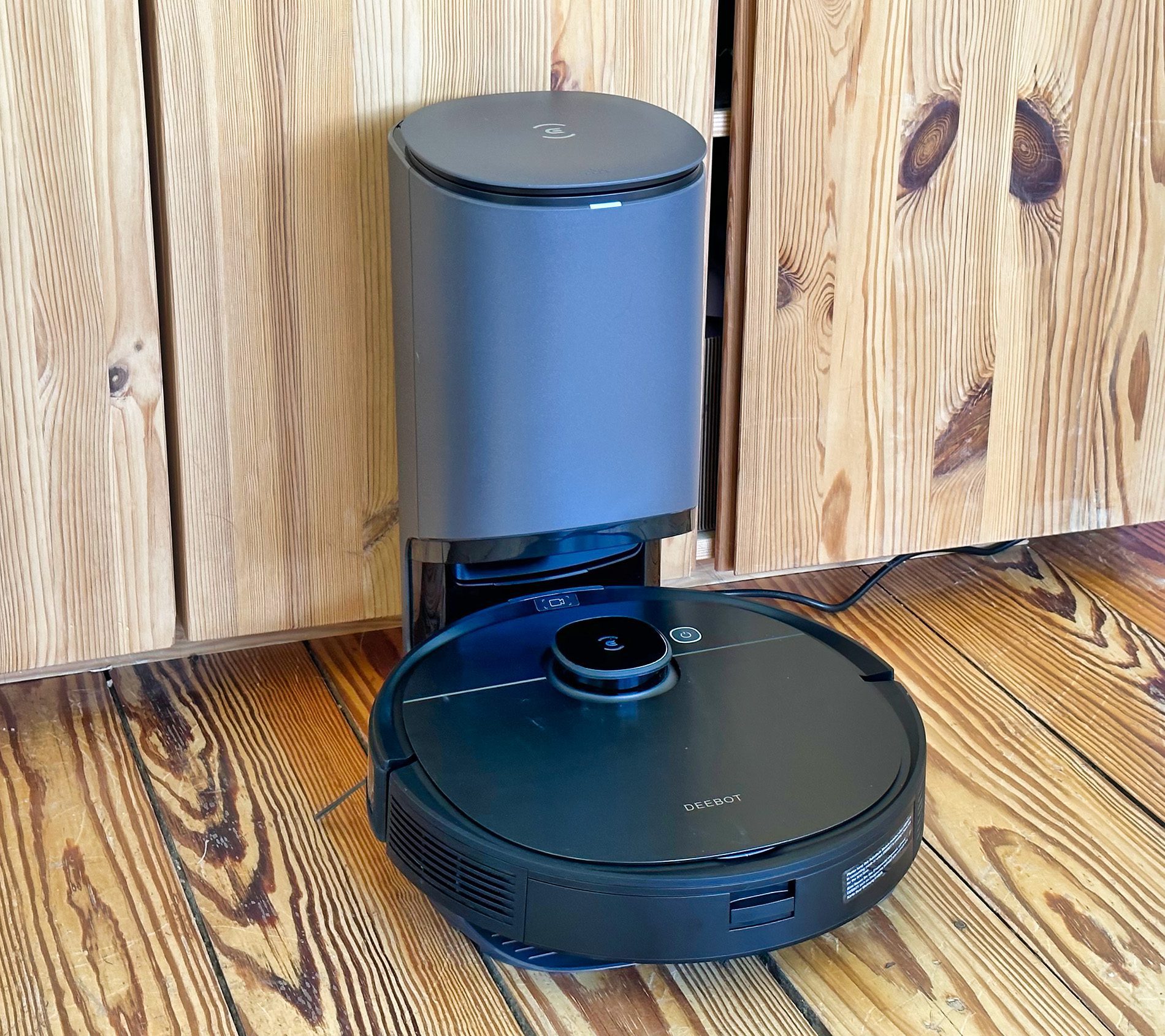 If you program the T9 AIVI in such a way that it makes its rounds every day and then empties yourself, you will also be able to keep living areas around 100 to 150 square meters clean. The new tangle-free AeroForce brush, which is only found in the T9 AIVI and not in the X1 Omni, also definitely benefits here.
For people like us, who generate a lot of animal hair and only send the robot out every second or third day, they should take a look at the Ecovacs X1 Omni. The device is my absolute favorite and it's hard to top its performance.
For this reason I just list both models here:
350,00 EUR
300,00 EUR
ECOVACS DEEBOT X1 OMNI, vacuum cleaner robot with mopping function and multifunctional...
X-TRA PRACTICAL: Vacuum robot with wiping function and automatic dust removal and water cleaning, the DEEBOT X1 ...
X-TRA POWERFUL: Vacuum robot for animal hair (cat hair, dog hair) - The DEEBOT X1 OMNI as a vacuum cleaner robot...
X-TRA HIGH QUALITY: Vacuum robot with suction station - The DEEBOT X1 OMNI is a vacuum cleaner robot with suction station and ...
Jens has been running the blog since 2012. He appears as Sir Apfelot for his readers and helps them with problems of a technical nature. In his free time he drives electric unicycles, takes photos (preferably with his iPhone, of course), climbs around in the Hessian mountains or hikes with the family. His articles deal with Apple products, news from the world of drones or solutions for current bugs.
The page contains affiliate links / images: Amazon.de