Actually, the purchase of this charger was done on a whim. According to the motto: "Oh, I'll just test it!". I've been using the charger for a few days now and I have to say: It's one of the best battery chargers I've gotten in recent years! Of course, I also have the one that I have recommended more often Technoline BC 700, which is microprocessor-controlled and can charge up to 4 NiMH batteries (AA or AAA) independently, but if you are using less common types of batteries like the 18650 If you have batteries and the like, you won't get very far with the BC 700.
I like the Olight UC extremely well, which is why I dedicated this catchy article title to it. Of course, it's not the best in every respect, but it's been a battery charger for a long time that I can name as a recommendation - not least because it's extremely small, light and flexible in use.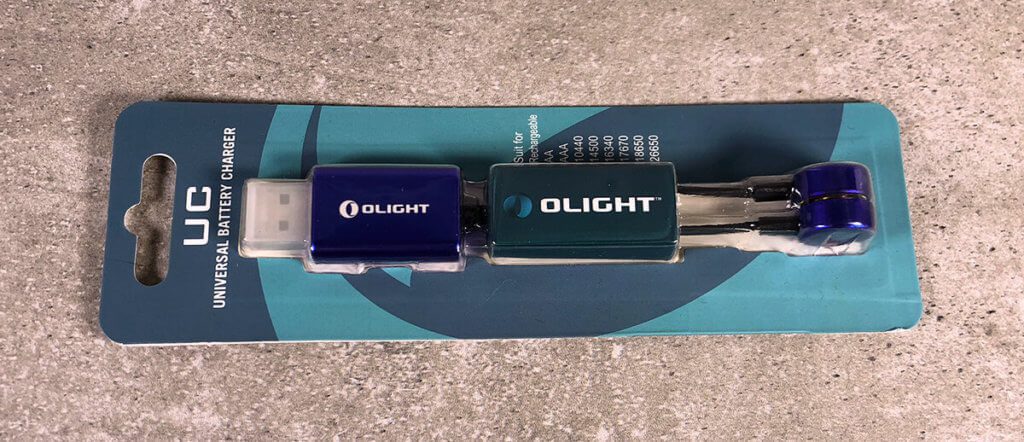 What makes it good and where are the weaknesses?
If you just want to quickly read the advantages and disadvantages and don't feel like "consuming" the entire article, you will find my pros and cons here in brief:
Advantages…
tiny
extremely light
super-flexible thanks to the USB connection
extremely simple and safe operation
charges faster than my BC700
charges many types of batteries
simple display (standby, charging, done)
contrary to the technical specifications, USB 2.0 with 5 mAh is also sufficient
Disadvantage…
you can only charge one battery at a time
you have to feed the power via USB (no integrated power supply)
no information about charging current and measured capacity
And here is the shopping link for you: Buy Olight UC on Amazon. ;-)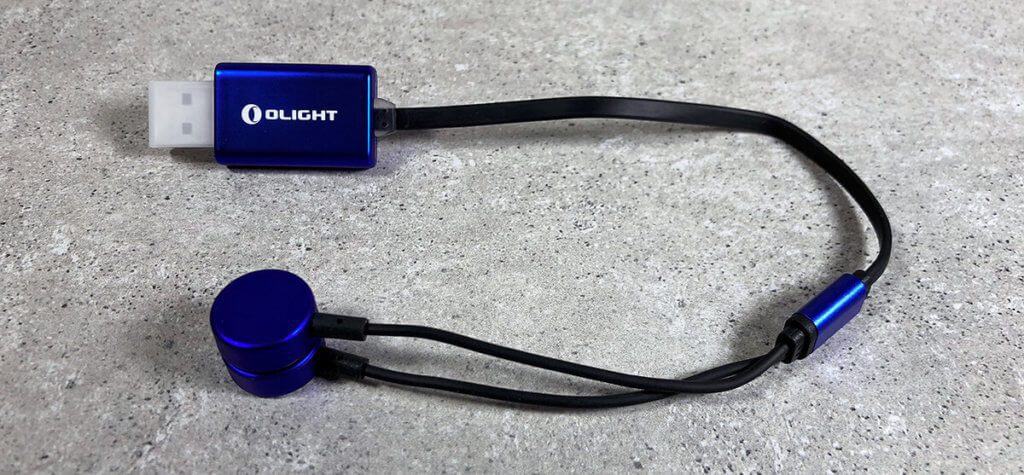 USB battery charger for ultra-light backpackers
When you look at the Olight UC USB Battery Charger, the first thing that strikes you is the "very manageable" size of the device. There really isn't too much to it here. All in all, it's actually just a USB connector with integrated charging electronics, a cable branch and two magnetic, round metal caps that make contact with the battery's poles. That's it.
I jokingly said that this would be the right battery charger if you are an ultralight backpacker on the go. But there is probably more to it than I thought at first, because a lighter charger that can also be used flexibly will be difficult to find.
Great compatibility with many types of batteries
When you look at the graphic that shows which battery types this device is compatible with, your eyes widen. I would like to give the complete list here in writing so that you can also "google" it:
Compatible with lithium-ion batteries (nominal voltage between 3,6 and 3,7 volts) and NiMH batteries (not with NiCd!)
AA, AAA, AAAA, C
10340, 10350, 10440, 10500
12340, 1250, 12650
14350, 14430, 14500, 14650
1650, 16340, RCR123A, 16650
17350, 17500, 17650, 17670
18350, 18490, 18500, 18650, 18700
20700, 21700, 22500
22650, 25500, 26500, 26650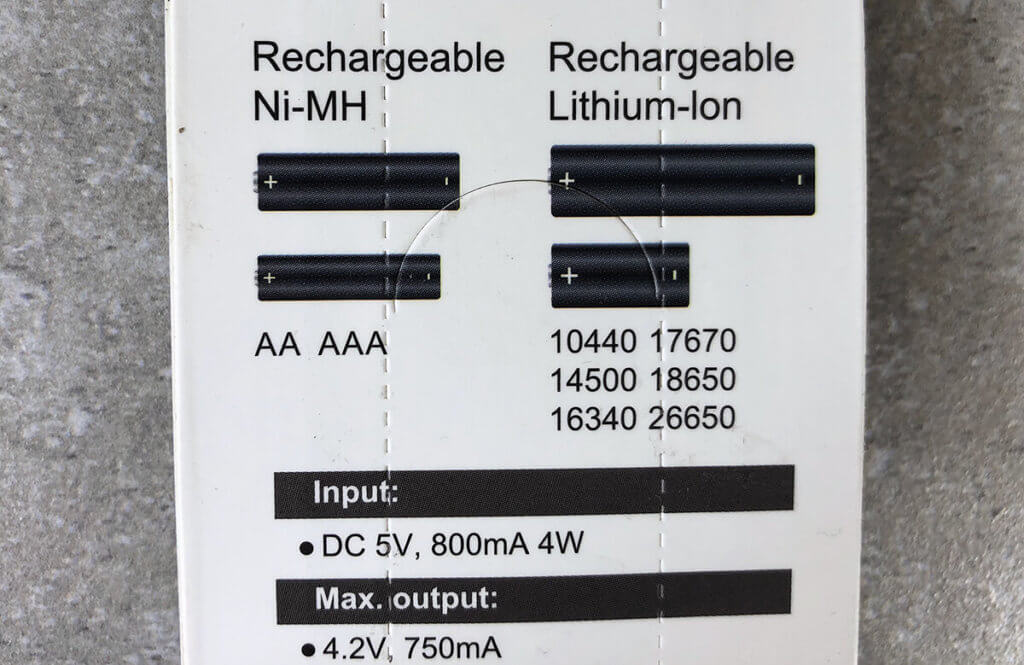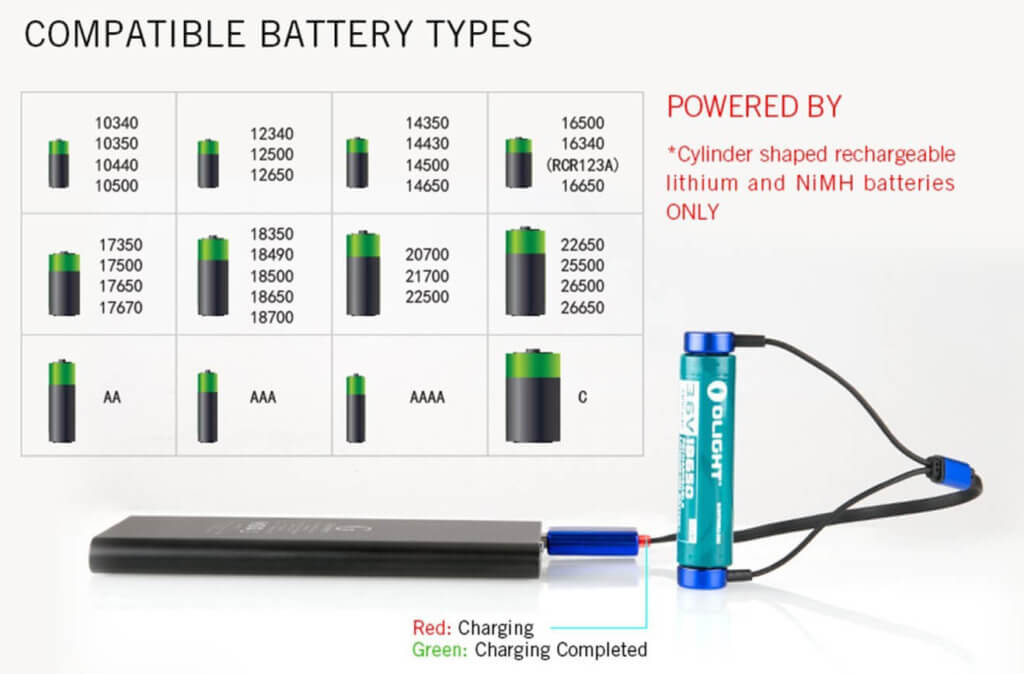 My use case
I have recently had a few flashlights that use 18650 batteries. The battery was always included with the flashlight, but one Charger for 18650 batteries Unfortunately not. If you look for a suitable charger on Amazon, you can find some for 10 to 20 euros, but here you always have a box with you that takes up space somewhere. I only need the charger every couple of weeks, so the Olight UC is a much more space-saving solution that I like much better.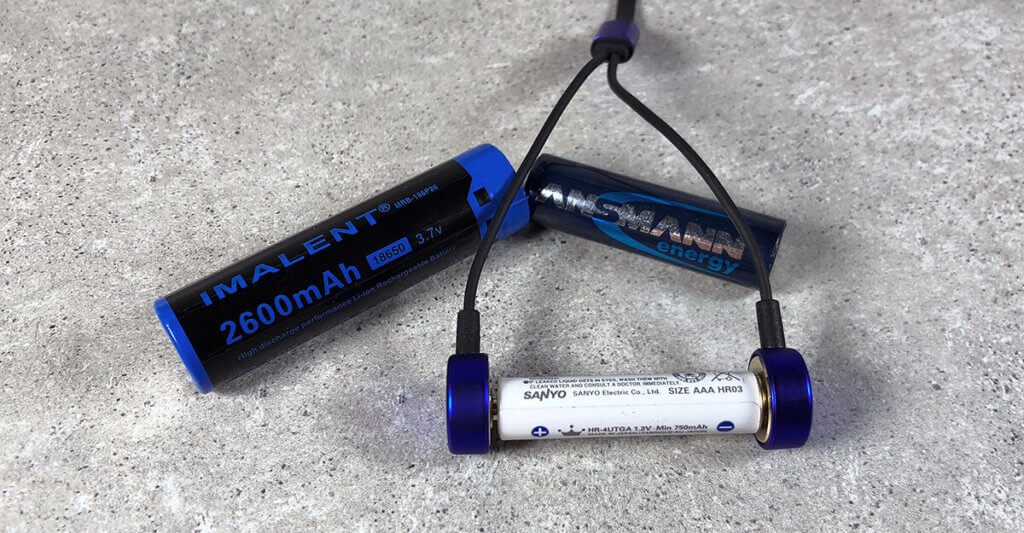 In addition, the Olight UC can also be used to charge the AA and AAA NiMH batteries, which is particularly practical when on vacation. Until now, I always had to pack my large battery charger for this, and it was not uncommon for my fellow travelers to roll their eyes. The Olight UC can be packed into any backpack without any problems. Due to its low weight and minimal space requirement, it is not noticeable.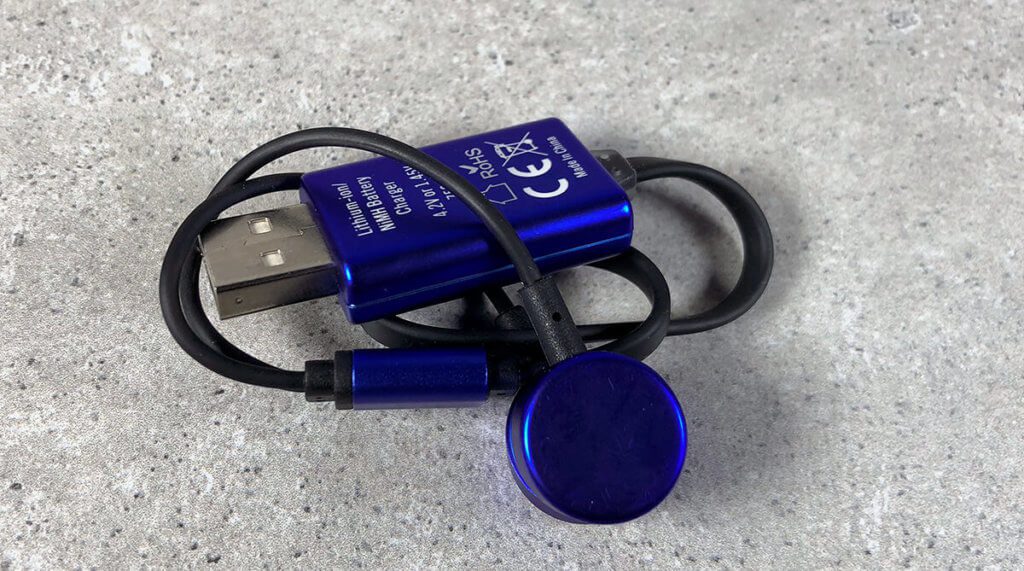 Operation and technical details
The operation is really "dumb-proof": The magnetic caps that are on each end of the cable do not have a pole marking with plus and minus, because the electronics automatically recognize which end is on which pole and sets the polarity accordingly. The electronics also recognize the battery type and adjust the charging current accordingly. So there is simply nothing that can be adjusted and nothing that can be done wrong. Unless you connect a battery type with nickel-cadmium interior, which is hardly used nowadays.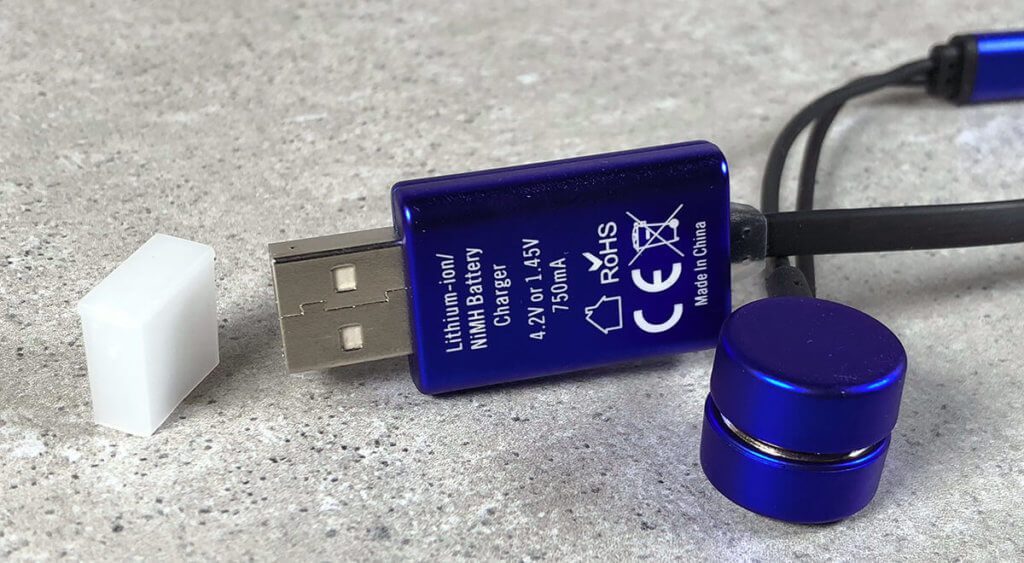 The Olight UC also detects a short circuit and does not supply any current if the caps have come together through the magnets. Nothing can happen in that regard.
To see how much the device was using, I connected it with different batteries to a USB multimeter. In the following list you will find the relevant information (maximum power consumption in each case):
NiMH battery (size AA): 260 mAh
NiMH battery (size AAA): 260 mAh
Li-Ion (18650): 530 mAh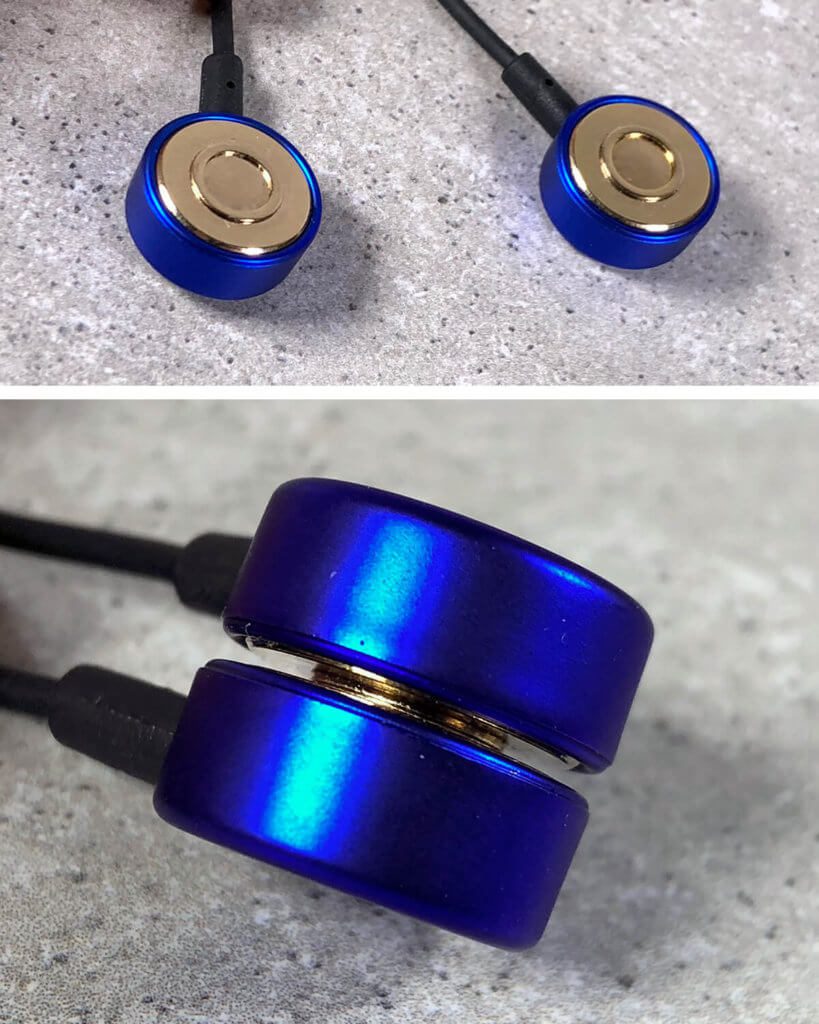 Compatibility with USB-C ports
It can also be used with MacBook Pro and MacBook laptops from Apple without any problems. I tried a RAVpower adapter as well as the Apple USB-C adapter and about the USB-C multimeter it could be seen that the appropriate power consumption was present, which also occurred when charging the batteries at the normal USB 3.0 port.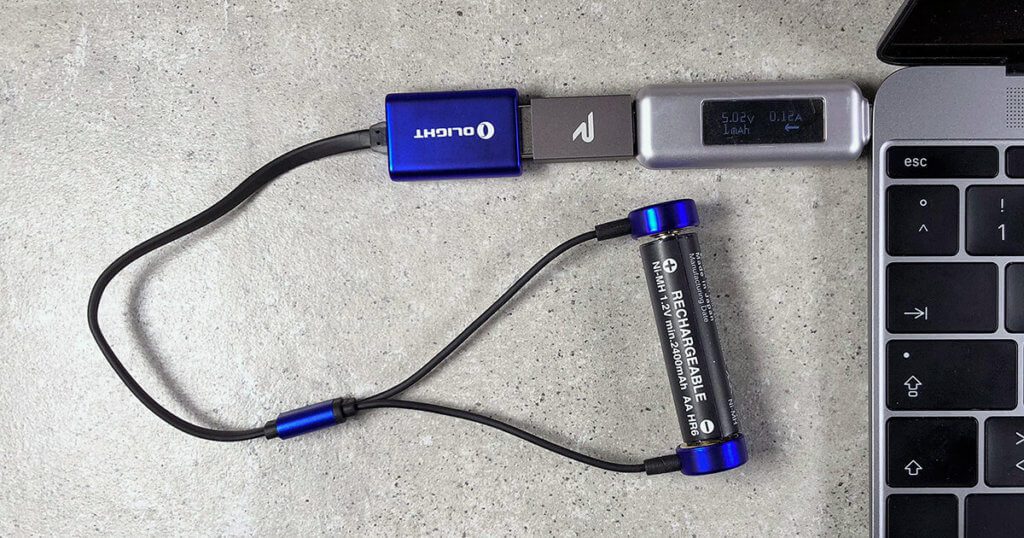 As you can see, using a small plug adapter is a little wobbly and creates a lot of leverage on the MacBook's USB-C jack. In practice, I would use a USB-C adapter cable (like this one from AmazonBasics) to make things more flexible.
Charging current and fast charging
I made an interesting discovery when I measured the charging current of the Olight UC directly on the battery with the multimeter and compared it with the charging current of the Technoline BC700. Why measure directly on the battery and not via the USB multimeter? You can draw conclusions with a USB multimeter, but ultimately you can only get the correct values ​​out if you measure the current directly on the battery.
Here I noticed that my AA and AAA batteries (NiMH) from Amazon Basics are charged with 30 mA for about 60 to 260 seconds. The charging current then rises abruptly to approx. 500 mA and then remains at this value for a few seconds. Then it falls back to 400 mA within a few seconds and then rises again to 520 mA. That seems to be some kind of quick charge interval.
The Technoline BC700, on the other hand, charges continuously with approx. 200 mA, which of course takes significantly longer than with a charging current that is twice as high. So the Olight UC is not only light, but also pretty fast.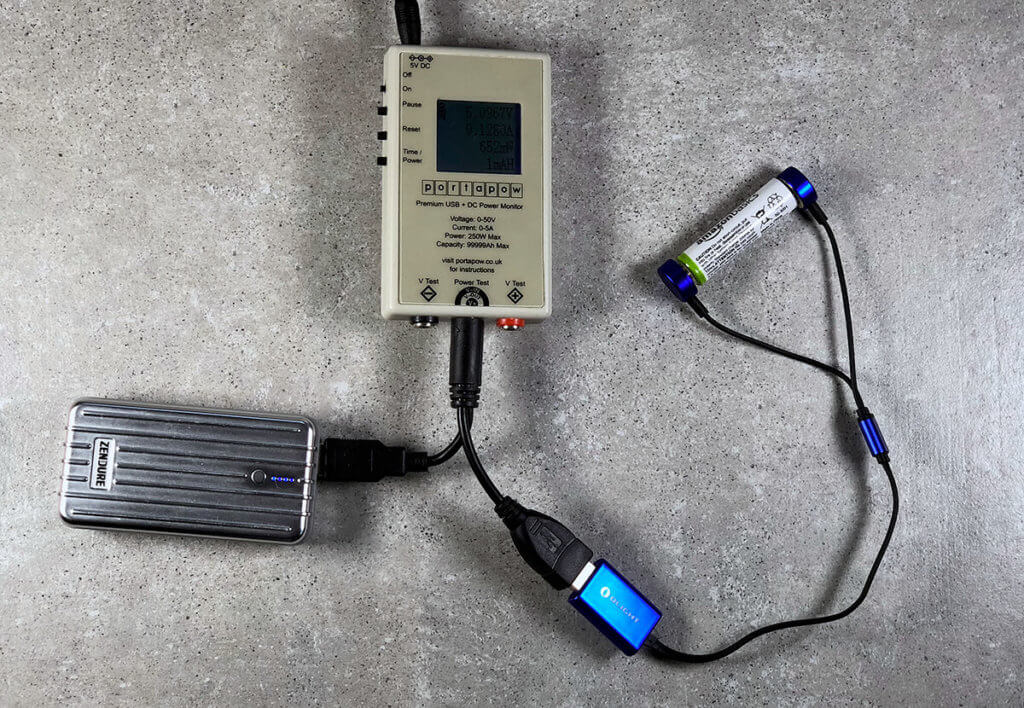 At first I thought "Fast charging is supposed to be bad for the battery, isn't it?!". So I did a little research on a few modeling forums that dealt with fast charging of NiMH batteries. For model builders, "quick charging" basically means charging a battery with at least "1C", i.e. its capacity is converted into charging current. A battery with a capacity of 1400 mAh would then be charged with a charging current of 1400 mA.
However, we are still a long way from this value with the Olight UC. Here my 2000 mAh battery is charged with approx. 500 mA, which corresponds to 1/4C. So only a quarter of the value, which represents the lower limit of fast loading for model builders. With the Olight, you don't have to worry that the "faster" charging will also damage the batteries.
Example: Charging the AA-NiMH battery on the power bank
As mentioned above, the Olight charger can be supplied with power at any USB port. As a test, I have a 2000 mA AA size battery on mine Zendure A2 power bank charged. I measured the following values:
Charging energy used: 3.06 WH or 601 mAh
Duration: about 2,5 hours
With the above (approx.) 600 mAh you can roughly calculate how often you can charge your AA battery with your own power bank.
Connection via USB port, USB power supply unit or power bank possible
At first I was surprised that the Olight charger has a USB plug and not an integrated socket plug for 240 volts. In retrospect, however, it is clear to me why the manufacturer chose this connection. You are always dependent on a power source, but you are much more flexible than with any power plug. A USB charging port can be found in many places and also worldwide in the same form:
Computers (MacBook, iMac, etc.)
on various USB power supplies for iPad, iPhone, Kindle and similar devices
at every power bank
in many cars (if necessary via a car USB power supply unit)
You can see that the Olight charger can be supplied with power almost anywhere and thus also reliably charge your batteries. And not just in countries that have a Euro power plug, but worldwide, because the USB port is the same everywhere - probably even on the ISS. ;-)
Conclusion on the Olight UC
I have to admit, I was initially concerned that the Olight mini charger might charge extremely slowly or have some other catch. I can find nothing like that as a disadvantage. On the contrary: It has already charged quite a few batteries with me reliably. Only the status LED, which shows on the plug whether the device is charging or is already finished, could be criticized. Unfortunately, the LED is difficult to see in strong ambient light. As soon as you shade it with your hand, you can tell whether the battery is already full.
I'm not an ultralight backpacker, but I still think the Olight is great. I'll get a second one and leave it in the car - just to have one with me every now and then. For those who go on tours with extra-light luggage, the Olight charger should be even more helpful. In ultralight trekking forums, this thing should become an insider tip.
If you're looking to buy the Olight UC, you'll find it here on amazon.
Olight UC battery charger
The Olight UC is a battery charger that has magnetic contacts and is powered by a USB port. It can charge NiMH and lithium batteries of various sizes.
Jens has been running the blog since 2012. He appears as Sir Apfelot for his readers and helps them with problems of a technical nature. In his free time he drives electric unicycles, takes photos (preferably with his iPhone, of course), climbs around in the Hessian mountains or hikes with the family. His articles deal with Apple products, news from the world of drones or solutions for current bugs.
The page contains affiliate links / images: Amazon.de