As you know, I aim to post a few product reviews on my blog every now and then. Since I've recently bought some car chargers and similar gadgets for the cigarette lighter socket in my car, I wanted to be able to test these devices in my apartment for the product photos. Having to crawl into the car all the time for the recordings just wasn't my dream.
And since you rarely have a built-in cigarette lighter socket in the kitchen counter, I couldn't avoid getting a suitable device here. And what could be more natural than to subject this device to a test as well?
RoyPow - unknown brand with good quality
When looking for a suitable voltage converter from 220 volts or 230 volts alternating current to 12 volts direct voltage, I noticed some devices on Amazon, but they often only offer a low output power. Ultimately, however, my choice fell on the device from RoyPow, which offers a lot of power with 10 amps and also almost exclusively 5 star ratings (As of August 31.8.2017, 106: 5 XNUMX-star ratings!). "So many reviews can't lie!", I thought to myself and without further ado I ordered the RoyPow device with a car charger socket on the cable.
I hadn't heard or read anything about the RoyPow brand before, but that doesn't necessarily mean that it doesn't offer any quality. The devices that the company offers on Amazon all have to do with car electronics and they are (almost) all rated with 4,5 to 5 stars, which makes a good overall impression.
When it comes to charging cables, Bluetooth speakers or USB hubs, we already know a few companies with good prices and great performance, such as Anker, Rampow or Inateck, but I'm not yet like that with 230V-to-12V voltage converters firm. RoyPow is one of my recommendations from now on. ;-)
Areas of application for 230V to 12V voltage converters
Except for my tests, this type of voltage converter can of course also be used for many other occasions. Among other things, there would be:
Operation of a mini compressor at the socket
Connect portable cool boxes or car fridge in the holiday home
Auto power amplifiers for well-maintained sound reinforcement at home
Operation of car vacuum cleaners or the like at the socket
Use the vehicle air ionizer in the house
Operate your car TV or DVD player without a car
In summary, one can say: With this voltage converter, all devices can be operated from a socket that are otherwise designed for use in a car. In practice, there is usually a need for the "other direction", in which the 12 volts of the vehicle's on-board voltage are generated into the 230 volts for laptop power supplies, but here and there the 12 volts are also in demand in the house.
Optics, technology and performance
The RoyPow voltage converter is relatively inconspicuous. It has roughly the same footprint as an iPhone 7 Plus, but is significantly thicker at 5 cm. In addition, there is a permanently installed power cable and on the other side the cable with the car charging socket, which is also known as the "cigarette lighter socket". I find it practical that the car charging socket is not built directly into the converter housing, but is equipped with an approx. 80 cm long cable. So I am more flexible when I use the device.
The ventilation slots are immediately noticeable on the top of the case, which of course are built into one internally Fan belong. But this only starts when needed and this has not happened to me so far, although I have "taken" almost 5 amps (i.e. 60 watts) for some time. For me, the converter has been as quiet as a mouse so far. But I suppose if you plug in a mini-compressor or something like that, it will start up after a while. But then the compressor should be so loud that you can no longer hear the fan. ;)
According to the instructions, the device is also equipped with three fuses against overload, short circuit and overheating.
Update: Checking the DC voltage in the oscilloscope
A reader had pointed out to me that it is important how "clean" the DC voltage is. Strong voltage fluctuations, which arise, for example, if the output voltage is not sufficiently smoothed, can ensure that the attached loads do not function properly or even be damaged.
To check that, I still have one Digital oscilloscope from SainSmart bought, which can be used to determine how smooth the output voltage really is. For the measurement we opened the RoyPow voltage converter and removed the voltage on the circuit board. In order to get a realistic result, a consumer (car USB plug with electronic load resistor) was attached.
As far as I understand, the result is very good, because very slight voltage changes can be seen on the line, but since a box in the oscilloscope display corresponds to a 2-volt jump, the fluctuations are at most 0,2 volts, which is corresponds to approximately 1,6% of the total voltage. So quite a small value.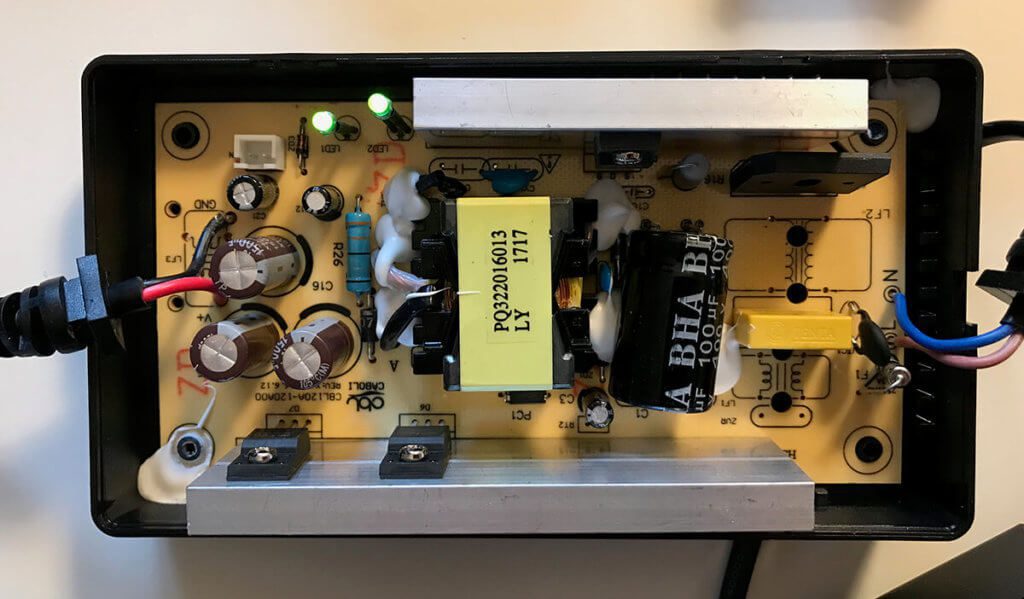 The technical data are briefly summarized here:
Nominal input voltage: 100 - 120 V or 200 - 240 V alternating current
Frequency input: 50/60 Hz
Rated output voltage: 12 volts DC (11,8 to 13,0 volts)
Nominal current: 10 A (max. 12 A)
Power: 120 W (briefly max. 150 W)
Model Number: C120
There are two LED displays on the top of the voltage converter. A green LED indicates whether the device is supplied with mains voltage and is running, while the second LED (with the wave symbol) only lights up correctly when the device is connected to a consumer.
The LEDs are unfortunately quite inconspicuous and they do not shine very brightly. But that is the only point of criticism I could make on the voltage converter. Since the LEDs are almost always on, the informative value is relatively low. It is accordingly unimportant whether you can read it well. ;-)
My test of the voltage converter
To try out the device, I connected a car USB charger with a maximum output current of 4,8 amps and connected a USB load resistor to it, which simulated a heavy load at the charging socket. In the case of load resistance, you can change the resistance using a rotary control and thus approach the maximum load.
I did this too, where I could read current and voltage as well as power on the USB multimeter. With the almost 5 amps that I was able to generate with it, I unfortunately only ended up at half the load limit of the voltage converter, but the load resistance was already above its maximum, ventilated diligently and you could smell the circuit board running hot. The RoyPow converter, on the other hand, was relatively bored. There was neither a drop in voltage nor did it produce enough heat for its fan to start. Technically, I could not achieve the maximum of 10 or 12 amperes in my test.
Conclusion: high quality, cheap and powerful
I like devices that are not loud and that hold back a little acoustically and visually. The RoyPow voltage converter is a device in this category. It delivers decent performance, but is nice and quiet and inconspicuous. There are no control buttons, but there are protective mechanisms that prevent damage from overload or incorrect operation.
From my point of view, a recommendable device that can be used for consumers up to 150 watts of power. At first glance, I couldn't find a 230V to 12V converter on Amazon that offered more output power. Who is interested in it here is the appropriate link to Amazon.
RoyPow AC-DC power supply from 230V to 12V
This converter turns 200 to 240 volts alternating current into 12 volts direct current and offers a car charging socket into which you can plug the appropriate consumer.
Jens has been running the blog since 2012. He appears as Sir Apfelot for his readers and helps them with problems of a technical nature. In his free time he drives electric unicycles, takes photos (preferably with his iPhone, of course), climbs around in the Hessian mountains or hikes with the family. His articles deal with Apple products, news from the world of drones or solutions for current bugs.
The page contains affiliate links / images: Amazon.de