In a household like ours, a number of Apple devices are used, from MacBooks to iPhones and iPads to AirPods. Even if you're working with a multiport charger here, you'll end up with a neat mess (funny pun!) on your desk while the devices are being charged.
A USB charging station like her can help here Satechi with the Dock5 offert. How the Dock5 performs in everyday life and what accessories you still need, I would like to describe to you in the test report.
Transparency notice
Satechi gave me the Dock5 for free. I have tested it with my Apple devices and of course describe in every review if I notice any negative points about a product. Nevertheless, I wanted to mention that I didn't buy the Satechi Dock5 myself, but was provided with it.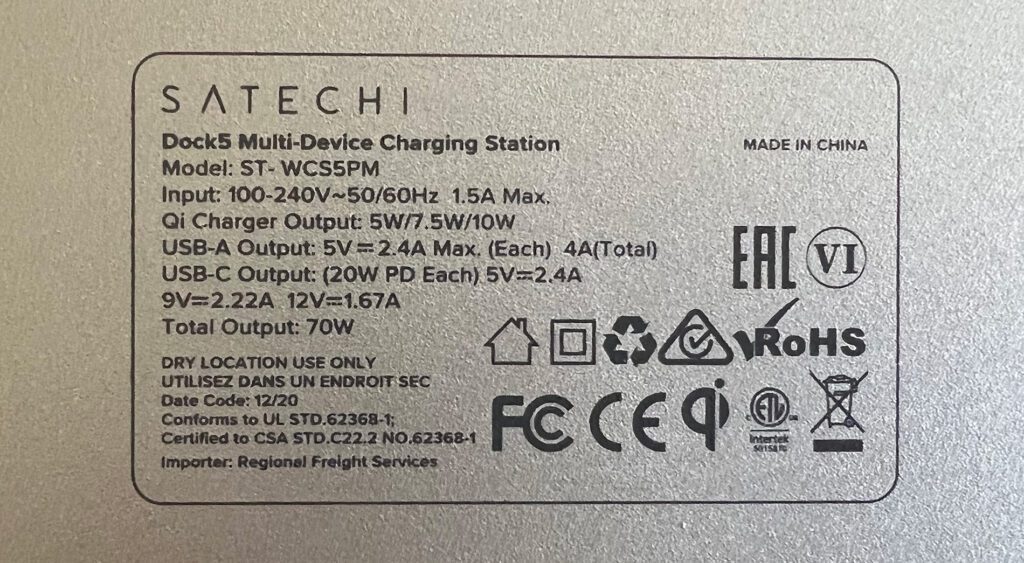 Specifications of the Satechi Dock5
The Satechi Dock5 is a USB charging station that is connected to the mains with a Euro plug. A nice triviality: There is no separate power pack that you would have to store somewhere under the table, but the power pack and the charging electronics are installed directly in this dock.
Here are the technical data:
Manufacturer: Satechi
Model: ST-WCS5PM
Charging options:

1x Qi charging with 10 watts
2x USB-C PD charging with 20 watts (5 V and 2,4 A / 9 V and 2,22 A and 12 V and 1,67 A)
2x USB-A charging with 12 watts per port (20 watts total via USB-A)
Total output power: 70 watts

Dimensions: 23,6 x 13,3 x 9,5 centimeters
Weight: 936 grams
Input: 100-240 volts, 1,5A max
Standby consumption (measured with Energy Logger 4000): 0,4 W corresponds to approx. EUR 1 electricity costs per year
Safety: over-temperature protection in case of overload
Space between the charging slots: approx. 20 mm (enough for the Switch too!)
Price: approx. 60 EUR on Amazon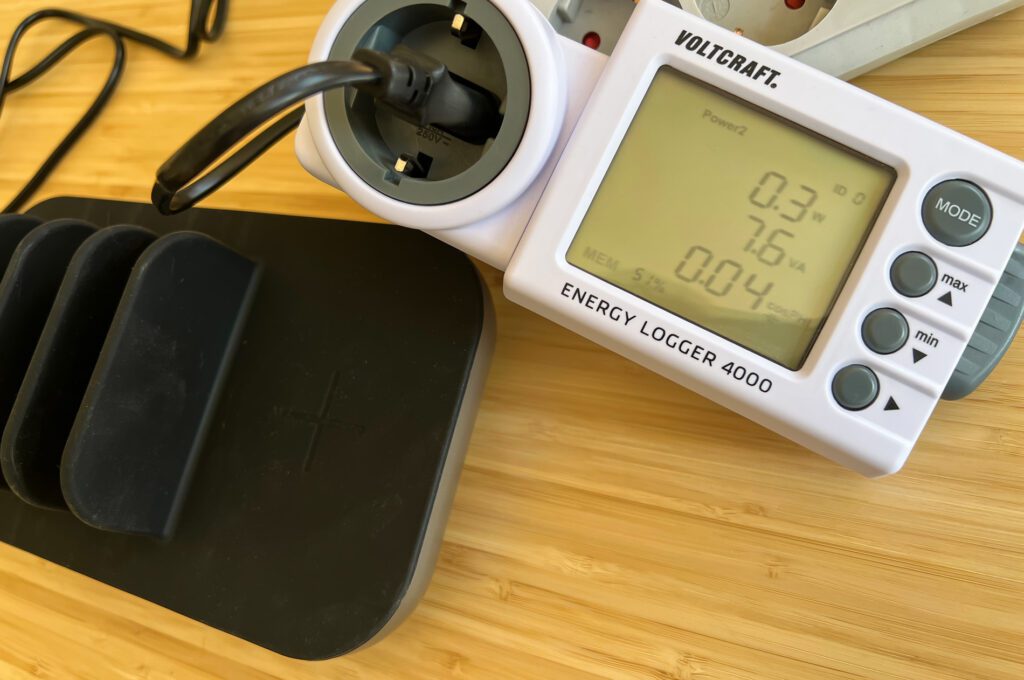 Charging cable not included
In the Amazon reviews of the Satechi Dock5 I found a bad rating, which was justified by the fact that there were no charging cables at a price of 60 euros.
I can't really understand this complaint, because on the one hand Satechi can hardly guess which charging cable you need. After all, there are not only Lightning and USB-C ports, but also others Micro-USB, in case someone wants to charge their Kindle. It would be very pointless and a waste of resources to enclose some random charging cable here.
On the other hand, charging cables are often in the price range of 10 euros or more. If the whole charging station costs only 60 euros, how can one expect that charging cables for 40 or 50 euros are also included?
However, to keep things simple, you can at Satechi in the shop directly order the charging cable of your choice. Satechi recommends a cable length of about 10 inches, which corresponds to about 25 centimeters.
You can also find a suitable long cable from Satechi with 25 cm and dark gray here on Amazon:
Since Satechi doesn't offer a USB-A to Micro-USB cable, I'd recommend this one from Paxo as it has optically-matching connectors and a nylon jacket.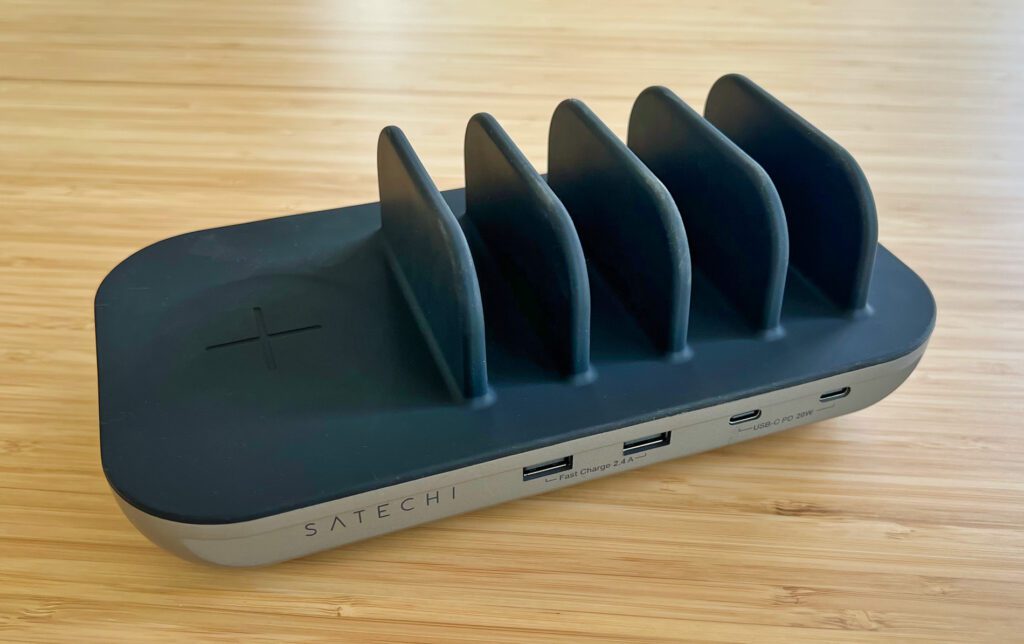 Optics and workmanship of the Satechi Dock5
I have already tested a number of Satechi products and so far I have never been disappointed by the quality of the workmanship. This is also the case with the Dock5: the charging station weighs almost one kilogram and keeps the inserted devices firmly in place. I also put the large 12,9 inch iPad Pro in my case and it gets a bit wobbly when you put it in the outermost compartment. With the large iPad Pro, I would advise placing it in the middle so that the construction does not overweight one side.
But with the iPad Pro, the USB charging station is far from reaching its limit. My 15-inch MacBook Pro was also docked in the Dock5 for the USB-C charging performance test and even that didn't cause it to tip over - so you really have a stable base here that you can charge properly.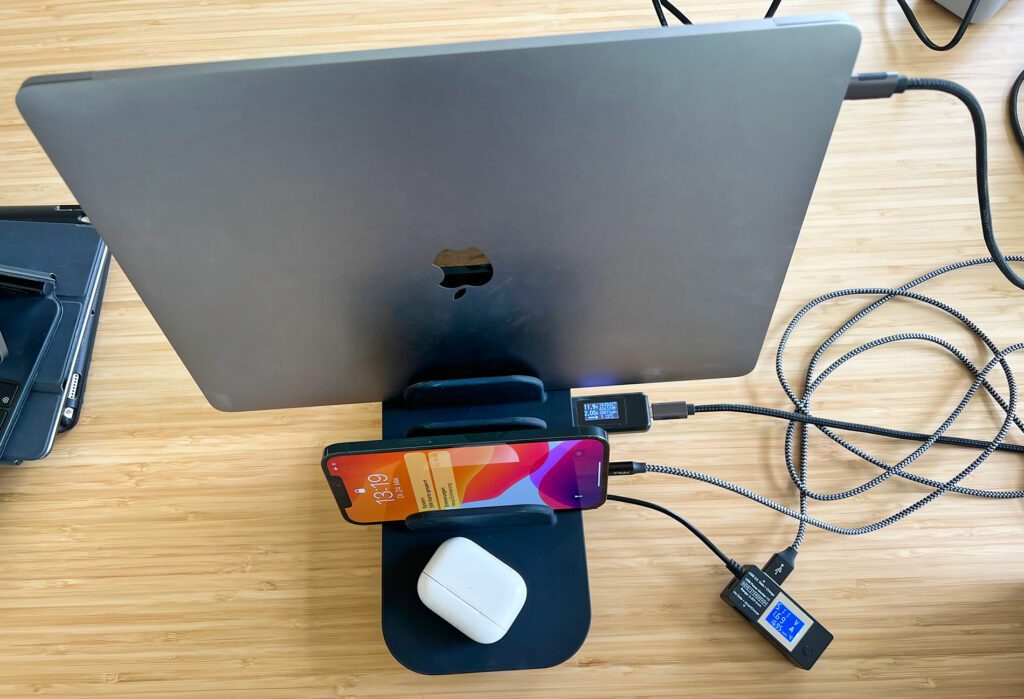 But the Satechi Dock5 is also very elegant in terms of appearance. The lower area is made of aluminum in space gray and the top with the compartments is made of silicone, which protects the surfaces of the inserted devices and prevents anything from slipping out. Small disadvantage: The non-slip silicone surface is of course a small dust collector. With a damp microfiber cloth you can quickly get it clean again if too much dust sticks to it.
Overall, in my opinion, the Dock5 is very decorative, so that it doesn't catch the eye without an iPad or iPhone being inserted. Of course, if you leave the unused charging cables plugged into the dock, things might look a bit messy.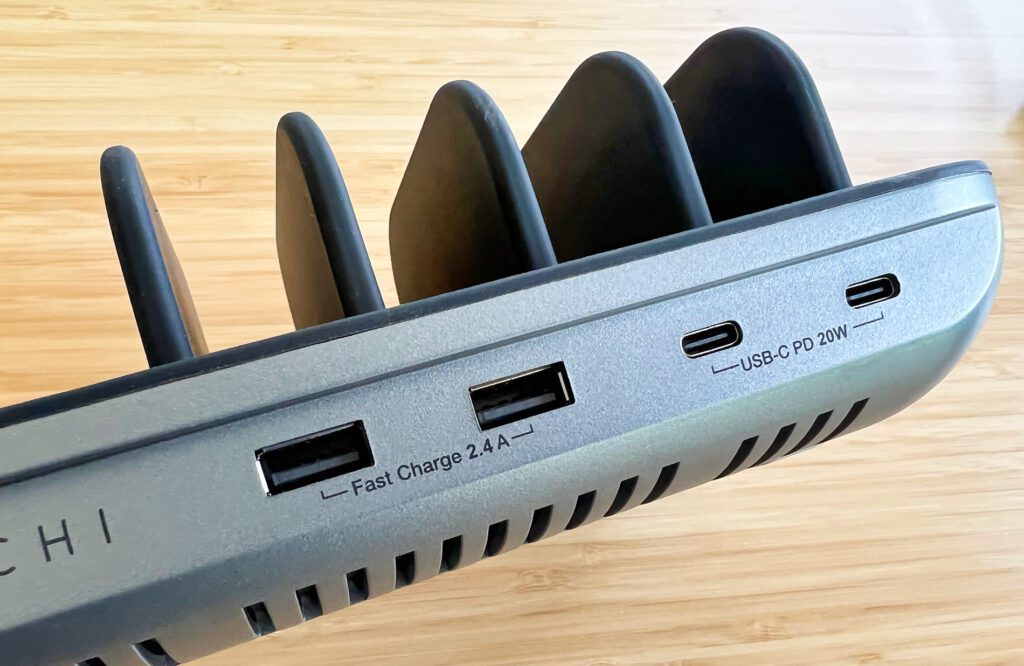 Charging performance of the Satechi Dock5
The Satechi Dock5 has two USB-A outputs and two USB-C ports. While each USB-A output can deliver a maximum of 12 watts, the USB-C outputs offer thanks USB power delivery up to 20 watts of power per port.
In order to test what the USB charging station actually delivers in terms of performance, I loaded the Dock5 with my three iPads, the iPhone, a MacBook Pro and the AirPods Pro in different versions and then measured what came out of the ports.
Of course, the USB-A ports deliver a maximum of 5 volts and ended up at around 10 watts in my tests, which can also be due to the fact that the iPhone or iPad simply did not request more power. Officially, they offer up to 12 watts of output power.
Reading tips in between:
With the USB-C ports, the Dock5 delivers up to 12 volts and my measurements came to 11,9 volts and 2,05 A - i.e. over 24 watts. Officially, the ports should only offer 20 watts, but the USB-C total power of 40 watts may also be distributed differently between the ports.
You can definitely charge an iPhone and iPad via the USB-C ports of the Satechi Dock5 with maximum performance through USB Power Delivery - if you have a suitable fast charging cable from USB-C to USB-C or USB-C to Lightning at hand .
I did not notice any noticeable heat development with the Satechi Dock5, even when charging the devices quickly. This is probably due to the fact that the entire substructure is made of aluminum and can dissipate heat very well.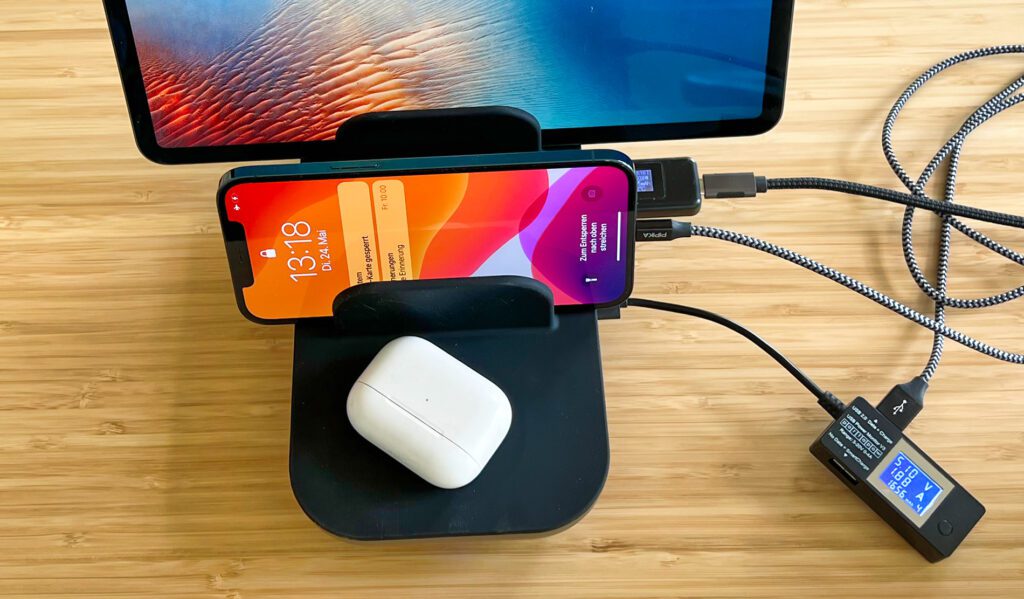 My review of the Satechi Dock5
Anyone who frequently has to charge multiple Apple devices and wants to do this in a reasonably organized and visually appealing way will find a stylish and practical solution with the USB charging station for multiple devices (up to 5) from Satechi.
The fact that there is no separate power supply to store somewhere is a big plus. Likewise, the stability and the charging performance are to be positively emphasized.
I couldn't find any criticism of the Satechi Dock5 even after thinking about it for a long time. I don't accept the missing charging cable, which some people blame, but of course it hurts a bit if you have to spend another 50 euros for the charging cable - so that everything looks neat. I ordered four Satechi cables and had to shell out about 54 euros for them. But you have the same problem with any other USB charging station.
Overall, the Satechi Dock5 is a well-rounded affair and a recommendable USB charging station for several Apple devices. Anyone who wants to see them will find them here via this link or the following product box:
About Satechi
Founded in 2005 in San Diego, Satechi is an award-winning tech brand that sells high-quality computer peripherals, charging accessories, and smart home products. Satechi products are available in over 10.000 retail stores worldwide. Satechi's mission is to create elegant and affordable tech products that empower users to be more creative in the digital age.
While Satechi's Mac accessories have long been praised for their sleek design and quality materials, the line of portable chargers has evolved over time. Of the USB-C on-the-go multiport adapter by Satechi, for example, is compatible with Apple's Mac range, as well as the iPad Pro and Air, and has an integrated USB-C PD charging port. The multiport adapter is also compatible with other devices, e.g. B. with SD cards and HDMI-Video transmission and it offers numerous connections that the iPad or MacBook usually do not have.
Jens has been running the blog since 2012. He appears as Sir Apfelot for his readers and helps them with problems of a technical nature. In his free time he drives electric unicycles, takes photos (preferably with his iPhone, of course), climbs around in the Hessian mountains or hikes with the family. His articles deal with Apple products, news from the world of drones or solutions for current bugs.
The page contains affiliate links / images: Amazon.de