The Syllable D9X Yes, I have you Bluetooth headphones without cables and with replaceable batteries already in November briefly introduced. The in-ear headphones look similar to a Bluetooth headset for on the go and have a long runtime thanks to the total of four batteries and the matching charging cradle. In the test of the Syllable D9X headphones, I was able to find some advantages and disadvantages, which you have summarized here. First of all: sound and bass are very good. But are they a good alternative to the Apple AirPods?
Syllable D9X Bluetooth headphones reviewed
The in-ear headphones Syllable D9X you can order via Amazon and use them yourself after a short delivery time. But is it worth it? In the test of the Syllable D9X headphones, I found some positive points and a few points that could be improved. For the time being, I only noticed advantages when unboxing - a sturdy packaging or a case with space for the charging cradle, headphones, ear plugs, brackets for the auricles and the like. The accessories are supplied in sizes S, M and L for left (L) and right (R). The scope of delivery also includes a carabiner, a transport bag and a USB cable for charging the batteries and charging cradle.
Order wireless Bluetooth headphones from Amazon
The Syllable D9X in-ear headphones without cables but with Bluetooth and exchangeable batteries have now also arrived at Amazon Germany. Unlike in November, you can now also buy the Syllable D9X headphones there. The price is EUR 69,99 (as of December 2017). Considering a few points, this is good value for money. However, there are a few unsightly points that can reduce the listening experience.
Bluetooth headset with exchangeable batteries
The Bluetooth headset Syllable D9X with exchangeable batteries offers a good grip, good sound, sufficient bass and many functions. Electricity all? Simply replace the battery and continue to listen to music, podcasts or audio books or make calls while mobile!
Inset - other interesting blog posts:
Review of Syllable D9X
Now we come to the practical part of testing the Syllable D9X wireless Bluetooth headphones. After unpacking, I first had to adjust the earplugs and auricle clips - for me the M plugs and the L clips fit best. There are also accessories in S for small ears. Once everything is assembled and the batteries have juice, you can start.
Pairing: very easy!
Then the test started - pairing was basically child's play, as you just have to turn on the headphones and search for speakers with the transmitter. This worked wonderfully with both the smartphone and the Apple MacBook Pro:
---
---
In the test: commissioning and audio
In the operating instructions and in my experience, there is only one way to switch the headphones on: by connecting them to the batteries. So if they are plugged together and off, then you have to remove the power storage and connect it again. After a few times it works even if the headphones are already / still in the ears. It doesn't matter which battery is used on which side and how around - very user-friendly!
So now the headphones are in your ears and the pairing worked. The next step for me was music. Audio played via smartphone and Apple MacBook Pro (media library, Spotify, YouTube, etc.) all sounds very good. If the bass sounds too strong, treble too dull or something else sounds strange, then you can use the equalizers of the devices / App help out The sound for videos and Netflix streams is also wonderful. So far I am still quite excited about the Syllable D9X headphones and their features. "You can like it, you can leave it"As it is called by Jennifer Rostock? Let's look further!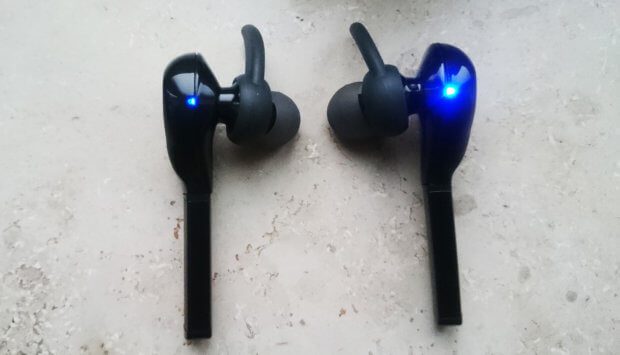 In the test: operation
If you want to use the Syllable D9X headphones for phone calls or control music playback, there are two buttons available - one on the left main headphone and one on the right secondary headphone. I don't want to type out the operating instructions for you here, so only the information: by pressing or holding this or that button once or several times, you can control music and calls. And there comes the big negative point with these headphones: using the buttons sounds so uncomfortable in the ear that I personally prefer to take the smartphone out of my pocket to make settings.
If you press with your index finger and hold your thumb on the "back", that is, the side facing the user, you can prevent an excessively loud cracking sound in connection with pushing the receiver further into your ear. Otherwise the mechanical resistance of the keys is simply too great. Easier operation would prevent the loud clicking noise. This is certainly a big problem for everyone who likes to leave their smartphone, tablet or iPod in their pocket and want to control their listening experience via headphones.
Not possible: switch up, down and down
Since, in addition to playing and pausing music, calls can also be accepted, last numbers called again and calls can of course also be ended, there are not many options left for the Syllable D9X buttons. With the Syllable D9X Bluetooth headphones, the track selection when listening to music is limited to "next song" (click twice on the right) and "last song" (click three times on the right). Anyone who is used to other headphones with volume control (which was even possible years ago with wired headphones) will have to get used to this a lot.
Wired but easier to use: dodocool DA109 in the test
The battery solution: four rechargeable batteries
Each battery of the Syllable D9X headphones has a capacity of 80 mAh, which is completely sufficient for the narrow range of functions to play music, podcasts and audio books for a while. According to the manufacturer / Amazon product page, the charging cradle offers 400 mAh. So you can charge the batteries on the go. You can expect a runtime of just over 90 minutes per battery. If the battery capacity is low, the headphones will beep accordingly and then switch off automatically. I think it's good that you can remove and connect the power storage devices to the Syllable D9X using a magnetic connection without having to take them out of your ears.
Use as sports headphones
Both when walking through the city and when running faster, i.e. jogging, the Syllable D9X headphones hold your ears quite well. It is important that you adjust the bracket for the auricle so that you place the headphones firmly in the ear. But that's really quick and easy. Anyone who has used in-ears before will certainly know their way around. Even when running or doing other fast movements, you don't need to be afraid that the batteries will fly away. The magnets secure them sufficiently. Only if you get stuck with it somewhere or drag them with you when you wipe your sweat will they go off of course. But everything holds when running in the park or the gym. Even with lighter gymnastics, you shouldn't have any major problems.
Recommended reading: 17 sports headphones tested by Stiftung Warentest
advantages and disadvantages
Before I come to the conclusion of the test of the Syllable D9X Bluetooth headphones, I would like to clearly list the individual advantages and disadvantages again. The operation with the loudly clicking buttons is particularly uncomfortable, but apart from that there are almost only positive points:
Benefits
Good sound from different sources: smartphone, computer, etc.
Treble, mids, and bass are good and adjustments translate well
Battery solution with interchangeable accessories and charging cradle is ideal for on the go
Good Noice Canceling: I can't hear the doorbell in the apartment at medium volume
Good accessories and valuable storage or transport box
Neutral points
Look: It looks like you're walking around with two phone headsets
Balanced handling of music and calls with compromises on both sides
Disadvantages
I found clicking loud and annoying when using the control buttons
Few options for music control (only next and last song)
No control of the volume through the headphones
Summary
If you have no problem controlling your calls, music, audio books, podcast programs and other audio on the transmitter, then I can only recommend the Syllable D9X Bluetooth headphones as a wireless solution with exchangeable batteries. If you only answer a call now and then or if you only press pause in the rarest of cases, then the annoying click can be ignored. I do not permanently control the functions via the buttons on the headphones, but prefer the smartphone when traveling - especially since switching quieter and louder is not possible any other way. A clear purchase recommendation for those who simply enjoy audio on the go and don't want to change anything.
After graduating from high school, Johannes completed an apprenticeship as a business assistant specializing in foreign languages. But then he decided to research and write, which resulted in his independence. For several years he has been working for Sir Apfelot, among others. His articles include product introductions, news, manuals, video games, consoles, and more. He follows Apple keynotes live via stream.
The page contains affiliate links / images: Amazon.de