Several months ago I bought two children's headphones for my kids, which I fished out as the best option on Amazon. The range of headphones that are specially designed for children is a bit opaque and it was not so easy to find a model that explicitly fits children's ears and that also has a decent sound and works via Bluetooth.
In the end I ended up with the relatively unknown brand "Termichy". In addition to the Bluetooth model, Termichy also has one wired headphones for kids, which even made it to the bestseller on Amazon. So I can't be that wrong with my choice. :-)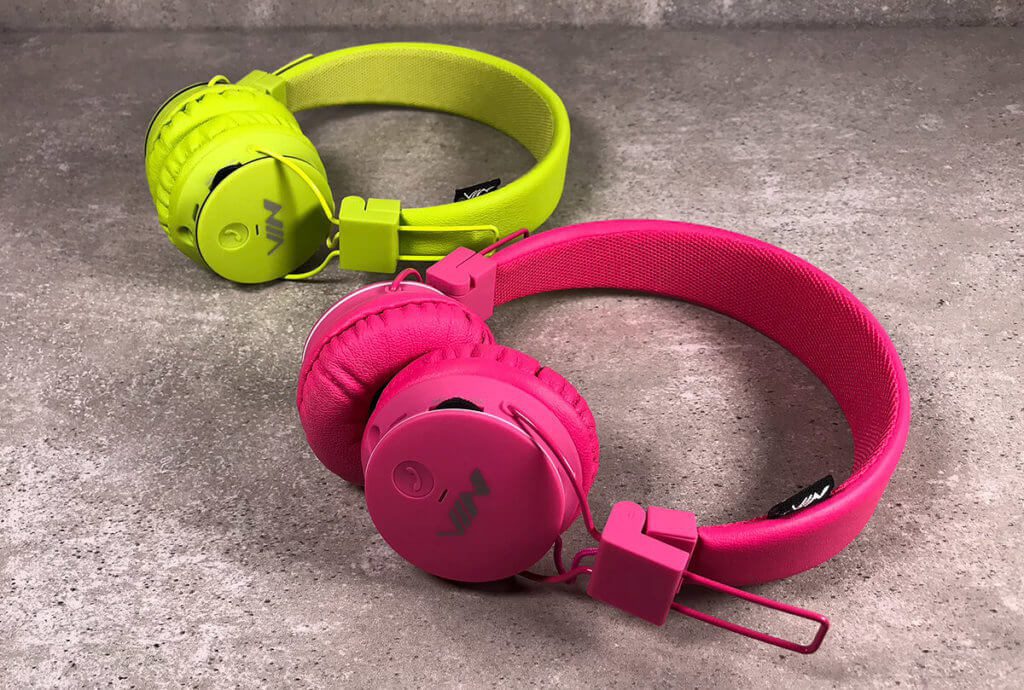 Technical data and scope of delivery
As you can see in the photo, I decided on the pink and green model. In the meantime, however, the green one is no longer available and there is a blue model on offer. In terms of technology, however, they all contain the same thing. I just wanted to mention it in case you're wondering why there are no more green headphones.
But let's get to the technical data, which are quickly ticked off:
Headphone type: On-Ear (rests on the ears)
Volume limit to 85-93 dB
Weight: 120 grams
40 mm speaker driver
Connection: Bluetooth (apt-X) or AUX cable
SD card slot for MP3 files
FM radio function
integrated battery (per Micro-USB rechargeable)
Battery life (music): approx. 4-7 h (varying information on the product page)
Charging time: about 2 hours
Music sharing via 3,5 mm jack cable (included)
Headset function for phone calls
Size adjustment by moving the auricles
Diameter of the auricle: approx. 6 cm
the headphones are foldable for transport
In addition to the headphones themselves, the scope of delivery also includes a 3,5 mm jack cable and a micro USB charging cable.
Look and comfort
From the outside, the on-ear headphones are relatively simple, but they look pretty good. They are completely in the respective color and consist of different materials - but mainly plastic, synthetic leather and fabric. The headband inside is covered with fabric and padded, which makes it very comfortable. Thanks to the flexible headband and the ear cups that can be slid on wire bows, you can even adapt the headphones to adult heads without thinking that your ears will be pinched off.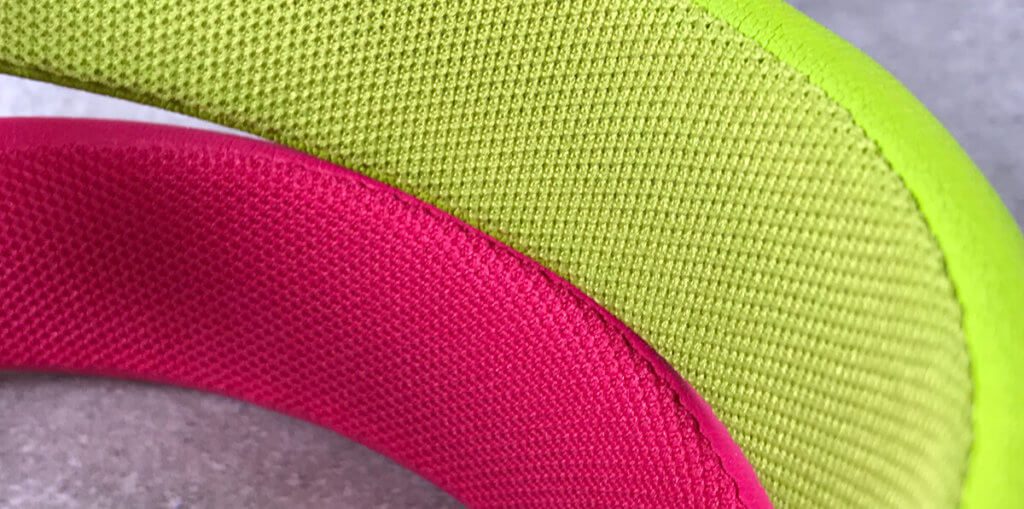 Due to the low weight of just 120 grams, you hardly notice it when you wear it for a long time. I think it's especially important for children that they don't have a "pound" of audio technology lying on their heads.
The ear cups are also padded and covered with soft synthetic leather. As a result, the pressure on the ears is minimal and you don't feel them too much, even as an adult. It's even more pleasant for the children and doesn't spoil the fun of the hour-long "The Three ???" marathon.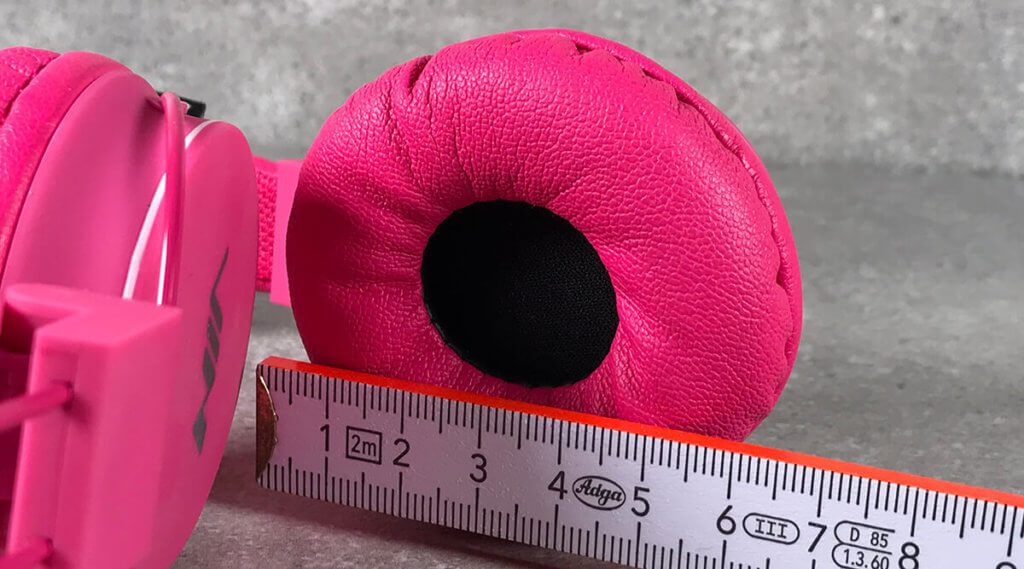 Many functions: bluetooth, radio, audio sharing
I was actually looking for simple headphones with no frills, but the Termichy is amazingly the complete opposite. It offers an extremely large number of functions that you would not expect from such inexpensive headphones:
It can be connected to a smartphone, iPad, iPod or other device in the normal way using a jack cable.
If you want, you can also connect a device via Bluetooth and then, for example, have your iPhone in the front of the car and "play" audio books to the children in the back. It's something if you don't have to hear the same Bibi and Tina episodes for the 5th time. ;-)
If you don't have a device available as an audio source, you can also plug music or audio books into the headphones as MP3s on a micro SD card.
Finally, there is the FM radio function, which plays the available stations via an automatic station search.
The headset function is probably only of interest if the children want to talk to their grandparents on the phone. We haven't used it yet as we use the ancient phone to communicate with grandma and grandpa.
Another feature that is definitely worth mentioning is music sharing. This means that two of these headphones can be linked using the supplied AUX cable, so that two children can listen to the same music using a smartphone or tablet via Bluetooth.
The good thing about the many features is that you don't have to use them if you don't like them. The operation remains simple and is understandable for children. Perhaps a reference to one at this point other of my articles, where it comes to choosing the right children's tablet, because operation for children is an important aspect here too.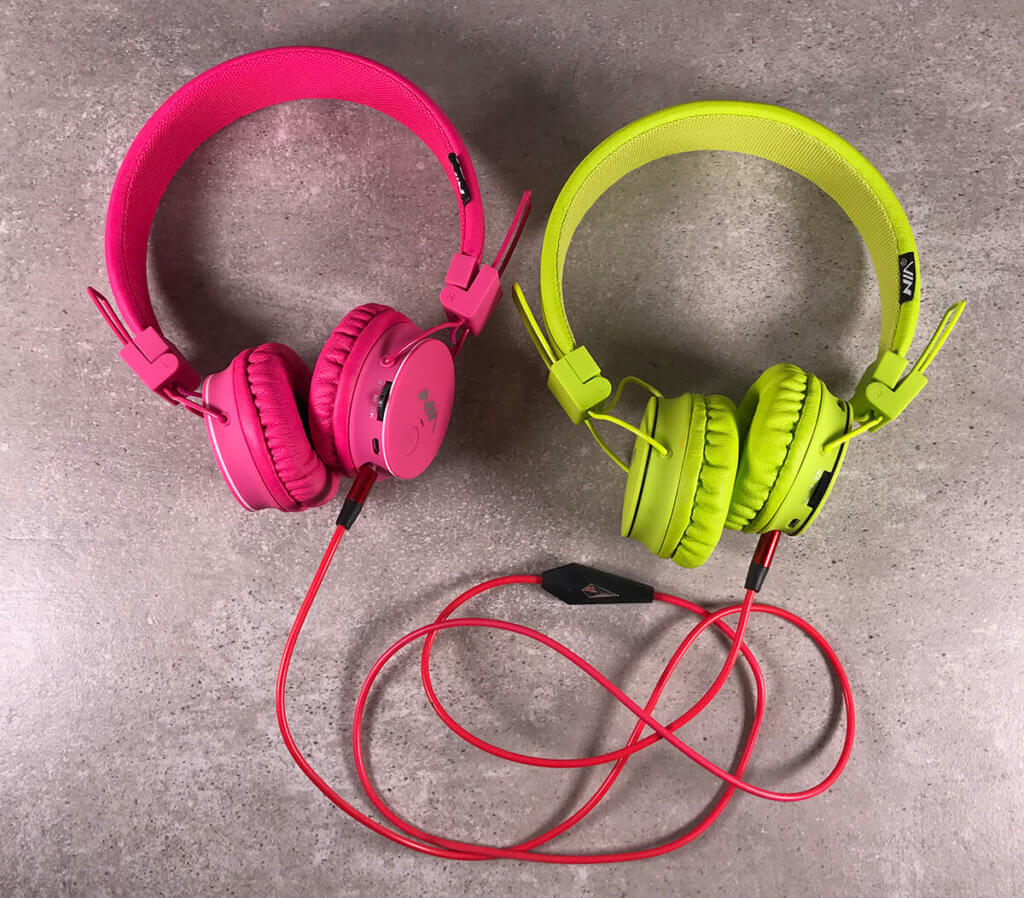 Audio sharing - great for two or more children
Of these many options, we actually only use the Bluetooth transmission and the sharing option, since I can normally only transmit audio to a single headphone via iPhone (exception: the Using a bluetooth splitter). Thanks to the audio sharing, both kids in the back of the car can hear the same radio play and I can still keep an eye on my iPhone in the front and use it for navigation, for example.
Amazing sound
In terms of sound, I honestly didn't expect much, because at a price of around 20 euros you have to search well with normal headphones to find good on-ear models. With the Termichy headphones, I was accordingly surprised when I tried them out for the first time. The sound is quite good and even the bass is not weak but rather suitable for music. And you can enjoy both the theme song by Pippi Longstocking and spoken audio books without getting ear cancer.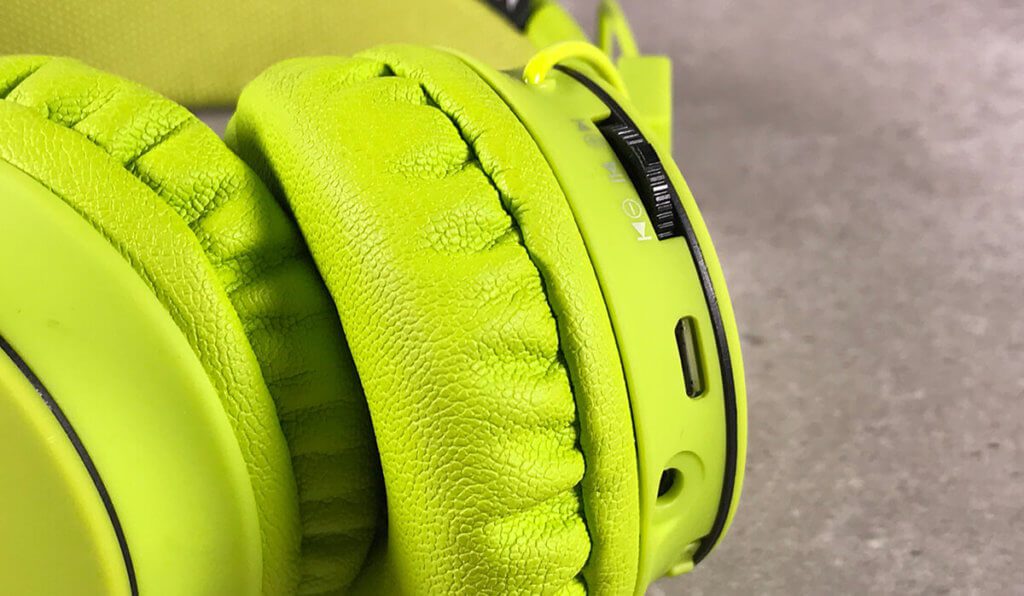 Operation of the headphones
The controls for the headphones are all located below the right auricle. The on and off switch is a slide switch that does not move easily. However, this prevents it from coming loose during transport and the battery from discharging unintentionally.
All other functions are performed using a multi-function switch that looks like a volume wheel, but cannot be turned. This switch can be pressed in and pushed up and down. The long press switches between the modes Bluetooth and radio as well as SD card, if one is inserted. A short press pauses or plays the audio output.
If you press the button upwards briefly, you can switch to another song, for example, or skip a radio channel. If you press down briefly, you switch back a song or jump back a radio channel.
A long press up or down on this button changes the playback volume.
So basically to grasp everything relatively easily and intuitively. My kids have relatively few problems with it and use the headphones without thinking too much.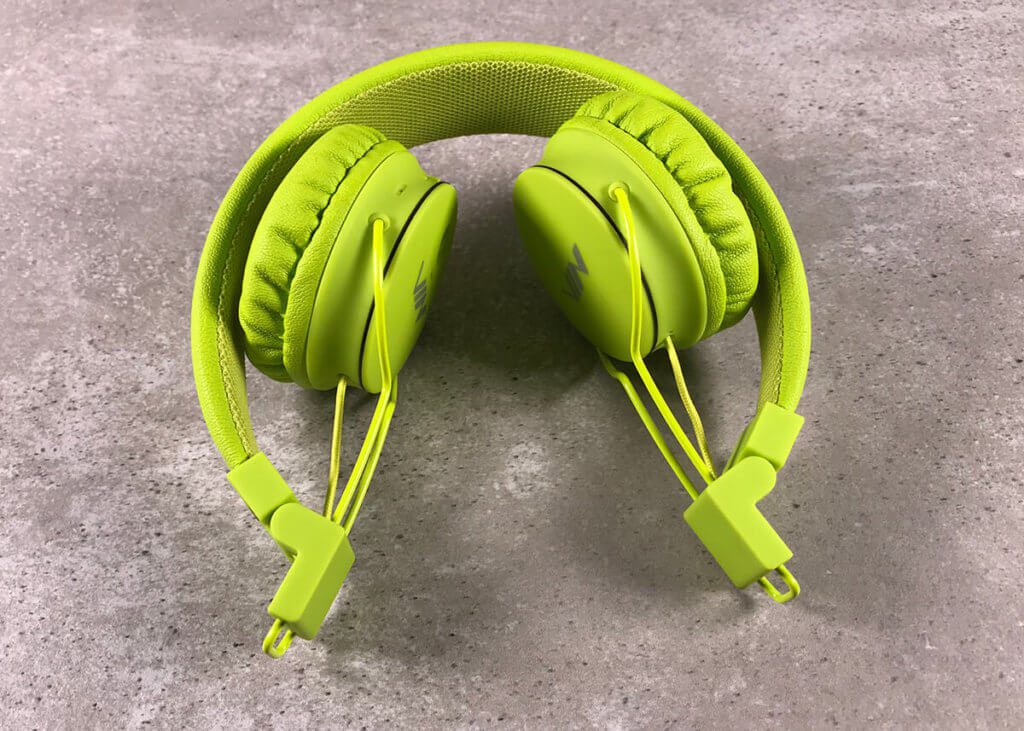 Automatic volume limitation
Another feature that the headphones have according to the product information is the automatic volume limiter, which should reduce the output to a maximum of 85-93 dB. Of course, I couldn't measure the volume level, but I once played music at maximum volume (iPhone at maximum and headphones at maximum) and then slowly held my ear to it. It was definitely loud and, in my opinion, too loud not to damage the ears in the long term, but perhaps even more volume is actually possible without the function.
In order to get a feeling for the "85 to 93 dB" specification, I researched on various websites, including the Federal Environment Agency here receive information that an employer must wear hearing protection if the volume at work exceeds 85 dB. Above 85 dB, hearing can be irreparably damaged, and above 95 dB, noise seems "unbearable" to us. In order to provide a few practical examples, I have put together a small list of various sound levels here.
| Volume in dB (A) | Use Cases |
| --- | --- |
| 20 - 40 | Whisper, quiet garden |
| 55 | Quiet conversations, rain, refrigerator hum |
| 75 | Vacuum cleaner, faucet noise, washing machine |
| 85 | Lawn mower, listening to music |
| 95 | Circular saw, loud music on headphones |
| 105 | Volume in discos and at events, chainsaw |
Given the background, I would still rate the 93 dB as too high, but I think that if you test how loud it is for yourself, you can put the headphones in the hands of the children.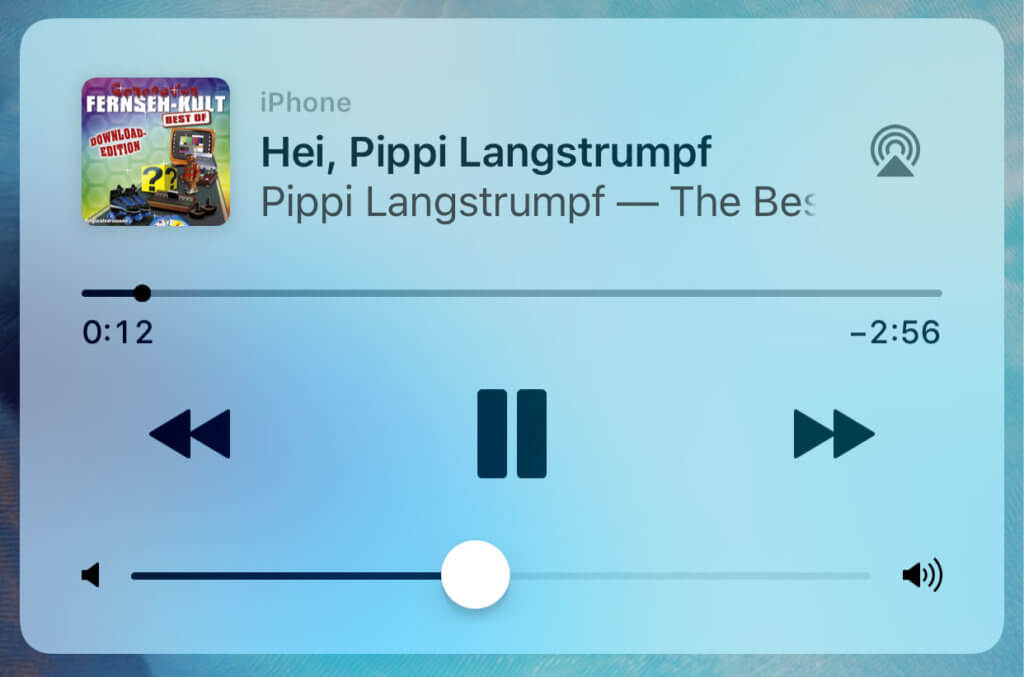 Bluetooth battery indicator and volume control
In conjunction with the iPhone or iPad, the following information may be of interest: The headphones show the battery level in the display of the iOS devices as a small headphone symbol with a bar. So you are always informed about the current charge status of the battery.
When using the volume buttons, it is important to know that you do not control the volume on the iPhone, but only on the headphones. So if it doesn't get louder, you can always turn up the volume on the iPhone.
With headphones that I use for myself, I usually find this cumbersome, but with children's headphones this is of course a practical control option for parents, because you can set the maximum volume in this way on the iPhone and the children can then do it on the headphones do not regulate beyond this level. So iPhone at 1/3 volume and headphones at full volume were already loud enough in my test to hear the children's disco at home. ;-)
Criticism: volume of the audio announcements
My only criticism of the Termichy kids headphones are the audio prompts that come, for example, when you turn on the headphones or when they are ready to be paired via Bluetooth. These are not only spoken in entertaining Chinese English but also quite loud. For this reason, I would recommend putting the headphones on next to your ears first. Then you won't be scared quite as badly as I was when the headphones "yelled" at me for the first time. :D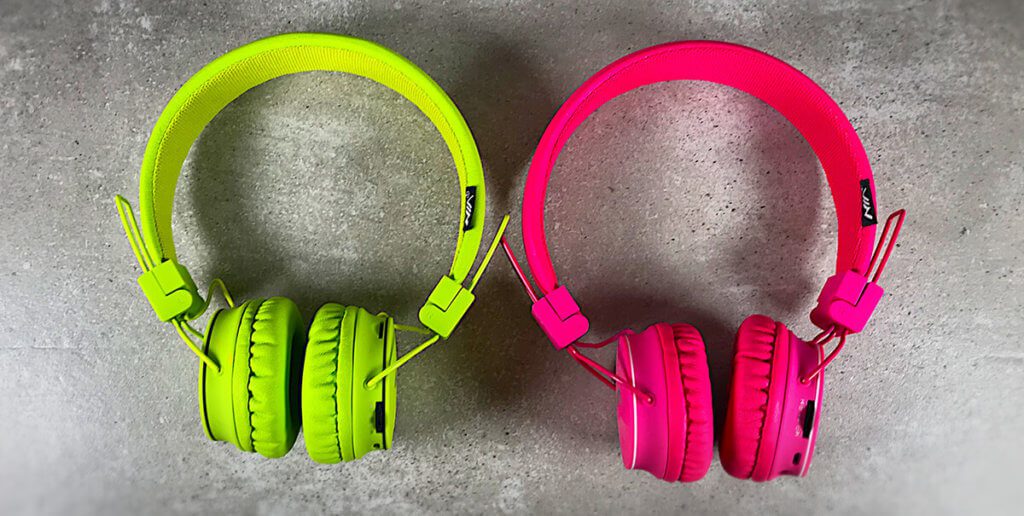 Recommended age
As for the size and age of the children for whom the headphones fit, I would set the lower limit roughly at 4-5 years. Less, because you couldn't put the headphones on to a three-year-old - that's technically possible - but I wouldn't think it's good because you don't know whether it will answer when it's too loud or too quiet.
The upper limit should be around 14 to 16 years. But here, too, probably not so much because the headphones are getting too small – ok, they're probably a bit tight by the time they're 18 – but rather because the kids will probably find these headphones too "uncool" and prefer something from Skullcandy or Beats / dr want to have Dre. Of course, they look much cooler and make a better impression on friends. ;-)
Conclusion, purchase option and colors
We've been using the Termichy headphones for over a year now and neither of them have given up the ghost. The sound is still as good as it was at the beginning and I cannot understand the Bluetooth range that some customers have complained about. I have the feeling here that it is more due to the device with which the music is sent to the headphones than to the headphones themselves. So I can only give a purchase recommendation for the "Termichys", which is particularly true if you what is looking for with a good value for money.
If you're interested in Termichy headphones, you'll find them here on amazon or you can buy it via the lower product box on Amazon. I've only linked the model in pink here, but you can also find other colors as variants on the corresponding Amazon product page.
Termichy Bluetooth on-ear headphones for children
The size of these bluetooth headphones is perfect for children, but also adapts to adult heads. It can be used via Bluetooth as well as a cable and it offers interesting functions such as music sharing and automatic volume limitation to protect the hearing of your kids.
If you are looking for a model with a cable, you will find it here is the corresponding version of Termichy. This is a little cheaper, but due to the small price difference I would rather take the Bluetooth model, as it is more versatile.
Jens has been running the blog since 2012. He appears as Sir Apfelot for his readers and helps them with problems of a technical nature. In his free time he drives electric unicycles, takes photos (preferably with his iPhone, of course), climbs around in the Hessian mountains or hikes with the family. His articles deal with Apple products, news from the world of drones or solutions for current bugs.
The page contains affiliate links / images: Amazon.de