I recently had another problem with my Mac that made it impossible to work and showed me how important it is to have a bootable backup somewhere. The small problem with the bootable backups on external rotating USB disks is that they start very slowly. That means, especially when you need help most urgently, you have to wait forever for the system to boot from the external hard drive. That's why I wanted to buy an external SSD hard drive that I could access with macOS Mojave and a few important utilities like superduper! and then pack the Mojave installer on this disk as well. As a "life raft" so to speak, in case my startup volume no longer boots properly and I need an alternative to booting to repair the Macintosh HD.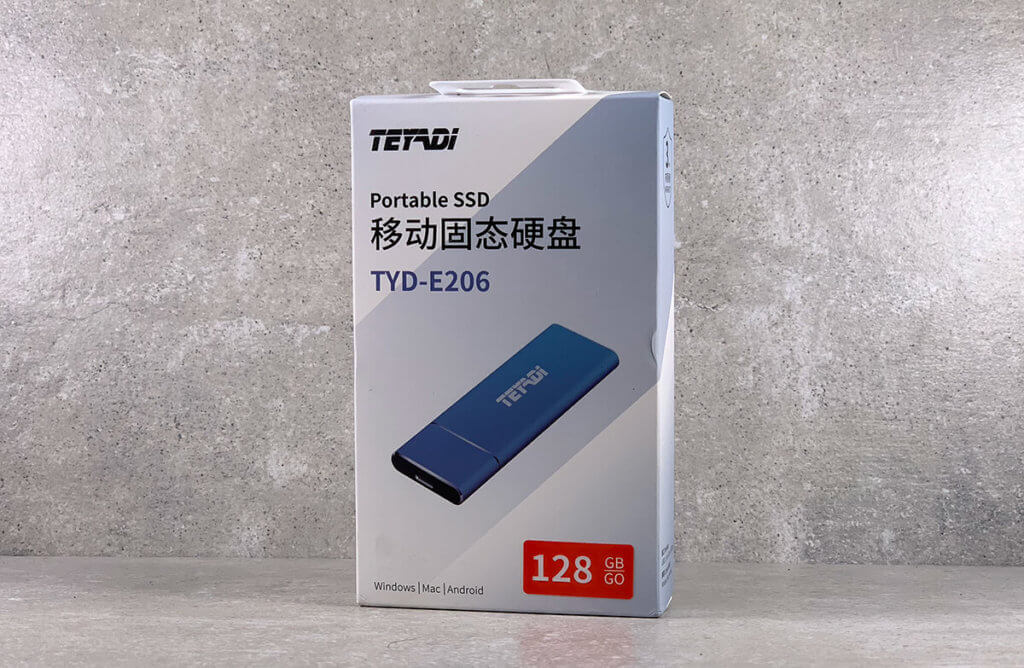 The current selection of good, external SSD hard drives
From my point of view, there are currently only three reasonable providers that I would put my trust in when it comes to SSDs: SanDisk, Samsung and Transcend - in that order. I find the solution from Transcend disproportionately expensive - that's why I would rather go for SanDisk or Samsung. ;-)
Comparison of brands against cheap China SSD
Don't worry, I'm not hoping that manufacturers like SanDisk and Samsung won't have production done in China. However, I hope that, in fact, that they have better quality controls than a no-name brand like Teyadi. For this reason, a price comparison is also interesting for me, because if an external Sandisk SSD with the same storage capacity costs only a few euros more, I would probably use it.
So here are the prices (as of November 23.11.2018, 500) of the 500 GB models on Amazon. The 128 GB is the only variant that overlaps at Teyadi, Sandisk and Samsung, because while Teyadi only has smaller models with 256 or 1 GB in stores, SanDisk and Samsung only offer larger models with 2 TB or XNUMX TB at:
Teyadi SSD, 500 GB: 119,99 EUR
SanDisk SSD, 500 GB: EUR 124,99
Samsung SSD, 500 GB: EUR 134,06
Transcend SSD, 500 GB: EUR 202,99
As you can see, the Teyadi China SSD is only slightly (5 EUR) cheaper than the SanDisk. With Samsung and Transcend it makes a bigger difference. In terms of price, the Teyadi is only a "banger" to a limited extent.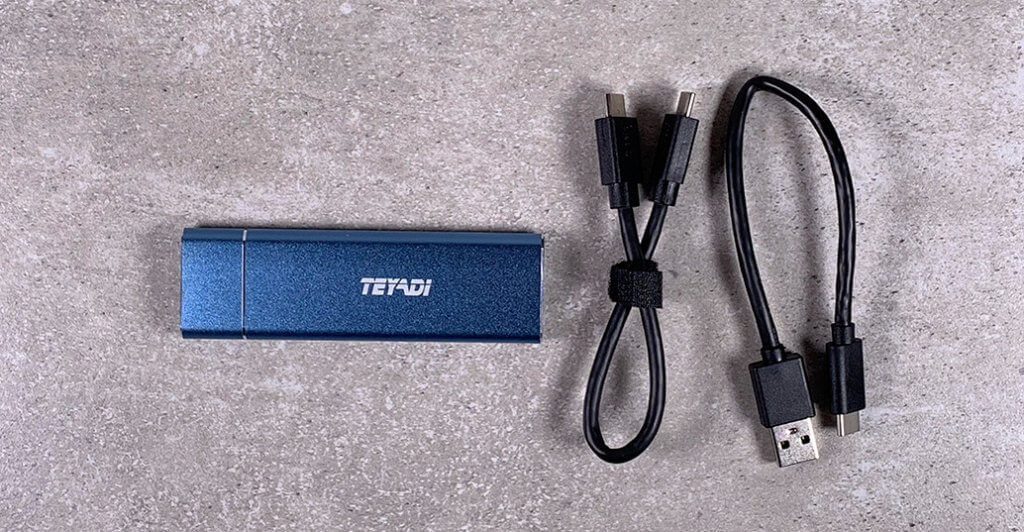 Scope of delivery and technical data
In the packaging comes:
Teyadi SSD (128GB)
1x USB 3.1 Type C to USB Type A cable
1x USB 3.1 Type C to USB Type C cable
Instructions (printed in the style of package inserts: XXXS)
The technical data:
Plug and Play - no need to install drivers on the Mac
formatted to ExFAT (delivery state)
USB 3.1 Gen 2
Read / write speed up to 540 MB / s (not correct - please read the test below!)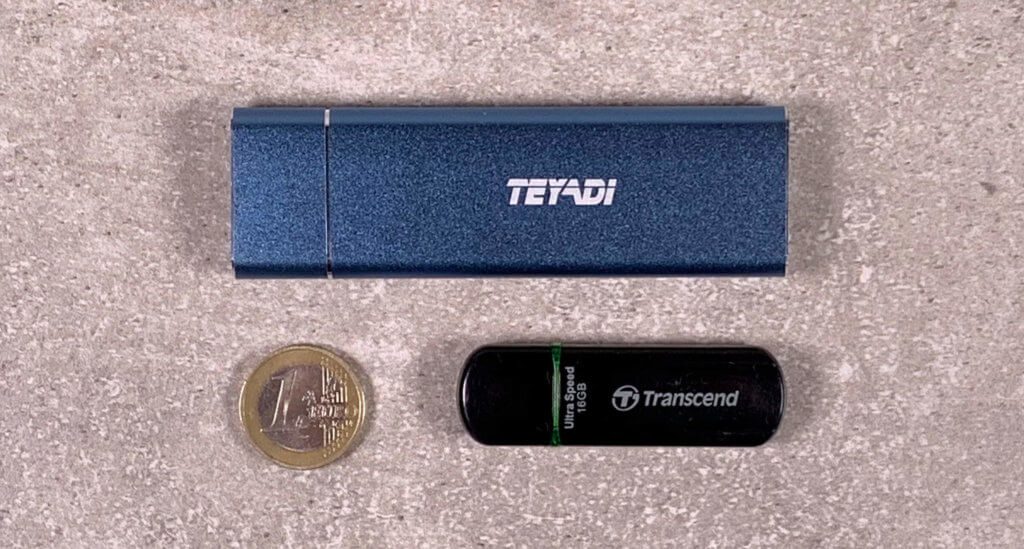 Teyadi SSD in the benchmark test against SanDisk
The actual task of an external SSD is the fast reading and writing of data - otherwise you could also use a cheaper "spinning" hard drive. How well the Teyadi performs in comparison to the internal SSD of my MacBook Pro 2017 and the SanDisk Extreme Portable SSD, I have here for you with the AJA System Test benchmark software tried out. Of course, the results are always just snapshots and also somewhat error-prone, since background processes on my MacBook could "spark" in between during the test. But I still think that these are reliable practical values.
I ran all tests several times to identify outliers, but the screenshots I used are those that represent a good average of the test values.
| SSD manufacturer | Write access (WRITE) | Read access (READ) |
| --- | --- | --- |
| Apple (internal) | 1750 MB / s | 1468 MB / s |
| SanDisk | 475 MB / s | 511 MB / s |
| Teyadi | 130 MB / s | 412 MB / s |
You can find the screenshots of the AJA System Test Benchmarks here:
You can clearly see that the Teyadi SSD can still keep up with the SanDisk SSD when it comes to reading, but it only achieves a third of the speed when writing. A difference that can certainly be felt in practice.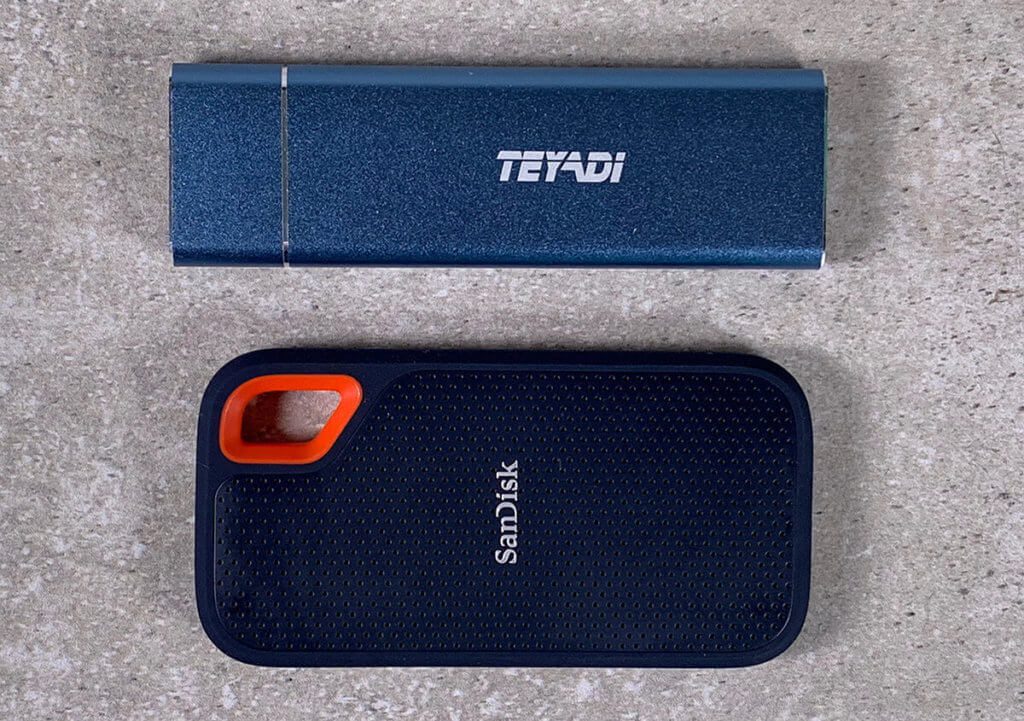 Only the SanDisk is waterproof and dustproof
An important point is certainly the "outdoor suitability". While the SanDisk Extreme Portable is classified by the manufacturer as waterproof and dustproof according to IP-55, none of the other suppliers have anything like that on their screens. While the "waterproof" property is less important for my office use, the SSD for "dustproof" definitely gets a plus point from me. There are a few corners in Sir Apfelot's castle that aren't always sparkling clean. ;-)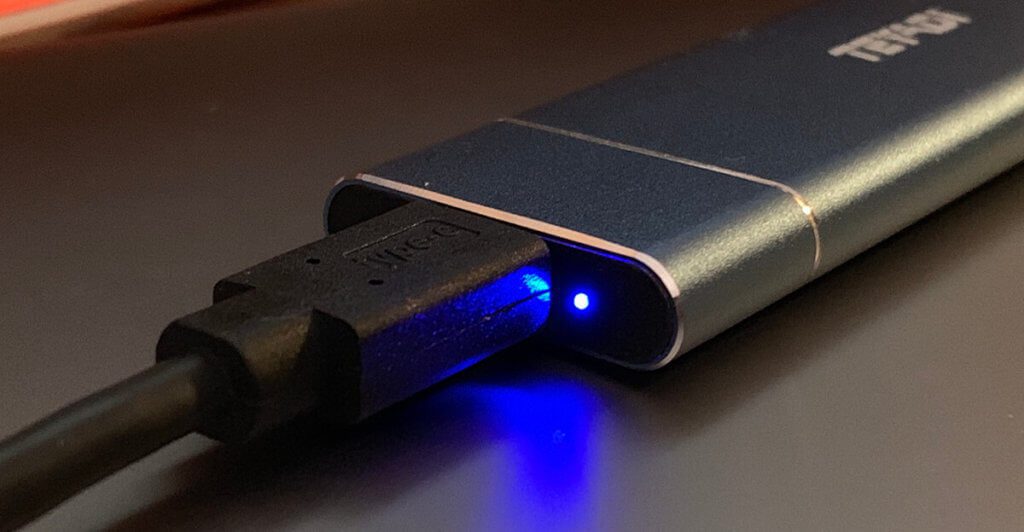 Conclusion: is it worth buying?
Speed
In terms of technical write and read rates, the Teyadi cannot keep up with the SanDisk SSD and certainly not with the internal Apple SSD. The internal SSD runs naturally out of competition, because it is technically connected differently than the USB-C hard drives - nevertheless I wanted to include the values ​​in the test. The SanDisk achieves a remarkable performance with read and write rates of approx. 500 MB per second - even though the price for the Teyadi is only marginal.
Reliability
Regarding the reliability, unfortunately I cannot make a statement. I would rather fall back on well-known brands like SanDisk, which have proven to me for years with SD cards that they know how to build reliable storage media.
Price-performance ratio
The price difference for the Teyadi is so small that I would rather add a few euros to get an SSD from SanDisk. I know better what I have. The Teyadi still has a place with me because it gives me a quick way to boot from a second macOS, but for my backups I have bought an external 1 TB SSD from SanDisk. With regular backups, this higher speed compared to the Teyadi SSD and, above all, rotating hard drives can be felt very positively.
ADATA SSD - even cheaper
From the point of view, I should actually say that buying the supposedly cheap SSD from Teyadi is not worth it, neither in terms of speed nor in terms of cost savings, but if you still like it cheap, you can get it SSDs from ADATA look at. I only noticed them after my test and they are a tad cheaper than the Teyadi. Here are the current offers of the ADATA SSDs, which I would rather consider when making the "cheap is cool" selection (:
My recommendation: SanDisk SSD
Despite everything: I personally have SanDisk accessed and do not regret the step. In my opinion, the small surcharge is not so tragic if the SSD is used as a fast backup medium for years to come. If you have to fall back on a backup for the first time and it no longer works, you will understand my point of view. ;-)
For the reason, here is my purchase recommendation: The SanDisk Extremely Portable SSD. Also available as 250, 500 GB, 1 TB and 2 TB variants via the following link. I have a test of the 1 TB version planned, which will appear on the blog here shortly.
Jens has been running the blog since 2012. He appears as Sir Apfelot for his readers and helps them with problems of a technical nature. In his free time he drives electric unicycles, takes photos (preferably with his iPhone, of course), climbs around in the Hessian mountains or hikes with the family. His articles deal with Apple products, news from the world of drones or solutions for current bugs.
The page contains affiliate links / images: Amazon.de