After Apple banned the optical drive from all models, you now have to be satisfied with an external solution if you want to burn blank DVDs or CDs. For many Apple users, the Apple SuperDrive has certainly been the first choice, but after looking around for a USB hub for my MacBook Pro, I had to read that the SuperDrive has a built-in lock so that it only works when it is connected directly to the Mac. A connection through a hub will result in the device not being recognized. On the corresponding Apple support page of the "SuperDrive" you will find this simple entry:
The SuperDrive is specifically designed for use with MacBook Air, MacBook Pro, and Mac mini that do not have an integrated optical drive. The SuperDrive must be connected directly to the computer's USB port. Use via a USB hub is not possible.
Cheap alternatives with faster technology
I will now sell my Apple SuperDrive used and buy another external DVD burner. Devices that have already passed a number of tests by Apple users and have been classified as 100% working are of course an alternative. Don't make the mistake of assuming that any cheap external USB DVD drive will work on your Mac. It doesn't work very well with some models.
Current recommendation DVD burner for the Mac
Since I keep updating this article because the range of DVD burners as a SuperDrive alternative changes very quickly, I will not go into detail about a specific device that would be outdated in a month anyway. Instead, here is my current recommendation for people who are looking for a reliable external DVD burner to connect to the Mac and do not want to spend the very high cost of an Apple SuperDrive:
6,00 EUR
Amicool USB 3.0 DVD / CD burner
The Amicool DVD burner has
at the same time some positive properties combined:
works with all MacBooks Pro / Air
USB-C adapter for current MacBook models is attached directly to the cable
only requires a USB port for power supply and no external power supply or a second USB port
robust housing
Of course, it also reads audio CDs and plays / burns DVDs
USB 2 or USB 3 burner - which device should I buy?
The external DVD drive mentioned above works with USB 3. On the other hand, Apple's SuperDrive only supports USB 2 - another catch that makes the drive uninteresting for newer Macs. However, when playing and burning films, the difference from USB 2 to 3 is not as noticeable as it is with hard drives - which is why USB 2 DVD burners such as the Apple SuperDrive are not really "bad".
However, it is much more interesting that the USB 3 port delivers significantly more current than the USB 2 port (USB2: 500 mA and USB3: 900 mA). This has the advantage that the burners work less "hard at the limit" and produce fewer dropouts because they consistently receive enough power. For this reason I would strongly recommend a USB 3 burner. If you still have an older Mac with USB 2 outputs, it might help to get another one active USB 3.0 hub (for example this one from anchor) upstream. This then supplies enough electricity to operate the burner. And since USB is backwards compatible, it is technically no problem to plug a USB 3 hub into a USB 2 port on the Mac.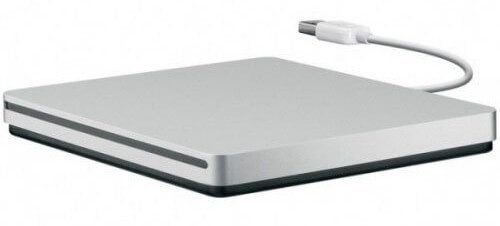 In terms of speed, USB 3 is likely to have less of an impact when playing movies than when burning. I have this for it found on Wikipedia: "Drives for use in film players are operated at up to 1,6 times this speed, i.e. 54 Mbit/s". This means that even with a 12x BD drive, the data rate is only 432 Mbit/s. With the maximum data rate of the USB 2 port of 480 Mbit/s, you can easily get by in practice. A USB 3 burner is only faster when writing data.
External Blu-Ray burners on the Mac
For those who want to burn DVDs and Blu-Ray discs with USB-3 quickly, I can recommend this external Blu-Ray burner, which has also been tested on the Mac and runs without any problems. Incidentally, the SuperDrive from Apple is not able to burn or play Blu-Ray discs:
Warning: Problems caused by anti-virus software are possible
One reader had problems with the techPulse device because it refused to play DVDs and audio CDs. After various discussions with the manufacturer and support at Apple, it turns out that she uses the Kaspersky antivirus program that somehow managed to interfere here. After uninstalling Kaspersky, the techPulse burner ran without any problems.
Current BSI warning about Kaspersky (15.03.2022/XNUMX/XNUMX): Read all the background here
Jens has been running the blog since 2012. He appears as Sir Apfelot for his readers and helps them with problems of a technical nature. In his free time he drives electric unicycles, takes photos (preferably with his iPhone, of course), climbs around in the Hessian mountains or hikes with the family. His articles deal with Apple products, news from the world of drones or solutions for current bugs.
The page contains affiliate links / images: Amazon.de