In the following post I would like to introduce you to the - from my point of view - best portable speakers that you can currently buy in 2021. With great sound and longer battery life, they are perfect for every music lover who likes to be in the apartment, in the garden or anywhere else.
Bluetooth speakers are the perfect option for summer garden parties or meeting friends by the lake. They are portable, easy to set up, and have a rechargeable battery so you can take them with you whenever you want. You can get great sound with a bluetooth speaker that meets all of your needs.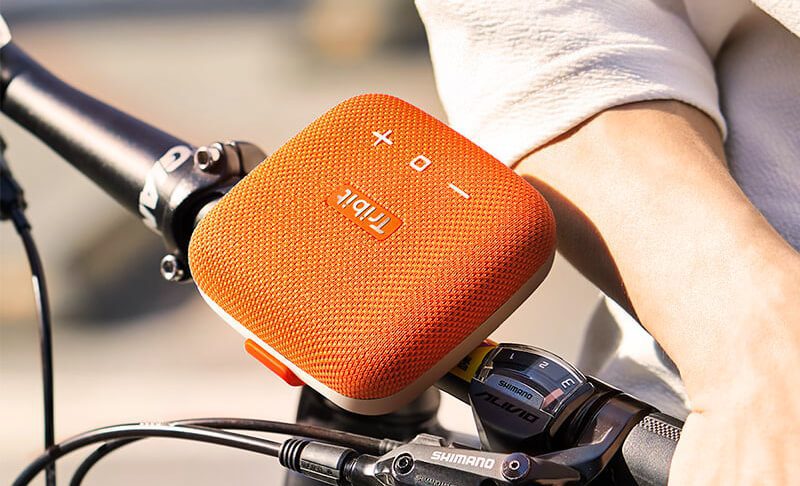 Bluetooth speakers from micro to smart
In my search for the best Bluetooth speaker, I considered everything from sound quality to battery life to size. In the following you will find some of the models that have stood out for their special features, great sound or other points. The result is a wide selection:
A compact mini model for those looking for something small enough to fit in a backpack or handbag.
Pocket-sized micro versions that are perfect for when you're on the go but still want wireless music streaming.
Larger speakers that produce powerful sound and are ideal when you are hosting an outdoor party or just want to enjoy an immersive listening experience.
Smart speakers like the Amazon Echo Spot and Wi-Fi speakers like the Sonos One, if you want to use a voice assistant and other features.
Anker Soundcore Motion Plus - The best under 100 euros
The Soundcore Motion Plus from Anker is one of the best sounding speakers under 100 euros and offers a lot of pluses for the price that you will love. The Anker loudspeaker offers high sound quality with powerful bass, which can even be played at maximum volume without distortion or crackling noises.
While the maximum volume is less likely to be used in small indoor spaces, a high volume level is certainly more in demand at outdoor parties or barbecues. In addition, the Motion + is even IPX7 certified, which means that you don't have to worry if it falls in the pool or gets a rain shower.
Tribit Stormbox Micro - The best micro speaker
10,00 EUR
The StormBox Micro from Tribit is one of the most powerful and balanced pocket-sized Bluetooth speakers currently on the market. With its sleek design, impressive bass level, and loud volume for such a small speaker, it will definitely be hard to beat.
This robust and waterproof speaker from Tribit is completely dustproof, has a long battery life and can even be immersed in water for a short time without being damaged (IP67 protection class). It also has a strap that you can use to attach it to your rucksack or bike handlebars when you are out and about.
JBL Clip 4 - The best for the backpack
7,09 EUR
The JBL clip 4 is the latest iteration of their signature bluetooth speaker, and it's built to survive in (almost) any setting. The IP67 protection class allows it to be used in the shower or in the rain, but it should not be submerged in the pool.
The previous generation had a circular design, but the JBL Clip 4 merges into an oval shape and offers everything the Clip 3 owners have wanted with a more voluminous sound and USB-C charging port. It even has improved durability, as you can attach it to your clothing or backpack with the integrated carabiner clip.
While it is "only" protected from dust and splash water thanks to the IP67 waterproof rating (not quite as waterproof as the Clip 3), it offers an upgrade in terms of sound: these speakers have a 40% louder volume than before, clearer bass and better treble quality what a lot of fans have been asking for all along.
Anker Soundcore Motion Boom - The best mini boombox
The Soundcore motion boom is a mini boombox speaker that allows you to take your music with you wherever you go. It's the perfect addition to picnics, pools, and camping trips. This compact powerhouse is after IPX7 waterproof, so it is safe even in the water.
Anker says the Motion Boom delivers "huge stereo sound" and yes, it plays pretty loud and has a decent amount of bass with a balanced tone. It can't compete with bigger and more expensive speakers like that Boombox 2 from JBL (almost 300 EUR), but it has a lot more volume than other compact Bluetooth speakers like the Flip 5 from JBL (which costs around 90 euros). It is also ideal for outdoor trips and beach trips, which makes it probably an excellent purchase.
JBL Charge 5 - impressive sound for its size
34,10 EUR
The Batch 5 from JBL is a great speaker that strikes a good balance of size, performance, and durability. It has more bass than some of the other mini speakers on this list, like the Flip 5, but is still compact, which makes it perfect for taking with you wherever you go.
The Charge 5 has an improved design compared to the previous generation, including its dust and waterproof function, as well as better clarity of sound. The JBL Charge 5 is available in six color options and has a battery life of 20 hours at moderate volumes. This model also has the PartyBoost function, which allows you to amplify your music by connecting it to other compatible JBL speakers.
Sony SRS-XB13 - the best 360 ° roar can
Sony's smallest bluetooth speaker - the Sony SRS-XB13 - has been slightly upgraded for 2021 with some design refinements and a slightly improved sound. This model is both dust and waterproof, so it can brave the elements while playing music anywhere.
The loudspeaker weighs only 500 grams, but plays surprisingly loud for its size and offers a balanced sound - from strong bass to clear highs. It also has a battery life of 16 hours at moderate volume, which makes it perfect for long days outdoors or short trips.
For people who find black too boring, Sony also offers the SRS-XB13 in different colors: beige, blue, yellow, rose and azure blue. And of course you can also use the loudspeaker as a hands-free device.
Bose SoundLink Revolve + II - crisp bass for on the go
64,96 EUR
The Bose SoundLink Revolve + II is a small, portable speaker designed with a woven handle and a dust-resistant construction. With an IP55 rating, you can use it outdoors without worrying about an unexpected rain shower ruining the speaker. The Bose SoundLink Revolve has sound profiles for music or conversational audios such as audiobooks and podcasts to bring the content into focus so that listeners don't miss any details on the go.
The build of the speaker is robust and it sounds great. Even if the price seems high, you get better sound quality and a longer battery life than other speakers.
UE Wonderboom 2 - Waterproof and very robust
7,92 EUR
Ultimate Ears has an updated model of the Wonderboom 2 released, a touch bigger than the original and with some improvements. The Wonderboom 2 is waterproof to IP67, which means that it can withstand dust and bumps unscathed. The device is also able to swim, so a short fall into the swimming pool will not have any bad consequences.
With a 30% improvement in battery life (13 hours at moderate volume), this Bluetooth box could prove to be your new best friend on long trips away from power sockets.
JBL Flip 5 - stylish design and great sound
16,97 EUR
No question: with that JBL Flip 4 the company has shown that it knows how good bluetooth speakers go. With the JBL Flip 5 they built on the successful model and brought it up to date with the latest technology.
If you are looking for a loudspeaker that can withstand a lot, but still sounds great: the JBL Flip 5 is worth its price. It's made of sturdy, durable material, has good sound quality, decent battery life, and its manageable size makes it perfect for pretty much everyone - whether on the next adventure or between activities at home.
If you already have a JBL Flip 4, you don't necessarily have to upgrade to the Flip 5. Other than the new USB-C charging port and small improvements to the audio drivers, there are no major improvements with the 5 series.
Sonos Move - great (& expensive) speaker for Sonos fans
28,45 EUR
Sonos Move Smart Speaker (waterproof WiFi and Bluetooth speaker with Alexa voice control, ...
Great sound for indoors and outdoors: Experience the best Sonos sound everywhere - with the portable Sonos Move Smart ...
Equipped for every adventure: The robust housing with protection class IP56 is waterproof and withstands drops, dust and ...
Google Assistant and Amazon Alexa are integrated directly in the speaker - so the music in the WLAN can be easily played by voice ...
The Sonos Move provides seamless Wi-Fi connectivity so you can connect it to other Sonos speakers. The Move is IP56 certified and therefore very robust and perfect for outdoor use. It is particularly useful from garden speakers if the Sonos network is available there.
If outdoor use is less important or you want to use the speaker as a lone wolf, then another Bluetooth speaker might be a better (and cheaper choice). For people who have already invested in Sonos, the Sonos Move is an interesting purchase.
Your favorite bluetooth speakers?
Sure, my list is not complete and also relatively subjective, but if you have a breathtakingly good speaker at home that is worth mentioning, please leave a comment with the exact model and write what you particularly like about it.
Jens has been running the blog since 2012. He appears as Sir Apfelot for his readers and helps them with problems of a technical nature. In his free time he drives electric unicycles, takes photos (preferably with his iPhone, of course), climbs around in the Hessian mountains or hikes with the family. His articles deal with Apple products, news from the world of drones or solutions for current bugs.
The page contains affiliate links / images: Amazon.de