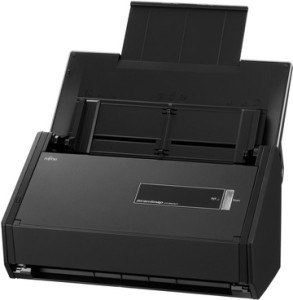 Perhaps other self-employed people are also familiar with the problem: You urgently need an invoice for a device that you bought several months ago. Unfortunately, the bills are all in folders with the accountant, who first has to dig out the documents, scan them and email them away. Everything is very cumbersome - I thought to myself again and again. For this reason I am now taking the step and at least switching incoming invoices and other correspondence to the paperless variant. Of course, the original receipts will continue to be filed and archived in the accounting department - if only because you have to archive the documents for a possible tax audit - but for my personal needs everything is now transferred to a hard drive as a PDF.
Unbeaten good: the ScanSnap iX500 document scanner for the Mac
I got the ScanSnap iX500 a long time ago times introduced. For this reason, it was also the first choice for me when buying a document scanner. I think there is hardly a device that can hold a candle to it in terms of price-performance ratio, especially if you are looking for a solution that also runs under Mac OS X (for me under Mavericks).
The range of capabilities of the Fujitsu scanner is unbelievable and I would just like to introduce it here in brief. If you intend to implement a paperless office with your Mac, then this scanner is certainly the heart of the whole project.
Here are the features of the ScanSnap iX500:
wireless scanning via WLAN
alternatively also connectable with USB 3
Android and iOS App to scan directly into the iPhone or [Android Smartphone->android-smartphone]
runs on Mac OS X and Windows 8
Speed: 25 pages or 50 images per minute
Duplex scanning (scanning of sheets with front and back printing)
automatic activation when opening and deactivation when closing
Scanning problematic documents such as credit cards or cut-out articles from glossy magazines
Scan directly to the iPhone or iPad WITHOUT a PC or MAC with the ScanSnap Connect app
automatic text recognition (OCR software ABBYY Finereader) and generation of searchable PDFs with the help of text recognition
automatic color recognition and scanning in black and white or in color
Automatic cropping and rotating of templates that contain, among other things, text by which the alignment can be recognized
automatic skipping of blank pages
automatic removal of translucent backsides (background pattern)
Combine multiple pages into one searchable PDF
Scanning at the touch of a button on the scanner starts scanning when the Mac is on
Scanning business cards creates contact data in the address book if required
Convenient scan software with quick keys for:

Send the scan to a printer
Scan to a specific folder
Scanning and sending as an email attachment
Scanning of text templates in a Word, Excel or Powerpoint file for word processing
Scan straight to Evernote, Google Docs or Dropbox
Prices, availability and review
I've just ordered the scanner. If I have been using the scanner for a while, I will be happy to give you a short test report so that you can get an idea of ​​the device. And for everyone who has ever wanted to get the document scanner: It is available for under 400 EUR at Amazon.
I also found a small product video. This is really interesting if you want to see it in action:
Jens has been running the blog since 2012. He appears as Sir Apfelot for his readers and helps them with problems of a technical nature. In his free time he drives electric unicycles, takes photos (preferably with his iPhone, of course), climbs around in the Hessian mountains or hikes with the family. His articles deal with Apple products, news from the world of drones or solutions for current bugs.