If you're looking for some family-friendly Halloween content that you can stream for free over the internet this weekend as well as Mondays, check out Peanuts. Because Apple secured the rights to the animated classic years ago, which means that this year "It's the Great Pumpkin, Charlie Brown" will not be broadcast on television in the USA, but (legally) only via the Apple TV+ app is accessible. But you don't need a subscription to do this, the film called "The Peanuts: The Big Pumpkin" can be watched for free - even in Germany.
Abbreviation: Click here to go directly to the film page on Apple TV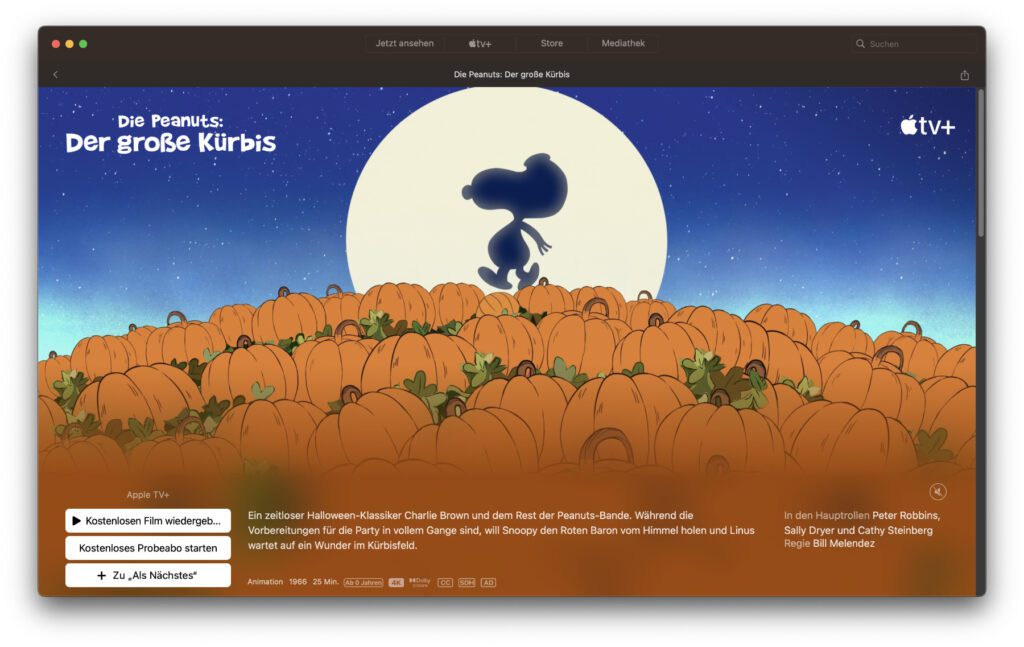 Watch Apple TV+ content via app, set-top box and website
You can use the Apple TV app to access and play the film on Mac, iPhone, iPad and iPod touch as well as on the PS5, with a FireTV Stick, on Smart TVs and other compatible devices. Of course, the whole thing can also be done directly on the Apple TV, for example on the new one Apple TV 4K with A15 chip.
If you have this set-top box and the Apple TV app or a compatible device, you can watch the film directly on the website (see link above) after you have logged in with your Apple ID. So the only thing you need to watch is an Apple ID, no individual devices, apps or subscriptions are required.
In the preview of the film you will find a trailer as well as the description for "The Peanuts: The Big Pumpkin": "A timeless Halloween classic starring Charlie Brown and the rest of the Peanuts gang. While preparations for the party are in full swing, Snoopy plans to bring down the Red Baron and Linus awaits a miracle in the pumpkin patch."
The film is from 1966 and is one of the great Peanuts films alongside the Thanksgiving and Christmas specials, which will hopefully also be available to stream for free by the end of the year. Even if the playing time is only 25 minutes. In addition to these movies, Apple TV+ also has other Peanuts content including a 3D animated movie and The Snoopy Show.
After graduating from high school, Johannes completed an apprenticeship as a business assistant specializing in foreign languages. But then he decided to research and write, which resulted in his independence. For several years he has been working for Sir Apfelot, among others. His articles include product introductions, news, manuals, video games, consoles, and more. He follows Apple keynotes live via stream.