Yesterday I gave you the new one in an extensive post DJI Mavic Air 2 Camera drone presented, today it's about the right storage medium. Because the aircraft itself only offers 8 GB of storage space, which is quickly exhausted when recording 4K videos or panoramic photos. With a microSD card you can expand the memory by up to 256 GB; but in my experience even more extensive. You can read in the following guide which SD card is the right one for the DJI Mavic Air 2 and which specifications you should pay attention to.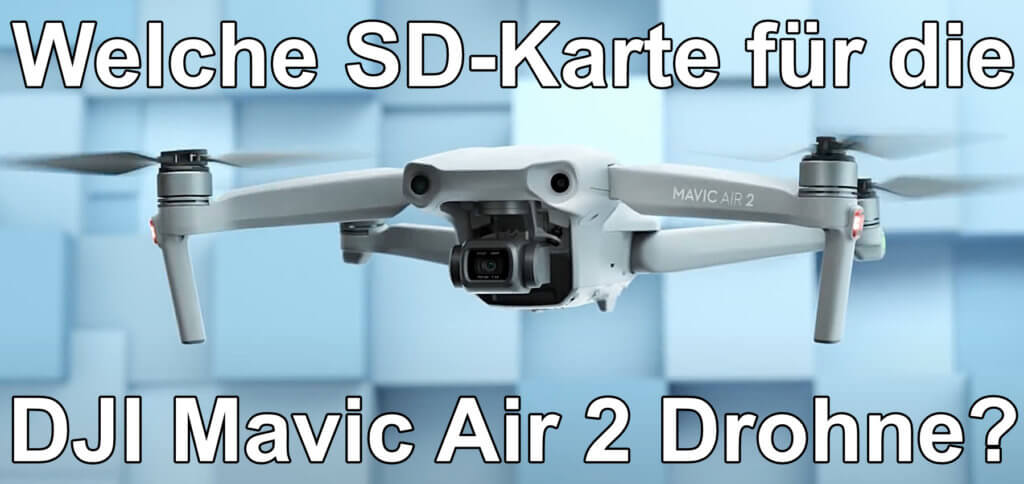 The best SD cards for the DJI Mavic Air 2 drone
Below I have listed the SD cards proposed by DJI for use in the new camera drone. In my experience, those models from SanDisk are the best. Anyone who visits this blog more often will know that when it comes to memory cards I only rely on SanDisk, because it is the only brand whose cards have not disappointed me so far. More on this in this buying guide. Following the Amazon product recommendation, you will find a few explanations below why the suggested memory cards are the right ones for the DJI drone.
DJI recommended SD cards for the Mavic Air 2
SanDisk Extreme 64 GB UHS-III 64GB V30 A1 microSDXC (see below)
SanDisk Extreme 256 GB UHS-III A2 microSDXC (see below)
Lexar 667x 64GB UHS-II V30 A2 microSDXC
Lexar High Endurance 64GB UHS-III V30 microSDXC
Samsung EVO Plus (Yellow) 64 GB UHS-III V30 microSDXC
Samsung EVO Plus (Red) 64 GB UHS-III microSDXC
Samsung EVO Plus 128GB UHS-III microSDXC
Samsung EVO Plus 256GB UHS-III microSDXC
Kingston V30 128GB UHS-III microSDXC
Netac 256GB UHS-III A1 microSDXC
Recommendation: SanDisk Extreme microSD with 64 GB, 128 GB or 256 GB
The SanDisk Extreme is a microSDXC memory card that you can buy with different storage capacities. In addition to the U3 designation, it also has a V30 and A2 specification (explanation below). It is therefore very suitable for use as an extension for the DJI Mavic Air 2 memory and probably offers the best price-performance ratio. You can find the selection of the card size from 32 GB to 1 TB as well as the respective dates and prices on this Amazon product page.
7,48 EUR
73,43 EUR
SD card for DJI Mavic Air 2: microSD is the correct format
For all those who are not very familiar with memory cards and their properties, here is an important note: there are three different sizes of SD memory cards. The largest is the regular "SD card" with dimensions of 32 x 24 mm. This is NOT used in the DJI Mavic Air 2. Not even the "miniSD" with dimensions of 21 x 20 mm, but its production was discontinued in 2009 anyway. What is used in the new camera drone is the "microSD", which has dimensions of 15 x 11 mm. The designation microSDXC means that the card has more than 32 GB of memory (XC = Extended Capacity).
Write speed should be at least 15 MB / s
Before I get to further technical data that should be considered, I want to explain the 15 MB / s as the minimum write speed. These come from the maximum bitrate of the videos that you can record with the DJI Mavic Air 2. This bit rate is 120 Mbit / s. And since 8 bit = 1 byte applies, you should keep a minimum value of 15 MB / s in mind for the write speed of the microSD. But since cheap offers (which I don't recommend) have a write speed of up to 30 MB / s, you should be on the safe side;)
Memory card with at least U3, UHS-II and / or V30
If you want to delve a little deeper into the world of SD cards, I recommend this guide: SD card names - what are Class, SDHC, SDXC, UHS, I, A, V and Co.? There you will find the explanations that you should pay attention to designations such as "U2" (minimum write rate at 3 MB / s), "UHS-II" and / or "V30" on a DJI Mavic Air 30 SD card. You should especially choose cards with a V designation from V30. Because that is how the "Video Speed ​​Class" is described. You can use the V30 for 4K recordings; V60 and V90 basically too, but they are made for 60K videos with 90 or 8 MB / s.
Before use: Use the exFAT file system
The most suitable for a microSDXC card in the DJI Mavic Air 2 is the exFAT file system. You read what that is in this post. Not only do you use a file format supported by the DJI Mavic Air 2 (only supports FAT32 and exFAT), but also one that you can use on an Apple Mac as well as on a Windows PC and many other devices. This is how the data exchange works in any case. In addition, the file system is ideal for large and small flash memories, especially since the size of files is not limited. So theoretically you can fill an entire exFAT memory card with a single video.
My DJI drone experience: More memory is not a problem
Officially, only microSDXC cards with a storage capacity of up to 2 GB are recommended for the DJI Mavic Air 256. However, previous drone models also supported more extensive memories. So if you want to give it a try and don't want to take so many memory cards with you and exchange them for aerial photography at the next film session, you can also use the SanDisk Extreme with 512 GB of storage. That could and should work. But I cannot say whether a 1 TB memory card can be used.
45,13 EUR
Advantages of the DJI Mavic Air 2
You may be wondering why the DJI Mavic Air 2 is more worthwhile than the first generation DJI Mavic Air. After all, it is slightly larger and heavier than the previous model. But it flies longer with one battery charge, has a gimbal that can be used more flexibly, lighting on the underside for better ground recognition, uses OcuSync 2.0 for video transmission and offers many other advantages. It's best to have a look at the article on the DJI Mavic Air 2 linked in the introduction. Because there you will not only find the technical data, photos and videos for the drone, but also a comparison with the predecessor. Full HD videos with up to 240 fps and HDR modes are among the innovations, for example.
Update 2021: DJI FPV as a fast, new and compact drone
In March 2021, DJI launched a new drone for all those who not only want to record 4K recordings at up to 60 fps, but also want to fly up to 140 km / h with a first-person view function. The model is called DJI FPV and comes in a set with video glasses and controller. Of course, the scope of delivery also includes replacement propellers, batteries, cables and the like. Basically, the DJI FPV is a ready-to-fly set that gives you the opportunity to fly straight away. Of course there is also an extended set with additional batteries and other useful accessories. You can find all information and data about the DJI FPV with this link.
You can also find out here in the blog which SD card fits the DJI FPV. A microSDXC card with up to 4 GB of memory can be used both in the drone with 256K camera itself and in the headset. You can read in this post which memory card is particularly recommended: Which SD cards are suitable for the DJI FPV drone? Similar to the local guide to the DJI Mavic Air 2, there is extensive information and advice on buying the right drone memory card. Spoiler: Of course, SanDisk is also recommended again, because it is still the most reliable brand for SD and microSD cards.
Jens has been running the blog since 2012. He appears as Sir Apfelot for his readers and helps them with problems of a technical nature. In his free time he drives electric unicycles, takes photos (preferably with his iPhone, of course), climbs around in the Hessian mountains or hikes with the family. His articles deal with Apple products, news from the world of drones or solutions for current bugs.
The page contains affiliate links / images: Amazon.de