Apple recently launched the new iPad Air 2019 and the new one iPad mini 2019 released. New devices naturally put every fanboy and every fangirl into euphoria. But if you take a look at the technical data, the design and the compatibility with accessories offered by the aforementioned hardware newbies, you are quickly disillusioned. In my opinion, Apple is taking three steps back with the two new tablets, so that the two steps forward (A12 chip and pencil support) are unequal ...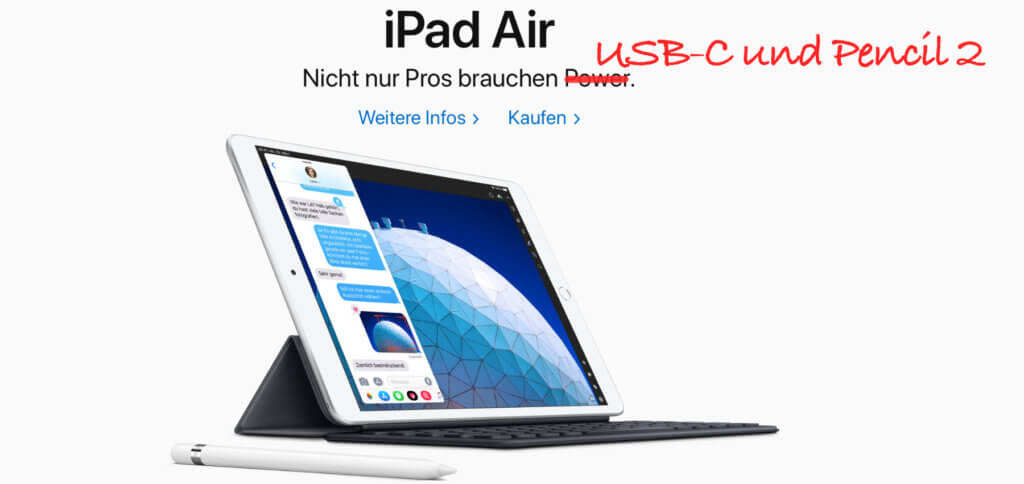 With the current iPad Pro models, Apple has shown that it is possible to agree on modern technology with contemporary design. There is no home button on the Pros, but the Face ID to unlock and verify. This means that innovations in the iPhone are also transferred to the tablet sector. But why only with the Pro models? It doesn't make much sense to advertise the new iPad Air as "Not only pros need power" and to install an A12 chip accordingly if all the other advantages of the big tablet brother are disregarded.
Connectivity and peripherals: why a Lightning connector?
The same applies to a greater extent to the physical interface of the Apple iPad models for 2019. Not only the Air mentioned above, but also the mini, which is advertised as "Made for great things", is affected. But how can you achieve great things without the unnecessary detours that a Lightning connector entails when USB-C and USB-OTG are so much more convenient and can be used more extensively? Sure, the Air and mini models have always been made for the average consumer, but they can also use USB-C for a more efficient workflow.
Inset - more interesting posts on the blog:
Little man's periphery: why only Apple Pencil 1?
As already mentioned at the beginning, as a fan of Apple you could be quite surprised when you looked at the iPad Air 2019 and iPad mini 2019 for the first time. After all, the new "Normalo" tablets from Cupertino now also support the Apple Pencil and even the Logitech Crayon (loud heise). What Apple deliberately ignores: only the first-generation stylus works with the flat mobile computers. Like USB-C and Face ID, support for the Apple Pencil 2 reserved for the current Pro models. You suddenly remember 2007 and hear Steve Jobs say: "Who wants a stylus?"
via GIPHY
Jens has been running the blog since 2012. He appears as Sir Apfelot for his readers and helps them with problems of a technical nature. In his free time he drives electric unicycles, takes photos (preferably with his iPhone, of course), climbs around in the Hessian mountains or hikes with the family. His articles deal with Apple products, news from the world of drones or solutions for current bugs.