With the podcast set from uhuru many audio tasks can be mastered: calls, video conferences, voice recordings, podcast recordings, voice chat on Discord or TeamSpeak and much more. That's why I'm going to introduce you to the USB microphone with microphone arm and pop filter. I've been using it since September 2020 - and I'm really happy about it: D Here you come directly to the microphone. Prime shipping is possible via Amazon.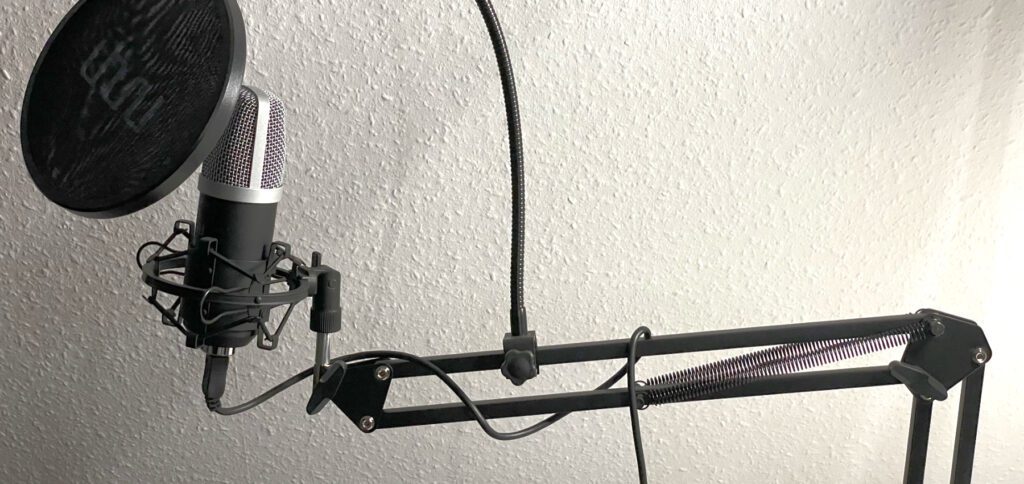 Good condenser microphone with bracket
With the coronavirus pandemic, I also needed to upgrade my audio setup a little. If you attend all kinds of online meetings several evenings a week, then a gaming headset is not always the right thing. It doesn't look so good with more professional video conferencing either. That's why I bought the uhuru microphone. To this day, I'm not the only one who is satisfied with it. Everyone I talk to about various conference tools, TeamSpeak or Discord also thinks the audio quality is great.
Easy installation and commissioning
The set contains everything you need: the microphone, a USB-B to USB-A cable, the microphone arm with spider, a pop filter and a foam cover / windscreen. Basically, the whole thing works via plug and play, so just plug it in and start talking. However, depending on the system (macOS, Windows, Linux, etc.) it may be necessary to select and adjust the audio source in the system settings (level, sensitivity).
There are also options for selection and customization on video conference websites, in corresponding tools, in Discord and TeamSpeak. Sometimes these have to be used to optimize the sound. There is no volume control on the microphone or its cable, and there is also no mute button for muting. All of this has to be done on the software side. But that is also the case with many other microphones of this type.
Why the uhuru micro is my pick of the week
I have been using this microphone several times a week on my gaming PC (Windows 10) for video conferences, telephony and voice chats since September last year. So far everything has been going great and there have been hardly any complaints from the interviewees. Only if the mechanical keyboard is heard too loudly, you should tweak the sensitivity of the microphone (in the Windows settings). But then everyone is happy: D
After graduating from high school, Johannes completed an apprenticeship as a business assistant specializing in foreign languages. But then he decided to research and write, which resulted in his independence. For several years he has been working for Sir Apfelot, among others. His articles include product introductions, news, manuals, video games, consoles, and more. He follows Apple keynotes live via stream.
The page contains affiliate links / images: Amazon.de