At the Apple WWDC 2017 keynote, in addition to the new iMac models and iOS 11 also introduced the updated MacBook models. These have built in the 7th generation Intel Core CPUs, called "Kaby Lake", as well as 50% faster SSD hard drives. But what hasn't been renewed is the USB-C port. This still refuses - unlike the MacBook Pro - Thunderbolt 3 devices. Either for reasons of space or to save power, Thunderbolt 3 was not brought into the MacBook models without "Pro", especially as a video transmission option.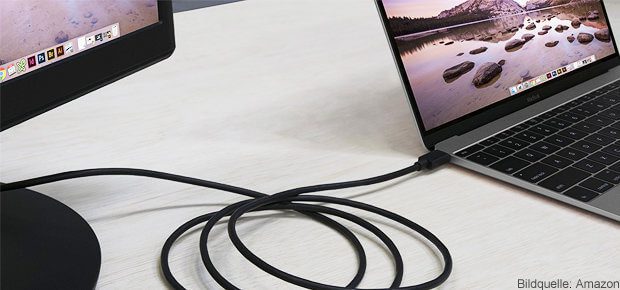 For MacBook Pro: USB-C DisplayPort adapter with 4K and 60 Hz
On the MacBook Pro, however, more precisely on its USB-C interfaces, which also serve as Thunderbolt 3 ports, you can use an HDMI monitor with up to 3.840 x 2.160 pixels (4K resolution) and 60 Hz. And now there is also a suitable cable with a DisplayPort connection (for USB Type C or Thunderbolt 3) and HDMI. The cable is offered by Plugable Technologies:
Plugable video cable with a length of 1,8 m
This cable, which serves as a USB-C DisplayPort adapter with 4K and 60 Hz image transmission on the Apple MacBook Pro, is 180cm long and therefore ideal for the office, workspace and improvised home theater.
Lots of very good reviews
There are many very good reviews for the cable on Amazon. For example, a user writes: "As described by Plugable Technologies - plug it in, connect it to the monitor and it works perfectly. [...] I used to have my monitor [...] connected with the HDMI cable. Now I can use the 4K resolution with 60Hz. The colors are much more intense here. The cable is well made, I am very satisfied."
No Thunderbolt 3 / DisplayPort without "Pro"
With the previous MacBook models without Pro status, you can forget about the video transmission described above with a cable like the one from Plugable. There can be many reasons for the fact that no Thunderbolt 3 controller was installed in addition to USB Type C. Artificial restraint would contradict Apple's striving for the future. Therefore, space reasons or the saving of electricity or battery consumption are more plausible reasons.
What do you all mean? Feel free to leave a comment on the topic :)
-

After graduating from high school, Johannes completed an apprenticeship as a business assistant specializing in foreign languages. But then he decided to research and write, which resulted in his independence. For several years he has been working for Sir Apfelot, among others. His articles include product introductions, news, manuals, video games, consoles, and more. He follows Apple keynotes live via stream.
The page contains affiliate links / images: Amazon.de