Now that I've finally decided to upgrade my work laptop and a MacBook Pro 2021 bought, I had to find solutions for connecting the existing peripherals. As already in Contribution to the swapped keys on an external keyboard on Mac as well as in the Guide to ergonomic mice described, I use input devices with a USB-A connector. I don't use Bluetooth devices because I don't want to constantly keep an eye on the battery level and, in case of doubt, have to charge the battery first. So what to do if MacBook only has Thunderbolt 3 ports with USB-C shape? That's right, try an adapter!
TL; DR: Click here for the adapter with Prime shipping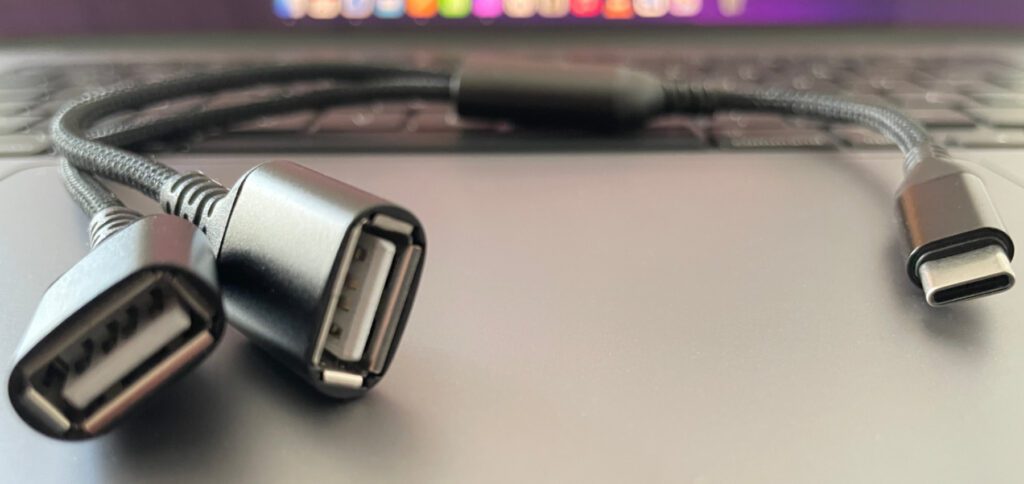 Adapter with USB-C plug and 2x USB-A connection from RUXELY
I decided on the RUXELY USB-C to USB-A adapter because it is compact, offers two USB-A ports and I usually only connect a mouse and a keyboard to the MacBook anyway. External hard drives, USB sticks or printers are also used, but less frequently. Then I put up with unplugging the keyboard to plug in the other device.
That's why I decided against a USB hub with umpteen connections. This would also be impractical when traveling. I've been using the named adapter for five days and everything works perfectly. If it ever causes problems, I'll note it here as an update. It is available in gray and black and with a length of 0,3 m or 1 m. I bought the short version suitable for my home office.
USB-C hubs - alternative for additional USB devices and storage media
If you want four ports instead of two USB-A ports and also a power input for supplying hard drives or printers, then you could this model by UGREEN interested. The power supply, which can be connected as an option, is not suitable for charging the MacBook or iPad (only delivers 5V and 2A), but in many cases it is for operating the peripherals connected via USB-A plug. In addition to various Apple devices, the USB-C to USB-A hub can also be used as a USB OTG distributor on Android smartphones and tablets as well as other devices.
After graduating from high school, Johannes completed an apprenticeship as a business assistant specializing in foreign languages. But then he decided to research and write, which resulted in his independence. For several years he has been working for Sir Apfelot, among others. His articles include product introductions, news, manuals, video games, consoles, and more. He follows Apple keynotes live via stream.
The page contains affiliate links / images: Amazon.de