For people who are new to a MacBook or iMac, the transition can be more complicated than you think. Key combinations don't work as usual, the "own files" are gone and everything else looks a lot different than under a Windows system.
The video course "Switch to Mac" Developed by Axel Mammitzsch, which I would like to briefly introduce here. Within 15 lessons you learn what you need to know about your MacBook. From the operation of the trackpad to useful key combinations and iCloud, no topic is neglected, so that you can enter the world of the bitten apple without any problems.
You can get an impression of Axel's course with the following teaser video:
Screencasts with a focus on newcomers and those switching
Although the name of the course appears to refer to people moving from Windows to Mac, the content is actually intended for beginners in general. The majority of Axel Mammitzsch's video course consists of screencasts where you can see Axel's Mac desktop directly. This way, beginners can see directly where to click to trigger each specific action.
For advanced users there is certainly something new here and there, but the focus of the course is definitely on beginners who are still quite new to the Mac and are taking their first steps with macOS and the Finder as well as the supplied Apple programs.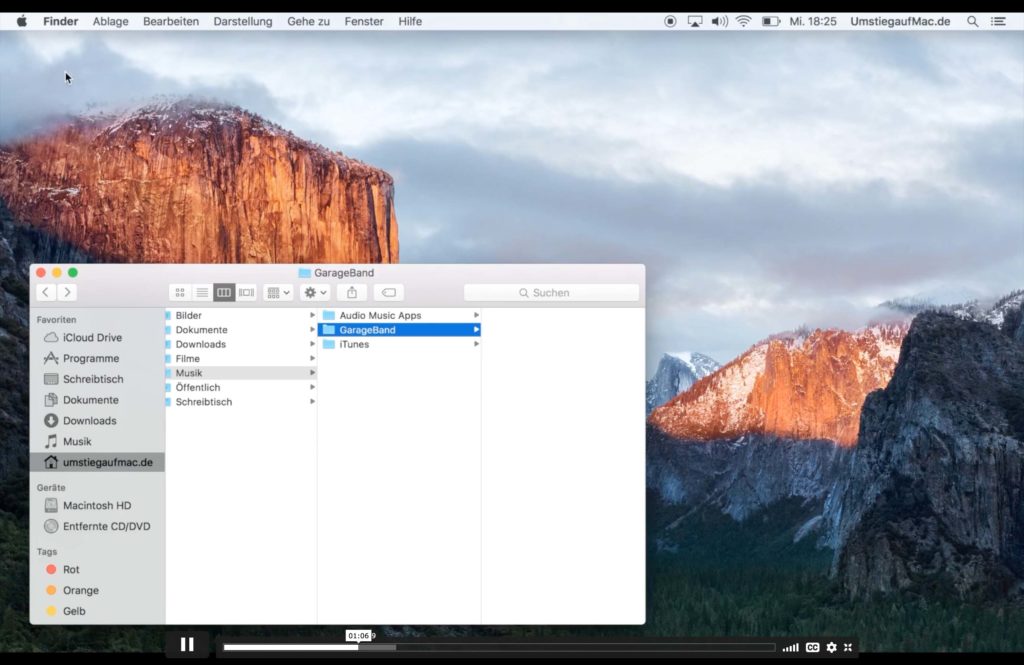 Table of contents of the course
In order to give you a small impression of the topics covered in the course, I would like to briefly show the table of contents here.
Lesson 1: Data organization
Learn how to store and manage images, videos and documents.
Lesson 2: Basic system settings
Learn how to adjust basic system settings.
Lesson 3: Trackpad operation
After this lesson, you will be able to use the Mac optimally with the trackpad.
Lesson 4: Advanced system settings
Learn how to make advanced system settings with confidence.
Lesson 5: Menu Bar
Learn how to adapt the menu bar to your personal needs.
Lesson 6: Keyboard Shortcuts
Get to know the most important keyboard shortcuts on the Mac for effective work.
Lesson 7: Program Management
Learn to manage programs, install and uninstall.
Lesson 8: useful tools
Get to know useful tools to make everyday work easier.
Lesson 9: The Cloud
Learn what the cloud is good for, how to enable it and use it properly.
Lesson 10: Spotlight search
Get to know Spotlight search and advanced search functions.
Lesson 11: Office Applications
Learn how to use the pre-installed Office programs.
Lesson 12: Mail program
Learn to configure the mail program and to send the first mail.
Lesson 13: Internet Browser
Learn how to perfectly adapt Safari to your personal taste.
BONUS Lessons
Get 2 more bonus lessons on interesting Mac features
As you can see, everything covered here is one that should be learned when getting started on a Mac. There are certainly other tricks and tricks or programs that help in everyday life with the Mac, but that's what the Sir Apfelot blog is here for. ;-)
If you are interested in the course, you will find it here on Axel's side for just under 22 euros.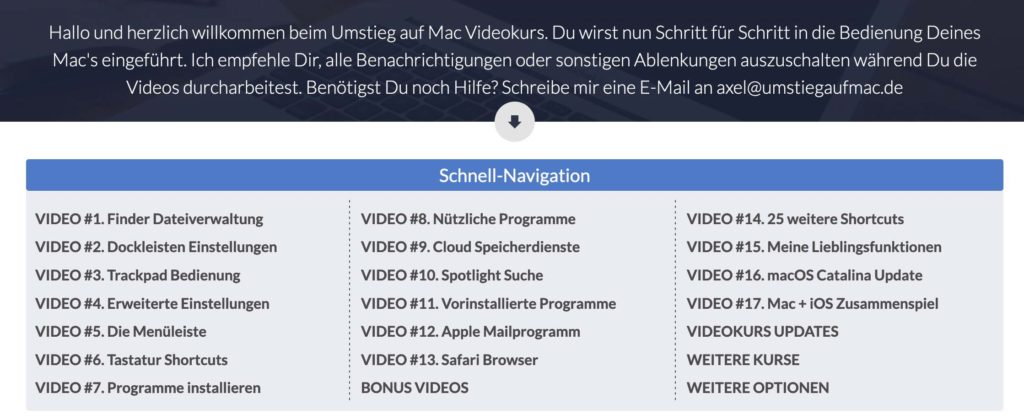 Watch the first sample chapter for free
No question, 22 euros is no small matter and you would like to know what you get for it. To get a small impression of the screencasts, you can do this Watch the first chapters of the course for free. I think this is a good way to get an idea of ​​the way Axel explains the Mac via the screencasts.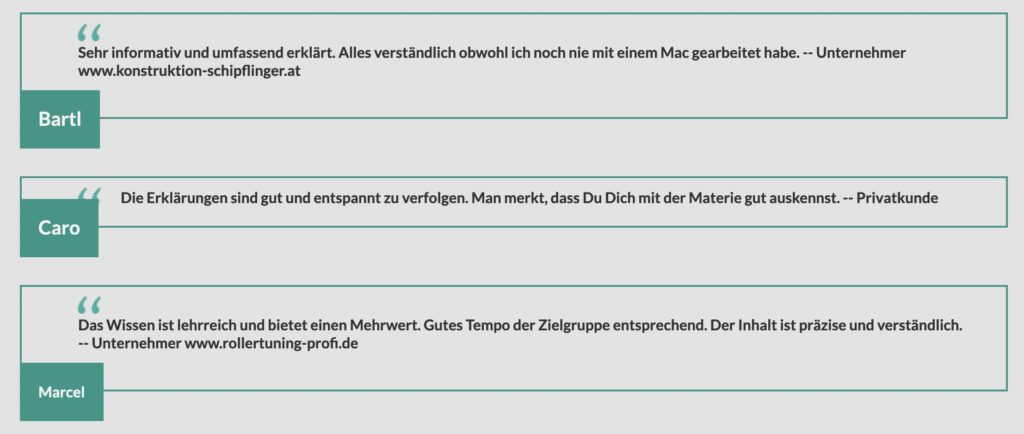 Not for the current macOS?!?
I took a look at the course and asked Axel in amazement whether the course might not be out of date because the screenshots do not show the desktop background of the current macOS. Axel then replied and wrote that he usually introduces and explains the basic functions and controls of the Mac and that these have not changed in the last macOS versions.
Most of the time, new features come with new operating system versions, but these are rarely basic features that newcomers need. If you look at the lessons, you will see this too. The mail program, the Finder and especially keyboard shortcuts are almost never changed to enable a good user experience. It would also be fatal if CMD + C was suddenly replaced with another key combination. I know Adobe likes to do this in its Creative Suite, but fortunately Apple has a different approach.
Transparency notice
The link to Axel's website is an affiliate link. If you order the course through this, something will stick with me, which will help me to continue the blog. The purchase price for you remains the same. And the course is really a recommendation, otherwise I wouldn't be presenting it here in the blog with an article.