At Apfelot, there is now and then a discussion about whether certain apps are listening in on the smartphone in order to then display advertisements for keywords that are often mentioned. My wife says she has had several cases in which she received advertisements for things that she had only discussed with me a short time beforehand. I told her I don't believe in it and I think it's a coincidence. I did a bit of research on the topic and came across a video that answered a few questions about the topic. Interesting: Even if Facebook, Instagram and Co. are not actively listening themselves, they are still buying data from tracking services.
Video from WWL-TV wants to prove the eavesdropping through apps
I have a Video found by WWL-TV, a CBS-owned local station based in New Orleans, Louisiana, USA. It was published at the end of 2019 and shows interview excerpts with leading people from Facebook and Instagram as well as with security researchers as well as a few attempts to get to the bottom of the matter.
For example, two moderators are talking about Airbnb and after 20 minutes the first Airbnb advertisement appears in one of the moderators' Insta feeds. The same thing worked with the Disney or Disney World theme. But is that definitive evidence that the iPhone is secretly listening in to display appropriate advertisements?
Facebook and Instagram are said not to be listening in, but others are
It is known that many apps create a comprehensive profile of the users. For example, the position and movement are recorded by transmitting GPS data, altitude information, acceleration and so on. In the video mentioned above, it is said of the "Perfect365" app that it shares the collected position data with eight different companies.
If you have installed several such apps and supply the data-collecting companies with such large offers as Instagram and Facebook, then advertisements based on tracking can appear even if they are not actively listening. But whether Perfect365 or other apps have permanent access to the microphone was not clarified in the video.
If the offer is free, you are the product
This saying comes up again and again when it comes to the fact that such huge services like Instagram, Facebook and Co. can be used free of charge. Of course there are exceptions, e.g. B. if we look towards open source software. But if you scroll through a so-called social network in which there is advertising, then of course you have to assume that this is also tailored to the person in front of the display.
In-app data such as likes or "likes", hearts, subscribed pages, groups and so on are only part of the big puzzle. The founders deny that the microphone is being tapped by the smartphone. But maybe they'll get the data from third parties who listen. That would at least be a theory that would explain the quite common "coincidences".
Which settings should I make in Instagram / Facebook?
First of all, you should of course set that all apps first have to ask you for permission if they want to track you. This works on the iPhone from iOS 14.5; You can find details on this in this post: iOS 14.5 - How to find the app tracking setting. Then you should not give this permission, but refuse it. Then you look in the individual programs in the settings. Here are two examples:
Instagram
Top right on the three strokes tippen
From the list the Settings choose
Now the menu item advertisements tap
Here now on Partner data tippen
Deactivate the point "Use data from partners"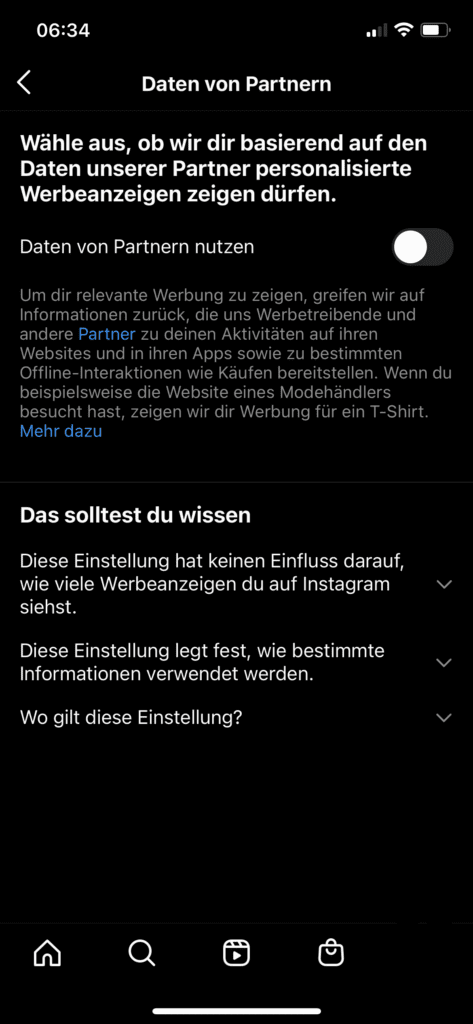 Facebook
Bottom right on the three strokes tippen
At the bottom Settings and privacy choose
Under "Permissions" on Advertising preferences tippen
Select the "Settings for" tab at the top
Now Data from partners about your activities Tap and deactivate "Use data from partners"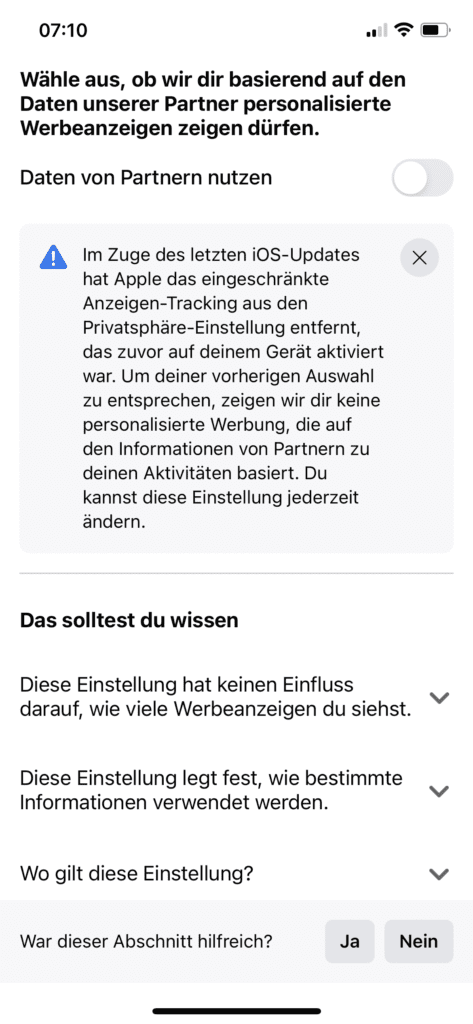 Incidentally, it never hurts to deal with the other settings in apps. So check the named and all other apps on your iPhone or Android smartphone to see whether and which privacy settings you can activate or which permissions you can deactivate. I wish you success!
Jens has been running the blog since 2012. He appears as Sir Apfelot for his readers and helps them with problems of a technical nature. In his free time he drives electric unicycles, takes photos (preferably with his iPhone, of course), climbs around in the Hessian mountains or hikes with the family. His articles deal with Apple products, news from the world of drones or solutions for current bugs.