For a long time I had a Voltcraft battery charger that was controlled by a microprocessor. In 1995 that was still a selling point, but today it is assumed that every charger has a built-in microprocessor. But even today this cannot be taken for granted. There are still some super-cheap chargers that are sold in sets with batteries that have simple charging electronics and therefore charge very slowly.
Tired of reading the entire article? Then this goes straight to my recommendation: that Voltcraft Charge Manager CM2024.
I've been using the device for over a year now and I'm so satisfied with it that I use it as a Pick of the week KW7 in 2021 have chosen. Certainly not everyone has a use for this 200 euro chunk, but if you use a lot of batteries and want to monitor their capacity, the Voltcraft CM2024 is a good device at hand.
Voltcraft Charge Manager CM2024
Benefits
Autopilot: insert the battery and go
NiCd, NiMH, NiZn
many battery sizes
lüfterlos
6 loading programs
8 independent bays + 2x 9V
Energy-saving mode after charging has ended
Charge / discharge curves on the display
Disadvantages
LCD display not up to date
Analysis software not for iOS / Mac
does not charge 18650 batteries
The Charge Manager CM2024 from Voltcraft is a versatile battery charger that can not only charge 8 batteries at the same time, but also accepts a large number of sizes and types of battery. In addition, the CM 2024 offers a number of charging programs that can be selected quickly.
Why do I need a good charger?
I use an extremely large number of AA, AAA size batteries and also some baby cells. In most cases these are NiMH batteries, but some of them are also NiZn batteries. And for very few devices I also use 9 volt blocks that can be charged.
On the one hand, this means that I have a wide range of different battery types and a decent selection of sizes. With the usual 50 euro battery chargers that can only charge AA and AAA cells, unfortunately I don't get very far.
For this reason I started looking for a successor to my old Charge Manager from Voltcraft and actually found it: Charge Manager CM2024.
The battle star Galactica among chargers!
Sorry, but I just had to include this customer review in the article. I think it fits very well. : D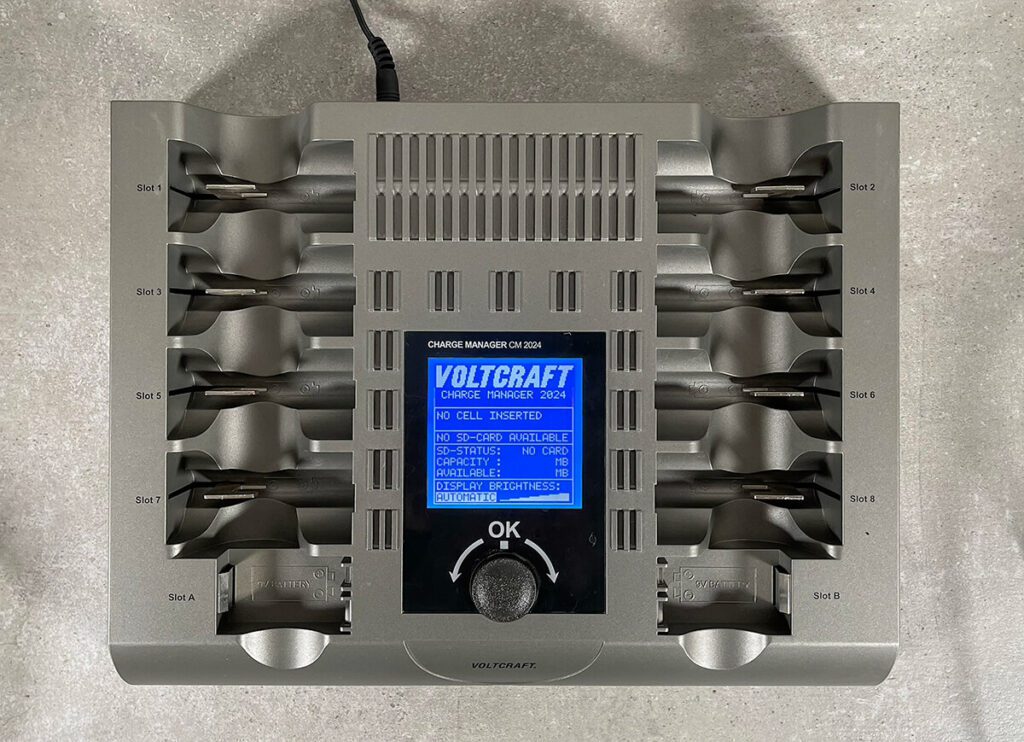 Technical data of the Voltcraft CM2024
The technical data of the Charge Manager CM2024 are quickly explained, but they do not show the great features that the device actually offers:
Charging currents: 500, 1000, 1500, 2000, 2500 or 3000 mA adjustable, with NiZn and 9 V block automatic
Discharge currents: NiMH / NiCd 125, 250, 375, 500, 625, 750 mA; NiZn 150, 300, 450, 600 mA adjustable, 9 V block 20 mA automatic
Battery types: NiCd, NiMH, NiZn
Battery sizes: Micro (AAA), Mignon (AA), Baby (C), Mono (D), 9 V block
Charging channels / slots: 10 (8x round + 2x 9V)
Operating voltage: 100 - 240 V or 12 V / DC
Power consumption in operation: max. 60 W
Power consumption in power saving mode: max.0,3W
Charging current 9V block: 38 mA
Slot for SD card (for data logging)
Data interface: USB-B socket)
Protection class: IP20
Weight: 1080 g
Dimensions: 305 x 57 x 237 mm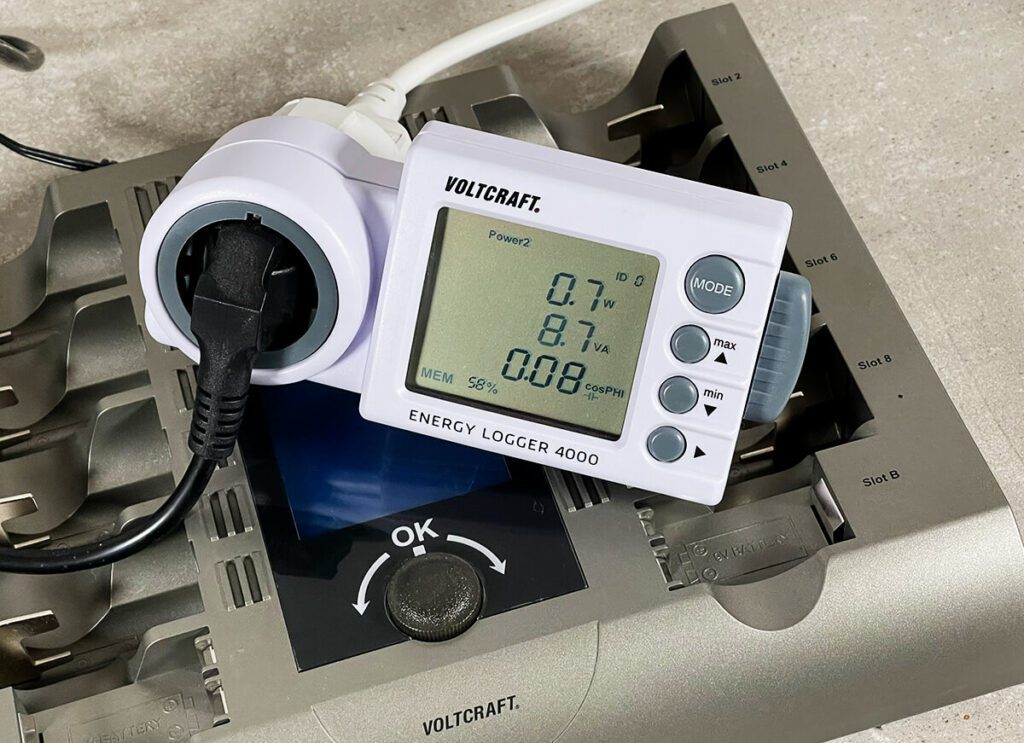 Special features of the CM2024 battery charger
Here we come to a few nice features that we find in the CM2024:
Battery defect detection
Battery diagnosis
Battery detection
Refresh / regenerate
Automatic battery test
Single shaft monitoring
Discharge function
Trickle charge
Graphic display
Vehicle operation (12 V)
Adjustable charging current
Minus-Delta-T shutdown
Minus-Delta-U shutdown
PC interface
Quick Charge
Timer shutdown
No extended, graphical analysis for Mac users
The "PC Interface" is a bit worthless for us Mac users, because there is no software that would evaluate the data from the Charge Manager via the USB port of the Mac. This is also one of the negatives that the charger has from my point of view. But if you can live with the text evaluations on the display, you won't miss the software.
On the charger's display, you can call up the charging and discharging curves as well as data such as the maximum charging current and the maximum voltage, as well as the milliampere-hours that flowed during charging or discharging.
For me, everything is important because I can see how much capacity the batteries currently have.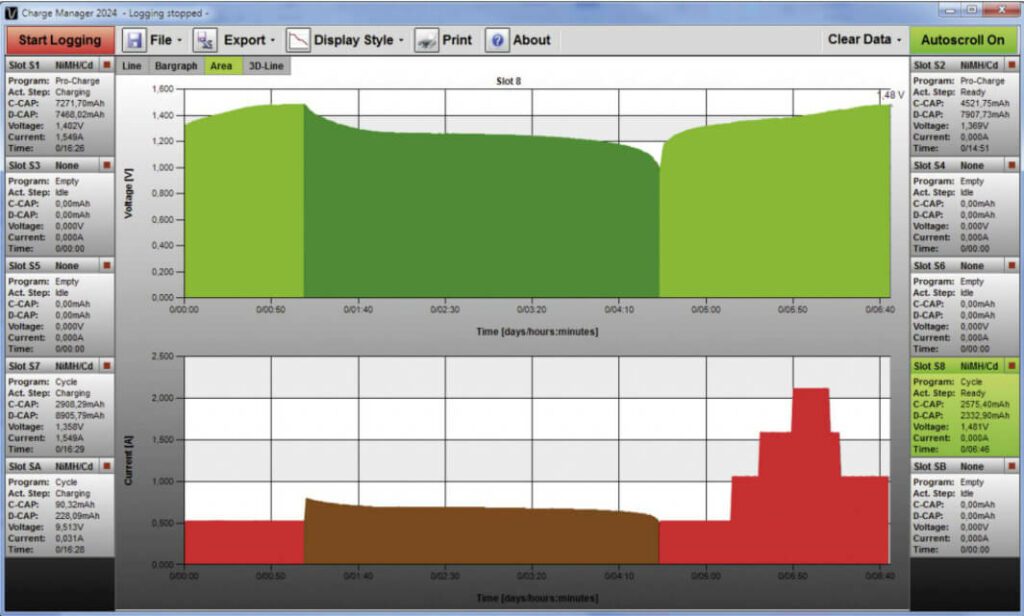 1980s display
When I switched on the CM2024 for the first time, I thought at first that the display was broken. It's an LCD display that looks like it was stolen from the 80s. There are sometimes ghost images and overall the quality is no longer up-to-date. The funny thing is that the ghosting is only visible in the view of the charge and discharge curves. The presentation in the text ad is flawless.
With a 200 Euro charger, I would expect a color touch display by now. I very much hope that Conrad or Voltcraft will revise the display here in an upcoming version and possibly also provide a Mac connection in terms of software. I would buy the new version right away.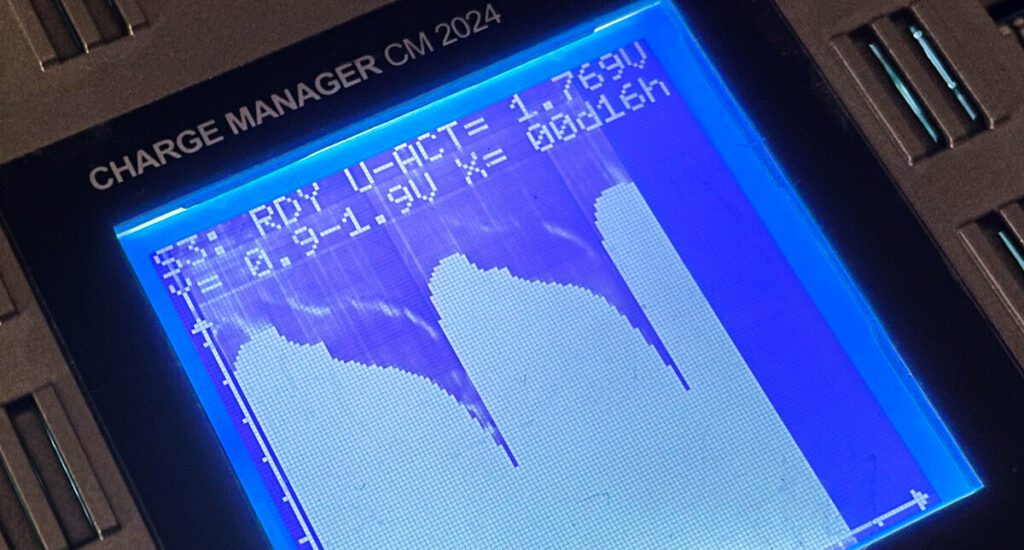 Available battery care programs
A proper battery charger can of course do more than just charge batteries. The Charge Manager CM2024 does not have to hide here, because it can handle six battery programs:
Reload (RCH = Recharge)
Discharge (DIS = Discharge)
proven charging (PCH = Procharge)
Cycle (CYC = cycle)
Revive (ALV = ALIVE)
Maximize (MAX = maximize)
If the battery remains in the charger and the Charge Manager deems it necessary, it starts trickle charging (TRI = TRICKLE).
The individual loading programs are explained:
Recharge (RCH): The battery is being charged.
Discharge (DIS): The inserted battery is only discharged. There is no charging.
Procharge (PRO): The battery is first discharged and then charged. This is to prevent the memory effect.
Cycle (CYC): The inserted battery is first charged, then discharged and then charged again.
Alive (ALV): The battery is first recharged and then discharged twice and then recharged. This program is used to revive defective or weak batteries.
Maximize (MAX): The battery is discharged and recharged until the discharge capacity no longer increases significantly. The "Cool Time" parameter is a cooling time that is inserted after loading.
I usually only do normal charging (RCH) and maximize (MAX), as modern battery types such as NiMH no longer have a memory effect. With Maximize, however, I was able to restore some NiZn batteries to halfway usable capacity, which had previously plummeted.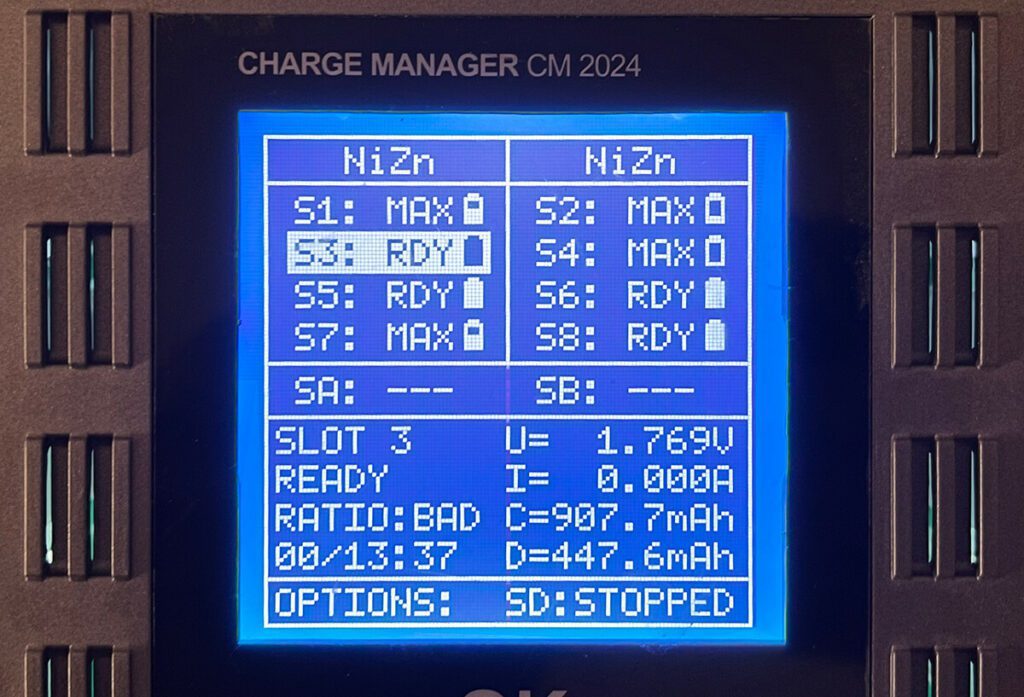 Operation: intuitive and easy to understand
What I particularly like about the CM2024 is the ease of use. If I don't want to stop for long, I can just insert a handful of batteries and go away. The charger automatically detects the battery chemistry in each compartment and then starts the charging program.
In between or at the end of the charging process, I can use the dial and the display to look at the measured capacities and quickly see whether a battery has become extremely weak.
But even if I want to start a battery maintenance program, this is very easy: Put in the battery, then briefly turn the rotary control to the charging mode and select, for example, "MAX". If I don't do anything else, the maximization process starts.
If I insert more batteries, the last mode is automatically suggested so that I can just insert the batteries and go. It couldn't be easier. The battery chemistry (NiCd, NiMH or NiZn) is also recognized automatically. You couldn't really ask for more.
All slots are not completely independent
At first I thought you could actually put different types of batteries in each compartment, but it's not quite like that. If I insert a NiMH cell into the left or right side, the other batteries on the respective side must also be of this type. I cannot set another battery chemistry to continue to be used in a slot. But what works: If I charge NiMH batteries on one side, I can charge NiZn batteries on the other side, for example.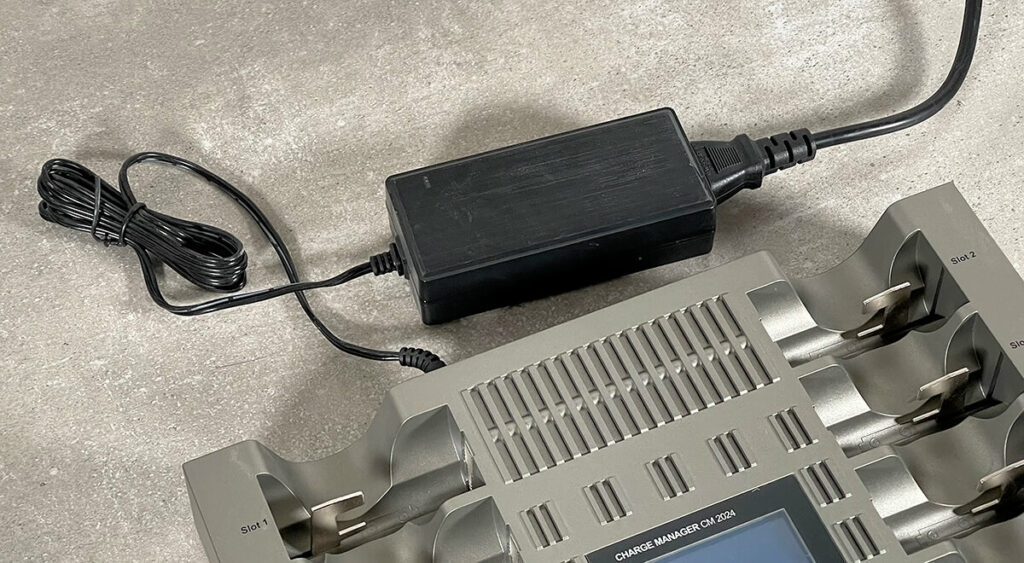 No operating noise with the Voltcraft CM2024
My last charger made quite a racket to be honest. The built-in fan was about as bad as the highest fan setting on my MacBook Pro (and the old one from 2017). Sleeping or reading a book was virtually impossible.
The Charge Master CM2024 surprised me here, because although I have filled all the slots regularly, the charger makes no sound - because it has no fan. It works quietly and quietly and still fills the batteries in record time.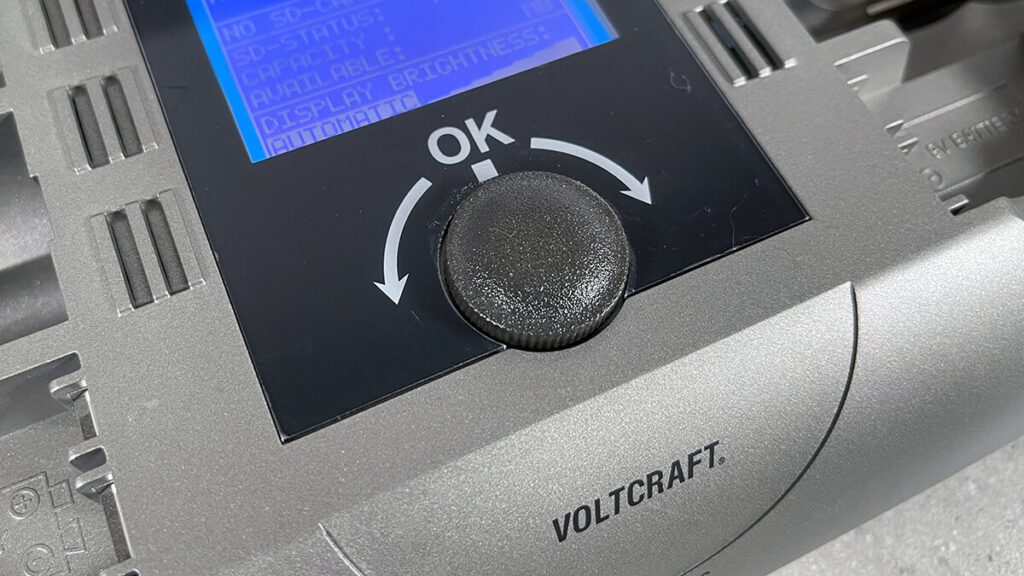 My conclusion on the Voltcraft Charge Manager CM2024
I haven't packed all the details into this post by a long way. There are still numerous setting options for maximum charging and discharging currents and much more. I don't use any of this, but I am more than satisfied with the charger.
The display and the lack of software for Macs or iPhones or iPads are the only points of criticism I have about the Voltcraft battery charger. For me, however, both are just a "goodie", so I would definitely like to mention the Charge Manager CM2024 as a recommendation.
If you want to get the CM2024, you will find it here at Conrad.de or here at Amazon. But it is usually cheaper at Conrad's.
Operating instructions for the Voltcraft CM2024 as PDF
I converted the instruction manual into a searchable PDF for you. Unfortunately, what you can find at Conrad is only the instructions for the software with which you can connect the charger to the PC. I looked for the instructions for the CM2024 and it is here as a PDF download available.
Jens has been running the blog since 2012. He appears as Sir Apfelot for his readers and helps them with problems of a technical nature. In his free time he drives electric unicycles, takes photos (preferably with his iPhone, of course), climbs around in the Hessian mountains or hikes with the family. His articles deal with Apple products, news from the world of drones or solutions for current bugs.