Apple has released a software update for the Apple Watch, which makes what is probably the most innovative function of the Series 4 can now also be used in Germany without detours. By updating the operating system to watchOS 5.2, the ECG function can also be used in this country. In addition to the fourth series, the new watchOS (without the electrocardiogram app, of course) comes on the Series 3, Series 2 and Series 1. The latter series should not be confused with the very first watch from Apple; officially it is called: "WatchOS 5 is not compatible with the first generation Apple Watch".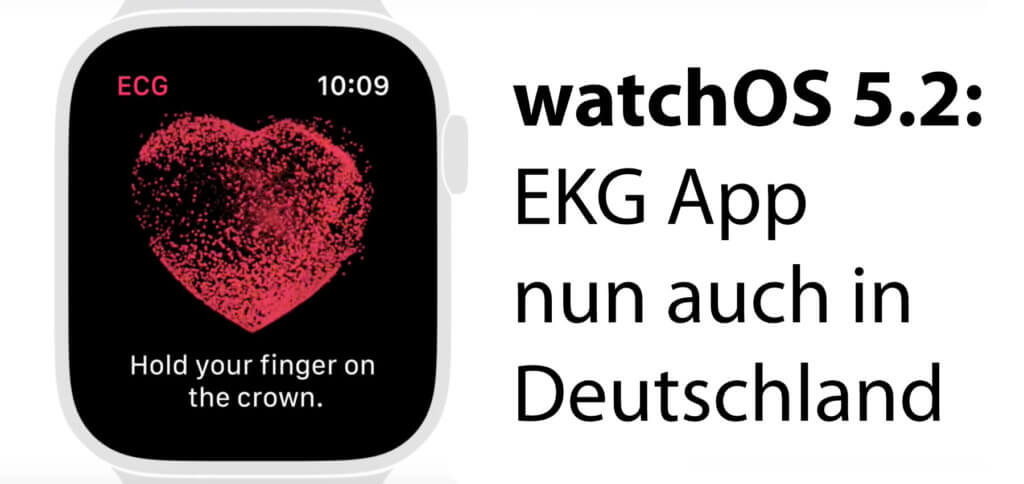 Contents of the watchOS 5.2 update
The EKG app is updated with a Apple Watch Series 4 on watchOS 5.2 now available in 23 countries. In addition to the USA, Hong Kong, Guam, Puerto Rico and Co. there are also numerous European countries such as Germany, Austria, Switzerland, France, Spain, etc. You can find a complete overview with this link. This will also make messages about irregular heart rhythm and similar warnings available in named countries. Another important innovation that comes with the system update on the smartwatch is the support of the AirPods 2. As always, there will be a delay in announcing which security holes have been fixed with watchOS 5.2. Source: Here.
An EKG in just 30 seconds
To use the electrocardiogram function, you must first call up the ECG app on the Apple Watch. Then, when prompted on the display, you put a finger on the crown of the watch. You do this for 30 seconds. The pulse and heartbeats are displayed. Then there is an evaluation, especially with regard to atrial fibrillation, which has already been found several times with users using the app. The ECG data can also be saved in order to present them to the family doctor or cardiologist, for example.
After graduating from high school, Johannes completed an apprenticeship as a business assistant specializing in foreign languages. But then he decided to research and write, which resulted in his independence. For several years he has been working for Sir Apfelot, among others. His articles include product introductions, news, manuals, video games, consoles, and more. He follows Apple keynotes live via stream.