Behind the term HP Instant Ink hides a practical subscription model for printer ink that is useful for all those who know their printing needs and the associated ink consumption. I am on the service of HP as part of the HP Envy 5540 Printer Review encountered. The service is available from New purchase of some printer models until May 31, 2019 for free - details about the service and the compatible printer models can be found in this guide.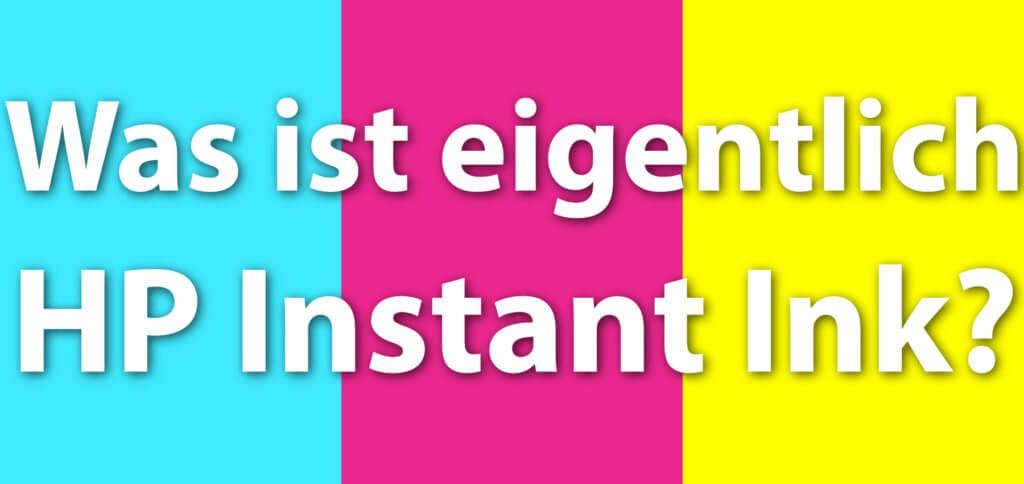 This is HP Instant Ink
HP Instant Ink is a replacement service for printer ink direct from the manufacturer and using original ink cartridges. With some printers it should be possible to save up to 70% in costs. With compatible printers, the new ink is pre-ordered before the current cartridges are empty. A subscription is also possible; suitable for printing 15, 50, 100 or 300 pages per month. In addition, used ink cartridges from HP printers can be sent back to the manufacturer for recycling free of charge.
The prices - HP Instant Ink costs at a glance
The price for an HP Instant Ink subscription is graded according to the consumption or the printed pages per month. It is interesting that 15 pages per month are supplied free of charge. Here is the current overview of the costs:
15 pages / month: free

50 pages / month: € 2,99
100 pages / month: € 4,99
300 pages / month: € 9,99
These printers are compatible with the service
The printer ink subscription service has been around since 2014, at least in the USA. Nevertheless, you should pay attention to the model series when buying a new or using an older printer. Because only a selection of the HP printers can be used with HP Instant Ink. Here are the printers that can be used:
HP ENVY series: 4500, 4520, 5010, 5020, 5030, 5530, 5540, 5640, 7640
HP ENVY Photo series: 6220, 6230, 7120, 7130, 7820, 7830
HP DeskJet series: 2620, 2630, 3630, 3720, 3730, 3750, 3760
HP OfficeJet series: 3830, 4630, 4650, 5220, 5230, 5740, 6950, 8010, 8020, 9010
HP OfficeJet Pro series: 6830, 6960, 6970, 8020, 8030, 8210, 8610, 8620, 8710, 8720, 8730, 8740, 9010, 9020

HP TANGO and HP TANGO X
Note: A printer series can also include sub-models; for example the HP ENVY 4525 as a representative of the 4520 series.
Why the service can be worthwhile
Anyone who buys an inkjet printer is often faced with a consideration that resembles a vicious circle: If I print too much, I need new ones Printer. But if I don't print enough, the old cartridges dry up. So you print too much or too little. Then the printer stands empty forever because you forget or postpone buying a new one or refilling the ink tank. Of course, this does not apply to all users, but it will often be the case - especially with private use. Otherwise HP Instant Ink wouldn't have worked for five years :D
Experience with HP Instant Ink (video)
Unfortunately, I cannot provide you with my own experience or an instant ink test. However, I found a brief as well as informative glimpse from a user of the service on YouTube. There is also the note that you can cancel the subscription on a monthly basis in order to react flexibly to changes in printing behavior. Here is the video:
Promotion: HP Instant Ink free if purchased by May 31, 2019
For example, there are currently some offers from HP ENVY (photo) printers on Amazon, for which you get 12 months of HP Instant Ink free of charge. The overview of the models can be found with this link. The printers themselves are also reasonably priced; Depending on the model, the price ranges from EUR 55,00 to EUR 119,99. On average, the models have 4 out of 5 stars in customer ratings. A thoroughly worthwhile offer. And if you're wondering what the current printer models from Hewlett Packard can do, then I recommend my test report on the ENVY 5540 linked at the beginning;)
Jens has been running the blog since 2012. He appears as Sir Apfelot for his readers and helps them with problems of a technical nature. In his free time he drives electric unicycles, takes photos (preferably with his iPhone, of course), climbs around in the Hessian mountains or hikes with the family. His articles deal with Apple products, news from the world of drones or solutions for current bugs.