Are WhatsApp users acting illegally because they agree to the app's terms and conditions for iOS and Android and thus send the data of their contacts to WhatsApp Inc. in California, USA? This is the question that some WhatsApp users are currently asking themselves. Because everyone who uses the app basically agrees to the transfer of their contacts and their data - this would actually require the consent of each individual in the address book of the corresponding smartphone. But since nobody catches up with them, every user is liable to prosecution - roughly counted. There is some reassurance: No plaintiff, no judge!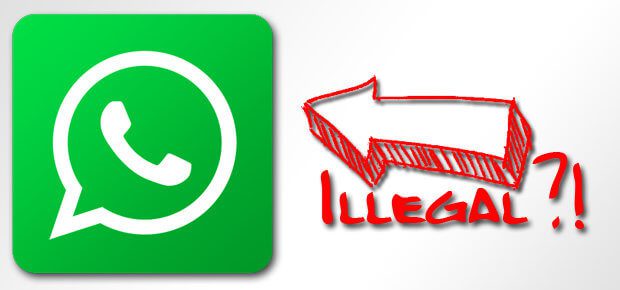 Background: Parents' dispute in Bad Hersfeld
For over a year, legal experts have been pointing out WhatsApp's intricate terms and conditions. Not only that the app passes on data from users and contacts to Facebook is criticized. Sending the address book entries to the US server is also illegal under the laws of the Federal Republic of Germany - and every WhatsApp user participates in this. One of them was a child from Bad Hersfeld, whose father went to court to question the mother's upbringing methods. The result: WhatsApp users all over Germany now fear a wave of warnings.
Recommended reading: Official document on the procedure / judgment of March 20.03.2017, XNUMX
In the case in question, which was closed on March 20, 2017, it was basically about a private dispute in which, in addition to the German Civil Code (BGB), the Federal Data Protection Act (BDSG) and the Telemedia Act (TMG) were ultimately used. The father of an 11-year-old child accused the mother of using WhatsApp to allow her child to use an illegal service on the smartphone. The mother now has to continue her digital education and also present a declaration of consent for the data transfer from the 20 contacts of the son. The case has been making the rounds since March 2017 - and now many WhatsApp users are in an uproar.
Recommended reading: Children and Smartphones: Documentation, Cell Phone Addiction, and More
Are WhatsApp users threatened with a wave of warnings?
Will the rest of 2017 be the year of warnings for WhatsApp users because they did not take the terms and conditions of the messenger app or the BDSG seriously? Hardly, because the approx. 20 million WhatsApp users in Germany are not automatically displayed. Rather, the individual contacts would have to file a complaint. It is possible that some do this, especially if they do not use WhatsApp themselves - but if you only have friends in your address book, you shouldn't have to worry. If you want to be on the safe side, get a declaration of consent as a precaution;)
Video on Messenger, Judgment and Action
Attorney Christian Solmecke from the media law firm Wilde Flexor Solmecke has already become an institution for many digital topics on the Internet. In a video from June 21, 2017, he explains why WhatsApp is illegal, what the proceedings in Bad Hersfeld are all about, what you can do with regard to the transfer of smartphone contacts, and, and, and. Here is the video with numerous explanations:
Also mentioned in the video: Klicksafe, EU initiative for more security on the Internet
Conclusion on WhatsApp as an illegal service
Basically, WhatsApp is not legal under current German law. Anyone who agrees to the terms and conditions and the transfer of data (names, telephone numbers, etc.) from the smartphone without asking the contacts could expect a complaint or a cease-and-desist declaration from some people. But honestly: if you have friends like that, you don't need enemies anymore ;) As a precaution, you can now ask every contact if Apps like WhatsApp and other messengers (like Facebook) are allowed to query user data. Rather, WhatsApp will now be obliged to adapt its terms and conditions, so that perhaps by 2017 no user will be acting illegally...
After graduating from high school, Johannes completed an apprenticeship as a business assistant specializing in foreign languages. But then he decided to research and write, which resulted in his independence. For several years he has been working for Sir Apfelot, among others. His articles include product introductions, news, manuals, video games, consoles, and more. He follows Apple keynotes live via stream.