What is the best SD card for the DJI Mavic 2 Pro, and what is my recommendation for a memory card for the DJI Mavic 2 Zoom? I will provide an answer to this question in this guide. Bargain hunters may not like the individual versions - but do not worry: even the SD or microSD cards for the new drones from DJI, which can be assessed as good and recommendable, have a comparatively bearable price;)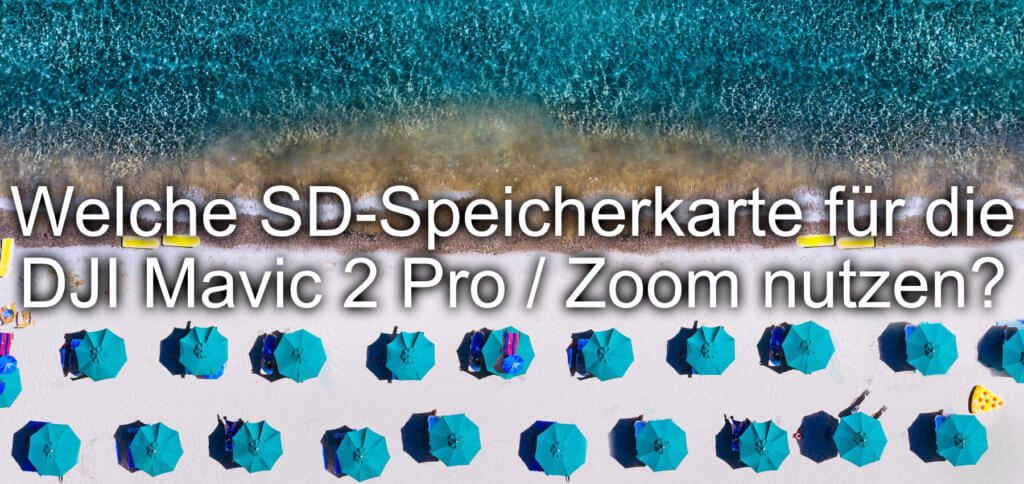 Which SD / microSD does the DJI Mavic 2 support?
The aircraft of the DJI Mavic 2, whose versions "Pro" and "Zoom" differ primarily in terms of the respective camera, the associated sensor and the gimbal, supports various microSD memory cards. For both models, supported microSD format SD memory cards with a capacity of up to 128 GB are recommended. Recommended SD memory cards that DJI publishes on the DJI Mavic 2 official website are:
microSD with 32 GB
microSD with 64 GB
microSD with 128 GB
Recommendation: SanDisk memory cards for DJI Mavic 2
No matter which storage capacity you choose (I would start at 64 GB as a minimum), in my opinion you should always use SanDisk microSD memory cards for DJI drones. Better buy branded memory cards and not cheap junk. The prices are not high for SanDisk memory cards either. I saw a friend who used a cheap card to lose almost all of the data from a working day with the drone because it was suddenly no longer readable. This has never happened to me with my SanDisk cards. Neither with the drone nor when used in other devices.
5,00 EUR
microSDHC memory card with 32GB
This SanDisk SD memory card is suitable for the DJI Mavic 2 Pro and DJI Mavic 2 Zoom. The manufacturer convinces with quality, which is why the ratings and customer reviews are very positive.
17,00 EUR
microSDXC memory card with 64GB
Which SD card to use for the DJI Mavic 2? Of course, a high quality one with a lot of capacity and fast data exchange - like this one from SanDisk.
"MicroSDXC
If you want to record a lot of videos with the drone, take photos and take panoramic shots, you should have enough memory ready. With this 128 GB memory card for the DJI Mavic 2 Pro and DJI Mavic 2 Zoom you are well equipped.
DJI Mavic 2 Pro / Zoom - Always have enough memory with you!
With a 64 GB memory card you can save some videos and photos. I would maybe even take two of them with me or buy the 128 GB version straight away, because if you are on the road with three batteries, you have almost 1,5 hours of flight time and potentially 1-1,5 hours of video data. If you then leave the last flights on the card for security reasons, even when you are at home read out (that's how I always do it), then with 64 GB you quickly reach your limits. And there is nothing less beautiful than when you suddenly get a message in the middle of the recording that the SD card is full.
Incidentally, the DJI Mavic 2 Zoom tends to write less data because it has a smaller sensor and does not support 10-bit DLOG. I would still take the U3 cards to be prepared for the future. The U3/V30 memory cards up to 4K with 120 fps pass. When the next drone with 8K resolution comes around the corner, you will have to reach for the (still) prohibitively expensive V90 cards. But currently I don't see any Mavic with 8K approaching. ;)
If you are wondering what V30, U3, I, A and the other characters and symbols on memory cards and their data sheets mean, then this guide will give you all the answers: SD card names - what are Class, SDHC, SDXC, UHS, I, A, V and Co.?
Not just memory cards: technical data of the DJI Mavic 2
Here in the blog it is often about DJI drones, their presentations, technical data and tests. Most recently it was about the "See The Bigger Picture" event, which took place in New York on August 23, 2018: here is the summary. As a result, not only the two new DJI drones came onto the market, but of course their technical specifications as well. I have summarized the most important information from it with pictures of the quadrocopter and their accessories in these posts:
You can find more articles on the topic of DJI drones in the following overview.
Jens has been running the blog since 2012. He appears as Sir Apfelot for his readers and helps them with problems of a technical nature. In his free time he drives electric unicycles, takes photos (preferably with his iPhone, of course), climbs around in the Hessian mountains or hikes with the family. His articles deal with Apple products, news from the world of drones or solutions for current bugs.
The page contains affiliate links / images: Amazon.de