As you know, I occasionally test video editor apps that can be used to transform videos, images and audio files into cinematic works. This time around, I checked out an entry-level video editing program: Filmora 9 from Wondershare. This is a clear, but versatile software for video editing on the Apple Mac with macOS and on the PC with Microsoft Windows. I tested the Filmora 9.2 version on a MacBook Pro 2012 with macOS 10.14 Mojave.
Note: Below you will find a test video in which I present various options for video editing of the app in summary.
Wondershare's Filmora Video Editor can be easily downloaded from the provider's website. With a user account you can also buy or have a license assigned and then use it for the Pro version of the software. This has the advantage that the videos output have no watermark, there are free updates for life and a huge selection of effects can be used. In short: If you want to cut videos, short films or even entire films, series or documentaries for publication with the app, you cannot avoid purchasing a license. The perpetual license currently costs € 59,99.
Wondershare Filmora 9: View, download and buy here
Structure of the app and import functions
Anyone who has ever used the free programs from Apple (iMovie) or Microsoft (Movie Maker) immediately recognizes parallels in Filmora 9. There is also a similarity to many other video editor apps from various providers. So if you are not completely new to video editing, you will quickly see that video, audio and image files can be inserted using the menu and drag-and-drop. Either in the media collection (top center) or directly on one of the video or audio tracks (bottom). The latter can be expanded by clicking on the corresponding symbol (above the tracks on the far left). Just as easy as adding layers in Photoshop or Affinity Photo.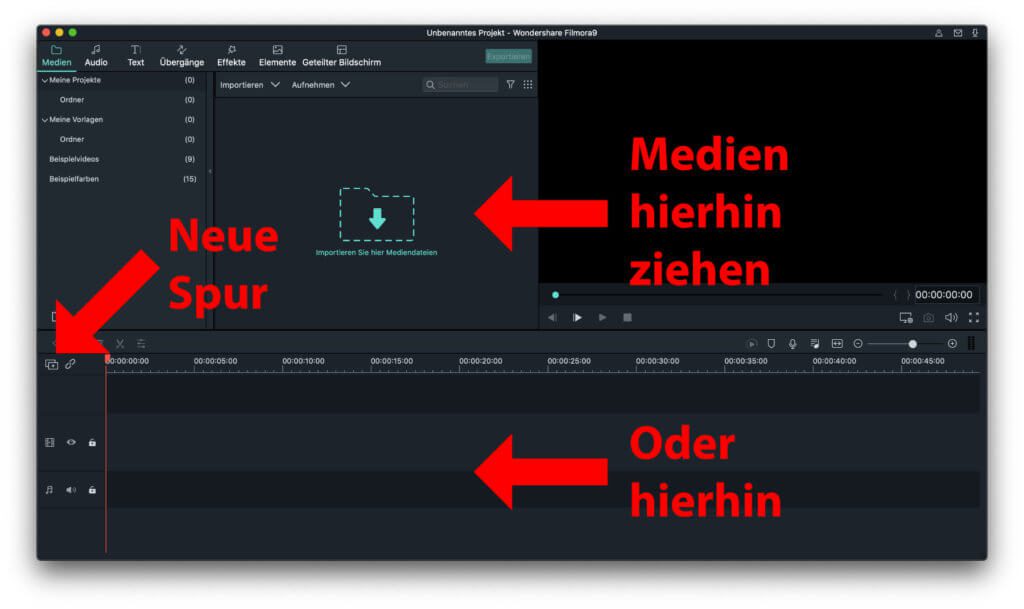 Full HD, 4K, Instagram video and more
In the project settings of Filmora 9, various formats from 16: 9 to 1: 1 (Instagram) and 4: 3 to 21: 9 (cinema) can be selected. Resolution settings can also be made: 720p HD, 1080p Full HD, 4K, Cinema 4K and user-defined resolutions. With regard to the frame rate, different levels can be selected from 23,97 fps to 60 fps, so that a wide variety of video material can be processed and output in the original frame rate. If you want to save yourself the adjustments, simply start a new project and drag the material to be edited onto the video track - a window will appear asking whether the project data should be adapted to the inserted video.
Filters and Effects in Filmora 9 Video Editor
The software has numerous effects and filters available, both to adjust the video material in terms of color, structure, saturation, etc., as well as to create distortions (VHS, glitch, fish-eye, etc.). There is also a chroma key effect known as "green screen". This not only removes green from a video, but also all other colors or colored areas. So if you use stock footage with a black background or a blue screen instead of the green screen, then you can work with it. There are controls for refining the tolerance of the effect, the sharpness of the edges and the like. However, you should allow some patience and time to familiarize yourself with it. As you can see in the example video below, cutting out black backgrounds is not that easy; the edges are "chopped off".
Insert title, belly band, credits and more
Effects as well as text overlays can be placed directly on an existing video track and its material. However, I recommend that you insert a new video track for effects and titles and place this on top of the video or image material to be edited. So you can better make adjustments, swap the elements, and so on. The text overlays can be adjusted in many ways - content, font, font size, color and position in the video. Positioning in particular can be a bit awkward, which is why time and patience are required to familiarize yourself with this.
Transitions, Elements, and Split Screen
In addition to the functions, options and editing options already mentioned in Wondershare Filmora, there is a lot more. For example, a wide variety of transitions can be set up so that two different video clips or scenes merge. Various stamps, banners, emojis, sketches or drawings, arrows, symbols and pictograms with which the visual language of the video can be supported are hidden in the "Elements" tab. Under "Split screen", the output video can be divided into different parts of the same or different sizes and each segment can be provided with a video. This is good for juxtapositions, multiple storylines that should run or converge at the same time, or different perspectives of a scene that should be shown at the same time.
Sample and stock videos as well as stock audio
In addition to the options for editing video and audio, it is also interesting to obtain the relevant material via the Filmora app itself. In the "Media" tab, you can select sample videos and sample colors (colored areas and color gradients) in order to test or use the program without your own material to support your own project with ready-made solutions. The same applies to the audio, which can be downloaded directly from the tab of the same name. In the test video (see below) you will find the title "Lullaby" by Benjamin Thompson - one of 51 titles that can be selected as audio background.
Test video by Sir Apfelot
In the following test video I used free stock footage from Pikwizard available under CC0 license. There is information on Pikwizard and alternative sources of supply for license-free photos and videos in this post. I also used the following effects, titles and elements:
Belly band from the folder "Lower Third"
Video effect "VHS interference"
Video effect "Cel-Shading"
Green screen post-production (Chroma Key)
Video effect "Chromatic Deviation"
Title effect from the "Title" folder
Ending text from the "Ending" folder
50:50 split screen
Above named stock audio from the app
As with the key data for your own project (aspect ratio and resolution), there are also various options when outputting the finished film. If you click on "Export" in the menu bar, you can choose whether you want to save a video file locally, save the video on a device (iPhone, iPod Touch, etc.), directly on YouTube or Vimeo or on a DVD. Various formats can then be selected when selecting local storage: MOV, MP4, HEVC MP4, AVI, MPEG-2, Apple ProRes and more. MP3 is available as audio format. And you can also output a GIF.
As mentioned above, it pays to purchase a license for Wondershare Filmora 9. This is also pointed out if you want to output a video without a license. So if you want to use the software, register on the developer website and make a purchase. Then you open Filmora, click in the menu bar on "Help" and then on "Login". In the registration window you only have to enter your registration data (Wondershare ID) and the software will be activated. By the way, you can also unsubscribe in the same way.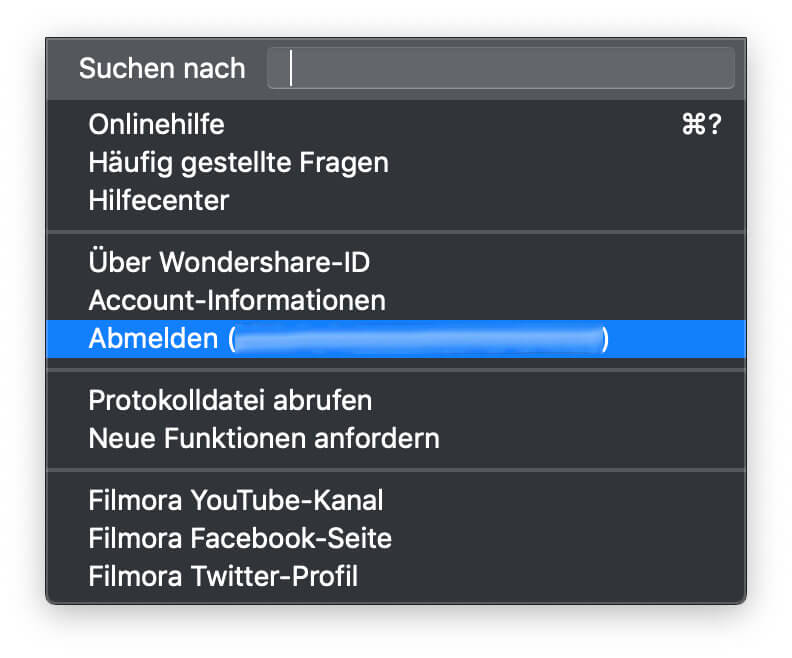 What's new in Filmora 9.2
Wondershare Filmora version 2019 has been available since the end of July 9.2. You can now render a preview again, there are Ripple solutions, thanks to which gaps caused by deleting clips are automatically closed (can be deactivated), several photos can be reduced to 1 frame at the same time for time-lapse effects, the "split screen "Was added and a new media library was implemented. A complete change log, in which the changes of the previous versions are also noted, you can find here.
Subscription license with annual billing: € 44,99 per year
Perpetual license: currently € 59,99 (regular € 69,99)
Plus subscription license with additional content: currently € 104,87 (regular € 159,88)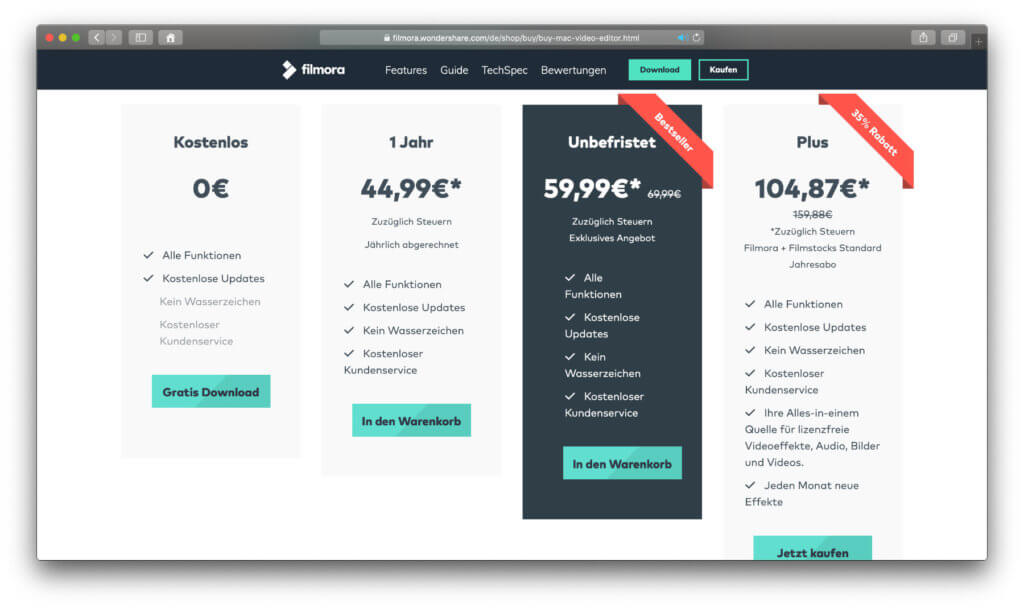 Conclusion about the video editor: It's not After Effects
Wondershare Filmora 9 for Mac is better software for video editing. In addition to cutting, dubbing and outputting videos, there are also numerous effects, titles, transitions and objects - most of them can be adjusted with different sliders and strengths. Of course, the app - especially at this low price - is not an After Effects, in which you can really individualize all possible effects and manipulations down to the smallest detail. With appropriate planning and production, a film or a series (at least for Vimeo or YouTube) can certainly also be made with Filmora. I am pleasantly surprised and can recommend the software.
Wondershare Filmora 9: View, download and buy here
After graduating from high school, Johannes completed an apprenticeship as a business assistant specializing in foreign languages. But then he decided to research and write, which resulted in his independence. For several years he has been working for Sir Apfelot, among others. His articles include product introductions, news, manuals, video games, consoles, and more. He follows Apple keynotes live via stream.