Today I am through the plugin "WP Updates Notifier" via email that there is a new WordPress update. The WP 4.0 version called "Benny" Before. Benny is the point zero update, in honor of a jazz pianist named B. As far as I can remember, she has Named after jazz musicians a long tradition with the WordPress team.

What's new in WordPress 4.0 Benny
What happened to WordPress with the update can be found in detail on the blog at blog.wpde.org read up. The main thing is that the media library has been drilled out, the integration of multimedia, e.g. films from YouTube, has become easier and the search for plugins in the WP-Admin has become more convenient. Under the hood, of course, a number of improvements have been made, but you can read them better on the blog mentioned above.
Download of WordPress 4.0
If you have not yet installed an older version of WordPress and can update it via the admin, you may be interested in the download link to get to the installation files. This can be found as a ZIP or in another packed form with German language files under this link:
>> https://downloads.wordpress.org/release/de_DE/wordpress-4.0.zip
Problems updating to WP 4.0?
I have to admit that I'm not a big fan of updates when there are large version jumps. Usually I always wait for the X.0.1 versions. In this case WordPress 4.0.1. In this case, I quickly tested the update on a blog, which is not that important to me because it hardly has any visitors. Still it runs on mine Favorite wordpress hostingso that I can already see whether there are fundamentally problems with the hosting.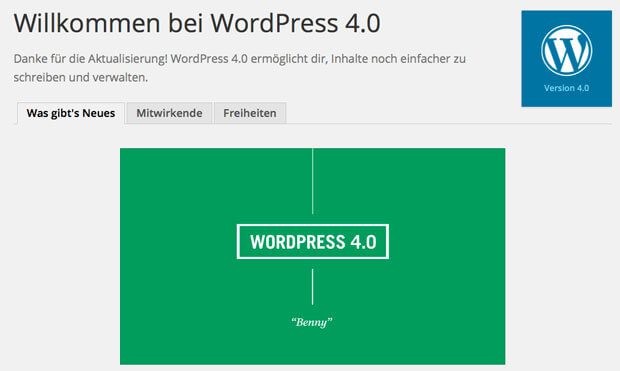 The update ran smoothly via the automatic system of WP-Admin and then the blog could still be operated as usual in the frontend. So there doesn't seem to be any major problems at first. I still think that there are incompatibilities with various plugins that will become public in the next few days.
If all of this is roughly over, I might update my Sir Apfelot blog as well. :)
Before the update: backup compulsory!
If you want to perform an update: Don't forget to backup. I can use the plugin for this BackWPup Free I warmly recommend it, as it is very convenient, supports backups in the cloud and also does its job in the free version.
Despite everything: good luck! :)
Jens has been running the blog since 2012. He appears as Sir Apfelot for his readers and helps them with problems of a technical nature. In his free time he drives electric unicycles, takes photos (preferably with his iPhone, of course), climbs around in the Hessian mountains or hikes with the family. His articles deal with Apple products, news from the world of drones or solutions for current bugs.